May 13th Birthdays
If you were born on May 13th you share a celebrity birthday with these famous people: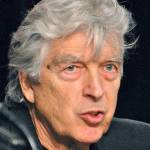 Roch Carrier is 86
French-Canadian playwright, short story writer and novelist (The Hockey Sweater / Le chandail de hockey; La Guerre, Yes Sir!; No Country Without Grandfathers; Heartbreaks Along The Road; My Life With Maurice Richard), born May 13, 1937. (Roch Carrier 2011 Photo: Asclepias)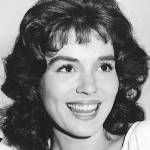 Zohra Lampert is 86
American actress of stage, TV (A Time to Live; The Girl With Something Extra; Doctor's Hospital; Where the Heart Is), and films (Let's Scare Jessica to Death; Some Kind of a Nut; Stanley & Iris; Bye Bye Braverman; The Last Good Time), born May 13, 1937. (Zohra Lampert 1960 Photo: United Artists)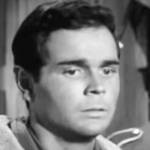 Buck Taylor is 85 (nee Walter Clarence Taylor III; son of Dub Taylor)
American western landscape & portrait painter, actor of TV (Newly on Gunsmoke; The Monroes; Dallas; Knots Landing; Rectify; My Three Sons; Combat! Mr. Novak; The Virginian; Death Valley Days) and movies (Gettysburg; The Wild Angels; Tombstone), born May 13, 1938. (Buck Taylor 1964 12 O'Clock High)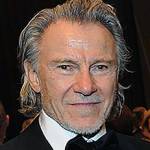 Harvey Keitel is 84 (m. Daphna Kastner; ex-partner of Lorraine Bracco)
American actor of TV (Life on Mars) and movies (The Duellists; Blue Collar; Taxi Driver; Deathwatch; The Border; Wise Guys; The January Man; Reservoir Dogs; Cop Land; Bugsy; National Treasure; Thelma & Louise), born May 13, 1939. (Harvey Keitel 2009 Photo: Edwin L. Wriston, U.S. Marine Corps)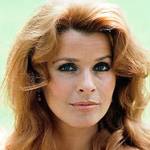 Senta Berger is 82

Austrian producer and actress of stage, TV (Under Suspicion), and films (The Glory Guys; Cast a Giant Shadow; Bang! Bang! You're Dead; The Ambushers; The Quiller Memorandum; Major Dundee; The Secret Ways; Cross of Iron), born May 1, 1941. (Senta Berger 1975 Photo: Mondadori Publishers)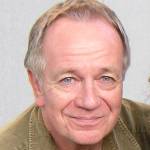 Sam Anderson is 78
American actor of TV (Perfect Strangers; Angel; ER; Lost; Growing Pains; Picket Fences; L.A. Law; Live Shot; Boston Common; Married to the Kellys; Justified; Pasadena) and movies (La Bamba; Forrest Gump; Critters 2; Water for Elephants), born May 13, 1945. (Sam Anderson 2006 Photo: fettster_uk)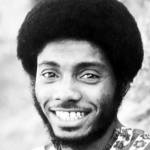 Franklyn Ajaye is 74
American musician, comedian (I'm a Comedian, Seriously), comedy writer, and actor of stage, movies (Car Wash; Stir Crazy; The Jazz Singer; The Wrong Guys; The 'Burbs; Bridesmaids; Convoy) and TV (Pirate Islands; Deadwood), born May 13, 1949. (Franklyn Ajaye 1975 Photo: A&M Records) 
Stevie Wonder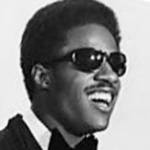 is 73 (nee Stevland Hardaway Judkins)
Rock & Roll Hall of Fame, Academy & Grammy Award-winning American musician and singer-songwriter (Superstition; You Are the Sunshine of My Life; For Once in My Life; My Cherie Amour; Higher Ground; I Just Called to Say I Love You), born May 13, 1950. (Stevie Wonder Photo: James Kriegsmann)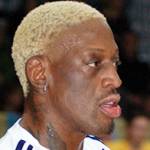 Dennis Rodman is 62 ("The Worm"; ex of Carmen Electra)
Naismith Memorial Basketball Hall of Fame retired 55+ American NBA basketball forward (Detroit Pistons, San Antonio Spurs, Chicago Bulls, Los Angeles Laker, Dallas Mavericks), 1990 & 1992 All-Star & 5-time NBA Champ, born May 13, 1961. (Dennis Rodman 2005 Photo: Tuomas Venhola)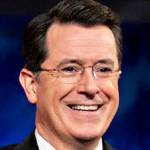 Stephen Colbert is 59

Peabody, Grammy, and Emmy Award-winning 55+ American comedian, screenwriter, producer, actor & host of TV (The Colbert Report; The Late Show with Stephen Colbert; Strangers With Candy), and author (I Am America), born May 13, 1964. (Stephen Colbert 2011 Photo: Staff Sgt. Teddy Wade / US Army)
Tom Verica is 59
American producer, director, & actor of TV (Jack Pryor on American Dreams; How to Get Away With Murder; Bridgerton; Scandal; L.A. Law; Providence; Inventing Anna; For the People; The Naked Truth; C.P.W.; State of Grace; The Assassination File; The Nine; The 4400) and films (Murder by Numbers; Flags of Our Fathers; Zodiac; Red Dragon), born May 13, 1964.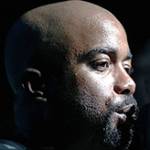 Darius Rucker is 57
Grammy Award-winning American Hootie & the Blowfish singer-songwriter (Only Wanna Be With You; Let Her Cry; Hold My Hand; Time), and country music solo artist (Don't Think I Don't Think About It; Alright; Wagon Wheel), born May 13, 1966. (Darius Rucker 2004 Photo: Master Sgt. Val Gempis / USAF)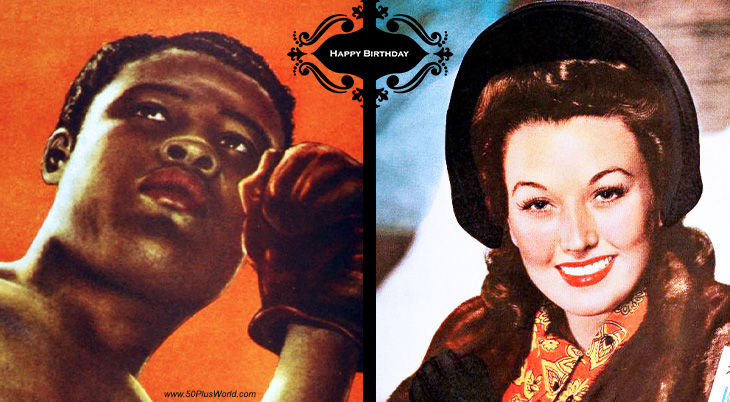 (Joe Louis 1938: El Grafico | Ginny Simms 1947: MGM)
Happy Birthday to everyone celebrating their birthday on May 13th!
Remember These May 13th Famous Birthdays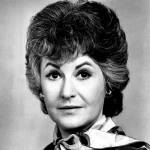 Bea Arthur (nee Bernice Frankel; ex of Gene Saks, Robert Alan Arthur)

American animal rights activist, singer, Tony & Emmy Award-winning actress of stage, movies (Mame; For Better or Worse; Lovers and Other Strangers), and TV (Dorothy Zbornak on The Golden Girls & The Golden Palace; Maude; Amanda's; The Sid Caesar Show) (born May 13, 1922 – died Apr. 25, 2009; age 86). Bea Arthur died of cancer. (Bea Arthur 1973 Maude Photo: CBS TV)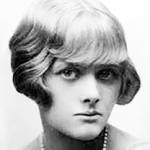 Daphne du Maurier (aka Dame Daphne du Maurier, Lady Browning)
English playwright, short story writer (The Birds; Don't Look Now), and historical romantic suspense novelist (Rebecca; Jamaica Inn; Frenchman's Creek; My Cousin Rachel; The House on the Strand; Mary Anne; The Loving Spirit; The King's General; The Glass-Blowers) (born May 13, 1907 – died Apr. 19, 1989; age 81). (Daphne du Maurier 1930s Photo: The Chichester Partnership)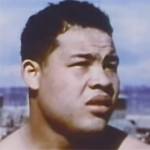 Joe Louis (nee Joseph Louis Barrow; "The Brown Bomber")

World heavyweight champion (1937-1949) American boxer who defeated Max Baer, Billy Conn, Max Schmelling, & James Braddock before losing to Rocky Marciano, and the 1st African-American to golf on the PGA Tour (1952 San Diego Open) (born May 13, 1914 – died Apr. 12, 1981; age 66). Joe Louis died of cardiac arrest. (Joe Louis Barrow 1943 This is the Army)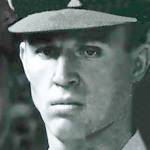 Tim Pigott-Smith (nee Timothy Peter Pigott-Smith)
BAFTA Award-winning English children's book author, actor of stage, TV (Winston Churchill: The Wilderness Years; Fame is the Spur; The Jewel in the Crown; 1914-1918) & movies (The Four Feathers; Quantum of Solace) (born May 13, 1946 – died Apr. 7, 2017; age 70). Tim Pigott-Smith died of natural causes. (Tim Pigott-Smith 1984: Mobil Masterpiece Theatre / PBS)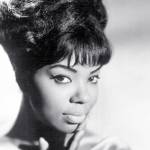 Mary Wells (aka Mary Wells Womack; ex of Cecil Womack)
"The Queen of Motown" American singer (My Guy; Two Lovers; The One Who Really Loves You; You Beat Me to the Punch; Laughing Boy; What's the Matter With You Baby; Once Upon a Time; You Lost the Sweetest Boy; Use Your Head) (born May 13, 1943 – died July 26, 1992; age 49). Mary Wells had laryngeal cancer and died of pneumonia. (Mary Wells 1965: James Kriegsmann)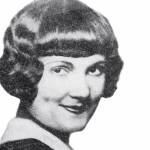 Betty Compton (nee Violet Haling Compton)
English singer, dancer & actress of stage (Ziegfeld Follies; Funny Face; 50 Million Frenchmen; The City Chap; Oh, Kay!; Hold Everything;) & films (Too Many Millions; The Legacy) (born May 13, 1904 – died July 12, 1944; age 40). Ex of New York Mayor Jimmy Walker, Charles Stanley Reed Riches, Edward Duryea Dowling. Betty Compton died of breast cancer. (Betty Compton 1932)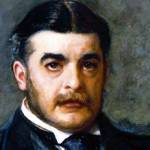 Arthur Sullivan
English composer (solo & with W.S. Gilbert) for plays, ballets & operas (Ivanhoe; The Mikado; The Pirates of Penzance; H.M.S. Pinafore; Trial by Jury; The Gondoliers; Victoria and Merrie England; Ruddigore), choral & orchestral works, chamber music, & hymns (Onward, Christian Soldiers) (born May 13, 1842 – died Nov. 22, 1900; age 58). (Arthur Sullivan c. 1880: John E. Millais)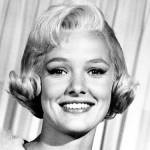 Beverley Owen (nee Beverley Ogg; ex of Jon Stone)
American actress of TV (Linda Elliott on As the World Turns; Marilyn Munster on The Munsters; Dr. Paula McCrea on Another World; The Doctors; Wagon Train; The Virginian; Kraft Mystery Theater) and movies (Bullet for a Badman) (born May 13, 1937 – died Feb. 21, 2019; age 81). Beverley Owen died of ovarian cancer. (Beverley Owen 1964 Photo: CBS Television)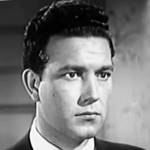 Edward Tierney
American character actor of TV (Combat!; The Gallant Men; Fireside Theatre) and movies (Parole Heimat; Music in the Blood; Ballerina; Nina; Liane, Jungle Goddess; The Hoodlum), brother of Scott Brady and Lawrence Tierney, and father of Michael Tierney (born May 13, 1928 – died Dec. 18, 1983; age 55). Edward Tierney died of diabetic shock. (Edward Tierney 1951 The Hoodlum)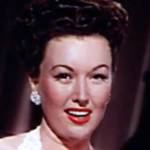 Ginny Simms (nee Virginia Ellen Simms)
American singer-actress of radio, stage (The Kay Kyser Orchestra) and movies (Broadway Rhythm; Night and Day; Here We Go Again; Hit the Ice; You'll Find Out; Here We Go Again; Seven Days Leave; Shady Lady; Disc Jockey; That's Right – You're Wrong) (born May 13, 1913 – died Apr. 4, 1994; age 80). Ginny Simms died of a heart attack. (Ginny SImms 1946 Night and Day Trailer)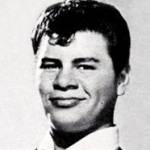 Ritchie Valens (nee Richard Steven Valenzuela)
Rock and Roll Hall of Fame Latino American musician (guitar), singer & songwriter (La Bamba; Donna; Come On, Let's Go; That's My Little Suzie; Little Girl; Fast Freight; Stay Beside Me; The Paddiwack Song) (born May 13, 1941 – died Feb. 3, 1959; age 17). Ritchie Valens died in a plane crash with Buddy Holly and The Big Bopper, J.P. Richardson. (Ritchie Valens 1959: Photoplay)
*Images are public domain or Creative Commons licensed & sourced via Wikimedia Commons, Vimeo, or Flickr, unless otherwise noted*