Celebrating Seniors - Sammy Hagar is 68
6 vintage Sammy Hagar songs to celebrate his 68th birthday – I'll Fall in Love Again, I Can't Drive 55, Give to Live, High Hopes, Little White Lie, Mas Tequila.\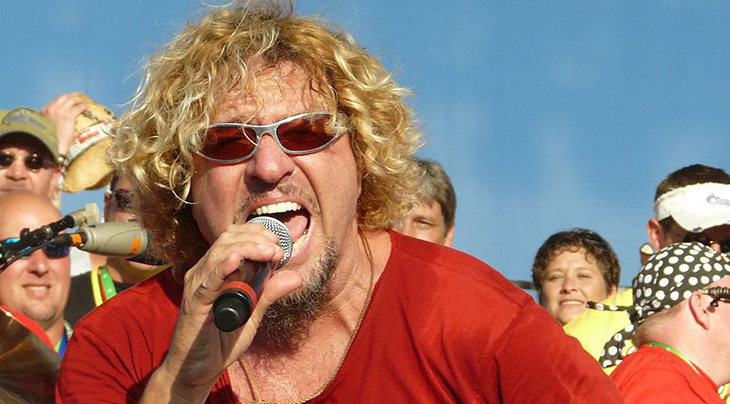 (Sammy Hagar 2008 Photo: Matt Becker / Weatherman90 at English Wikipedia)
I Can't Drive 55 veteran hard rock vocalist and guitarist Sammy Hagar was born in 1947 in Salinas, California and celebrates his 68th birthday today, October 13. Baby boomer Samuel Roy Hagar attended Fontana High School when his family moved there, and Sammy fronted numerous California bands as a teenager.
He married first wife Betsy Berardi in 1968 when he was 21, and their son Aaron Hagar was born in 1970.
By 1973 Hagar was lead vocalist for the band Montrose; he cut a few albums with them and wrote his first song, Bad Motor Scooter, before leaving the band to go solo for the first time in 1976.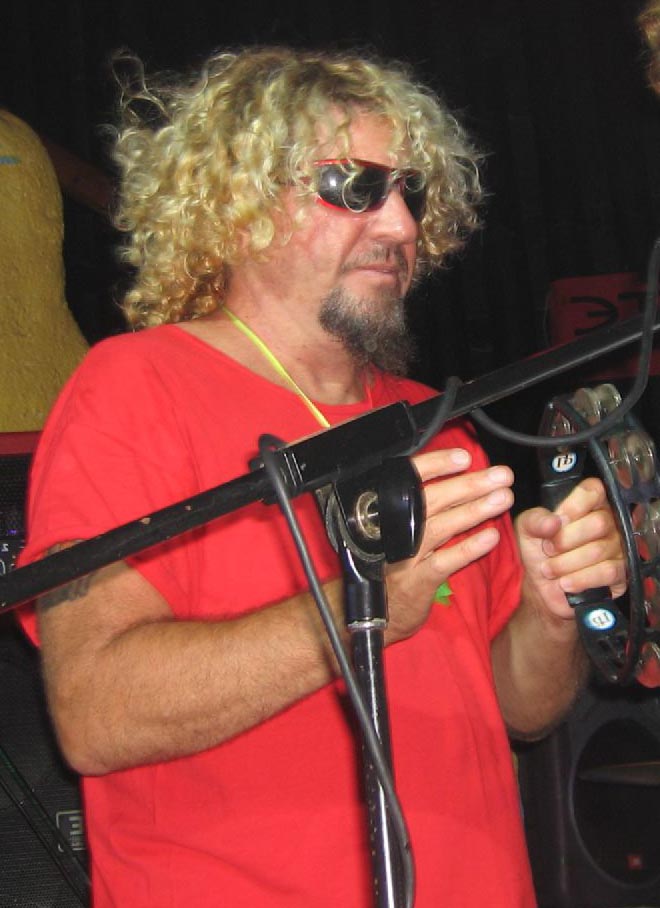 (Sammy Hagar 2005 Photo: Simon Davison)
Throughout his career, Sammy Hagar has continued to record solo albums and tour, in between and during, singing lead vocals for other bands (he's twice been the lead singer for Van Halen: 1985-1996, and 2003-2005).
Between 1976-2014, Sammy Hagar recorded and released 17 solo albums, including albums with his backing band, The Waboritas. 
Among these was the album Sammy Hagar (1977) which included the song Red (written by John Carter and Sammy Hagar). Red is an identity Hagar has assumed as The Red Rocker, and was incorporated in the title of his 2011 autobiography (written with the help of Joel Selvin) Red: My Uncensored Life in Rock. 
In the book Sammy Hagar describes his love of Elvis Presley, his interest in numerology, belief in UFO's, and his own rock and roll lifestyle (fast cars, women, drugs, and alcohol).
During his first long solo period (1976-1987), Hagar cracked the Billboard US Top 50 charts for the first time when he moved to Geffen Records and released his Standing Hampton album (1981). The Standing Hampton album went platinum with his baby boomer fans and hard rock lovers, and included the 1982 hit singles There's Only One Way to Rock, and the #2 US Rock chart hit single I'll Fall in Love Again. 
Sammy Hagar's next album, Three Lock Box (1983) had Your Love is Driving Me Crazy, a #13 on The US charts and #3 on the US Rock charts. Hagar's second son Andrew Hagar, was born in 1984, the same year his VOA album debuted with the single I Can't Drive 55 hitting #9 on the US Rock charts. In his autobiography, ex-wife Betsy commented that all the cars they owned were registered in her name in order to get lower insurance rates because
"Sam really couldn't drive 55. When he wrote that song, believe me, it was the truth. Not only did he speed, but he was dangerous." Below, the I Can't Drive 55 video featuring Sammy Hagar.
The soundtrack for the movie Over the Top (1987) starring Sylvester Stallone, included Sammy Hagar's single Winner Takes it All, which made it to #3 on the US Rock charts. Sammy Hagar's first #1 US Rock Chart Hit was Give to Live (1987) from the album I Never Said Goodbye, which was released after he had joined Van Halen for the first time as their lead singer. Below, audio of Sammy Hagar performing Give to Live.
In his autobiography, Hagar described the sexual excesses that began for himself during his first stint with Van Halen (each band member had their own "sex tent" under the stage during performances). Buffalo Bills quarterback Jim Kelly brought his girlfriend Kari Karte to see the band during their tour in 1991, and Karte and Hagar began an extra-marital relationship. Hagar's divorce from his reluctant first wife Betsy Berardi was finalized in 1994 after 26 years of marriage.
That same year Hagar had the #4 US Rock chart hit High Hopes (1994) on his Unboxed (1994) album; audio clip below.
Sammy Hagar and Kari Karte married in 1995 and moved to Hawaii, where their first daughter Kama Hagar was born in 1996. Now split from Van Halen and performing and recording solo again, Hagar's albums and singles enjoyed more chart success. The album Marching to Mars (1997) yielded the hit singles Marching to Mars and Little White Lie. Below, Sammy Hagar performing his Billboard US Rock chart #1 hit single, Little White Lie (1997).
Sammy Hagar's next album Red Voodoo (1999) included the US Rock chart #2 hit single Mas Tequila. Hagar's last Top 10 US Rock chart hit was Serious Juju (2000), a #10 hit single with Sammy Hagar & The Waboritas, his backing band.
Sammy Hagar doesn't have to rely on hit records or touring for financial success. He clearly doesn't lack for business smarts. In the early 1990's he bought into a mountain bike store and spun off another store.
During the late 1990's, Sammy Hagar established a new business brand for himself, Cabo Wabo. Initially a nightclub and restaurant were opened in Cabo San Lucas, Mexico with the Van Halen Brothers as partners. The Van Halens dropped out when the business languished, but it rebounded after they sold their interest back to Hagar. 
He also formed Cabo Wabo Tequila under this brand, and sold 80% of his interest in it in 2007 for $80 million. A new liquor and restaurant brand, Sammy's, was launched in 2011 with the opening of Sammy's Beach Bar Rum (based in Hawaii), and Sammy's Rockin' Island Bar & Grill in Roseville, California opened in 2011. He also owns the steakhouse restaurant El Paseo in Mill Valley, California with chef Tyler Florence.
Sammy Hagar and wife Kari Karte-Hagar had their second daughter Samantha Hagar in 2001. After a second stint with Van Halen (2003-2005), Hagar again went solo. During the years since then in addition to his solo career, he's formed different bands (Chickenfoot, and The Circle) that have toured, recorded and released albums, with varying degrees of success. Today Sammy Hagar's sons with Betsy  – Aaron and Andrew Hagar – own businesses in California and are themselves musicians and singers. 
Sammy Hagar & The Circle performing Dreams live in 2014, below.
In his autobiography a few years ago, Hagar had this to say about his life:
"I don't care about what I've done in the past. I'm only concerned with what I can do in the future. It's not that I take anything for granted. I believe that when you die, you are shown an inventory of what you've done in your life and are judged accordingly."
*Images are believed to be in the public domain and/or Creative Commons licensed & sourced via Wikimedia Commons, Vimeo, YouTube, or Flickr, unless otherwise noted*