Best Country Music Songs for a Memorial Service
Memorial services are a time when songs that capture the essence of your spirit (or that of a loved one, if you're planning for someone else). For country music fans, it'd doesn't get any better than these tunes sung by Patsy Cline, Conway Twitty, Elvis Presley, Willie Nelson, Ray Price, and Roger Miller.
Patsy Cline – Walkin' After Midnight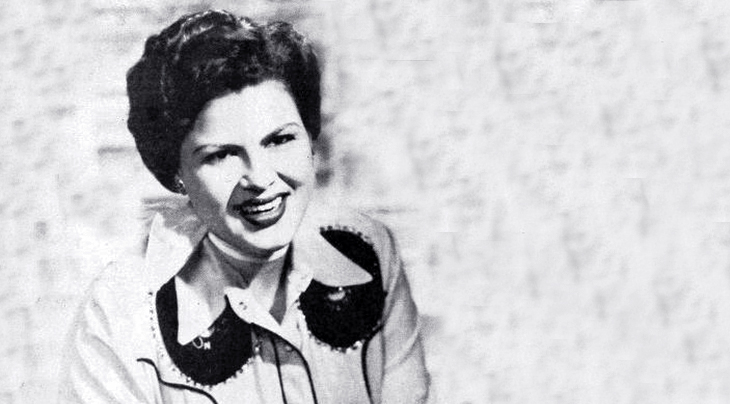 (Patsy Cline c 1963 Photo: TV Radio Mirror)
This video memorial tribute to country music legend Patsy Cline is set to one of her signature song's, Walkin' After Midnight, written by Alan Block and Donn Hecht. 
Patsy Cline recorded Walkin' After Midnight  in November 1956, but wasn't a fan of the song; she reluctantly agreed to sing it live on television on the Arthur Godfrey Talent Scouts show in January 1957, and the audience went wild. Walkin' After Midnight was Patsy Cline's first big hit single when it was released in February 1957, reaching #2 on the country music charts and 12 on the pop chart, thanks to early baby boomers and their parents, the silent generation.
By the end of 1957 Patsy Cline had divorced her first husband Gerald Cline (who wanted her to stay at home and be a housewife), and married second husband Charlie Dick, with whom she had 2 children. Patsy Cline was a pioneer and mentor for women in country music including Loretta Lynn, and would have several more hits before her untimely death at age 30 in March 1963 as the result of plane crash.
Below, Patsy Cline performs Walkin' After Midnight live in a vintage music video circa 1957.
Willie Nelson & Elvis Presley – Always on My Mind
Country music legend Willie Nelson sings one of his standards, the haunting Always on My Mind. Always on My Mind was written by John Cristopher, Mark James and Wayne Carson, and first recorded and released in 1972.
Willie Nelson's version of Always on My Mind (above) was a #4 Hot 100 and #1 Country chart hit in 1982, thanks to seniors and baby boomer fans, and resulted in a Grammy Award for Nelson.
Numerous other artists have had hits with Always on My Mind, including the Pet Shop Boys, who had a #4 US Hot 100 hit with it in the late 1980's. Baby boomer favourite Elvis Presley recorded his version of Always on My Mind a few weeks after separating from his wife Priscilla in February 1972. By November 1972 Presley had a #20 Hot 100 and #16 Country Music chart hit with  Always on My Mind (below). 
Conway Twitty – I May Never Get to Heaven
When country music star Conway Twitty recorded I May Never Get to Heaven (1979), written by Bill Anderson and Buddy Killen, he may not have realized that seniors and his baby boomer music fans would take it all the way to #1.
I May Never Get to Heaven became Twitty's 22nd #1 Country Chart hit  thanks to baby boomers.
Roger Miller, Willie Nelson & Ray Price – Old Friends
This video montage set to Old Friends, and was recorded and released as a single by the trio of Roger Miller, Willie Nelson and Ray Price, who had a #19 country music hit single with it in 1982 thanks to baby boomers and seniors. Old Friends was written by Guy Clark, Susanna Wallis Clark, and Richard J. Dobson. Willie Nelson and Roger Miller really were old friends of Ray Price, having each played in Ray Price's Cherokee Cowboys band in the late 1950's/early 1960's.
Country music legend, guitarist, and singer-songwriter Noble Ray Price (Heartaches by the Number, For The Good Times) formed his band the Cherokee Cowboys in 1953. The song Night Life, which Ray Price recorded and had a #1 Country Music hit with in 1963, was written by Willie Nelson. Ray Price was an 87-year-old octogenarian senior citizen when he died from pancreatic cancer in December 2013. Right, Ray Price and Willie Nelson in 2003. (Photo: Willie Nelson)
One of the first big songs that baritone-voiced country music singer-songwriter Roger Miller (King of the Road) wrote was Invitation to the Blues. Ray Price's cover of Roger Miller's Invitation to the Blues gave Price a Top 3 Country Music Hit in 1958, and Miller subsequently became a member of Price's Cherokee Cowboys band. A longtime smoker, Roger Miller was only 56 when he died from throat and lung cancer in October 1992.
83-year-old octogenarian singer-songwriter Willie Nelson (Crazy, Hello Walls) moved to Nashville, Tennessee in 1960 and signed a contract with Pamper Music, which was partly owned by Ray Price. After Ray Price had his hit single Night Life (1963) written by Willie Nelson, and Price's bass guitarist Johnny Paycheck quit, Willie Nelson joined Ray Price's Cherokee Cowboys as a bass guitarist.