Celebrating Seniors - Tom Skerritt is 83, Part 3
Tom Skerritt, Part 3: Contact to Brothers & Sisters  (1997-2016)
(Tom Skerritt 1994 Photo: Alan Light | Flickr Some rights reserved)
Directing was what Tom Skerritt had envisioned his career would be back in his early 1960's days at UCLA, before his acting career took off. One of Skerritt's first film projects after his television series Picket Fences ended in 1996 was co-starring in and directing the TV drama Divided by Hate (1997).
Skerritt also appeared in the TV comedy-drama What the Deaf Man Heard (1997) starring Matthew Modine, Claire Bloom, James Earl Jones, and Bernadette Peters.
Tom Skerritt's biggest movie in the late 1990's, thanks to baby boomers and their children , was the big-budget, big box office success feature film Contact (1997), starring Jodie Foster.
Contact's cast included Matthew McConaughey, William Fichtner, Rob Lowe, David Morse, and John Hurt, whom Skerritt had co-starred with in Aliens (1979). Tom Skerritt played the character of David Drumlin, Science Advisor to the President.
Tom Skerritt turned 65 in 1998, and the new senior citizen married Warner Bros. studio executive Julie Tokashiki, 30 years his junior, that same year. According to the Lodi News-Sentinel, Skerritt and Tokashiki had met while he was starring on Picket Fences. The couple built a new home for themselves outside Seattle, Washington in 2000.
As the 1990's ended, Tom Skerritt's television projects included the thriller movies Two for Texas (1998) starring Kris Kristofferson, Peter Coyote, and The Hunt for the Unicorn Killer (1999) with co-stars Brian Kerwin and Mimi Kuzyk. The 2-part TV mini-series Aftershock: Earthquake in New York (1999) saw Tom Skerritt appearing with a large cast that included veteran actors Sharon Lawrence, Charles S. Dutton, Jennifer Garner, and Cicely Tyson.
Tom Skerritt could be seen on the big screen in the feature film The Other Sister (1999) with Diane Keaton, Hector Elizondo, Juliet Lewis, Juliet Mills, and Dina Merrill.
The biographical drama TV movie Jackie Bouvier Kennedy Onassis (2000) starred Joanne Whalley (Jackie Onassis), Tim Matheson (John F. Kennedy), Frances Fisher (Janet Lee Bouvier Auchincloss), Andrew McCarthy (Robert "Bobby" Kennedy), and Tom Skerritt as the Kennedy family patriarch Joseph P. Kennedy. Tim Matheson had appeared with Tom Skerritt before, in an episode of Bonanza in the 1960's and in the movie The Last Day (1975).
2002 was another busy year with film releases for Tom Skerritt. The independent drama Tuscaloosa (2002) drama filmed in Boulder, Colorado included Tom Skerritt and his son Colin Skerritt in the cast. Tom Skerritt co-starred in the romantic comedy-drama Changing Hearts (2002) with his former Picket Fences co-star Lauren Holly, as well as Faye Dunaway, Ian Somerhalder, and cameos from musician-singers Rita Coolidge, Earl and Randy Scruggs.
In an episode of the sitcom Will and Grace, Tom Skerritt and Judith Ivey played Dr. Jay Markus and his wife Eleanor, parents of Grace's (Debra Messing) boyfriend, Leo Markus (Harry Connick Jr). His biggest film that year may have been the HBO biography Path to War (2002) about President Lyndon Johnson. In Path to War, Skerritt co-starred again with Donald Sutherland (his co-star in 1970's MASH), as well as Alec Baldwin and Felicity Huffman.
New septuagenarian senior citizen Tom Skerritt turned 70 in 2003. His on-screen appearances that year included a guest-starring spot on The West Wing starring Martin Sheen, his former co-star from The Dead Zone (1983) and an episode of Lancer (1969) 34 years earlier. Skerritt also appeared in the feature films Tears of the Sun (2003) starring Bruce Willis, and Swing (2003) with Jacqueline Bisset. Tom Skerritt, Monica Bellucci, Eamonn Walker, and Bruce Willis are featured in the movie trailer for Tears of the Sun, below.
Tom Skerritt's biggest role in 2003 may have taken place off-screen, when he co-founded the non-profit program TheFilmSchool in Seattle, Washington. TheFilmSchool provides intensive training in screenwriting and directing for independent artists, and Skerritt continues to be one of the instructors. His old friend Robert Redford joined TheFilmSchool Advisory Board in 2008.  
Skerritt worked steadily through his septuagenarian senior years during the remainder of the 2000's, appearing on TV in episodes of popular series,  and in movies and mini-series such as:
Homeland Security (2004) movie with Scott Glenn and Grant Show.
The Grid (2004) mini-series, he appeared as CIA Deputy Director Acton Sandman. Also in the cast of The Grid were Juliana Margulies and Dylan McDermott; McDermott and Tom Skerritt had co-starred in the ensemble drama Steel Magnolias (1989). Right, Tom Skerritt, Juliana Margulies, and Dylan McDermott in The Grid.
Category 7: The End of the World (2005) movie with Randy Quaid, Robert Wagner, James Brolin, Swoosie Kurtz, and Gina Gershon. Gershon and Skerritt both also appeared in the feature film comedy Beer for My Horses (2008) starring country music singers Toby Keith and Willie Nelson, as well as rocker Ted Nugent, and actor Barry Corbin.
Huff (2006) series in a recurring role as star Hank Azaria's father, with co-stars Oliver Platt and Blythe Danner, who had played a love interest for Skerritt in the movie Getting Up and Going Home (1992).
Stephen King's Desperation (2006), a horror movie with Steven Weber, Matt Frewer, and Ron Perlman.
The Dead Zone (2007) series starring Anthony Michael Hall; Skerritt guest-starred in an episode with David Ogden Stiers.
(Tom Skerritt Photo By the Red Badge Project: Naval Sea Systems Command | Public Domain)
Tom Skerritt's highest profile role on television during the 2000's was in a recurring role on the TV family drama series Brothers & Sisters.
He played William Walker, the dead patriarch/husband of widow Sally Field on Brothers & Sisters from 2006-2009. Skerritt and Field had played a husband and wife before in the movie Steel Magnolias (1989). Among the cast of Brothers & Sisters were Calista Flockhart, Ron Rifkin, Patricia Wettig, and Rob Lowe, who had been a regular on The West Wing in 2003 when Skerritt guest-starred on that series.
Feature films with Tom Skerritt in the late 2000's included the comedy Bonneville (2006) with Jessica Lange, Kathy Bates, Joan Allen, Tom Wopat, and Christine Baranski; the horror flick For Sale by Owner (2009) co-starring Kris Kristofferson, his Two for Texas (1998) co-star.
Skerritt's on-screen appearances have slowed down marginally since 2010, perhaps due to the fact that he is senior citizen raising a young child once again with his third wife, Julie Tokashiki. He told The Seattle Times in 2012 that they adopted daughter Helen (Emiko) as an infant five years previously (approximately 2007-2008). 
Despite this, Tom Skerritt could be seen in a recurring role as Jimmy Ford on the crime series Leverage (2010-2012) starring Timothy Hutton, and in 3 movies in 2012, among them a co-starring role in the western drama Soda Springs starring Jay Pickett, and a cameo as himself in the comedy Ted (2012) starring Mark Wahlberg. The movie trailer for Soda Springs, below, features Jay Pickett, Victoria Pratt, and Tom Skerritt.
79-year-old Skerritt was inspired by his concern for returning soldiers suffering from PTSD in the Iraq war to create the Red Badge Project in 2012, an extension of his TheFilmSchool non-profit foundation. The Red Badge Project helps returning soldiers and veterans with PTSD to work out the war through storytelling, character development, writing, acting, directing, and photography.
Never afraid of multiple challenges, 80-year-old Tom Skerritt told Broadway Buzz in 2013 that he and his wife Julie, 5-year-old daughter Helen, and their 100-pound Swiss Mountain dog had just moved to New York City for the first time so he could make his Broadway debut in an adaptation of John Grisham's bestselling novel A Time to Kill in 2013. Skerritt played the character of seasoned lawyer and functioning alcoholic Lucien Wilbanks in A Time to Kill.
Since becoming an octogenarian senior citizen in 2013, Tom Skerritt has also appeared various film projects that have included a co-starring role in the romantic comedy At Middleton (2013) starring Andy Garcia, Vera Farmiga and Peter Riegert, and the drama Redwood Highway (2013) with Shirley Knight.
In the Civil War drama Field of Lost Shoes (2014), Skerritt portrayed Ulysses S. Grant and was reunited with his Picket Fences (1992-1996) co-star Lauren Holly. He was reunited with former co-stars again when he had a recurring role as James Paisley on The Good Wife (2014) starring Juliana Margulies (The Grid, 2004) and Christine Baranski (Bonneville, 2006). Tom Skerritt reprised his Alien (1979) character Dallas in a voice role on the video game Alien: Isolation (2014).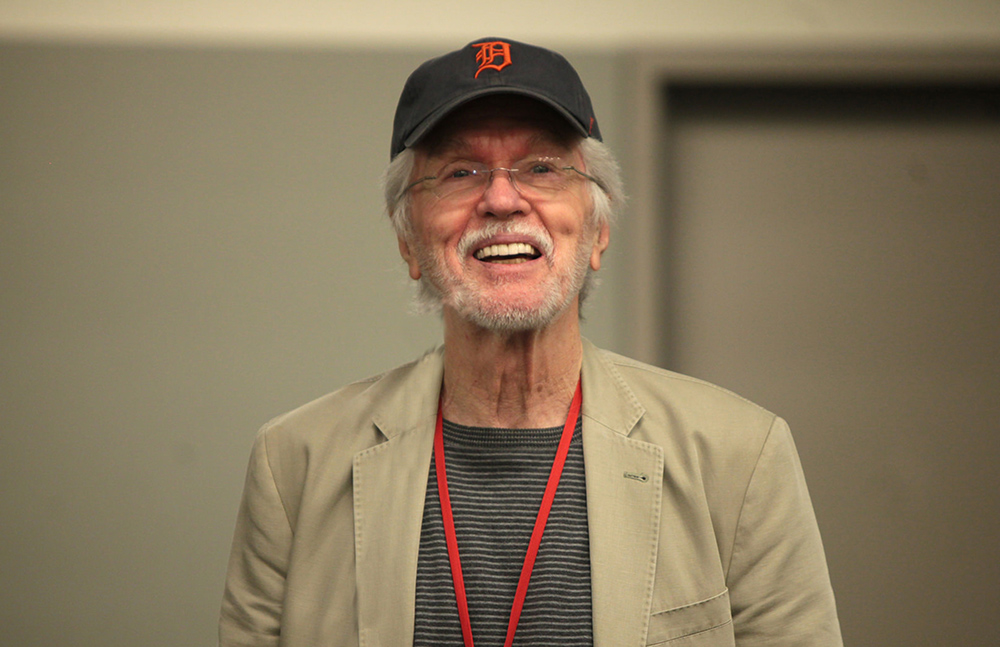 (Tom Skerritt 2014 Photo: Gage Skidmore | Flickr Some rights reserved)
Most recently Tom Skerritt could be seen on an episode of Madam Secretary (2015) as Patrick McCord, with stars Tea Leoni and Tim Daly (Skerritt's former co-star in the 1983 series Ryan's Four). The small budget comedy-drama A Hologram for the King (2016) starring Tom Hanks premiered at the Tribeca Film Festival in April this year.
Upcoming projects for Tom Skerritt scheduled for release in 2017 that his baby boomer fans can look forward to include a starring role as a a 91-year-old man in the drama Day of Days (2017), and a co-starring role in the drama Lucky starring Harry Dean Stanton (Skerritt's 1979 Alien's co-star), David Lynch, Ron Livingston, Ed Begley Jr., Beth Grant, and James Darren, whose TV series The Time Tunnell Skerritt had guest-starred on 50 years previously, in 1966.
Tom Skerritt has been writing and working on his screenplay Honor and Stone about an aging U.S. Navy admiral recalling a life-changing event that took place in 1944, for many years. He has said that he plans to form a production company Heyou Entertainment, to produce Honor and Stone as well as other independent screenplays from TheFilmSchool participants.
More Tom Skerritt:
Tom Skerritt, Part 1: MASH to Alien (1933-1979)
Tom Skerritt, Part 2: The Dead Zone to Picket Fences (1980-1996)