TV Trivia: Golden Girls
Q1. What was the name of The Golden Girls theme song?
Q2. Which of the 4 female stars – actresses Bea Arthur as Dorothy Zbornak, Rue McClanahan as Blanche Devereaux, Betty White as Rose Nylund, and Estelle Getty as Sophia Petrillo – was not in the spin-off TV series The Golden Palace, when The Golden Girls sitcom ended in 1992?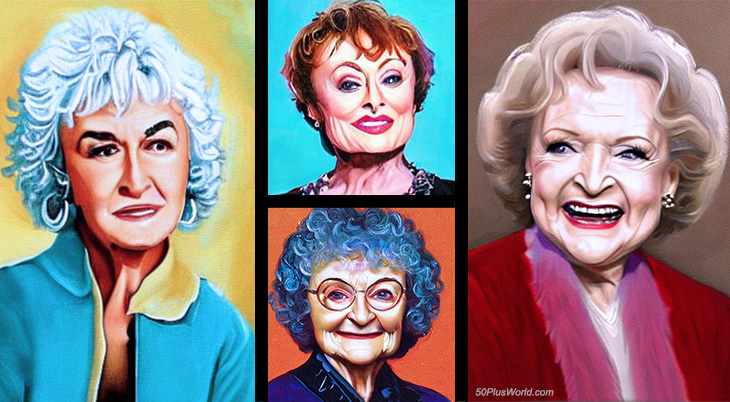 (The Golden Girls – Bea Arthur, Rue McClanahan, Estelle Getty, Betty White – As Caricatures: A. Hamilton for 50+ World)
The Golden Girls TV show about four single, 50+ women (either widowed or divorced mothers with grown children) living together in Miami, Florida was in the Top Ten for most of it's run from 1985-1992. Ironically, actress Estelle Getty was 62 when the series premiered and was heavily made up to play 63-year-old Bea Arthur's (Dorothy) feisty 80-year old mother Sophia.
51-year-old Rue McClanahan fulfilled the role of what today would be called the series "cougar" as man-hungry Blanche, and 63-year-old Betty White was the slightly goofy, sweet Rose Nylund from St. Olaf, Minnesota.
During the series run, The Golden Girls cast, crew & series received 68 Emmy nominations, winning 11. Outstanding Lead Actress in a Comedy Series Emmy Awards were won by Betty White (1986), Rue McClanahan (1987), & Bea Arthur (1988), and Estelle Getty won Outstanding Supporting Actress in a Comedy Series (1988). Pretty good results, considering most years they were competing against each other in the same category.
By the time the series ended, all of the actresses except for Rue McClanahan, were senior citizens. The Golden Girls explored the topics of aging, older women, retirement and senior dating, among others.
Although some press releases made it appear "the girls" were all chummy, that was neither the case onscreen or behind the scenes for some of The Golden Girls characters and cast. Bea Arthur's character Dorothy Zbornak was often frustrated with the other girls and came across as angry. This may not have been much different than Bea Arthur was in real life; co-star Betty White has said that Arthur was reserved and not all that fond of her in particular.
Despite their differences, Bea Arthur, Betty White and Rue McClanahan were all animal lovers, with McClanahan adopting 6 pets after doing PETA commercials with them. 
Estelle Getty passed away in 2008 (age 84), Bea Arthur died in 2009 (age 86), Rue McClanahan in 2010 (age 76), and nonagenarian Betty White died in 2021 (December 31), just weeks before what would have been her 100th birthday.
A1. The Golden Girls theme song was Thank You For Being A Friend, originally written and recorded by Andrew Gold in 1978. It was re-recorded by Cynthia Fee for The Golden Girls, and for the series spin-off Golden Palace.
A2. Bea Arthur's desire to leave The Golden Girls heralded the end of the series; in the series finale Dorothy married Blanche's (Rue McClanahan) Uncle Lucas, played by Leslie Nielsen, and they move from Miami to Atlanta. The other 3 stars appeared in the subsequent spin-off series, The Golden Palace.
Note: This article was first published in 2016. It has been updated with new & additional content..