Dion DiMucci is The Wanderer
Early rock & roll doo-wop singer-songwriter Dion battled addictions while touring and topping the charts with songs like Runaround Sue, Fly Me to the Moon, The Wanderer, Ruby Baby, Abraham, Martin, and John, and more…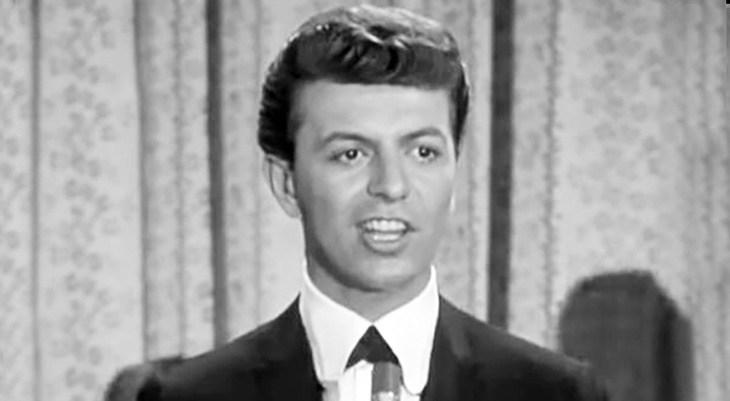 (Dion DiMucci 1961 Twist Around the Clock)
Septuagenarian Italian-American singer-songwriter Dion DiMucci was born in the Bronx, New York on July 18, 1939. His first name of Dion was in honor of the French Canadian Dionne quintuplents, who captured the interest of millions after their May 1934 birth.
In addition to the blues and doo-wop music Dion heard in his neighborhood, his early musical influences were Hank Williams and other country music performers.
Below, Dion sings his signature song The Wanderer, in a scene from Twist Around the Clock (1961).
In his different biographies and his autobiography The Wanderer Talks Truth (2011) written with Mike Aquilina, and in an article "The Wanderer" (2011) on Coming Home Network,  Dion recalls his uncle giving him a guitar when he was 12. He began playing R&B and country music and performing in bars before he was a teenager, but the exposure to drinking and recreational drugs caught him early. Dion told People magazine that he started smoking marijuana at age 13 and was using heroin at age 14.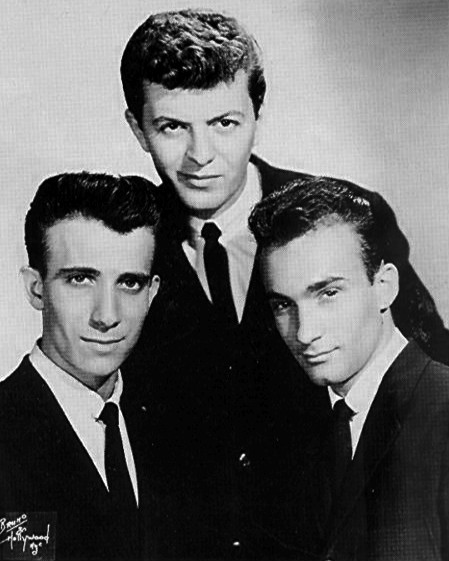 (Carlo Mastrangelo, Dion DiMucci, and Angelo d'Aleo 1960 Dion and the Belmonts Photo: Charlton Publications)
Fortunately for Dion, in the mid-1950's when he was 15, he met Susan Butterfield "the most beautiful girl in the world." Although he was hooked on heroin, it didn't stop him from pursuing his music dreams.
In 1957 Dion auditioned for Mohawk Records and they signed him; needing backup singers, Dion recruited local singers Carlo Mastrangelo, Fred Milano, and Angelo D'Aleo from his neighborhood.
They named themselves Dion and the Belmonts (after Belmont Ave. in their neighbourhood).
Their first album Presenting Dion and The Belmonts (1958) included their first single to break into the Top 20 – No One Knows (1958). Written by Ernie Maresca and performed by Dion and The Belmonts, No One Knows made it to #19 on the Billboard US Hot 100 chart courtesy of young baby boomer fans. Below, audio of Dion and The Belmonts singing No One Knows.
The early success of No One Knows won Dion and The Belmonts a place on the tour bus with Buddy Holly, Ritchie Valens, and the Big Bopper, but the bus kept breaking down. Fed up after yet another bus breakdown, on February 3 1959 Holly, Valens, and the Big Bopper chartered an ill-fated flight to get to their next gig. Dion stayed behind because he couldn't justify spending his share of $36 for a 45- minute flight. Buddy Holly, Ritchie Valens, the Big Bopper (J.P. Richardson), and everyone else on board the plane was killed when it crashed, a tragedy that deeply affected Dion, and the many baby boomer fans of Holly, Valens, and Richardson.
I Wonder Why (1958) written by Melvin Anderson and Ricardo Weeks and first recorded by Dion and the Belmonts, was 1 #22 hit single for the band. I Wonder Why has been featured in TV series and in the movies Peggy Sue Got Married and A Bronx Tale. Below, Dion and the Belmonts performing I Wonder Why. 
Also on the first album Presenting Dion and The Belmonts was the single A Teenager in Love (1959), written by Doc Pomus and Mort Shuman. When Dion and The Belmonts released the single in March 1959, A Teenager in Love became their first Top Five hit.
Below, with an introduction by Dick Clark, Dion and The Belmonts perform A Teenager in Love in April 1959.
Dion and The Belmonts were back in the Top Five in December 1959 with the #3 hit single, Where or When (1960) released in November 1959.  Where or When had been written by Richard Rodgers and Lorenz Hart for their musical Babes in Arms (1937) and had been covered by other artists before it was included on the album Presenting Dion and The Belmonts.
A few months later, in early 1960, Dion entered the hospital in an unsuccessful attempt to beat his addiction to heroin. He has said he was a "millionaire twice over" by the age of 21 that year, but still craved the drink, drugs, and above all, the adulation.
Dion and The Belmonts second album, Wish Upon a Star (1960) produced some Top 100 singles including a cover of In The Still of the Night (1960). Written in 1954 by Bart Howard, the song In Other Words (Fly Me to the Moon) has been covered by numerous artists, beginning with Kaye Ballard in 1954, and followed by Peggy Lee (1960). That same year, Dion and The Belmonts recorded it as well and included it on their Wish Upon a Star album; below, their audio recording of Fly Me to the Moon.
Dion and The Belmonts broke up in 1960 and he recorded his first solo albums Alone With Dion (1961) which included the #12 hit single Lonely Teenager (1960), and Runaround Sue (1961). Dion teamed up with his No One Knows songwriter Ernie Maresca to co-write the single Runaround Sue for the album of the same name. **Dion and Maresca would go on to co-write more songs together, and Dion would also cover more of Maresca's solo efforts. The Del-Satins (Stan Zizka, Fred Ferrara, Tom Ferrara, Leslie Cauchi, and Richie Greene) stepped in as Dion's backing vocal group for Runaround Sue and many subsequent recordings.
A 63-year-old Dion was inducted into the Grammy Hall of Fame in 2002 for his performance of Runaround Sue.
Below, Dion singing his hit single Runaround Sue in another scene from Twist Around the Clock.
The Wanderer (1961) written by Ernie Maresca, was first recorded by Dion and has become one of his signature songs, making it to #2 on the Hot 100 charts. The Wanderer has been covered by numerous artists including The Beach Boys, Leif Garrett, Bruce Springsteen, Eddie Rabbitt, Dave Edmunds, The Stray Cats, and others. Dion performs The Wanderer in 1963, below.
The single Lovers Who Wander (1962) written by Dion DiMucci and Ernie Maresca, made it to #3 on the charts in 1962. This success was eclipsed that year by Dion's recording of the song Ruby Baby (1962), written by Jerry Leiber and Mike Stoller, which went to #2.
Dion and girlfriend Susan Butterfield were still together, despite his addictions and musical success.
"It was 1963, and I was spinning my wheels… I tried to hide from my fears by partying even harder. Still, I didn't want to lose Susan. I asked her to marry me, swearing to change and vowing to love and cherish her forever."
Dion DiMucci married Susan Buttefield on March 25, 1963, and later said "things went from bad to much worse. I had no idea drug and alcohol abuse was a progressive disease."
Dion still managed to make the charts with more hit singles in 1963, including Sandy, This Little Girl, Come Go With Me, Drip Drop, and his #6 hit Donna The Prima Donna (1963). Written by Dion with Ernie Maresca, Dion has said Donna The Prima Donna was inspired by his younger sister Donna with the lyrics, "She wants to be just like Zsa Zsa Gabor". Below, a vintage music clip of Dion singing Donna The Prima Donna.
Susan and Dion's first daughter Tane DiMucci was born in 1966. Dion tried to kick heroin again that year, but wasn't able to get completely off drink or drugs.
Dion and The Belmonts reunited briefly from 1966-1967 to record release a new album Together Again (1967). Although the single My Girl The Month of May written by Dion was a hit in the UK when it was released in 1966, the album was unsuccessful and the group broke up again.
Below, Dion performing his 1963 hit song Ruby Baby live in a 1966 televised performance . 
Depressed, Dion moved with his wife Susan and daughter Tane to Florida in 1968 to make a fresh start. He has credited his father-in-law Jack Butterfield with helping him to "see God work", by laying on hands at Dion's confirmation. Dion was subsequently able to permanently kick his addictions to drink and drugs in April 1968, and has stayed clean ever since. His religious transformation continued with a 12-step program, and influenced his music.
The song Abraham, Martin, and John (1968) written by Dick Holler, became a #4 hit single (#1 in Canada) when Dion recorded and released it in 1968. A tribute to assassinated civil rights supporters – Martin Luther King, and American Presidents Abraham Lincoln and John F. Kennedy – Abraham, Martin, and John became an anthem for the civil rights movement and was later recorded by other artists including Marvin Gaye.
Below, an older Dion singing Abraham, Martin, and John live on Nashville Now with some help from Aaron Neville.
Dion and Susan DiMucci's second daughter Lark was born in Florida circa 1969, and their youngest daughter August around 1974. When not performing or spending time with his family, he has done volunteer work at local hospitals counseling heroin addicts
Dion's musical leanings moved away from rock and roll to a singer-songwriter mode, but he did not achieve the success he'd enjoyed earlier in the 1960's. He became a born-again Christian after another power emotional experience while out jogging in 1979, and focused on performing Christian music until 1989. His 1983 album I Put Away My Idols was a #37 chart hit and earned Dion a Grammy Award nomination for Best Gospel Performance, Male.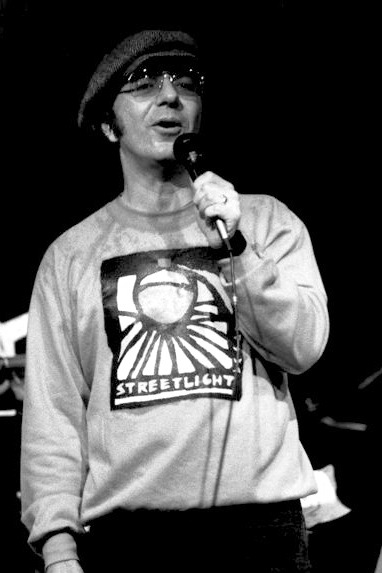 (Dion DiMucci Photo: Ronzoni)
After publishing his autobiography The Wanderer: Dion's Story (1988) written with Davin Seay, Dion returned to rock music during his 50+ and senior years. His album Yo Frankie (1989) featured guest artists Paul Simon, Lou Reed, k.d. lang, Patty Smyth, and Bryan Adams, and was produced by Dave Edmunds. Dion DiMucci was inducted into the Rock & Roll Hall of Fame that same year.
Dion reverted to his childhood Roman Catholic faith and still works with men in addiction recovery.
He and his wife Susan still live in Boca Raton, Florida, and celebrated their 55th wedding anniversary in March 2018.
Their three daughters have made them grandparents and live near them.
Still recording, performing, touring in his septuagenarian senior citizen years, one of Dion's more recent singles was the Paul Simon duet New York Is My Home (2015), included on the album of the same name.
Dion's collaboration album Stomping Ground (2021) featured duets with the likes of Boz Scaggs, Eric Clapton, Joe Bonamassa, Mark Knopfler, and Peter Frampton. The single Angel in the Alleyways written by Dion DiMucci and Mike Aquilina; Bruce Springsteen and Patti Scialfa are featured on the tune. 
Hopefully Dion will be blessed with his centenarian mother's longevity gene, and his baby boomer and younger fans will be able to see The Wanderer live in concert for years to come.
Note: This article was first published in 2016 under the title Celebrating Seniors – Dion DiMucci is 76. It has been updated with new & additional content. 
**Updated December 2019 to add Del-Satins clarification, as pointed out in comments.