Eric Clapton: Still Wonderful Tonight
Paying tribute to "Slowhand" Eric Clapton, from his days with Cream and an obsession with pal George Harrison's wife Pattie Boyd, to a new love and grown children today.
The Great Love Affair – or – An Obsession? The Early Years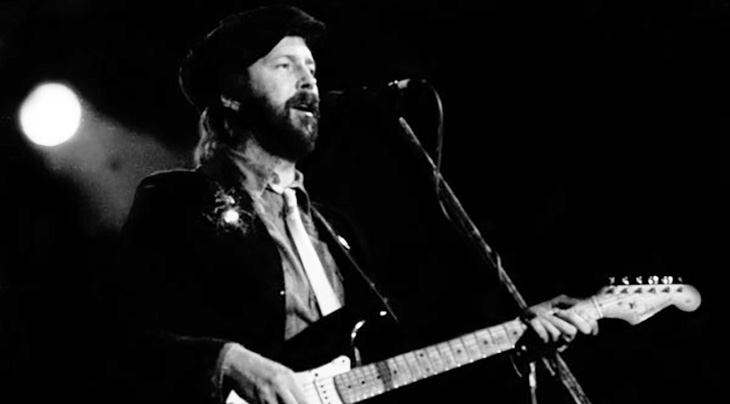 (Eric Clapton 1978 Photo: Eddie / monosnaps)
Born March 30 1945 to 16-year-old single mother Patricia Clapton in England, for many years Eric Clapton thought his grandparents were his parents, and that his mom was his older sister. His father Edward Fryer was a soldier from Montreal, Canada that went off to war before Eric was born and returned to Canada post-war. It wasn't until he was 9 years old that Clapton's grandparents told him the truth about his parents; he discovered in 2007 that his father had been a piano and saxaphone player (he died in 1985), who had several children and likely never knew he was the father of Eric Clapton.
Eric Clapton started playing guitar regularly at age 15, and at 18 he joined the Yardbirds, at the time a blues-focused band. He started to gain attention in England for his guitar playing, and earned his "Slowhand" nickname while with the group (if a guitar string broke while on stage he'd replace it immediately and the audience would do a slow hand clap while waiting).
Clapton met George Harrison when the Yardbirds were a support act for The Beatles at a 1964 concert, and they became good friends. The 1965 release of the Yardbirds first hit single "For Your Love" was the end of Clapton's tenure in the Yardbirds; the group was moving towards a pop sound and Clapton wanted to stay with blues.
In 1966 Eric Clapton joined a new band called Cream (disbanded in October 1968). That same year George Harrison married the model and actress Pattie Boyd, who he'd met on the 1964 set of A Hard Day's Night.
During his time with Cream, Eric Clapton's legend as a guitar virtuoso and his use of drugs and alcohol, continued to grow. Clapton's friendship with George Harrison resulted in him playing guitar on Harrison's 1968 Beatles tune While My Guitar Gently Weeps, as well as on Harrison's 1968 solo album, Wonderwall Music. According to Pattie Boyd's 2007 autobiography Wonderful Tonight, by 1968 her marriage to Harrison was in trouble due to George's obsession with meditation, his mood swings, and numerous affairs:
"I was friendly with a French girl who was going out with Eric Clapton. When she and Eric broke up, she came to stay with us at our house…She didn't seem remotely upset about Eric and was uncomfortably close to George. Something was going on between them…I left to stay with friends and within days George phoned to say the girl had gone. I returned home but I was shocked that he could do such a thing to me. I felt unloved and miserable. It was around this time that Eric began to come over to our house. He and George had become close friends, writing and recording music together."
Eric Clapton had begun to fall in love with Pattie Boyd, who recalled "I was aware that Eric found me attractive and I enjoyed the attention he paid me. It was hard not to be flattered when I caught him staring at me or when he chose to sit beside me".
In December 1969 Pattie Boyd and her sister Paula went to see Clapton perform at a couple of solo concerts, and very soon after that Paula moved into a new mansion Eric had built in Surrey that he called Hurtwood Edge. By March 1970 Clapton's newly formed band Derek and the Dominos (originally called Eric Clapton and Friends) were recording sessions for Harrison's new album All Things Must Pass. Below, Derek and the Dominos, with Eric Clapton on the far right, in a Billboard ad.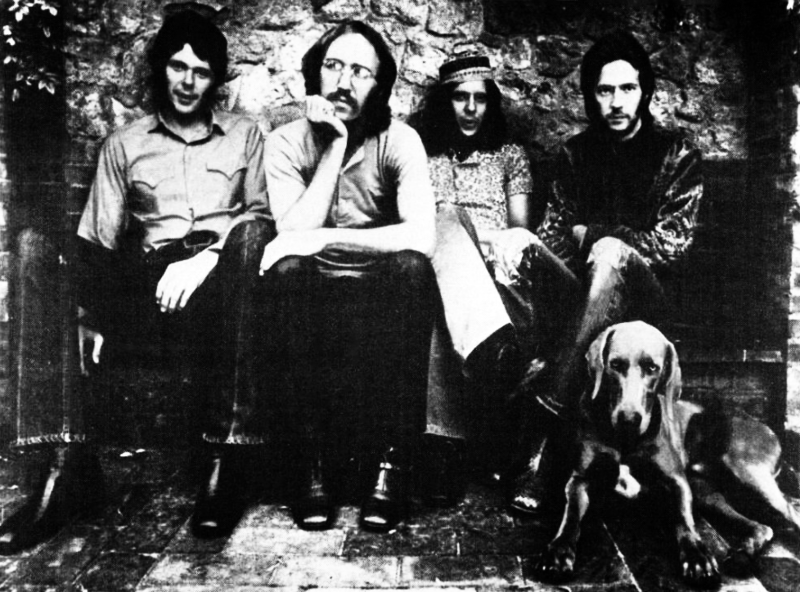 (1971 Photo: Atco Records / Billboard)
Eric had read and been deeply affected by the poem he related to called "The Story of Layla and Majnun", about a man who went crazy because he couldn't marry the beautiful, unavailable woman he'd fallen in love with.
Clapton turned to songwriting to express his feelings about Pattie and later in 1970 the Derek and the Dominos went into the recording studio with guest guitarist Duane Allman, to record their 1970 album Layla and Other Assorted Love Songs. Unfortunately Clapton's increasing misery had also escalated his use of alcohol, cocaine and especially heroin. Layla, Have You Ever Loved a Woman, Why Does Love Got to Be So Sad were among the songs on the album. Co-vocalist and keyboard player Bobby Whitlock is quoted as saying
"When you heard Layla, you knew right away what it was all about…It was understood Eric was totally in love with Pattie."
Below – Eric Clapton performing Layla in 1988 at Royal Albert Hall. 
Pattie Boyd recounted this:
"We met secretly at a flat in South Kensington. Eric Clapton had asked me to come because he wanted me to listen to a new number he had written. He switched on the tape machine, turned up the volume and played me the most powerful, moving song I had ever heard. It was Layla, about a man who falls hopelessly in love with a woman who loves him but is unavailable… with the realisation that I had inspired such passion and creativity, the song got the better of me. I could resist no longer." 
She said that later that evening she went to a house party and was soon joined by Eric; George turned up and went to find Pattie, whereupon and Clapton told him,
"'I have to tell you, man, that I'm in love with your wife."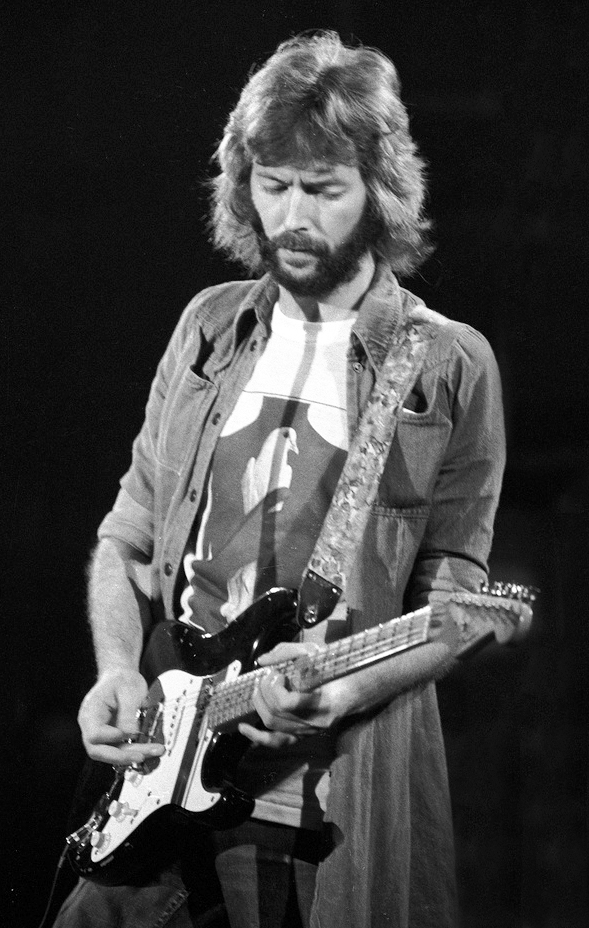 (Eric Clapton 1975 Photo: ultomatt)
Unfortunately neither the album nor any of the songs on it, were an immediate commercial success; and although Derek and the Dominos toured the US, by early 1971 they had broken up.
Afterwards, according to Bobby Whitlock,
"Eric just went ahead and locked the door at Hurtwood and stayed home for two years and did heroin."
In 1973 the Layla song and album started to get airplay and became a hit. Clapton had kicked his heroin addiction in 1974, but was becoming, if not already, an alcoholic.
Around that same time George Harrison and Pattie Boyd finally split up; Pattie then promptly moved in with Clapton.
Eric Clapton recorded albums in 1974 and 1975 that included songs such as "I Shot the Sheriff" (his 1st #1 hit) and had a world tour in 1975. Subsequent albums such as 1977's Slowhand included the hits Wonderful Tonight (written for Pattie) and Cocaine…
Below, Eric Clapton performing Wonderful Tonight live.
"usually the spark of any song I write is about the way I feel about a certain woman and a certain time"
End of the Obsession and Getting Clean
By 1978 Clapton was a raging alcoholic and cocaine addict; in his 2007 autobiography Clapton, he estimated that he spent $16,000 a week on cocaine. It's been reported that Pattie helped Eric Clapton overcome his cocaine addiction, although he was still an alcoholic when they finally married in 1979.
Patti's ex-husband George Harrison was the best man at their wedding, and he and Eric remained fast friends until Harrison's death in 2001. Unfortunately a 1982 stint in rehab for Eric wasn't successful, and Pattie & Eric's attempts to have children all ended in miscarriages.
Below, in 2015 an older Eric Clapton performed his signature song Cocaine (1977), written by J.J. Cale, at the Royal Albert Hall in London, England,, 
When Eric Clapton went on a 1984 European tour with Roger Waters, in addition to having numerous sexual liasions, he had an affair with Yvonne Kelly, a Montserrat recording studio manager (she gave birth to his daughter Ruth Kelly Clapton in 1985). He returned from this tour in late 1984 to find that Pattie had also had an affair, which led to a trial separation for the couple.
By mid-1985 Eric Clapton had persuaded Pattie to reconcile with him before he went on yet another European tour. In October 1985, after being home for two days from the tour, he told Pattie their marriage was over. While in Europe he'd met Italian model Lory Del Santo (who had his son Conor in 1986). Eric and Pattie's divorce was finalized in 1988, the same year he released his Crossroads album.
In a 2008 Esquire interview, Eric Clapton stated:
"I have regrets, obviously. Countless. One of the great regrets was getting involved with George Harrison's marriage. What is that fabulous song that Dylan plays? "Don't go mistaking paradise for that home across the road."
When asked later if Pattie Boyd was the love of his life, Clapton said in interviews that he wasn't sure if he even knew what love was, or was capable of love back then, because he was an alcoholic and addicted; instead he characterized it as being obsessed with her.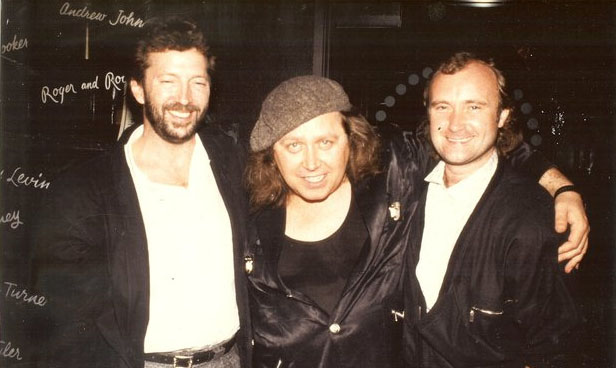 (1980s Eric Clapton with pals Sam Kinison, and Phil Collins Photo: The World Famous Comedy Store )
In 1987 Eric Clapton entered the Hazelden Treatment Center for a second, successful attempt to kick his alcohol addiction. Throughout the '80's Eric Clapton continued to record albums and tour.
The early 90's didn't start off well for Clapton; while on tour in August 1990 his friend, guitarist Stevie Ray Vaughan, and 3 members of the crew were killed in a helicopter crash. And on March 1991 his four-year-old son Conor died as the result of a fall from a 53rd story apartment building window in New York City.
While Clapton picked up the pieces of his life and tried to move on, he wrote the introspective ballads My Father's Eyes (about his father, and his son) and 1991's Tears in Heaven (about Conor). He later said in an interview:
"I almost subconsciously used music for myself as a healing agent, and lo and behold, it worked… I have got a great deal of happiness and a great deal of healing from music."
Below, Eric Clapton's music video for Tears in Heaven.
During this time he also connected with and built a relationship with his daughter Ruth Clapton, to the point that her mother Yvonne moved back to England with their daughter so he could spend time with her.
While continuing to record albums and tour, between 1993-1999 Eric Clapton served on the boards of a two British treatment centres for drug and alcohol dependence. In 1998 Clapton was inspired to establish a new drug and alcohol centre in Antigua, called The Crossroads Centre. The charity is still active today, with Clapton running regular festivals to raise funds in support of it.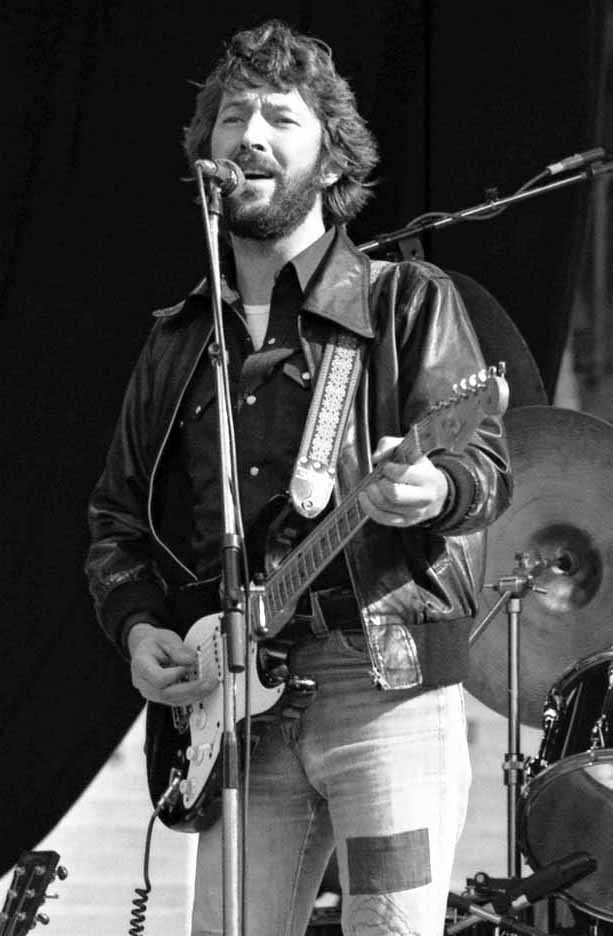 (Eric Clapton 1978 Photo: Chris Haakens)
It wasn't until 1998 when he was 53, that Eric Clapton met the woman who would become his second wife, 23 year old American Melia McEnery. They are still happily married today, after a 2001 wedding ceremony in England during which they also christened their first daughter (Julie b. 2001) as well as Ruth, his 16-year old daughter with Yvonne. His two youngest daughters with Melia came along in 2003 (Ella) and 2005 (Sophie).
Now a senior citizen and grandparent (grandson Isaac Bartlett was born in 2013 to his first daughter Ruth and her husband), in recent interviews Clapton stated that he has anxiety about travelling, and the day when he can no longer play the guitar may not be far off:
"Physically, it might be that I can't, if it hurts too much. I have odd ailments.' 
His fans and critics can attest that Eric Clapton is still wonderful tonight in concert and recordings. He's won 15+ Grammy Awards during his long career, and is still touring, with concert dates booked in 2020. 
Note: This article was first published in 2015 with the title Celebrating Seniors – Eric Clapton. It has been updated with new & additional content.
*Images are public domain or Creative Commons licensed & sourced via Wikimedia Commons, Vimeo, or Flickr, unless otherwise noted*