Celebrating Seniors - Cher Turns 70 Part 1
The Sonny & Cher & Gregg Allman Era – 1960's and 1970's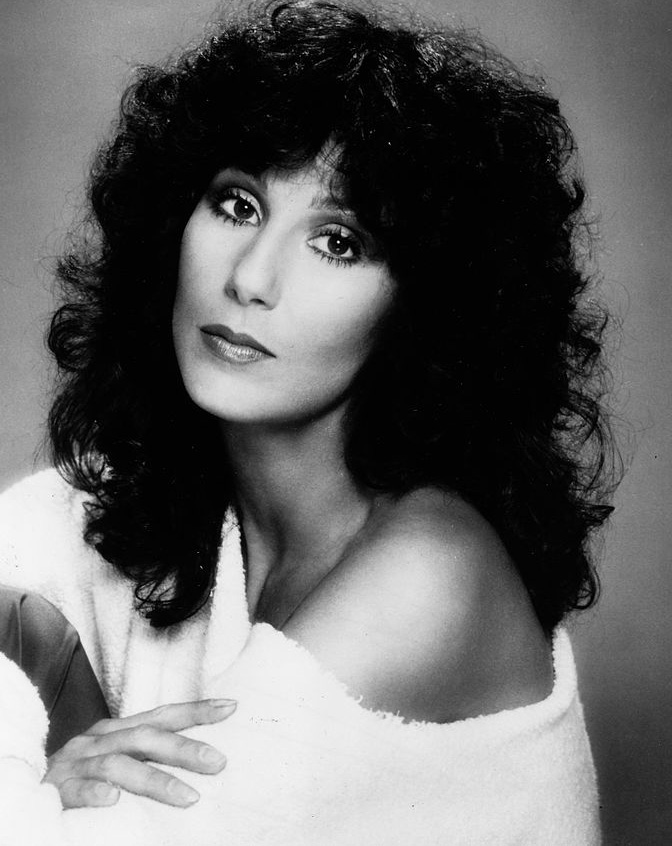 (Cher 1970s Photo: Casablanca Records Light Show)
Vintage video performances of 5 of Cher's #1 hit solos and duets with Sonny Bono during this era: I Got You, Babe, The Beat Goes On, Gypsys, Tramps & Thieves, Half-Breed, and Dark Lady. 
Baby boomer, singer, actress and new septuagenarian senior citizen Cher (Cherilyn) Sarkisian was born May 20, 1946 in El Centro, California. Cherilyn's parents had American, Armenian, Irish, English, German, and Cherokee roots; they divorced when she was a baby and Cherilyn was raised by her mother. A senior citizen Cher told Parade magazine in 2010 that her truck driver father was in prison for a long time and she didn't meet him until she was 11.
Cherilyn's younger half-sister Georganne Southall was born in 1951 after Cher's mother Jackie Jean Crouch Sarkisian married John Southall. Jackie later changed her name to Georgia Holt and began acting in movies and on television when they moved to Los Angeles. Cherilyn's mother divorced and remarried several more times and moved with Cherilyn and Georganne to New York, Texas, and back to California. When Cherilyn's mother Jackie married Gilbert LaPiere, he adopted both Cherilyn and Georganne and enrolled them at a private Encino prep school in 1961. 
Cherilyn LaPiere's goal of "stardom" had begun in grade school; although she did well in classes at Montclair College Prepatory School, she dropped out of school at age 16 in 1962 to take acting classes and work while pursuing a show business career in Los Angeles. Before meeting 27-year-old actor/singer Sonny Bono in early 1963, she dated and slept with 25-year-old actor and player Warren Beatty when they met after a car accident (his fault). When she met Bono, they were dating each other's friends and he was separated from his first wife. According to a 1991 interview with People magazine, Sonny was attracted to Cherilyn immediately, but a little intimidated by her gay/lesbian friends. They agreed to a platonic relationship and she moved into his home as a friend and kept house while their relationship quickly evolved into live-in lovers. Bono was working for Phil Spector and introduced Cherilyn to him; she began to get work as a backup singer on recordings like the Righteous Brothers (Bill Medley) You've Lost That Lovin' Feelin'.
By the end of 1964, Cherilyn and Sonny had married themselves (unofficially) in a Tijuana, Mexico hotel room in October, and recorded some unsuccessful singles as the duo Caesar & Cleo. Cherilyn suffered from stage fright and wanted Sonny on stage with her in live performances so she could sing to the audience through him. Cherilyn had also been signed to Imprint (Liberty Records) at the end of 1964.
Her solo cover of All I Really Want to Do (1965) written by Bob Dylan, made it to #15 on the US Hot 100 charts in 1965. Early that year, the duo changed their name to Sonny & Cher. After recording a new single I Got You Babe (1965), they took the advice of the Rolling Stones and went to England where they were heralded in the British press for their different "look". The single I Got You Babe written by Sonny Bono and sung by Sonny & Cher was a hit with baby boomers, going to #1 on the Hot 100 charts. I Got You Babe was included on Sonny & Cher's first album Look at Us (1965). Below, a very hip Sonny & Cher singing their hit song I Got You Babe live circa 1965.
Sonny & Cher's second album Baby Don't Go – Sonny & Cher & Friends, spawned the Top Ten hit single title track, Baby Don't Go (1965) written by Sonny Bono. They had first recorded Baby Don't Go in 1964 on Reprise records and then re-released it in 1964. Their third album The Wondrous World of Sonny & Chér (1966) included Sonny Bono's 1965 hit single as a solo artist, Laugh at Me (1965). Cher's #2 hit single as a solo artist Bang Bang (My Baby Shot Me Down) (1966) was written by Sonny Bono and included on Cher's second solo album – The Sonny Side of Chér (1966).
Cher recorded the song Alfie (1966), written by Burt Bacharach and Hal David for the 1966 movie Alfie, as a solo artist and her version was in the credits of the American version of the movie; Cher's recording of Alfie was eclipsed by the later success of Cilla Black's version (for the British soundtrack) and Dionne Warwick's single. 
Sonny & Cher were in demand, and made a guest-starring appearance on the popular series The Man From U.N.C.L.E. in The Hot Number Affair episode; Cher played a dress designer and Sonny was a garment cutter. 
 (Cher, Sonny Bono, and David McCallum 1967 The Man From U.N.C.L.E Photo: NBC Television)
Another Sonny & Cher trademark hit single, The Beat Goes On (1967) was written by Sonny Bono and when the recording was released by the duo, it went to #6 in 1967.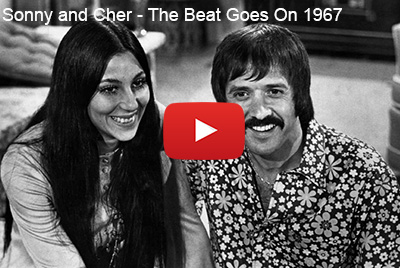 More hit singles followed during the 1960's and early 1970's for both the duo of Sonny & Cher, and Cher as a solo artist, but there were some periods of drought when they fell off the charts. You Better Sit Down Kids (1967) written by Sonny Bono was a #9 hit single from Cher's fourth solo album, With Love, Chér. Amidst a chart slump in the latter half of the 1960's, they produced and starred in their own musical movie spoof film, Good Times (1967), which sank at the box office.
Their personal life was also undergoing turmoil as Sonny Bono had numerous affairs; to stave off a break-up, he promised Cher a real marriage and a family. They drained their finances to make another movie, the drama Chastity (1969) written and directed by Sonny and starring Cher. Cher got pregnant while filming the movie and after their daughter Chastity Sun Bono was born in March 1969, they were married. Chastity the movie tanked at the box office, and Sonny and Cher began performing in night clubs as a duo to pay off their debt from the movie. They caught the attention of TV executives and began doing guest appearances on television shows.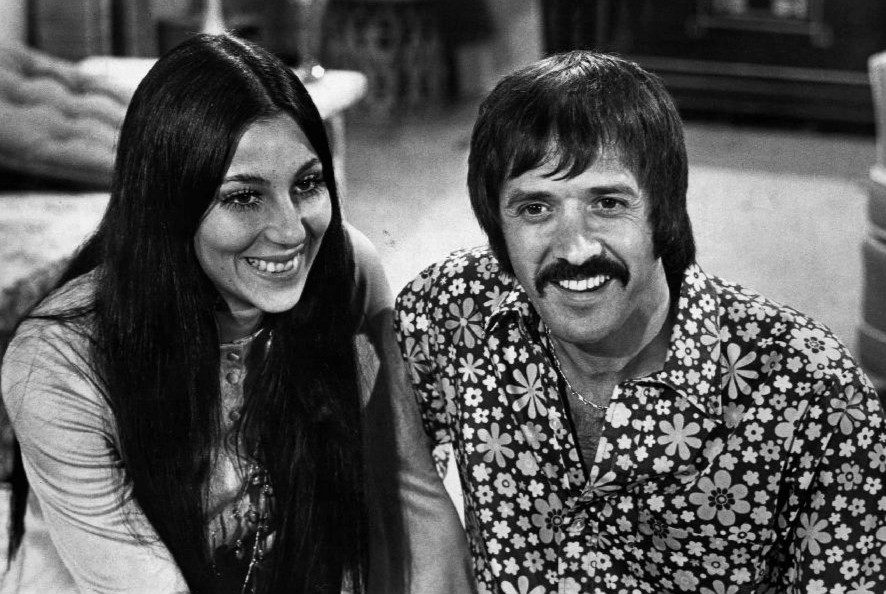 (Cher and Sonny Bono 1971 Love, American Style Photo: ABC Television)
According to excerpts from Sonny Bono's diary published in People magazine in 1998 after his death, Sonny & Cher had been having problems since 1970. They argued over decisions about Cher's song selections and her/their career.
Despite their private troubles, they were offered their own CBS television program, The Sonny & Cher Comedy Hour, which debuted in August 1971. The Sonny & Cher Comedy Hour was family oriented, sketch comedy and musical programming, and daughter Chastity would make appearances along with numerous guest stars during the 3 years the show was on the air. Cher began to wear glamorous gowns designed by Bob Mackie on The Sonny & Cher Comedy  Hour, and became something of a fashion icon.
In 1971, Sonny & Cher had another Top Ten hit single All I Ever Need is You (1971) written by Jimmy Holiday & Eddie Reeves, but it was eclipsed by Cher's solo single Gypsys, Tramps & Thieves (1971) written by Bob Stone from her album of the same name. Gypsys, Tramps & Thieves was Cher's first album not produced by Sonny Bono; instead, a new professional relationship with producer Snuff Garrett was born. Gypsys, Tramps & Thieves went to #1 and is considered Cher's "comeback" single as a solo artist after her slump at the end of the 1960's.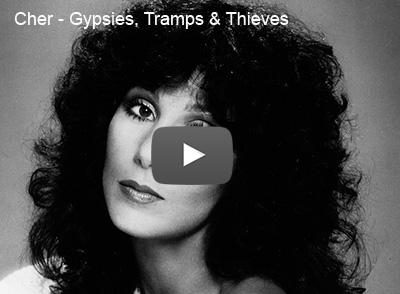 By the end of 1972 Cher had told Sonny Bono that their marriage was over; she was in love with their band guitarist Bill Hamm. They were effectively separated but still living in the same house; Sonny even moved his girlfriend Connie into their home. Still, they kept working together, recording songs and on their television series. In 1972 the Sonny & Cher duet A Cowboy's Work is Never Done (1972), written by Sonny, was a Top 10 hit. Cher's solo recording of The Way of Love (1972) written by Jack Diéval  and Michel Rivgauche, was also a Top Ten hit that year.
Cher had two more #1 hit singles in 1973 from her Gypsys, Tramps & Thieves 1971 album. Half-Breed (1973) was written by Al Capps & Mary Dean. Below, the official music video for Half-Breed.
Cher's Dark Lady (1973), written by John Robert "Johnny" Durrill, was the third #1 hit from the Gypsys, Tramps & Thieves album. Below, Cher in the official music video for Dark Lady:
Sonny and Cher's public divorce proceedings beginning in February 1974 became bitter as they argued over custody of daughter Chastity and money. Cher had met and begun dating record producer David Geffen in 1973; both of them have said in interviews and documentaries that although Geffen was gay, they fell deeply in love. It was Geffen's first heterosexual relationship; he would have others before publicly coming out as gay almost 20 years later, at a 1992 AIDS benefit in Hollywood.
Cher quit The Sonny & Cher Comedy Hour TV series in early 1974 and her new, self-titled television series Cher (produced by then-boyfriend David Geffen) debuted with a special in February 1975.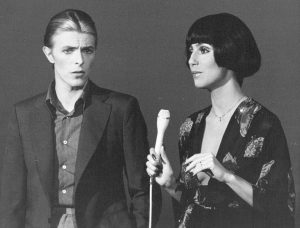 (Guest David Bowie her solo TV musical variety show Cher in 1975 Photo: CBS Television)
Her divorce from Sonny Bono wasn't finalized until June 1975, and 3 days later Cher married to bad boy singer-guitarist and Gregg Allman in Las Vegas. Nine days after that, Cher filed for divorce, daunted by Allman's alcohol and heroin addictions, only to drop the divorce within a month and reunite with him; Allman recovered from his addictions.
Cher was cancelled after it's first season because Cher found carrying the entire show by herself was too much of a strain.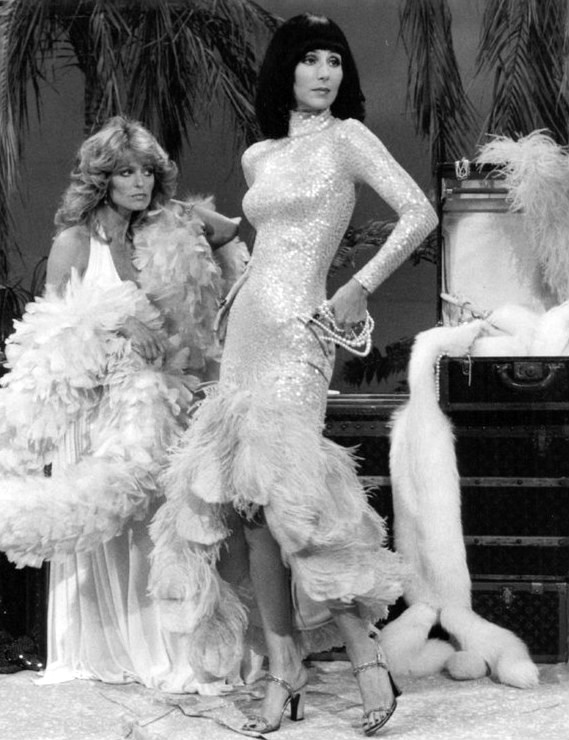 (Guest Farrah Fawcett with Cher on The Sonny and Cher Show in 1976 Photo: CBS Television)
In 1976, newly divorced Sonny and Cher once again starred in a sketch-comedy/music show called The Sonny & Cher Show. The on-screen reunion with her former husband didn't sit well with Cher's new husband Gregg Allman, who filed for divorce but rescinded it when they discovered Cher was pregnant. Their son Elijah Blue Allman was born July 1976. The new The Sonny & Cher Show was cancelled in 1977 after it's second season. 
Cher and Gregg Allman released the flop duet album Two The Hard Way (1977), but were soon separated for a final time; their divorce was finalized in 1979. 
As the 70's drew to a close, Cher released a new Top Ten disco-tinged single Take Me Home (1979) written by Bob Esty and Michele Aller. She'd begun living with Gene Simmons (Kiss) in 1978 while separated from Gregg Allman, but by 1980 that relationship was over too. A new era was about to begin for Cher.
Next: Cher Part 2: 80's & Beyond – Movies, Music & Fashion

*Images are public domain or Creative Commons licensed & sourced via Wikimedia Commons, Vimeo, YouTube, or Flickr, unless otherwise noted*