Celebrating Seniors - Cher Turns 70 Part 2
Cher: 80's & Beyond – Movies, Music & Fashion
Celebrating Cher with vintage musical performances and her story from the 80's onward: Dead Ringer for Love, I Found Someone, I Got You, Babe, Believe, and If I Could Turn Back Time. Below, Cher in some of her most unique costumes; Bob Mackie designed most of her glamour gowns for over 40 years. 
As the 1980's began, Cher embraced the disco and dance music trend along with other baby boomers, although she continued to love rock music. Her subsequent albums have focused heavily on dance music with some rock tunes interspersed. She formed a new rock band in 1980 – Black Rose – with guitarist Les Dudek, whom she was in a relationship with, and performed as a solo artist in a regular Las Vegas Show. Black Rose folded in 1981, but her duet on Dead Ringer for Love with rock musician Meat Loaf was a Top 5 chart single. Below, Meatloaf and Cher singing Dead Ringer For Love in the official music video.
Despite the success of her Meat Loaf Dead Ringer For Love duet, Cher's record sales were declining and she decided to move to New York and focus on acting. Director Robert Altman cast her in a small role in the play Come Back to the Five and Dime, Jimmy Dean, Jimmy Dean on Broadway. Later that year Altman cast her in the same role in the movie adaptation and she appeared in the 1982 movie, Come Back to the Five and Dime, Jimmy Dean, Jimmy Dean.
Director Mike Nichols was impressed with Cher's Broadway performance and cast her in a small role in Silkwood (1983), starring actress Meryl Streep. Cher was nominated for a Best Supporting Actress – Motion Picture Golden Globe Award for her performance in Silkwood, and baby boomer audiences began to take her seriously.
While based in New York in the early 1980's, Cher had begun dating a series of often much-younger men. Among others, she briefly dated then-New York Rangers hockey star Ron Duguay (11 years younger); actors Tom Cruise (16 years younger) fresh from his Risky Business (1983) fame, Val Kilmer (13 years younger) – whom she met off-set while filming Silkwood; and Eric Stoltz (15 years younger), who she then co-starred with in Mask (1985).
Cher's starring performance in the critically and commercially successful movie Mask (1985) won her a Cannes Film Festival Best Actress Award, as well as a Golden Globe Best Actress nomination. She formed Isis, her own movie production company that year as well. By the time of the 1986 Academy Awards ceremony where she was a presenter, Cher was living with new boyfriend, then-agent Josh Donen, 9 years younger than her and the son of the Academy Awards producer that year, director Stanley Donen.
Cher saw Rob Camilletti, a 22-year-old bagel maker/bartender/wanna be actor (dubbed "the bagel boy" by an unkind press), for the first time on her 40th birthday in May 1986.
They began dating 3 months later and the 18 year age difference wasn't a problem for either of them; they were soon living together. Cher spent most of that year completing filming on no less than 3 movies set to be released in 1987. The couple lived together until 1989 and remain good friends today; Camilletti gave up on trying to forge an acting career and is a Gulfstream jet pilot.
1987 was the year of Cher. Her new perfume Uninhibited brought in $15 million in sales the first year. She held her own with strong co-stars in the murder-mystery Suspect (1987), and the box office hit and dark comedy The Witches of Eastwick (1987).  Moonstruck (1987) with Nicholas Cage was the fifth-highest grossing movie in 1987 and Cher won both the Golden Globe and Academy Award for Best Actress.
Cher also signed a new record deal in 1987 with her old boyfriend's (David Geffen) company, Geffen Records, and returned to her love of rock music with songs on the first album with the Geffen label, Cher (1987).
Producers on the album included Michael Bolton, Jon Bon Jovi, and Bon Jovi guitarist Richie Sambora, whom Cher had a romantic relationship with. The single I Found Someone (1987) written by Michael Bolton and Mark Mangold and included on the Cher album, was a Top Ten hit for Cher in 1987.
Cher had forged a new friendship with ex-husband Sonny Bono during the early 1980's. During a tearful on-air reunion with former husband Sonny Bono (now a politician in the running for Mayor of Palm Beach, California) on Late Night with David Letterman in November 1987, Cher and Sonny sang their signature tune from 1965, I Got You Babe, for the last time.
Below, Sonny and Cher sing I Got You, Babe on Late Night with David Letterman in 1987.
Sonny Bono won the mayoral election and after serving from 1988-1992, was a California congressman from 1995-1998; he died in 1998 at the age of 62 after a skiing accident.
A return to the Top Ten music charts began in early 1989 when Cher's next album for Geffen Records, Heart of Stone, released her duet single duet with Peter Cetera After All (1989). After All was written by Dean Pitchford & Tom Snow andwent to #6 on the Hot 100 charts. As the theme song for the movie Chances Are (1989), After All was nominated for a Best Original Song Academy Award.
Cher's next solo single was the power song If I Could Turn Back Time (1989) written by Diane Warren, a #3 hit in the US. The official music video for If I Could Turn Back Time (below) filmed on board the USS Missouri battleship, was banned by some television networks. Cher's 13-year-old son Elijah Blue Allman (from her marriage to southern rocker and bad boy Gregg Allman) is a band guitarist wearing dark glasses and a Jimi Hendrix t-shirt in the If I Could Turn Back Time video. The US Navy later refused to allow music videos to be filmed on board ships.
By the end of 1989 Rob Camilletti had moved out of Cher's house and the couple was broken up. Cher had confessed to having had numerous tattoos and plastic surgeries "I had my nose done. I had my tits done. I wore braces." She has said that she had her nose made smaller after seeing it blown up on the big screen in Mask; and that although she liked her hair and her body, she was never happy with her face. 
In the early 1990's, Cher starred in the big-screen movie Mermaids (1990) and recorded two songs for the soundtrack, including the hit UK single The Shoop Shoop Song (It's In His Kiss). She had her teeth capped, and began touring to support her Heart of Stone album in 1990. Cher has been an honorary spokesperson for the Children's Craniofacial Association since 1990, a subject touched on in Mask (1985).
A Las Vegas concert was filmed for a television special, Cher at the Mirage (1991), she recorded her last album for Geffen Records, released an exercise book Forever Fit (1991), and 2 exercise videos in 1992.
Cher began seeing a therapist and developed chronic fatigue syndrome after catching the Epstein-Barr virus, which put her on the sidelines for a couple of years. During this time she did some movie cameos and became an infomercial queen hawking health and beauty products. She also began laser treatments to remove some of her tattoos.
Just before turning the corner into her 50+ years, Cher's new album It's a Man's World (1995) was released to critical acclaim. A co-starring role in the movie Faithful (1996) was followed by a job directing the HBO movie If These Walls Could Talk (1996), in which she also acted.
A keynote speaker at the 1997 national Parents, Families, & Friends of Lesbians and Gays (PFLAG) convention, Cher is an advocate for gay rights, spurred by daughter Chastity's declaration she was a lesbian at age 17 in 1986, and subsequent transformation to Chaz Bono and transgender surgery in 2010.
As the 1990's drew to a close Cher published a book of autobiographical stories The First Time (1998), and released her 22nd album, Believe (1998). Instead of the mostly rock, R&B sounds her other 90's albums featured, Believe was a return to the dance music she'd flirted with in the late 1970's and early 1980's. The title track single Believe, written by a cast of 8 songwriters including Cher, became a #1 hit in the US and elsewhere. It has been sampled, remixed and re-recorded by countless artists since then. Below, Cher singing her hit single Believe.
The end of the 1990's found Cher living in a new 14,000 sq ft Malibu, California mansion she had built complete with guest house, theater, gym, and tennis courts. She performed the national anthem at the 1999 Super Bowl and her VH1 TV special was a hit. Her tour to support the Believe album was a sellout through 1999 and 2000, and the accompanying HBO television special was highly rated.
Since the new millenium, Cher has focused on recording and releasing dance music albums and singles, and has found success on the dance music charts. She toured worldwide during 2002 -2005, and won the Primetime Emmy Award for Outstanding Variety, Music, or Comedy Special for Cher – The Farewell Tour (2003) aired on NBC.
In 2008 Cher began a 3-year contract at Caesar's Palace, Las Vegas. Just before turning 65 and becoming a senior citizen in 2011, Cher co-starred in the movie musical Burlesque (2010) with Christina Aguilera and recorded two songs for the soundtrack, one of which, You Haven't Seen the Last of Me (2010) was a #1 Dance Chart hit single.
Cher turned producer as a senior citizen, with the Lifetime channel documentary Dear Mom, Love Cher (2013) about her mother Georgia Holt. She's had 3 more Dance Chart hit singles, and guest-starred on Dancing With the Stars in 2013.
In 2013 senior citizen Cher ended an on-again, off-again 5-year relationship with 43-year-old former biker Tim Medvetz, 24 years younger than her. In between their break-ups and make-ups, she had a brief relationship with screenwriter Ron Zimmerman, of whom she said "Even though I'm older than him, I'd never before been with anybody over 30."  She told AARP in 2014 that she often dated younger men because "Older men rarely liked me. If it wasn't for younger men, I would never have a date."  Of her many relationships over the past 5 decades, Cher told Parade in 2010 "I can usually last about two years with a man, and that's it. The moment the relationship goes into the phase of more commitment, it changes."

Below, senior citizen Cher during her 2014 Dressed to Kill concert tour, in her Burlesque costume.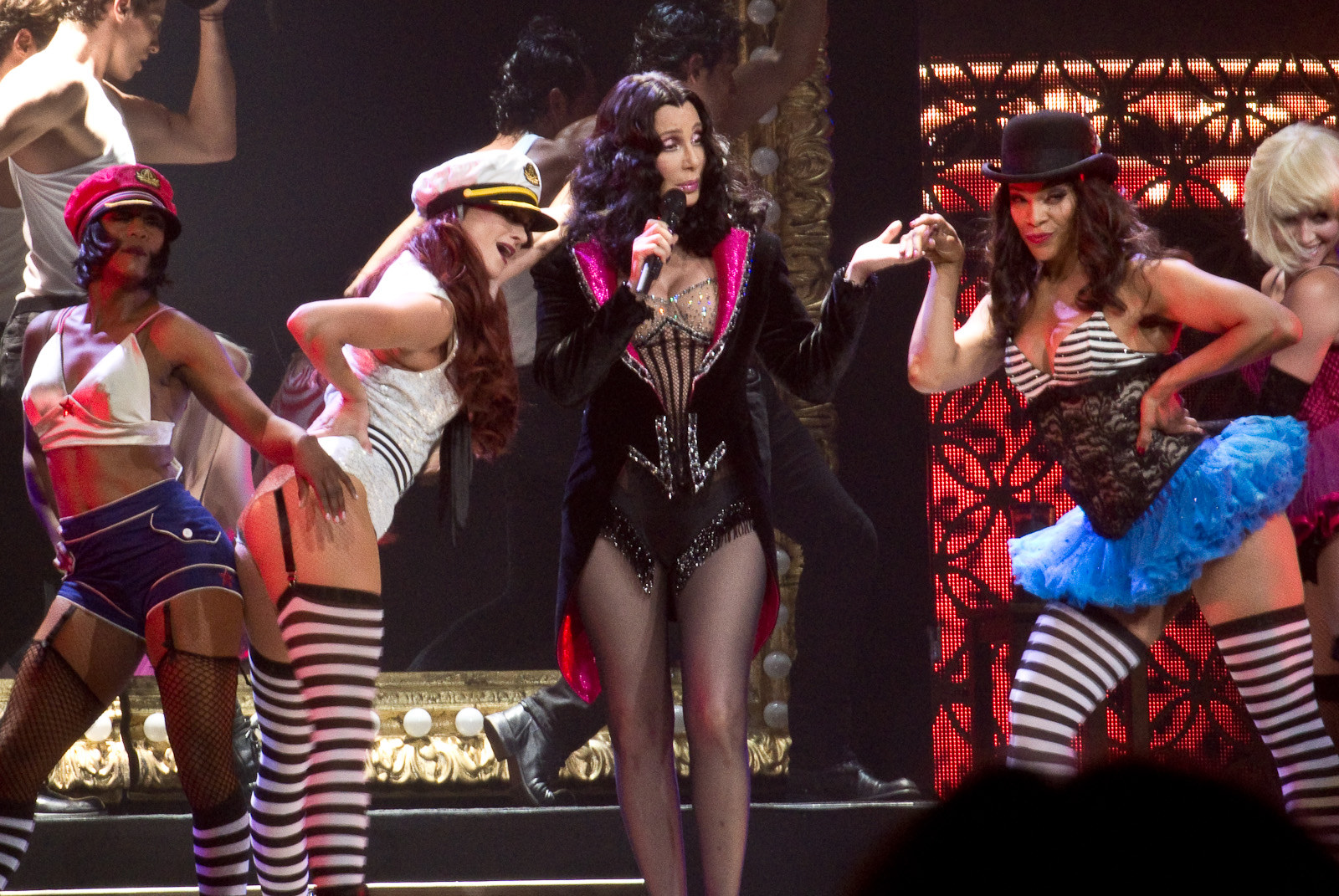 (Cher 2014 Photo: David Carroll | Flickr Some rights reserved)
Today at 70 in 2016, Cher is still working on a Broadway musical based on her life and songs since 2012. She has said of aging that she makes sure to eat right and exercise to stay fit. Although her last tour in 2014 was cancelled after 6 months when she contracted an infection, she hasn't voiced any thoughts of retiring, so fans can hope to see more of Cher – one way or another – in the future.
Cher on aging, in 2014: "Every once in a while I think, 'Jesus, you're so old! How did this happen?' I haven't looked in the mirror in years."
Previously: The Sonny & Cher & Gregg Allman Era – 1960's and 1970's