What Was New in February 1942
February 1942 news & headlines: WWII German U-Boat Commander Werner Winter Torpedoes Ships on the Eastern Seaboard; 14th Academy Awards Ceremony & Winners; Woody Herman's Blues in the Night is #1 Hit Song
German U-Boats Sink U.S. Ships Off US & Canadian Coast
From mid-January to the end of February 1942 during World War Two, German U-Boats attacked and/or sank 27 ships off the coast of the United States and Canada.
In January 1942, the U.S. tanker W.L. Steed loaded a cargo of over 65,000 barrels of oil in Cartagena and began the return trip to Norfolk, West Virginia. The ship spotted a submarine on January 31st, but by the time a U.S. Navy patrol plane arrived, the submarine had disappeared. W.L. Steed continued sailing north along the U.S. Eastern Seaboard.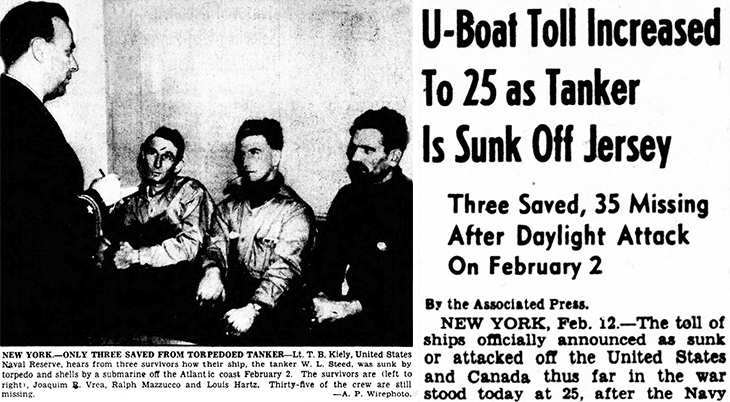 (W. L. Steed Lifeboat #4 Survivors Joaquim R. Vrea, Ralph Mazzucco & Louis Hartz Feb. 12, 1942: A.P. Wirephoto)
On February 2, 1942, with heavy snowfall obscuring visibility, the German submarine U-103 captained by Werner Winter, torpedoed the W.L. Steed tanker, approximately 80 miles east of the mouth of the Delaware River. The tanker's cargo of oil was set aflame.
Captain Harold G. McAvenia and his crew of 37 men launched four lifeboats and exited the ship, wearing only the clothes they had on. The German submarine then launched 2 more torpedoes, one of which hit the tanker and delivered the coup de grace, causing a massive explosion that soon sank the W.L. Steed.
Damage done, the German submarine left, and the American crew aboard the lifeboats were abandoned at sea – in freezing conditions, with no blankets or means of communication. All but 4 of the 38 officers and sailors aboard the 4 W.L. Steed lifeboats died.
Lifeboat 2 – All except for 2 crew members aboard had died of hypothermia by the time these 2 survivors flagged a passing ship on February 4, 1942. They were taken aboard the British steamer SS Hartlepool and taken to Halifax, Nova Scotia, where 1 of the 2 died the next day.
Lifeboat 3 – Stormy seas washed away their equipment and men began dying of hypothermia; 3 survivors started a fire in the boat to stay warm. On February 4th, 1942 the Canadian merchant cruiser Alcantara rescued them, also bringing them to Halifax.
Lifeboat 4 – A lone survivor (and 3 dead men) were discovered on February 12, 1942 by the British steamer SS Raby Castle. The survivor taken on board died 3 days later.  
Lifeboat 1 – Found empty on February 19, 1942, northwest of Cape Hatteras, North Carolina.
The same U-103 German submarine was targeting the Eastern Seaboard of the US, and sank the Panamian merchant ship San Gil on February 4, and the US tankers SS India Arrow and SS China Arrow on February 5th, 1942.
China Arrow's Captain Paul Hoffman Brown and his 37 officers and seamen lowered 3 lifeboats and began abandoning ship. Captain Brown and radio operator Kenneth W. Maynard stayed aboard the ship just long enough for Maynard to send a distress signal. Under fire from the -103 submarine, the China Arrow soon sank. 
"Survivors of the American Tanker China Arrow expressed the conviction here today that their ship and two other recent victims were destroyed by the same enemy submarine in nearby Atlantic coast waters. This raider, in the opinion of Capt. Paul H. Browne, 46, of new York City, is commanded by a 'pretty decent skipper' who refrained from shelling the torpedoed ships until their crews had cleared away in lifeboats…The ship is the 21st victim officially announced by United States, British and Canadian sources since January 12 when the present Axis submarine campaign in American waters began. The China Arrow's sister ship, the India Arrow, was sunk Wednesday night and the freighter San Gil went down at midnight Tuesday. In all three attacks the raider withheld shell fire until life boats could be launched and rowed to a safe distance." – Survivors of Tanker Sunk Off Delaware Laud Enemy Skipper, Feb. 9, 1942, The Evening Star
The officers and crew of the China Arrow had blankets and provisions in their lifeboats, and were soon spotted by a US Army B-25A patrol plane. The plane also dropped four 500lb bombs where they had spotted a diving submarine. Whether any bombs hit a sub was never confirmed, although oil slicks appeared after the bombs were dropped. The China Arrow lifeboats were rescued by the Coast Guard Cutter Nike on February 7, 1942, with no casualties.
On February 19, 1942, the crew of the U.S. Army fighter plane which bombed the submarine, was decorated.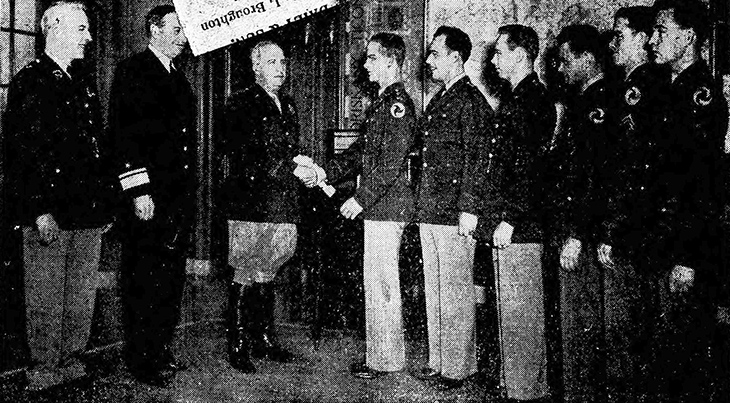 From left: Brig. Gen. Arnold N. Krogstadt, Rear Admiral Adolphus Andrews, Lt. Gen. Hugh Drum, Lt. Louis Abernathy, Lt. Arthur Kush, Lt. Thomas Day, Sgt. Joseph Tokar, Corp. John Duffy, & Pvt. Donald Raher – The Wilmington Morning Star, Feb 16 1942
Before the month was out, U.S. President Franklin D. Roosevelt had signed Executive Order 9066 on February 19, 1942 to designate exclusions areas where the military could bar citizens and non-citizens from entering. 
Japanese submarine I-17 shelled California's coast near Santa Barbara in The Bombardment of Ellwood, February 23, 1942. This was the first attack on the North American Mainland of WWII. No lives were lost, but the next day the Canadian Government ordered the internment of Japanese Canadians on February 24, 1942.
German submarine U-578 torpedoed and sank the U.S. tanker R.P. Resor on February 26, 1942, near the New Jersey coast. R.P. Resor's crew of 41, Captain Frederick Marcus, and 9 U.S. Navy ensign and gunners were aboard the Resor, but only 2 survivors were found. 
U.S. destroyer Jacob Jones (with capacity for a crew of 113) saw the burning hulk of the R.P. Resor on February 27, 1942; the ship circled for a couple of hours looking for survivors before resuming course south. The next morning, on February 28, 1942, the same German U-578 submarine hit the Jacob Jones with torpedoes. The explosions killed most of the men aboard the Jaecob Jones, with the exception of Lt. Commander Black and 25-30 officers and crew. The survivors had 45 minutes to make it into 4-5 life rafts before the Jacob Jones sank; a final explosion from the Jones killed several of the survivors on a nearby raft. Twelve of the survivors were rescued by Eagle 56 Inshore patrol boat (1 died the next day), but no other survivors were found. 
The U-578, commanded by Ernst-August Rehwinkel with a crew of 48 went missing in the Atlantic Ocean near France in the Bay of Biscay, in August 1942. There were no survivors or explanation found for her disappearance.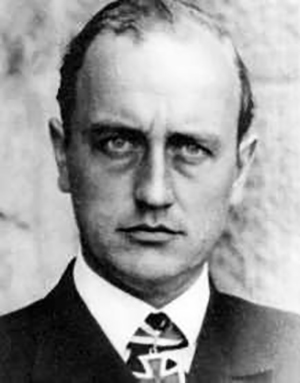 (Werner Winter: Wilco Vermeer/STIWOT)
German Captain Werner Winter commanded the U-103 submarine from August 1941 to July 1942, and sank 15 vessels from the Canary Islands to the U.S. East Coast during that time.
The U-103 continued in service under other captains until it was taken out of service in January 1944; she was scuttled in May 1945 as World War II was ending.
Werner Winter took over command of the German 1st Flotilla in Brest, France in July 1942. He was captured by Allies after the surrender of Brest in August 1944, and was a POW until his release in November 1947. Winter returned to Germany and died there in September 1972 at the age of 60. 
14th Academy Awards Ceremony
The 14th Academy Awards Ceremony for movies released in 1941, took place during WWII and was held at the Los Angeles Biltmore Hotel on February 26, 1942. 
"Despite the early morning air-raid alarm and blackout, there wasn't a single cancellation to the 7:45 P.M. dinner." – Modern Screen, May 1942
Lt. James Stewart and film star Ginger Rogers, winners of the 1941 Academy Awards for Best Actor and Best Actress respectively, presented awards at the 1942 ceremony.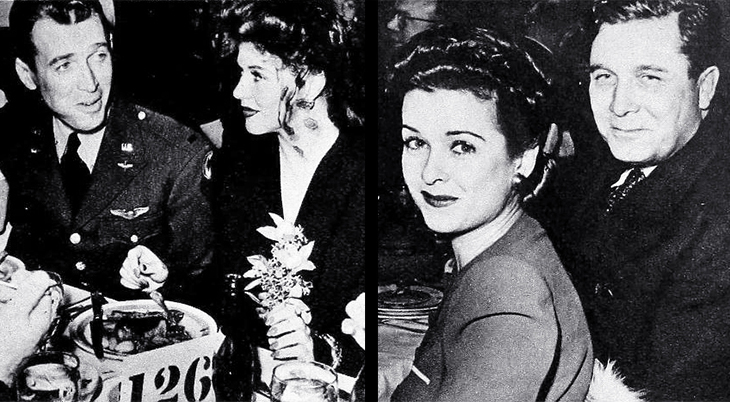 (James Stewart & Ginger Rogers | Joan Bennett & Wendell Wilkie)
Lawyer Wendell Wilkie, the 1940 Republican nominee for President, had adopted an interventionist stance (vs Charles Lindbergh's isolationist views) prior to Pearl Harbor. Post-election, at a Senate subcommittee investigating charges of Hollywood making pro-war propaganda movies, he'd defended the rights of film producers to make films that reflected their views. Wilkie's speech at the 1942 Academy Awards ceremony received rousing applause.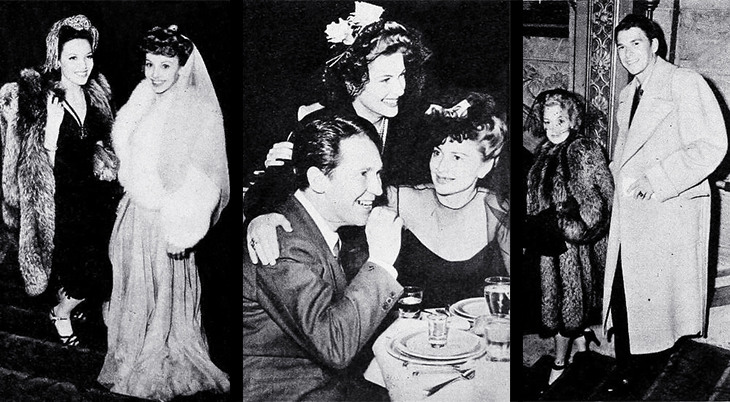 (Jane Wyman, Ronald Reagan, Burgess Meredith, Joan Fontaine, Olivia de Havilland, Linda Darnell & Carole Landis)
Due to WWII, admission was cut to $11 and attendees were asked not to dress up in white tie.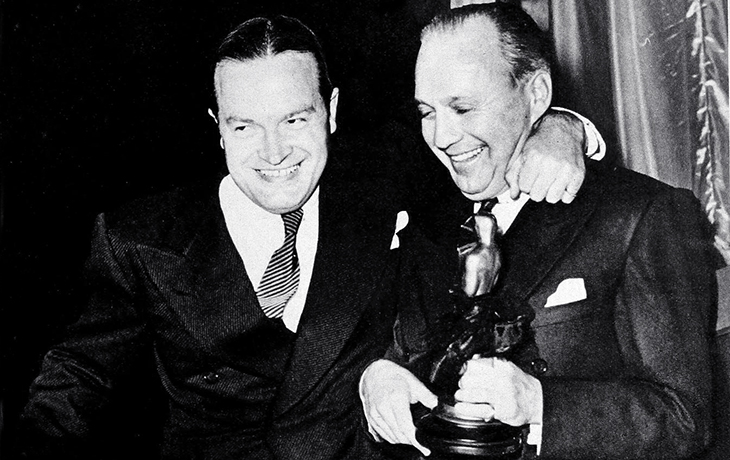 (Bob Hope & Jack Benny 1942 February Academy Awards)
Comedian and master of ceremonies Bob Hope presented fellow comedian Jack Benny with a special skirt-draped Oscar for Benny's performance in Charley's Aunt (1941). 
Director Orson Welles' Citizen Kane lost both Best Picture and Best Director to John Ford for How Green Was My Valley. Welles was also nominated for Best Actor (losing to Gary Cooper, for Sergeant York), and winning for Best Original Screenplay, which he shared with Citizen Kane screenwriter Herman J. Mankiewicz.
How Green Was My Valley won a total of 5 Academy Awards; the other 3 Oscars were for Best Art Direction, Best Cinematography (Black & White) and Best Supporting Actor (Donald Crisp). Crisp triumphed over Walter Brennan (Sergeant York), Charles Coburn (The Devil and Miss Jones), James Gleason (Here Comes Mr. Jordan), and Sydney Greenstreet (The Maltese Falcon).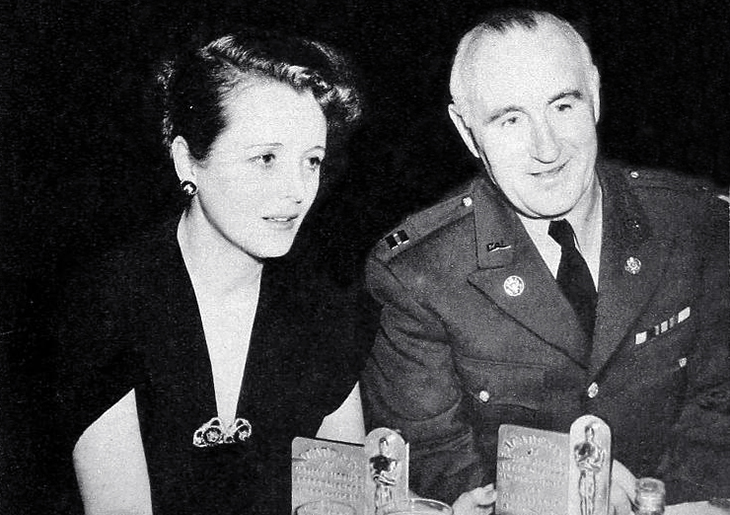 (Best Supporting Actress Mary Astor & Best Supporting Actor Donald Crisp 1942 Feb. Academy Awards)
Director William Wyler's The Little Foxes (an adaptation of Lillian Hellman's play) received 9 nominations – Best Picture, Director, Actress, Scoring, Art Direction (Black and White), Film Editing, Screenplay (Lillian Hellman), Supporting Actress (Patricia Collinge, and Teresa Wright). Best Supporting Actress was won by Mary Astor, for The Great Lie.
Sergeant York, starring Best Actor Gary Cooper, received the most nominations of any movie that year – 11 all told. Sergeant York's second Oscar win was for Best Film Editing. 
Joan Fontaine won Best Actress for her performance in Alfred Hitchcock's Suspicion, against strong competition from her sister Olivia de Havilland in Hold Back the Dawn. Greer Garson (Blossoms in the Dust), Bette Davis (The Little Foxes), and Barbara Stanwyck (Ball of Fire) were the other unsuccessful Best Actress nominees.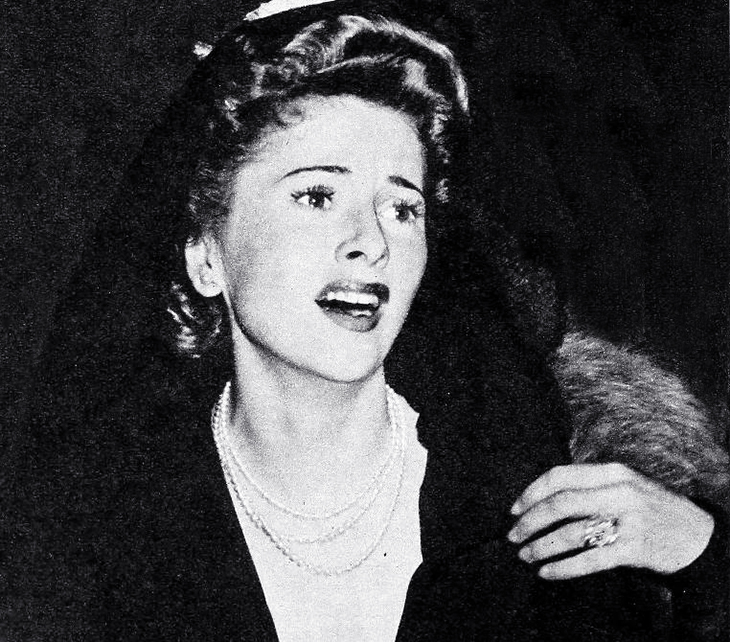 (Joan Fontaine On Hearing Her Name Announced as Best Actress Winner)
Here Comes Mr. Jordan, starring Robert Montgomery (Best Actor Nominee), Evelyn Keyes, Claude Raines, and James Gleason (Best Supporting Actor Nominee) received 7 Oscar nominations and won two Academy Awards – Best Screenplay, and Best Original Story
The WWII propaganda film Churchill's Island by the National Film Board of Canada won the first Best Documentary (Short Subject). 
Blues in the Night by Woody Herman #1 Billboard Hit
Glenn Miller's #1 Billboard chart hit String of Pearls was displaced from the #1 spot on February 14th, 1942 (Valentine's Day) by Blues in the Night, performed by Woody Herman and His Orchestra. Herman provided the vocals as well.
Written by Harold Arlen with lyrics by Johnny Mercer, Blues in the Night was written for the movie Blues in the Night (1941), starring Priscilla Lane, Betty Field, Lloyd Nolan, Jack Carson, and Richard Whorf.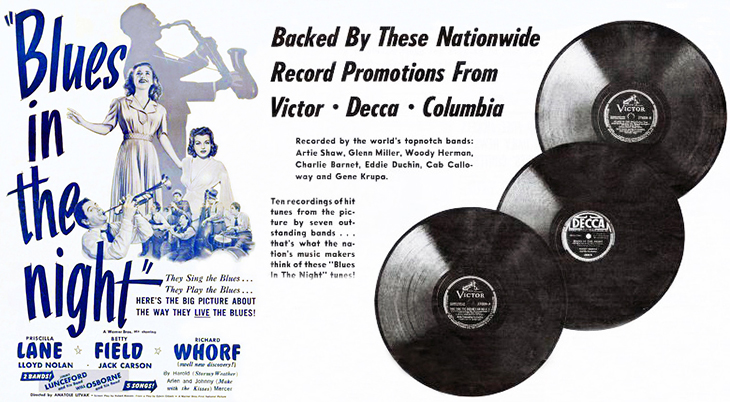 (Blues in the Night 1941: Warner Bros. Advertising)
In the film, actor William Gillespie sings Blues in the Night from a jail cell.
Blues in the Night was nominated for the Academy Award for Best Original Song, losing to The Last Time I Saw Paris from Lady Be Good. This category had a strong field, with Dumbo's Baby Mine, Buck Privates' Boogie Woogie Bugle Boy of Company B, and Sun Valley Serenade's Chattanooga Choo Choo also nominated. 
Cab Calloway, Artie Shaw, Benny Goodman, Woody Herman, Harry James, and Judy Garland each recorded Blues in the Night in 1941, but it was Woody Herman's recording that spent 11 weeks on the Billboard Chart in 1942.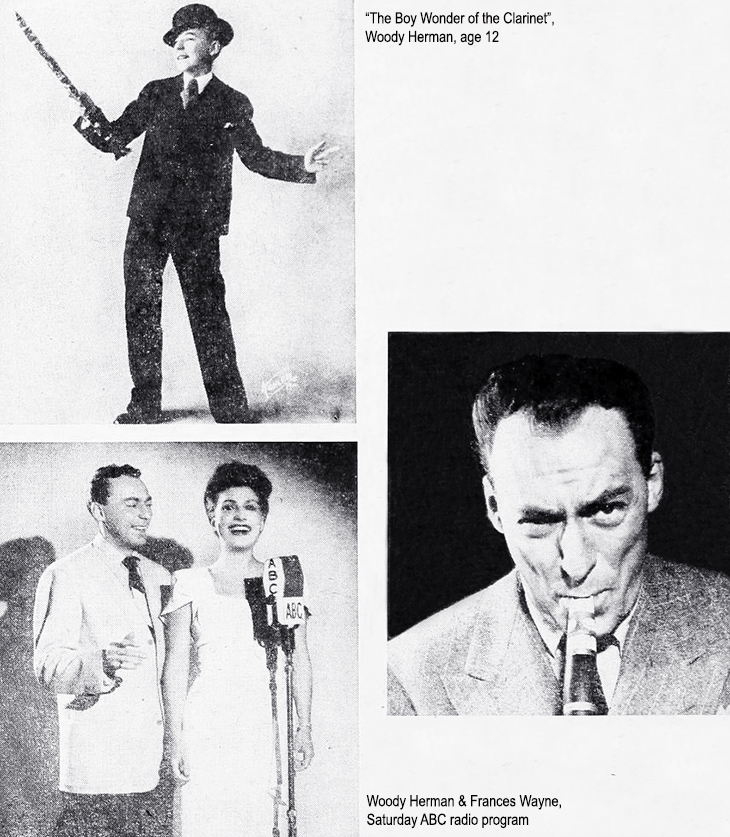 ("Boy Wonder of the Clarinet" Woody Herman age 12, and in 1946 with Frances Wayne)
Woody Herman first came to fame as a talented clarinet player, but his bigger claim to fame was as the bandleader of "The Band That Plays the Blues" from the mid-1930s through the mid 1940s. Among Herman's biggest hits were Blues in the Night, and an earlier recording of Woodchopper's Ball (1939). Herman's 1945 contract with Columbia Records lead to a shift from blues music to jazz, be bop, and swing. By the end of 1946 his orchestra had disbanded, Woody's wife Charlotte had joined AA, and the couple had moved into Lauren Bacall and Humphrey Bogart's old home in Hollywood. Herman formed other bands and continued performing for the next 4 decades. Woody Herman died in October 1987 at the age of 74.
Other singers that recorded and released Blues in the Night are Dinah Shore, Kate Smith, Bing Crosby, Jo Stafford, Rosemary Clooney, Guy Lombardo, Louis Armstrong, Tony Bennett, Doris Day, Mel Torme, Frank Sinatra, Ray Charles, and Van Morrison. 
Blues in the Night can be heard in the soundtrack of TV shows and other movies – The Major and the Minor (1942), Thank Your Lucky Stars (1943), Make Your Own Bed (1944), Pillow to Post (1945), She's Back on Broadway (1953), Class of '44 (1973), Escape to Athena (1957), Mr. & Mrs. Bridge (1990), Ruby (1992), Forget Paris (1995), Ocean's Eleven (2001), and Pearl Harbor (2001).
*Images are believed to be in the public domain, used by permission, and/or Creative Commons licensed & sourced via Wikimedia Commons, Vimeo, YouTube, or Flickr, unless otherwise noted*