What Was New in January 1942?
January 1942 news & headlines: Carole Lombard and 21 others are killed in a plane crash; 3 Hollywood elopements & split-ups (Mickey Rooney, Ava Gardner, George Brent, Ann Sheridan, James Dunn & Frances Gifford); and 33 Nazi spies n America are sentenced.
Plane Crash Kills Carole Lombard & 21 Others
A plane crash on January 16, 1942 killed 33-year-old actress and movie star Carole Lombard, and 21 other passengers and flight crew.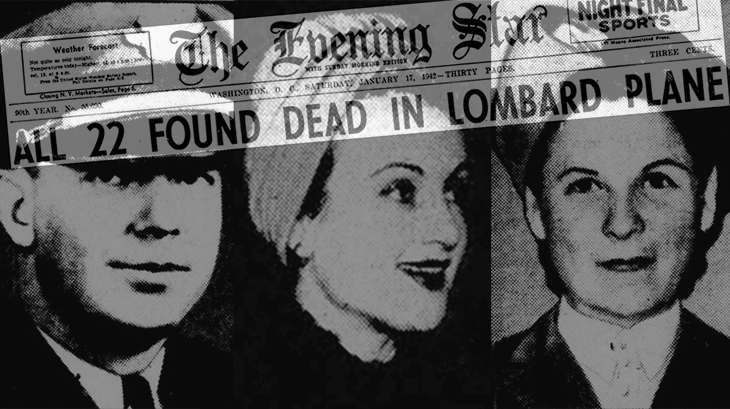 (Wayne Williams, Carole Lombard, Alice Getz – A.P. Wirephotos, The Evening Star, January 17, 1942)
Also aboard the plane were Lombard's mother Elizabeth K. Peters , Lombard's husband Clark Gable's press agent Otto Winkler, a crew of 3 that included pilot Wayne Williams (age 41), stewardess Alice Getz and co-pilot Morgan A. Gillette (both age 25), passenger Mrs. Lois Hamilton, and 15 U.S. Army soldiers and officers.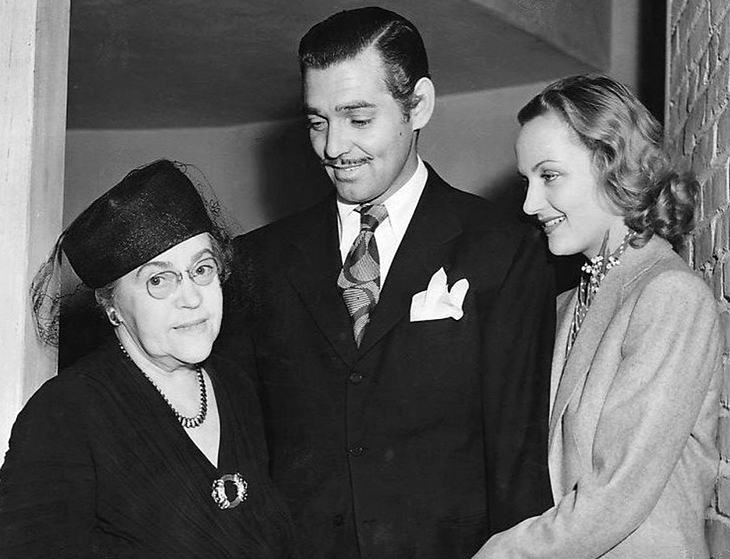 (Mrs. Elizabeth K. Peters, Clark Gable, & Carole Lombard 1939: Acme News Photos)
Lombard had recently completed filming the comedy To Be or Not to Be (1942) co-starring Jack Benny, and was returning from a tour promoting WWII U.S. War Bonds.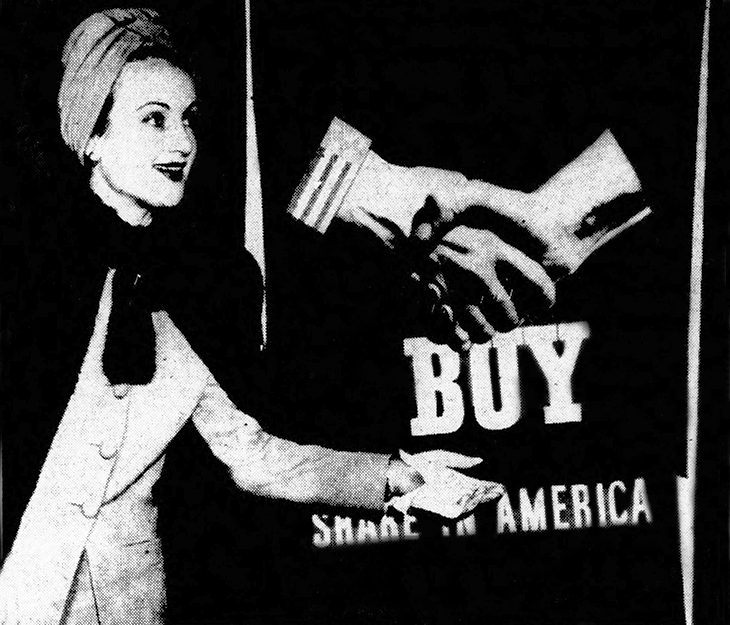 (Carole Lombard War Bonds Tour 1942 January: AP Wirephotos)
Accompanying her on the tour were her mother, and Otto Winkler, who were both afraid of flying. The trio had originally planned to return to Los Angeles from Indiana by train, but at the last minute Lombard changed her mind. She was in a rush to get to Los Angeles in order to begin work on the Columbia film They All Kissed the Bride, co-starring Melvyn Douglas. Lombard won a coin toss with Peters and Winkler, and so the trio boarded TWA Flight 3 on the early morning of Friday, January 16, 1942. The airplane stopped to refuel in Las Vegas, Nevada, before taking off again for Los Angeles.
The Evening Star of January 17, 1942 carried these Associated Press reports from Nevada:
"Flames were sighted from the air and an explosion was heard less than half an hour after the liner left Las Vegas at 7:07 [PM]…last night. There was no indication of life today."
"Mr. Gable had come here from Los Angeles in a chartered plane last night after hearing of the crash at the Lockheed Air Terminal, Burbank, Calif., where he had gone to welcome his wife home from a Defense bond rally in Indiana. Throughout this morning ground parties struggled through the mountains seeking to reach the scene of the crash. Because of the nature of the terrain, the searchers took to horses, having been forced to abandon attempts to travel afoot."
"Clark Gable, actor-husband of Miss Lombard, had joined the 18-hour-old search for the missing Transcontinental & Western Air luxury transport. Mr. Gable, nervous and distraught, previously had been persuaded by police to await word of the search here. Shortly after noon, however, the strain became too much and he left for the rugged mountain country with Sheriff M.E. Ward." 
"A ground party today reached the wreckage of the Transcontinental & Western Air transport carrying Screen Actress Carole Lombard and 21 other persons and found all dead. Undersheriff Glenn Jones reported from Jean, Nev., that wreckage and bodies were strewn hundreds of yards and that most of the victims were burned beyond recognition. The plane apparently hit less than 500 feet from the top of Table Mountain." 
Clark Gable was devastated by the loss of wife Carole Lombard. They had been co-stars in No Man of Her Own (1932), but at the time both were happily married – Lombard to William Powell in June 1931, and Gable to second wife Maria (Rhea) Langham that same year. After reconnecting at a party in 1936, a romance started with the now divorced Carole Lombard, and by then unhappily married Clark Gable.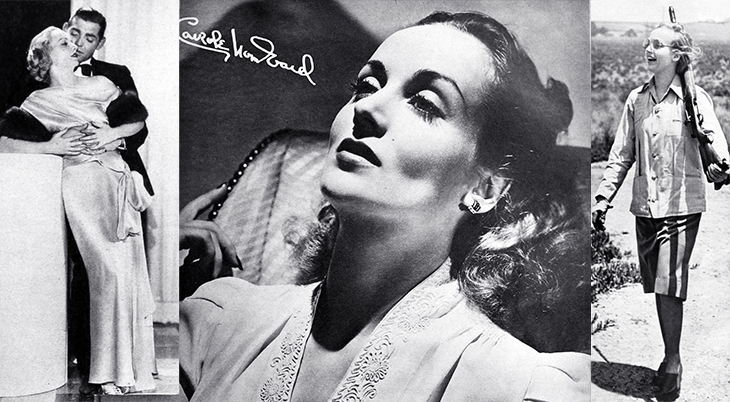 (Carole Lombard w Clark Gable 1932 | 1941: Engstead-Higgins | 1939)
They eloped to Kingman, Arizona in March 1939 as soon as Gable's divorce from Langham was finalized. Their marriage was accounted one of the happiest and best-matched in Hollywood.
(Clark Gable & Carole Lombard 1940)
After Carole Lombard's death, a grief-stricken Clark Gable joined the U.S. Army Air Forces. He worked in a motion picture unit based in England that filmed bomber pilots and gunners in combat, for the remainder of WWII. Gable attended the christening ceremony of the S.S. Carole Lombard Liberty ship (in honor of her bond drive) in 1944.
Clark Gable finally remarried in 1949, to English actress & socialite Sylvia Ashley (widow of Douglas Fairbanks); they divorced in 1952. He married for a last time in 1955 to Kay Williams, leaving her a pregnant widower when he died of a heart attack in November 1960. Their son John Clark Gable was born in March 1961. Clark Gable is interred in Forest Lawn Memorial Park's Great Mausoleum beside Carole Lombard and her mother Elizabeth Peters.
Hollywood Weddings & Divorces
Hollywood celebrities had their share of romantic highs and lows in January 1942, with film stars Ann Sheridan & George Brent, and Ava Gardner & Mickey Rooney, getting married; while Frances Gifford & James Dunn got divorced..
Ann Sheridan & George Brent Wedding January 5, 1942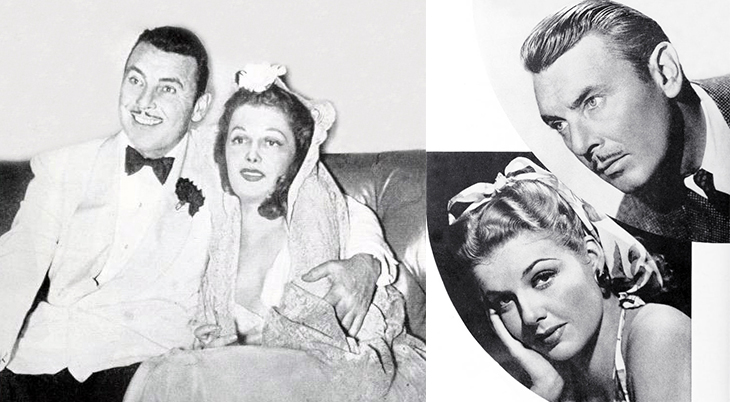 (George Brent & Ann Sheridan 1942)
Movie stars George Brent and Ann Sheridan got married on January 5, 1942. Although they'd both been married previously, neither of them had any children.
"Ann Sheridan Weds George Brent in Surprise Ceremony – Film Stars Are Married By County Judge at Palm Beach, Fla. – Ann Sheridan and George Brent were on their honeymoon today…They were married last night by County Judge Richard P. Robbins at the home of Mrs. Sam. H. Harris, Mr. Brent's sister and the widow of the renowned Broadway producer. William O. Cain, Palm Beach attorney, gave the bride away and Mrs. Harris' son, pat Watson, was best man. Miss Sheridan was unattended. The only other persons at the ceremony were Mrs. Walter Giblin, the former Constance Talmadge; Mrs. Cain and Mrs. Harris. Ann wore a champagne-colored tulle dinner gown adorned with white orchids, and a white mantilla that once belonged to her grandmother…in the license application, the bride gave her name as Clara Lou Sheridan and her age as 27. Mr. Brent gave his age as 37." – Associated Press / The Evening Star, January 6, 1942
It was the second marriage for Ann Sheridan, whose divorce from her first husband, actor Edward Norris (m. August 1936) had been finalized in 1939.
The groom was a veteran of Hollywood romances and weddings – George Brent's previous 3 marriages to actresses had all quickly ended in divorce:
Helen Louis Campbell (aka Helen Louise Lewis), his co-star on stage, married from 1925-1927; the marriage was over after 6 months but the divorce took longer.
Ruth Chatterton, his co-star in 4 movies between 1932-1933, married in August 1932, separated in March 1934, and divorced in October 1934. 
Constance Worth, married in May 1937, separated a few weeks later, and divorced by the end of 1937.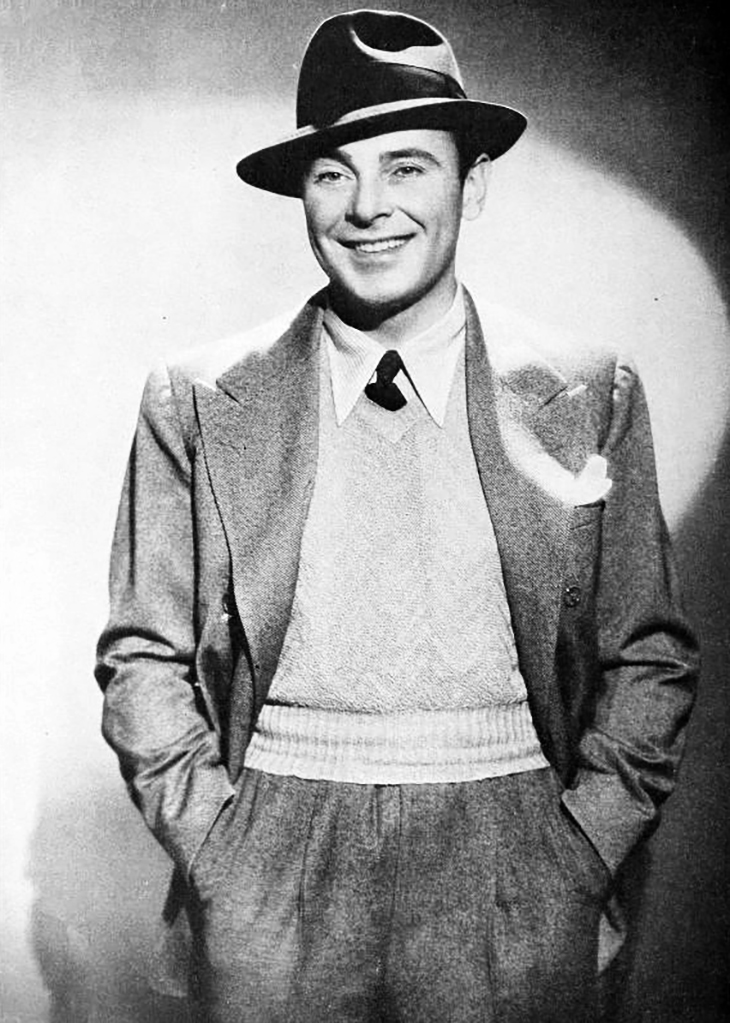 (George Brent 1938 July)
Ann Sheridan and George Brent were co-stars in Honeymoon for Three (1941). During filming of Honeymoon for Three, Brent commented on their blossoming relationship:
"We are 'going together'. We are. And very pleasant I find  it, too. Annie is one of those rare women with whom you can be as regulars you are with another man. 'They' have wondered what 'technique' I use with women. None. i have no technique. Annie has no 'line', that's why we get along. We both do our acting on sound stages, not off them. That's how it is with us." – George Brent, They've Had Brent All Wrong!, by Gladys Hall for Motion Picture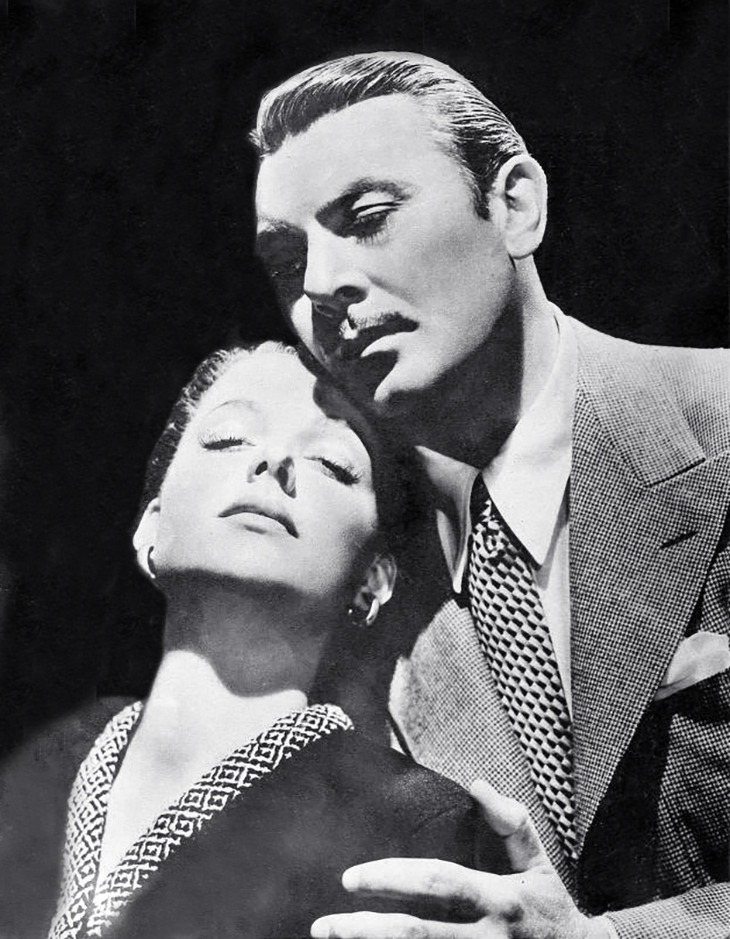 (Ann Sheridan & George Brent 1941 Honeymoon For Three: Hurrell)
George Brent and Ann Sheridan were divorced in January 1943 after one year of marriage.
In a 1943 Hollywood article, Sheridan revealed the couple had maintained separate residences, living together at one place or the other in order to conveniently access studio and film work. When Sheridan went away on location for a month, there was no communication at all between them, leading to their break up.
"George and I just couldn't merge our likes and dislikes on certain questions [he was a homebody; she liked to go out]. Of course, George is a charming person, but he is not the most practical man in the world…We never did sit down and talk seriously about a home and family and these are the things I really want."
In addition to his marriages, Brent had romantic relationships with dancer Gilda Gray, and several of his film co-stars: Bette Davis (7 movies), Greta Garbo (his co-star from The Painted Veil, 1934), Loretta Young (3 movies together), Anita Louise (The Go Getter, 1937), and Merle Oberon (co-star in 2 movies).
George Brent married for the fifth and last time in 1947, to dress designer and former model Janet Michaels. He was survived by Janet and their two children when he died in May 1979, age 75.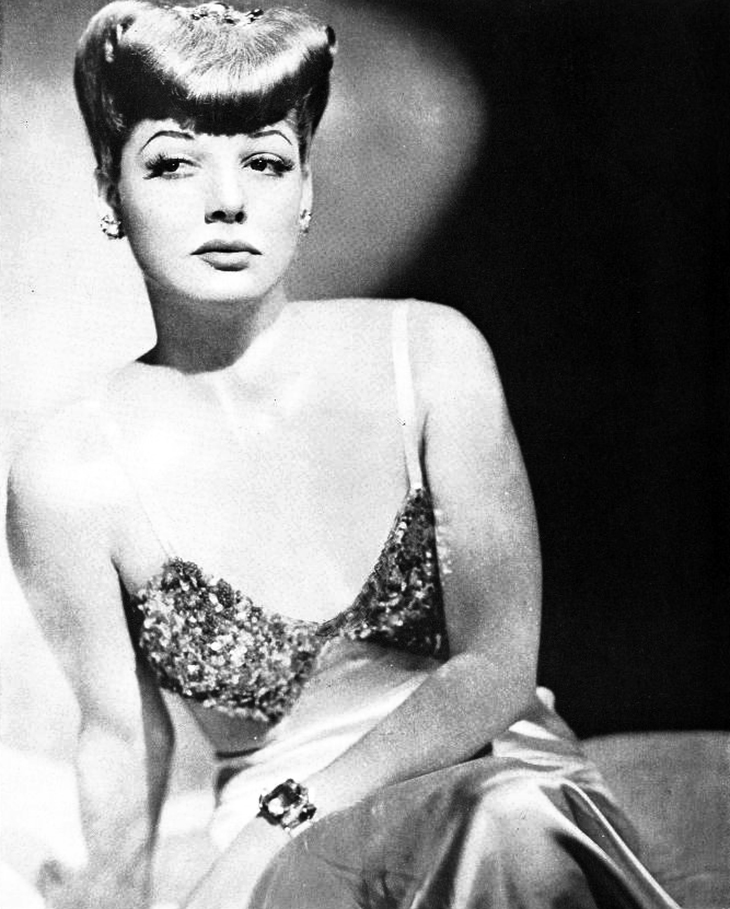 (Ann Sheridan 1951)
Sheridan dated after her marriage to George Brent was over, notably to actor Robert Sterling. However, her most significant post-divorce romance was with publicist Steve Hannagan, a committed relationship that lasted until Hannagan died in 1953 (he left her over $200,000 in his will). She married for a third time, to actor Scott McKay in June 1966. Sadly, the marriage was short-lived; Ann Sheridan died of esophageal and liver cancer just 7 months later, on January 21, 1967 at the age of 51.
Ava Gardner Marries Mickey Rooney
On January 10, 1943, actress and new Hollywood starlet Ava Gardner married actor Mickey Rooney in Ballard, California. It was a first marriage for both the youthful bride, and groom.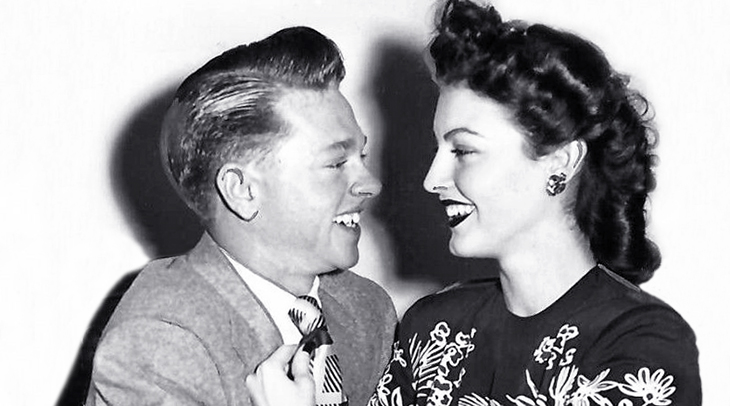 (Mickey Rooney & Ava Garner January 1942: International News Photo)
Rooney was already a well established film star, having broken into the movies as a child actor in the era of silent films in 1926. Nee Joseph Yule, Jr. when he was born in September 1920, his earliest screen credits were as Joe Yule, Jr., and Mickey McGuire, in a film series bearing his name (Mickey In Love, 1928; etc.). By the time he eloped with Ava Gardner, he'd already starred in over 130 feature-length films and movie shorts.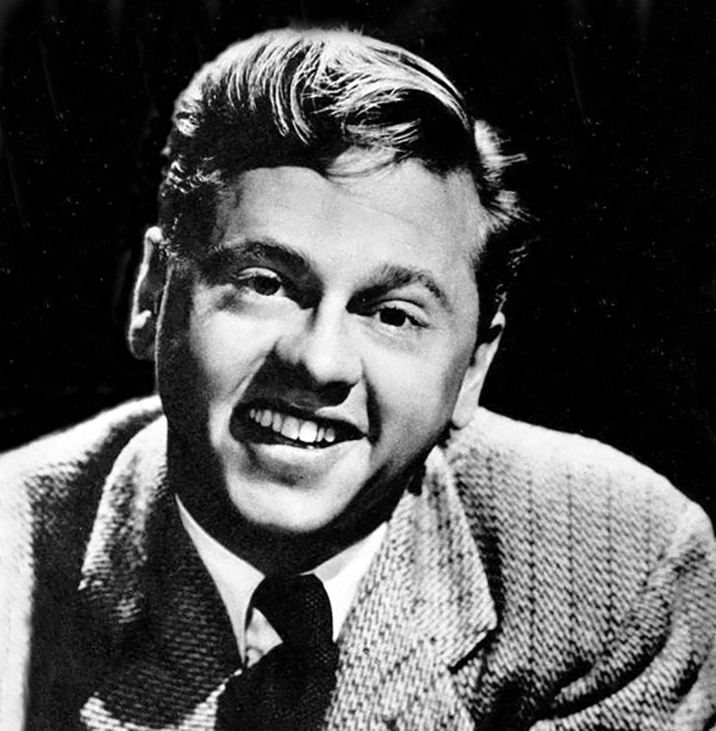 (Mickey Rooney 1942) 
The year before his elopement, Mickey Rooney had co-starred with Judy Garland as his love interest in the Busby Berkeley movie musical Babes on Broadway (released in December 1941), their 7th film together. Romance may have been brewing during filming, but it was not between the lead actors. Also in the cast in an uncredited role, was Hollywood newcomer Ava Gardner.
"Mickey Rooney is Married to Girl From North Caroline – Santa Barbara, Calif. Jan. 10 – Mickey Rooney, the son of vaudeville comedians who became the movies' biggest boxoffice star, and a shy, blue-eyed North Carolina girl, Ava Gardner, were married today in the town of Ballard, 40 miles distant. Only a few friends witnessed the ceremony, performed by the Rev. Glenn Lutz. The newlyweds left immediately by automobile for Del Monte, Calif. They had appeared this morning at a hotel in nearby Montecito, to which County Clerk Jack Lewis delivered the marriage license. They applied for it last Monday, Mickey under his real name of Joe Yule, Jr. He gave his age as 21, Miss Gardner's as 19. Ballard is a tiny farming community with only a few stores, in the Santa Ynez Valley not far from historic Santa Ynez Mission, established in 1804. Mickey, one of Hollywood's most eligible bachelors, met Miss Gardner at a movie party several months ago. Announcement of their engagement shortly before Christmas came as a surprise to most of the film colony. The daughter of Mrs. J.B. Gardner of Wilson, N.C., Ava crashed the movies in prosaic fashion. A relative submitted her picture to a talent scout. Tests brought her a contract. Brown-haired and pretty, she has appeared in minor roles with Norma Shearer and Robert Young. She was born in Smithfield, N.C., and educated at Newport News, Va., and Rock Ridge, N.C. Mickey is a native of Brooklyn." – Associated Press / The Evening Star, Jan. 10, 1942
The wedded bliss didn't last long; within a year, Ava Gardner and Mickey Rooney had separated.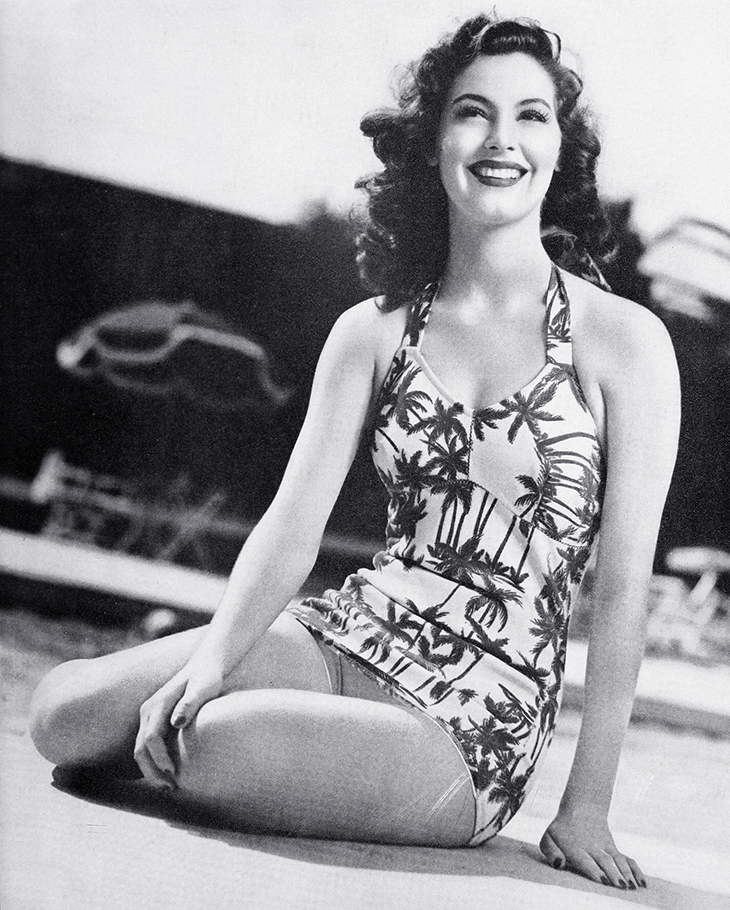 (Ava Gardner 1942)
Gardner privately blamed their break-up on Rooney's habits of infidelity and gambling. Their divorce was finalized in 1943. Ava married twice more – to bandleader Artie Shaw in 1945 (they were divorced in 1946), and to actor-singer Frank Sinatra in November 1951 (they divorced in 1957) – and had no children. Ava Gardner's star rose sharply after their divorce, as she became a major leading leady and movie star of the late 1940s – early 1960s (The Snows of Kilimanjaro, 1952; Mogambo, 1952; The Sun Also Rises, 1957, etc.).  Her last feature film was Regina Roma (1983), co-starring with Anthony Quinn and Ray Sharkery; and she played Ruth Sumner Galveston on TV's Knot's Landing in 1985. By 1987, she was retired from screen acting and in ill health. A lifetime smoker, Ava Gardner died at the age of 67 in January 1990. 
Mickey Rooney married 7 more times, and had 9 children with his other wives. After his divorce from Ava Gardner, Rooney's star began to wane as he out-aged youth-oriented leading roles. Nevertheless, Rooney enjoyed a long career in notable movies (National Velvet; Captains Courageous, Boys Town, etc.) and television, acquiring over 340 screen credits in his lifetime. He co-starred on TV in The New Adventures of the Black Stallion 1990s series, and in films as Gus in Night  at the Museum (2006) and sequels. Mickey Rooney died at the age of 93 in April 2014, leaving his 8th wife Jan Chamberlin (married in 1978) a widow.
Frances Gifford & James Dunn Divorce
Movie stars Frances Gifford and James Dunn were divorced on the 16th of January, 1942. The couple had eloped and were married in December 1937 on Christmas Day.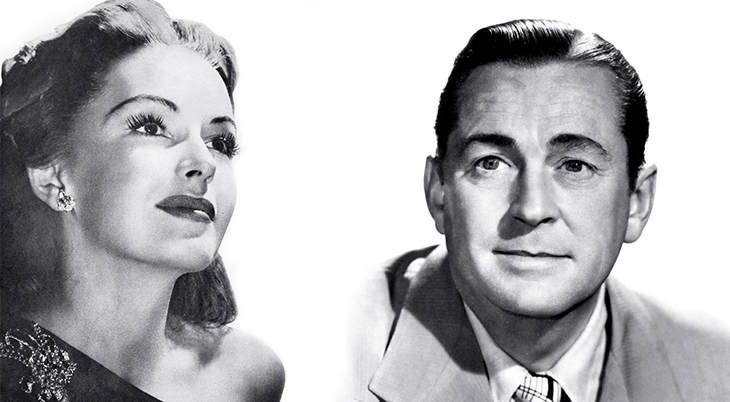 (Frances Gifford 1944 | James Dunn 1940s)
"Frances Gifford – …Last year she left Dunn and made the separation known to all. 'Actually all our marriage was one continual separation. Jimmy was in New York in 'Panama Hattie' and I stayed here in California. Finally I realized that I had tossed off a chance to do something myself and I went back to work. That's the whole story.' Frances told us yesterday." – Charles Gentry, Starlet Fever, Detroit Evening Times, September 12, 1941
"Frances Gifford Divorced From James H. Dunn – Movie Actress Frances Gifford obtained a divorce yesterday from Actor James H. Dunn, formerly of the films. She testified he used liquor to excess, was moody and unsociable and stayed away from home days at a time. The couple married Christmas Day, 1937, and separated August 23, 1940, Miss Gifford's complaint stated." – Associated Press / The Evening Star, January 17, 1942
Sentencing of Duequesne Nazi Spy Ring Members
33 spies for Nazi Germany in the Duquesne spy ring operating in America, were sentenced to prison on January 2, 1942 by Judge Mortimer W. Byers.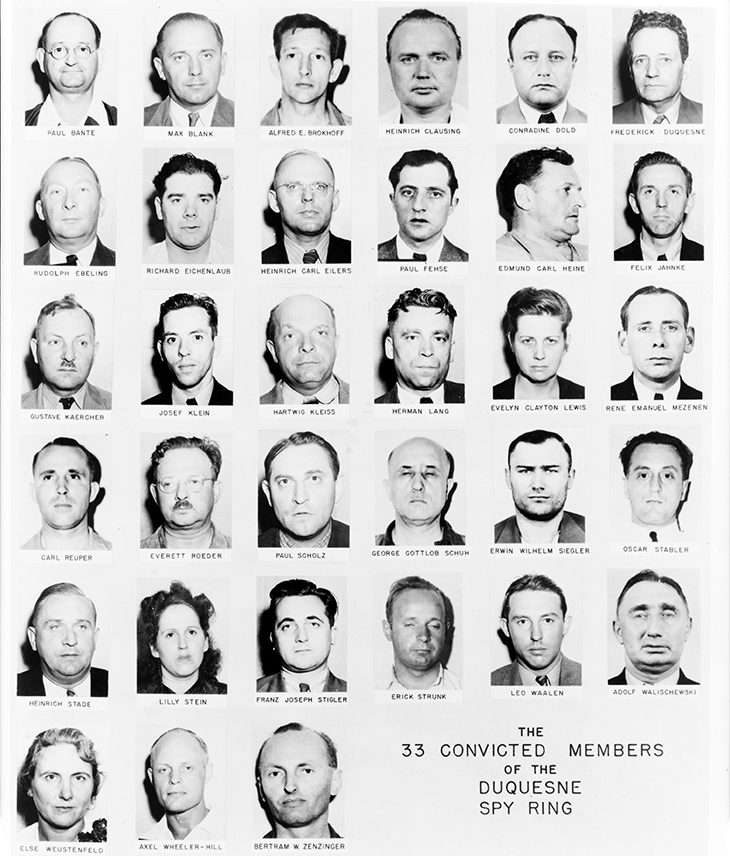 (33 Convicted Duquesne Spy Ring Members 1941: Library of Congress)
U.S. District Attorney Harold M. Kennedy prosecuted the men and women of the Duquesne, who had each been charged with 2 specific counts, with the maximum possible sentence of 22 years (the two sentences to run concurrently):
Failure to register as agents of a foreign government (the German Reich)
Conspiracy to obtain and deliver vital American information (namely, defense secrets) to a foreign power (Germany)
"33 Spies Sentenced to Terms in Prison of Up to 20 years – Lang, Bomb Plant Agent, Draws Heaviest Penalty – Prison sentences ranging up to 20 years were imposed today on 33 members of a fantastically operated spy ring which networked the world in gathering and delivering all kinds of military, commercial and industrial intelligence to Germany. Judge Mortimer W. Byers, sitting in Brooklyn Federal Court where 14 members of the ring were convicted of espionage December 12 after a 14-week trial, sentenced them and 19 others, including three women who previously had pleaded guilty." – Associated Press / The Evening Star, January 2, 1942
"30 Men, 3 Women Spies Sentenced – Total of Terms Amounts to 279 Years; Heavy Fines Imposed – The most severe sentences were given to the 14 defendants who put the government to additional expense [the 14 week trial]…Kennedy  unfolded intrigue, cafeteria style spying, and the fact that a government owned and operated radio station carried coded messages to the Gestapo in Hamburg. It was through the radio station that the Federal Bureau of Investigation learned the identities of those sentenced…Soldier-of-fortune, writer and professional spy, Frederick Joubert Duquesne…was dejected." – AP / The Wilmington Morning Star, January 3, 1942
The ring was uncovered thanks to counterespionage agent William Sebold, a WWI German army veteran who became a naturalized U.S. citizen in 1936, according to the FBI website. On a 1939 trip to Mulheim, Germany to visit his mother, his passport was stolen and he'd been interrogated about U.S. military planes and equipment. Pressured by German Secret Service with threats to his family and personal liberty, Sebold agreed to become a German espionage agent reporting to German Major Nikolaus Ritter of the Abewehr. When Sebold went to the U.S. Consulate in Germany to replace his passport, he arranged to become an American double agent.
*Images are believed to be in the public domain, used by permission, or Creative Commons licensed & sourced via Wikimedia Commons, Vimeo, YouTube, or Flickr, unless otherwise noted*