April 22nd Birthdays
If you were born on April 22nd you share a birthday with these famous people: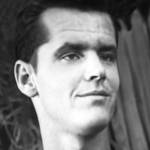 Jack Nicholson is 82 (nee John Joseph Nicholson)
Academy Award-winning octogenarian American movie actor (One Flew Over the Cuckoo's Nest; As Good as It Gets; Easy Rider; Chinatown; The Shining; Batman; The Departed; A Few Good Men; Goin' South; Something's Gotta Give; The Bucket List), born April 22, 1937. (Jack Nicholson 1960 The Wild Ride)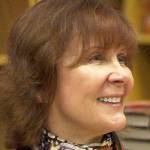 Janet Evanovich is 76 (nee Janet Schneider; pseudonym Steffie Hall)
American romance novelist (Hero at Large; Back to the Bedroom; Foul Play), author of the Stephanie Plum mystery series (One For the Money; Hard Eight; Sizzling Sixteen; Wicked Appetite; Metro Girl; Curious Minds), and septuagenarian born April 22, 1943. (Janet Evanovich 2010 Photo: Tim Pierce)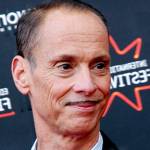 John Waters is 73 (nee John Samuel Waters Jr.)
Septuagenarian American filmmaker, director, screenwriter, voice and character actor of cult movies (Divine; Hairspray; Cry-Baby; Pecker; Cecil B. DeMented; Serial Mom; Pink Flamingos) and TV (Love You to Death), born April 22, 1946. (John Waters 2007 Photo: John Waters_at_EIFF)
Peter Frampton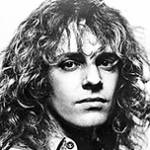 is 69
English-American rock guitarist, record producer, and singer-songwriter, record-breaking Frampton Comes Alive! album (Show Me the Way; Baby, I Love Your Way; I'm In You; I Can't Stand It No More; Do You Feel Like We Do), and senior born April 22, 1950. (Peter Frampton 1970s Photo: A&M Records)
Steve Bond is 66 (nee Shlomo Goldberg)

Israeli-American senior, former model (Playgirl), actor of TV (Jimmy Lee Holt on General Hospital; Mack Blake on Santa Barbara; Enchanted Christmas) & movies (Picasso Trigger; To Die For; Spacejacked; Tarzan and the Jungle Boy; Massacre at Central High; Tryst), show-jumping horse trainer and breeder, born April 22, 1953.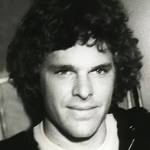 Joseph Bottoms is 65
American actor of TV (The Net; Kirk Cranston on Santa Barbara; Cal Winters on Days of Our Lives; Street Legal; Holocaust) and movies (Surfacing; King of the Mountain; Cloud Dancer; The Dove; Crime and Passion; The Black Hole; Blind Date; Open House), born April 22, 1954. (Joseph Bottoms 1978 Photo)
Ken Olandt is 61 (nee Kenneth Andrew Olandt)
Sixty-plus American businessman, producer & actor of TV (Det. Zachary Stone on Super Force; Riptide; Derek Stuart on The Young and the Restless; Supercarrier) and movies (April Fool's Day; Summer School; Leprechaun; Daybreak; Power Play;Dark Power; Digital Man), born April 22, 1958.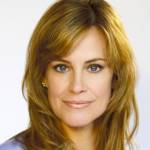 Catherine Mary Stewart is 60 (nee Catherine Mary Nursall)

Canadian actress of TV (Kayla Brady on Days of Our Lives; Hearts Are Wild; Guiding Light) & movies (The Last Starfighter; Night of the Comet; Mischief; Weekend at Bernie's; Samurai Cowboy; Nightflyers; The Psychic; Number One Fan), born April 22, 1959. (Buck Henry 1978 Photo: Alan Light)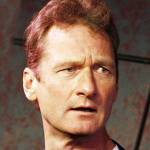 Ryan Stiles is 60
Canadian-American stand-up & improv comedian, actor, producer, & director of stage, TV (Whose Line Is It Anyway? The Drew Carey Show; Drew Carey's Improv-A-Ganza; Two and a Half Men), and movies (Hot Shots! Part Deux), born April 22, 1959. (Judi Dench 2007 Photo: Caroline Bonarde Ucci)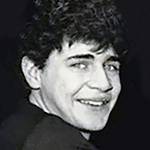 Chris Makepeace is 55 (nee Christopher Makepeace)
Canadian producer, actor and host of TV (Going Great; Mazes and Monsters; The Terry Fox Story) & movies (Meatballs; My Bodyguard; The Falcon and the Snowman; Captive Hearts; Aloha Summer; The Last Chase; The Oasis), born April 22, 1964. (Chris Makepeace 1982 Going Great Photo: Nickelodeon)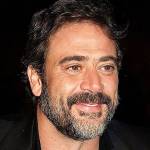 Jeffrey Dean Morgan is 53
American actor of TV (Negan on The Walking Dead; Grey's Anatomy; Supernatural; Magic City; The Good Wife; Extant; The Burning Zone) and movies (The Accidental Husband; P.S. I Love You; The Losers; Days of Wrath; Red Dawn), born April 22, 1966. (Jeffrey Dean Morgan 2009 Photo: Ian Smith)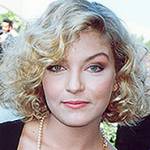 Sheryl Lee is 52
German-American actress of TV (Laura Palmer / Maddy Ferguson on Twin Peaks; Dirty Sexy Money; L.A. Doctors; One Tree Hill) and film (The Pink Chiquitas; Wild at Heart; Twin Peaks: Fire Walk With Me; Jersey Girl; Mother Night; Angel's Dance), born April 22, 1967. (Sheryl Lee 1990 Photo: Alan Light)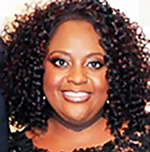 Sherri Shepherd is 52
American comedian, host & actress of TV (The View; Less Than Perfect; Suddenly Susan; The Jamie Foxx Show; Everybody Loves Raymond; Sherri; 30 Rock; How I Met Your Mother), and movies (Cellular; Beauty Shop, Precious), born April 2, 1967. (Sherri Shepherd 2013 Photo: Aaron J. Thornton / Essence)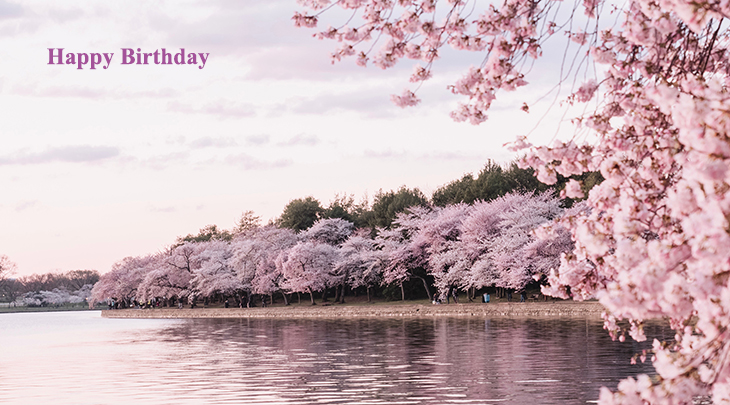 (Cherry Blossom Trees in Washington, D.C., USA  Photo: Mark Tegethoff via Unsplash)
Happy Birthday to everyone celebrating their birthday on April 22nd!
And remembering
Glen Campbell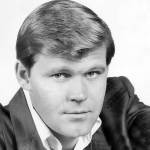 is 82
American actor (True Grit), TV host (The Glen Campbell Goodtime Hour), and Grammy Award-winning singer-songwriter (Gentle on My Mind; Wichita Lineman; Galveston; Rhinestone Cowboy; Southern Nights; By The Time I Get To Phoenix) (born Apr. 22, 1936 - died Aug. 8, 2017; age 81). Glen Campbell died of Alzheimer's Disease. (Glen Campbell 1967 Photo: Capitol Records) 
Charlotte Rae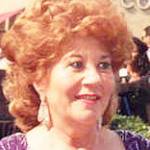 is 92 (nee Charlotte Rae Lubotsky)
American character actress of Broadway (L'il Abner), TV (Edna Garrett on The Facts of Life; Diff'rent Strokes; Car 54, Where Are You?; Hot L Baltimore; The Rich Little Show; Sesame Street), movies (Hello Down There) (born Apr. 22, 1926 - died Aug 5, 2018; age 92). Charlotte Rae had heart problems and cancer before she died. (Charlotte Rae 1988 Photo: Alan Light)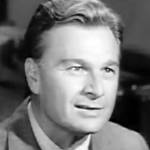 Eddie Albert (nee Edward Albert Heimberger)
Blacklisted American actor of TV (Oliver Wendell Douglas on Green Acres, Petticoat Junction & The Beverly Hillbillies; Switch; General Hospital) & movies (Roman Holiday; The Longest Yard; Brother Rat; Miracle of the White Stallions) (born Apr. 22, 1906 - died May 26, 2005; age 99). Eddie Albert died of pneumonia. (Eddie Albert 1955 I'll Cry Tomorrow Trailer)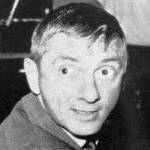 Aaron Spelling

American screenwriter & Emmy Award-winning TV producer (The Mod Squad; The Rookies; Beverly Hills, 90210; The Love Boat; Charlie's Angels; Dynasty; Sunset Beach; TJ Hooker; Hotel; Fantasy Island; Hart to Hart; Burke's Law; Starsky and Hutch) (born Apr. 22, 1923 - died June 23, 2006; age 83). Aaron Spelling died of a stroke. (Aaron Spelling 1965 Photo: Trans World Airlines)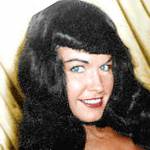 Bettie Page ("Queen of Pinups"; "Queen of Bondage")

American 1950's erotica / pin-up model ("Miss January 1955" for Playboy) and bondage model whose trademark black bangs, stiletto heels, and seamed stockings became fashion statements; later a born-again Christian (born Apr. 22, 1923 - died Dec. 11, 2008; age 85). Cause of death for Bettie Page was quoted as heart attack or pneumonia. (Bettie Page Photo: Pierre Tourigny)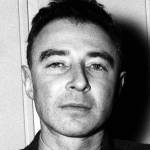 Robert Oppenheimer (nee Julius Robert Oppenheimer)
American theoretical physicist, WWII Los Alamos Laboratory head (Manhattan Project; "father of the atomic bomb") and the U.S. Atomic Energy Commission, while lobbying for international nuclear power controls (born Apr. 22, 1904 - died Feb. 18, 1967; age 62). Robert Oppenheimer died of throat cancer. (Robert Oppenheimer 1946 Photo: Ed Westcott / U.S. Govt. DOE)
*Images are public domain or Creative Commons licensed & sourced via Wikimedia Commons, Vimeo, or Flickr, unless otherwise noted*