The Troubled Life and Loves of Virginia Woolf
Celebrated English publisher, writer and novelist Virginia Woolf was born January 25, 1882; her birth name was Adeline Virginia Stephen.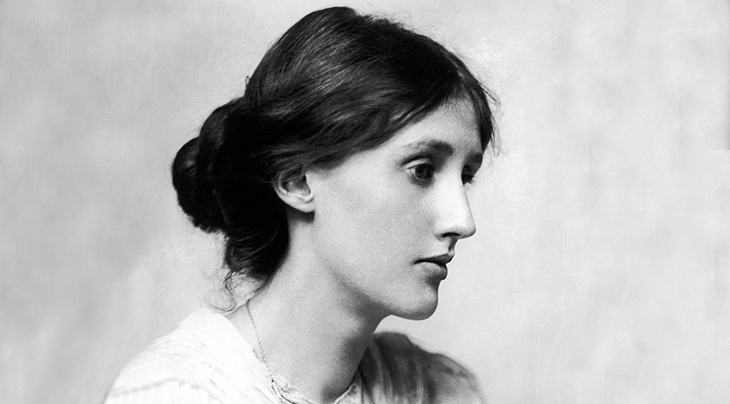 (Virginia Woolf 1902 Photo: George C. Beresford)
Virginia Woolf's father Sir Leslie Stephen was an editor, biographer and critic who counted authors like Henry James amongst his acquaintances; her mother Julia Duckworth Stephen was a model for Victorian era Pre-Raphaelite artists and photographers.
Their marriage was the second for both Julia and Leslie, who had both been widowed and now had what would be a blended family; Virginia had half-brothers and sisters from both her mother and father. Julia and Leslie Stephen then had another 4 children together, of whom Virginia was the third. 
Virginia Woolf was educated at home by her literary-minded parents and mingled with intellectuals of the day while growing up growing up. In her later essays she revealed sexual abuse by male siblings during her childhood.
At around the age of 15 in 1897, Virginia Woolf suffered the first of many nervous breakdowns in her life, after mourning the deaths of her mother and half-sister Stella in a 2-year span. Woolf's half-sister Laura Stephen had a severe mental illness and had been institutionalized after the death of their mother Julia Stephen in 1895. Virginia Woolf would experience mood swings, weight loss, breakdowns and following periods of depression throughout her life.  Today she would likely have been diagnosed with bi-polar disease, schizo-affective disorder, schizophrenia, or an associated mental illness.
Woolf recovered from her first breakdown and was able to study degree-level courses at King's College London between 1897-1901. During this time she began writing, and her first article was published in The Guardian (a clerical journal) in December 1904. That same year, 22-year-old Virginia's father died and she was institutionalized briefly after second breakdown. 
Virginia Woolf was a member of the Bloomsbury Group, a cadre of intellectual writers and artists that included her brother younger Adrian Stephen, Lytton Strachey, Rupert Brooke, Leonard Woolf, and painter Roger Fry. She was a participant in the 1910 Dreadnought Hoax, a practical joke by Horace de Vere Cole to get the British Royal Navy to show the celebrated battleship HMS Dreadnought to a members of the Bloomsbury Group, who were impersonating fake Abyssinian royal delegation.
Her mental illness continued to plague her; she spent time in 1910 and 1912 recovering at a private nursing home.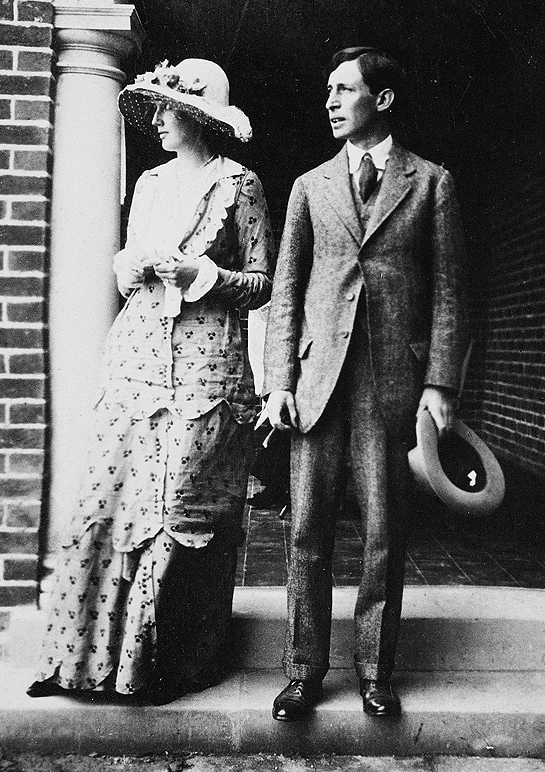 (Leonard and Virginia Woolf 1912 Photo)
In August 1912 Virginia Stephen married fellow Bloomsbury Group member Leonard Woolf. By most accounts Leonard and Virginia Woolf's marriage was a close, loving relationship; Leonard was a supportive husband throughout their marriage and her ongoing struggles with mental illness. 
Writer Emma Woolf (a great-niece) said in Newsweek, that based on her study of letters and diaries in the London Library, between 1913-1915 Virginia  made several suicide attempts. Her symptoms included insomnia and hallucinations.
Virginia Woolf recovered enough to see her first novel The Voyage Out (which she had been working on for approximately 5 years) published in March 1915.
She then suffered a manic episode that lead to a complete mental breakdown, and spent 6 months in a nursing home recovering from psychosis. Early in their marriage Leonard and Virginia Woolf, and her doctors, decided she should not have children for the sake of her own mental health.
During periods of wellness she continued to write and her published works before death included 9 novels (Mrs. Dalloway, Night And Day, To the Lighthouse, The Years), 6 short story collections, 3 fictionalized biographies, numerous non-fiction essays (A Room of One's Own), and several diaries and autobiographical works.
In 1917 Leonard and Virginia Woolf founded The Hogarth Press, a publishing company that printed the works of Sigmund Freud, E.M. Forster, and T.S. Eliot, among others. Leonard and Virginia Woolf were anti-war during World War I, a sentiment not appreciated by the British Government and other "patriots" of the time.
Virginia Woolf met and formed a close friendship with fellow writer Vita Sackville-West in 1922. This relationship grew to include a few sexual encounters as well.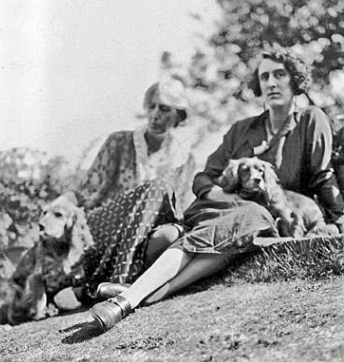 (From left, dog Pinka, Virginia Woolf, Vita Sackville-West, and dog Pippen 1933 Photo: Leonard Woolf)
Woolf's fictionalized biography of Vita Sackville-West was titled Orlando (1928); in it the hero/heroine's life spans weaves through both sexes over 300 years.
The 1992 movie Orlando starring Tilda Swinton and Billy Zane is based on Virginia Woolf's biography of the same name.
After their affair ended, Virginia Woolf and Vita Sackville-West remained lifetime friends. 
Leonard and Virginia Woolf were united in their fear and loathing of Hitler's anti-semitism and fascist government during the 1930's. Virginia Woolf's essay Three Guineas (1938) explores this theme. Leonard Woolf was Jewish, while Virginia mocked her own stereotypical attitudes towards Judaism and denounced the hypocrisy of Christianity.
When World War II broke out in England in 1939, Virginia's London home was destroyed in the Blitz. Her book about artist Roger Fry: A Biography (1940) wasn't well received, and she fell into a depression after completing her novel Between the Acts (1941).
On March 28 1941, 59-year-old Virginia Woolf drowned herself in the river near their home, leaving a poignant suicide note for her husband Leonard:
"Dearest, I feel certain that I am going mad again. I feel we can't go through another of those terrible times. And I shan't recover this time. I begin to hear voices, and I can't concentrate…You have given me the greatest possible happiness. You have been in every way all that anyone could be. I don't think two people could have been happier till this terrible disease came. I can't fight any longer. I know that I am spoiling your life, that without me you could work… You see I can't even write this properly. I can't read. What I want to say is I owe all the happiness of my life to you. You have been entirely patient with me and incredibly good. I want to say that—everybody knows it. If anybody could have saved me it would have been you. Everything has gone from me but the certainty of your goodness. I can't go on spoiling your life any longer. I don't think two people could have been happier than we have been. V."
Virginia Woolf – intellectual, author, daughter, sister, wife, friend, lover – gone from this world too soon.
Note: This article was first published in January 2017.
*Images are public domain or Creative Commons licensed & sourced via Wikimedia Commons, Vimeo, YouTube, or Flickr, unless otherwise noted*