1950s-1960s Vintage Celebrity Valentines
Modified photos and caricatures of celebrities and movie stars from the 1950s-1960s, modified to be shareable vintage Valentine's Day greeting cards:
Ava Gardner
A woman of lusty appetites, beautiful Ava Gardner had 3 long-lasting loves that endured for years. She began her movie career in 1941, and languished in the background for the first few years.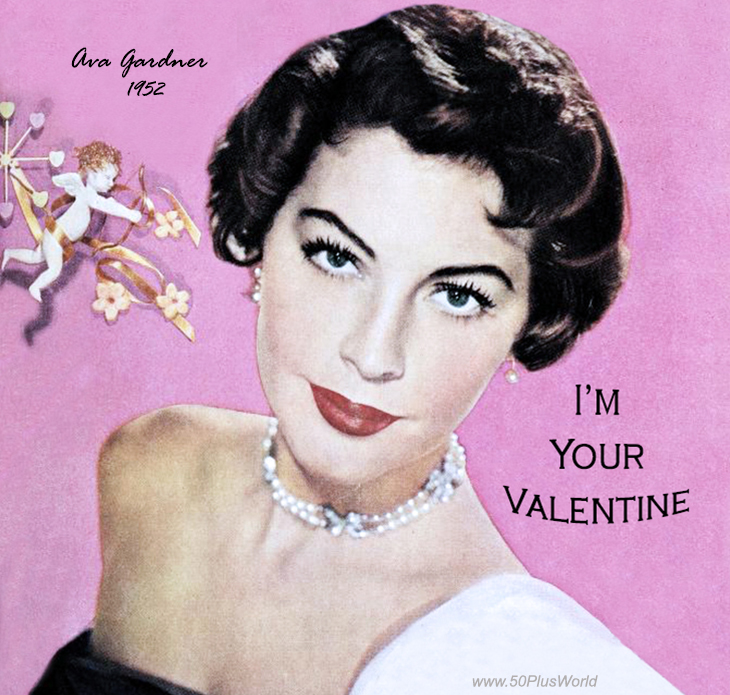 (Ava Gardner 1952: Engstead | I'm Your Valentine)
Ava Gardner's January 1942 marriage to Mickey Rooney, one of the biggest film stars of the 1930s-1940s, quickly foundered thanks to his propensity to gamble and chase other women. A year after their marriage the couple had separated. Ava Gardner divorced Mickey Rooney in Nevada in September 1943, although she told her Ava Gardner: The Secret Conversations (2013) biographer Peter Evans, that they continued to sleep together occasionally afterwards. 
At the same time, Gardner had met and was sleeping with millionaire inventor and businessman Howard Hughes. Their relationship lasted 20 years or more. The prescient Hughes warned Gardner her that her next marriage – to tempestuous big bandleader Artie Shaw (he had just divorced Lana Turner) in October 1945, was not going to last. Only six months later, in April 1946, Ava and Artie were heading towards a separation. Ava Gardner and Artie Shaw were divorced in October 1946. A week later, Artie Shaw married for the 5th time, to Forever Amber (1944) novelist Kathleen Winsor.
Romantic relationships – with actor Howard Duff, Robert Taylor (her co-star in The Bribe, 1949), and an affair with the married Robert Mitchum – ensued, but none were lasting Valentine material; plus, Mitchum was still in love with his wife Dorothy.
Still game to heed Cupid's call, Ava Gardner fell in love with crooner Frank Sinatra in late 1949. This time, the stakes were much higher; he was married to Nancy Sinatra, and they had three young children.
"Frank moved in with me the day Nancy announced she was taking the bus to Reno. That was St. Valentine's Day, 1950." – Ava Gardner, Ava Gardner: The Secret Conversations (2013), by Ava Gardner and Peter Evans.
While filming Pandora and the Flying Dutchman (1951) in Spain in 1950, Gardner had an brief affair with bullfighter Mario Cabré. A more enduring love affair with Spain and bullfighting was sparked at the same time. She told Sinatra about her affair with Cabré, they fought, he forgave her, and they reconciled – a cycle that would continue.
Despite this incident, and being vilified by the press and fans for the perception of breaking up a happy family, when his divorce from Nancy Sinatra was finalized, Ava Gardner and Frank Sinatra were quietly wed in November 1951.
Potholes and landmines disrupting the path of true love for Sinatra and Gardner abounded. Their public fights, suicide attempts (Sinatra's) made news in papers and fan magazines. Pregnancy for female stars was frowned upon by her employer MGM, and in 1953 while filming Mogambo with Clark Gable, Gardner flew to London and had an abortion (reported in newspapers as treatment for dysentery). 
Ava's affair with Spanish bullfighter Luis Miguel Dominguín made headlines in May 1954, when he announced he was giving up bullfighting to travel the world. By early 1955, Ava and Frank had completely split up and she spent most of the next 10 years or so living in Spain. Sinatra resisted a divorce for years, but when it became clear they weren't getting back together, he didn't contest it when Ava Gardner filed for divorce in Mexico in June 1957. Their divorce was finalized in July 1957. Subsequent reconciliation attempts failed.
At the time of her divorce, Ava's affair with Italian actor Walter Chiari was tabloid fodder. Gardner's other relationships as per Ava Gardner: Love is Nothing (2020) author Lee Server, included David Niven, George C. Scott, Steve McQueen, Mel Tormé, and John F. Kennedy
Gardner never married again, and remained on good terms with Frank Sinatra for the rest of her life. If any man was her true Valentine, it was Sinatra, although she was more faithful to Spain and bullfighting. She had begun to drink hard liquor and smoke heavily during her marriage to Mickey Rooney, and these habits eventually caught up with her. She suffered a stroke in 1986 that left her partially paralyzed. Ava Gardner was 67 when she died of pneumonia and fibrosing alveolitis in January 1990. 
Jane Powell
Girl-next-door singer-actress Jane Powell was typecast in films as a much more demure heart-throb than Ava Gardner. Nonetheless, Jane had an active love life off screen, and gathered quite a few Valentines in her day. It took Powell a while to find her true love…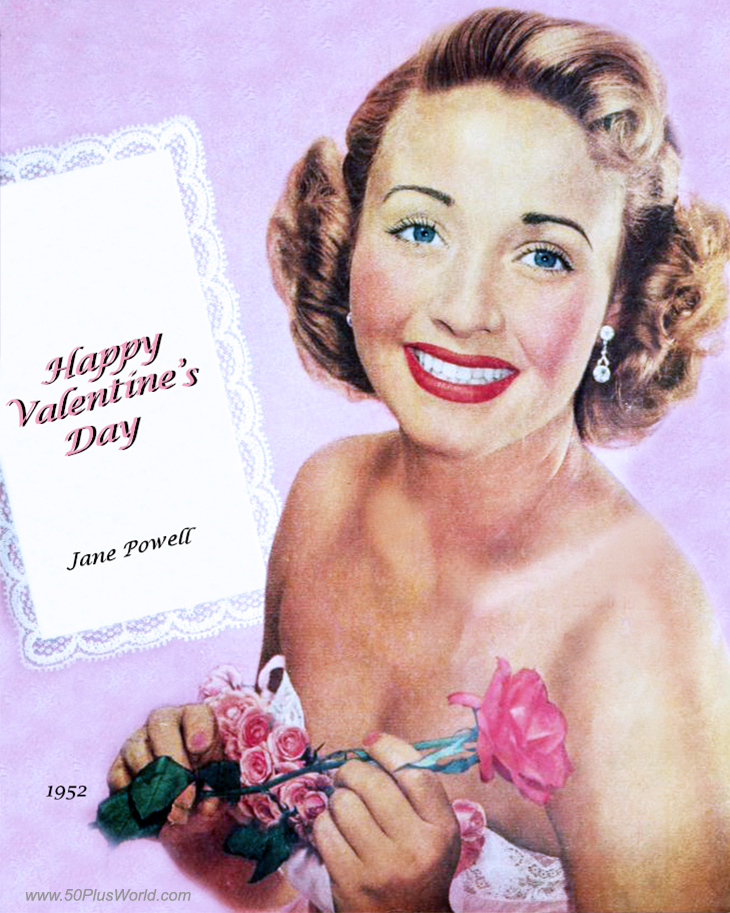 (Jane Powell 1952 Happy Valentine's Day)
Jane Powell's first marriage was at age 20, to figure skater Geary Steffen (an ex-ice partner of Sonja Henie) in November 1949, and the couple had two children together. Jane's affair with married co-star Gene Nelson resulted in both of them asking their spouses for a divorce, so they could marry each other. Jane Powell's divorce from Geary Steffen was finalized in August 1953, but Nelson changed his mind, leaving Jane furious and hurt.
A 25-year-old Jane Powell married actress Mona Freeman's ex-husband, Patrick Nerney, in November 1954. They had a child together, but the marriage ended in divorce in May 1963.
James Fitzgerald became husband number three in June 1965, when Powell was 36. Fitzgerald doubled as Janel's business manager – a role that she said he was better suited for. They divorced in 1975.
Writer David Parlour and Jane Powell got married in October 1978, but this fourth marriage also ended in divorce in 1981. 
At long last love…in 1982, Jane Powell (now in her 53rd year) and former child actor Dickie Moore (now in his 57th year) met and began dating. They got married in 1988 and remained happily wedded for the next 27 years, until Moore's death at the age of 89 in September 2015. Jane Powell lived to celebrate her 92nd birthday, before passing she died in September 2021 of natural causes.
Sal Mineo
Teen idol Sal Mineo packed a lot of life and loves into his 37 years on Earth. Born on January 10, 1939, Mineo was nominated for an Academy Award for his performance as a lovestruck teen with a crush on James Dean (taboo at the time); and again as a Holocaust survivor in Exodus (1960) – all before turning 22.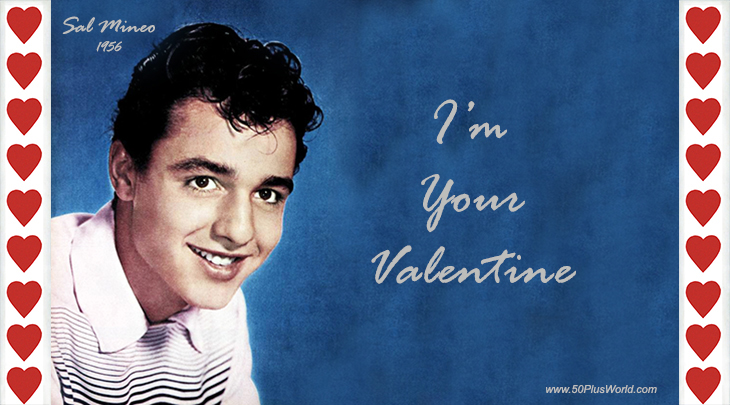 (Sal Mineo 1956 I'm Your Valentine)
As far as the press and photo ops were concerned, Sal Mineo's public love life as a teenager in the latter half of the 1950s consisted ( of romantic relationships with girls. Photoplay ran a Win a Date With Sal Mineo Contest; he was linked with teen starlets Natalie Wood in 1955, Gigi Perreau in 1956, Ina Balin (1957), Carol Lynley and Sandra Dee in 1958, and Tuesday Weld (early 1960s).
His most serious female Valentine was British actress Jill Haworth, Mineo's young co-star in Exodus. They dated on an off for most of the 1960s, and were briefly engaged.
Rumours have it that the as-yet undiscovered singer-actor Bobby Sherman – Mineo's protege – had an affair with Sal in the first half of the 1960s. Mineo wrote songs for Sherman and arranged for him to record and perform them. 
By the time Mineo disclosed to interviewer Boze Hadleith in 1972 that he was bisexual (naming Peter Lawford as someone he'd had an affair with), Mineo's star had long fallen from the firmament of Hollywood. He had aged out of the boyish roles that made him famous in the 1950s and early 1960s, and his film career had been reduced to occasional small roles on television. In the late 1960s  his work acting in and directing stage plays with gay themes laid the groundwork for the revelation of his sexuality.
Sal Mineo was only 37 when he was stabbed to death in his West Hollywood apartment carport the night of February 12, 1976, by a delivery man who had no idea of the actor's' identity.
Elvis Presley
King of Rock & Roll Elvis Presley sang his way into the hearts of millions of fans in the mid-1950s. No Hound Dog in real life, his flame burned even brighter when he took his talents to the silver screen and Elvis began acting in films in the late 1950s.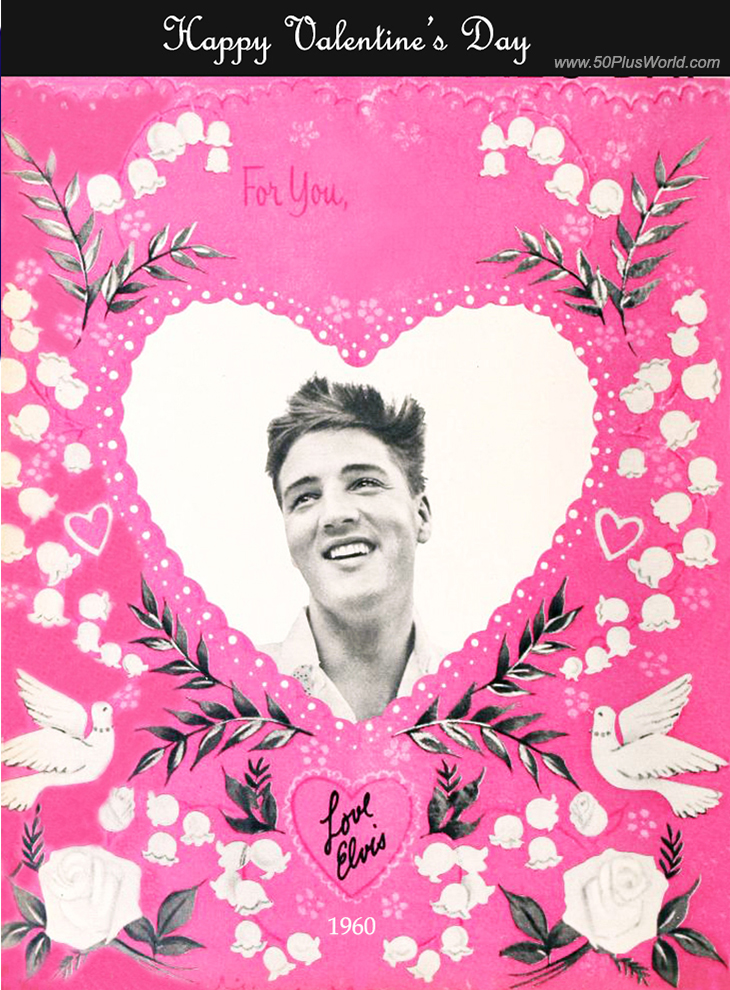 (Elvis Presley 1960 Happy Valentine's Day Greeting Card: Modern Screen)
The biggest Valentines of  Elvis Presley's early years were his mother Gladys Presley (he idolized her), Presley's home town of Memphis, Tennessee, and young Priscilla Beaulieu, whom he'd met in Germany in 1959 while serving in the U.S. Army.
Unsurprisingly, Elvis continued to gather hearts by the handfuls throughout his heyday as the #1 rock and roll idol. His conquests included home town girls and movie co-stars (Tuesday Weld, Ann-Margret). His May 1967 wedding to Priscilla Beaulieu disappointed many and thrilled others. Although Presley's marriage to Priscilla ended in divorce in 1973, it also produced another big love for the singer, their daughter Lisa Marie Presley. 
Post-divorce, he enjoyed serious relationships with Linda Thompson and Ginger Alden. Elvis Presley was 42 years of age when he died of a massive heart attack in August 1977. More than 40 years later, he still has legions of fans that think of him on Valentine's Day.
Jack Benny
Stage, radio, television, and movie comedian-actor Jack Benny was born on Valentine's Day, February 14, 1894.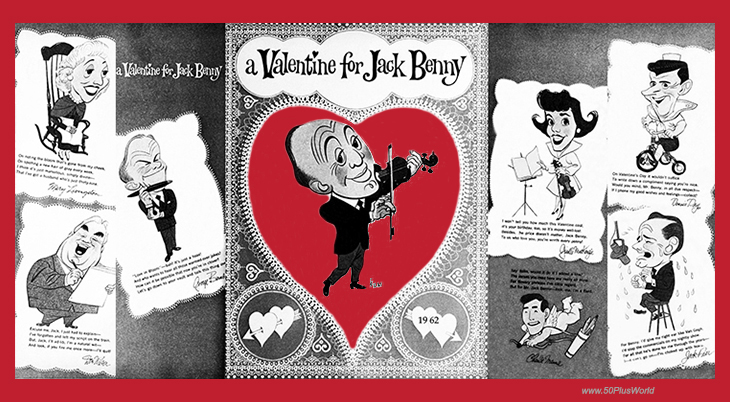 (A Valentine For Jack Benny 1962: Caricatures – Hess; Verse -Charlie Manna)
Jack Benny's wife, co-workers and pals – Mary Livingston, George Burns, Don Wilson, Giselle McKenzie, Dennis Day, and Jack Paar –  celebrating comedian Jack Benny for his birthday / Valentine's Day,  1962.
Jack Benny's real-life Valentines were his wife Mary Livingstone (married from 1927 until his death) and their daughter Joan Benny (adopted in 1934). He was 80 years old when he died in December 1974.
More Vintage Valentines
Vintage Silent Film Stars Valentine's Day Cards
Vintage 1930s-1940s Film Star Valentines
More Valentine's Day & Other Romantic Stuff!
Best Romance Films With Older Actors
When Valentine's Day Traditions Began