Sean Connery - From Dr. No to Marnie
Sean Connery has died at the age of 90. From suave Bond to a silver-bearded fox, proud Scot Sean Connery portrayed a man's man and a ladies man on the big screen at our local movie theatres for the better part of 7 decades .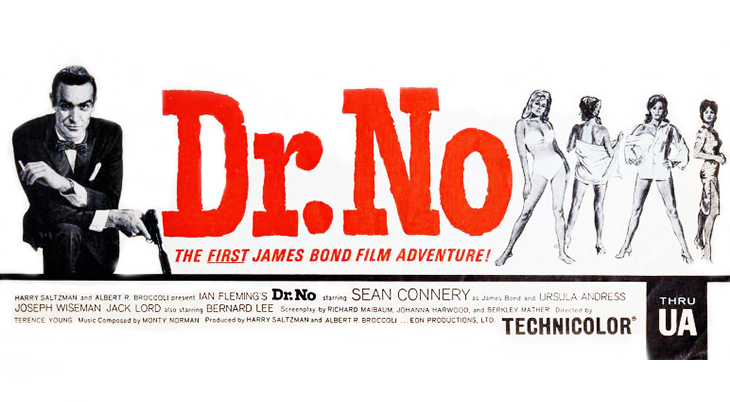 (Sean Connery 1963 Dr. No)
The Pre-Bond Years
(Sean Connery c.1960s Photo: Insomnia Cured Here)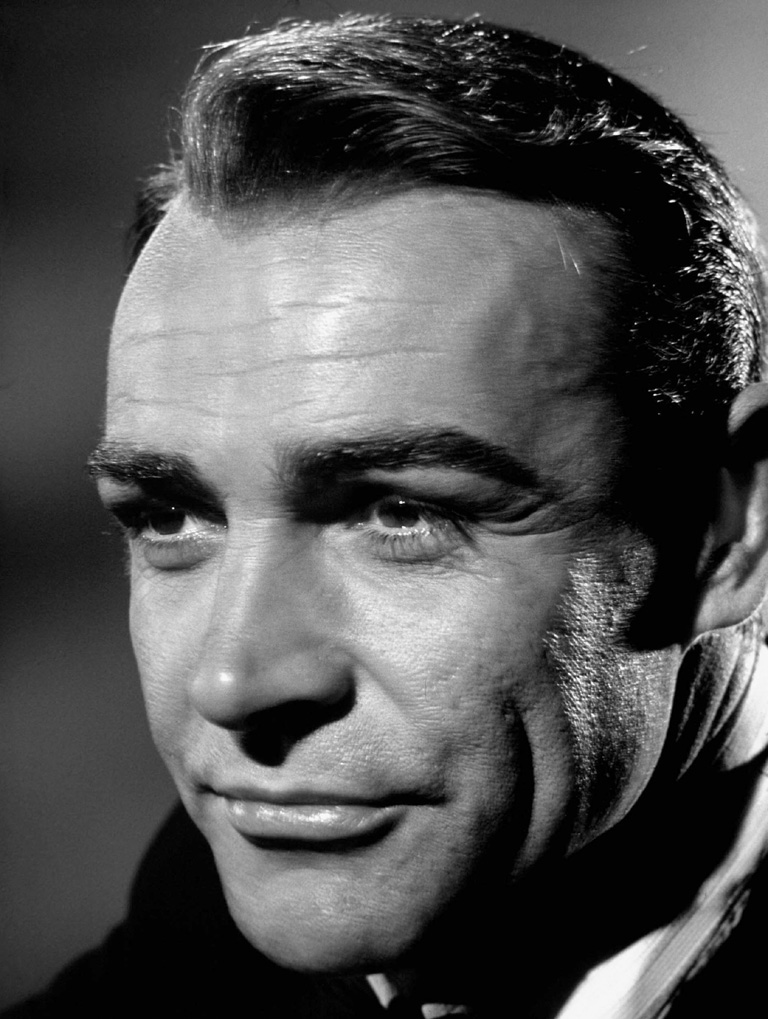 Sir (Thomas) Sean Connery was born on August 25, 1930 in Edinburgh, Scotland; his father's parents had emigrated from Ireland. 
The family was not wealthy, and Tommy as he was usually called, left school early at age 13 to work – something a lot of seniors born before World War II can relate to. In a 1965 interview with Playboy, he said
"My background was harsh…When I was nine my mother caught me smoking and she said 'Don't let  your father find out, because if he does he'll beat you so hard he'll break your bottom."
At age 16, Sean Connery joined the Royal Navy, took up bodybuilding and got two tattoos – "Mum and Dad" and "Scotland Forever". On his website he says these tattoos reflect his lifelong commitments.
Sean Connery was discharged from the Navy at age 19 because of a duodenal ulcer (a common family condition). Out of the navy and back in Edinburgh, "Tommy" worked at many different jobs from truck driver and lifeguard, to artist's model for the Edinburgh College of Art. He was very athletic and played football (soccer) so well he was offered professional contracts. In 1951, Connery (who'd already begun balding at the early age of 21) began working backstage at the King's Theatre to earn extra money, and used his middle name Sean professionally when he began acting.
Sean Connery trained heavily in body building for a time, even entering the Mr. Universe competition in 1953 ; he gave up bodybuilding when he realized his love of playing sports was preventing him from acquiring the necessary bulk muscle mass to beat other bodybuilders in contests. While in London for the competition, 21-year-old Connery tried out for and won the role of a chorus boy in a production of South Pacific. He moved on to other roles within the production over the next year as it toured Great Britain, eventually landing the featured role of Lieutenant Buzz Adams in the show.
Connery first met British actor and eventual close friend Michael Caine at a South Pacific party in 1954; and American actor Robert Henderson encouraged him to take elocution lessons and gave him plays to read. Connery's interest in pursuing a career in acting was cemented and he soon landed his first movie role in the 1954 musical, Lilacs in the Spring. More small stage, television and movie roles followed for Sean Connery in the 1950's.
Sean Connery's first leading role was in a BBC TV production of Requiem For A Heavyweight. The pace of roles in movies began to accelerate, and he landed a leading role in Another Time, Another Place (1958) opposite co-star Lana Turner. Lana Turner's boyfriend Johnny Stompanato was a jealous gangster who pointed a gun at Sean Connery on the set of the movie, believing they were having an affair. Connery knocked him down and Stompanato was banned from the set.
This clip from Another Time, Another Place features Sean Connery and Lana Turner.
The next year, another leading role in a Walt Disney Production – Darby O'Gill and the Little People – brought Sean Connery more recognition in America.
In his personal life Sean Connery didn't lack for beautiful companions, dating Carol Sopel and Julie Hamilton before marrying 29-year-old Australian and Tony Award-nominated actress Diane Cilento in 1962. Cilento had been married before and had a daughter, Giovanna. Her son with Sean Connery – Jason Joseph Connery – was born in January 1963, the same year Cilento was nominated for an Academy Award for Best Supporting Actress for her performance in Tom Jones (1963). Diane Cilento's focus on acting declined after her marriage and the birth of their son.
Call Me Bond, James Bond
Sean Connery's big breakthrough as secret Agent 007 James Bond began in 1962. Bond franchise producer "Cubby" Broccoli's wife Dana persuaded him to cast Connery in Dr. No. Bond author Ian Fleming wasn't enthusiastic, but his girlfriend told him Sean Connery had sex appeal.
Sean Connery and Eunice Gayson are featured in this clip from Dr. No.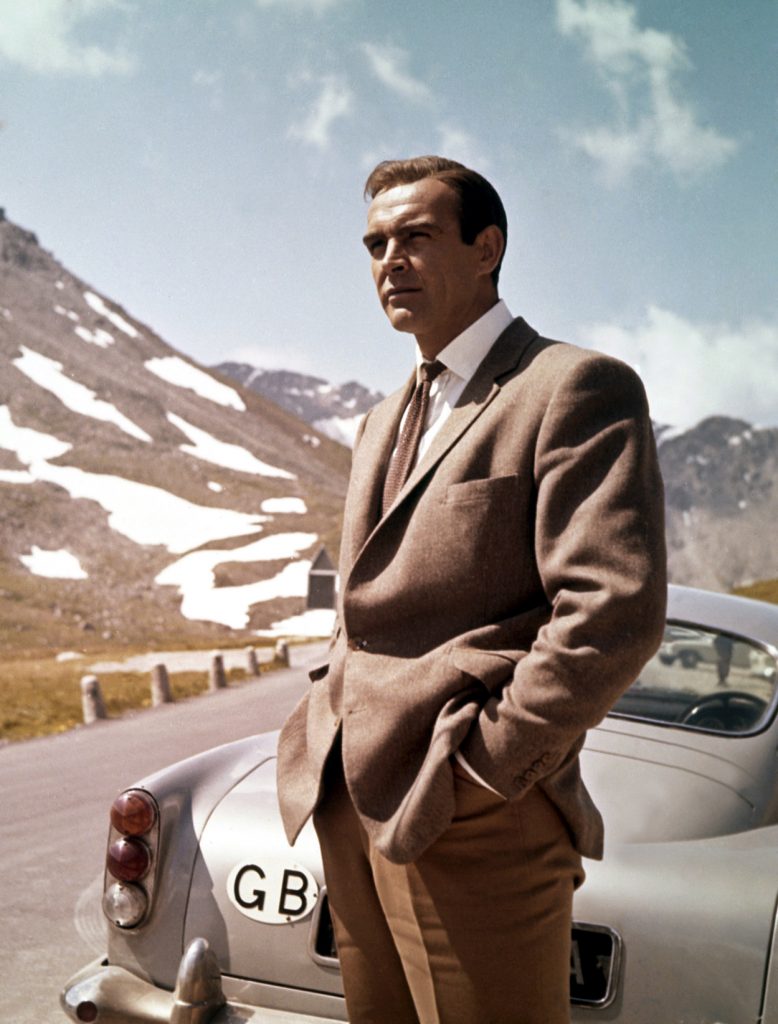 (Sean Connery and his Aston Martin sportscar in 1964's Goldfinger Photo: Raoul Luoar)
Director Terence Young mentored Sean Connery, who wore a toupee in the Bond movies to cover his early balding. When Dr. No came out, Connery was a bona-fide movie star and already being touted as a sex symbol.
Sean Connery starred in the first five James Bond movies between 1962-1967, beginning with Dr. No (1962) and ending with You Only Live Twice (1967).
In Goldfinger, he co-starred with Honor Blackman as Bond girl Pussy Galore. Gert Frobe played the bad guy "Goldfinger", and Lois Maxwell, Desmond Llewelyn, and Bernard Lee returned as the Bond team. 
(1965 Thunderball Set Photo: Christian Russhon)
Sean Connery and retired Lt. Col. Charles Russhon clowning on the set of Thunderball in 1965. Russhon was the military advisor for the James Bond movies in the 1960s and 1970s. 
Sean Connery had a life-or-death moment in 1965 while filming the shark scene in Thunderball (1965), when he had to jump out of a pool after a shark went through a barrier into his side of the pool.
You Only Live Twice (1967), was a James Bond film notable for the Japanese theme throughout the movie. Around the same time, man's man Sean Connery was a spokesperson for Jim Beam in a 1966 Life magazine ad.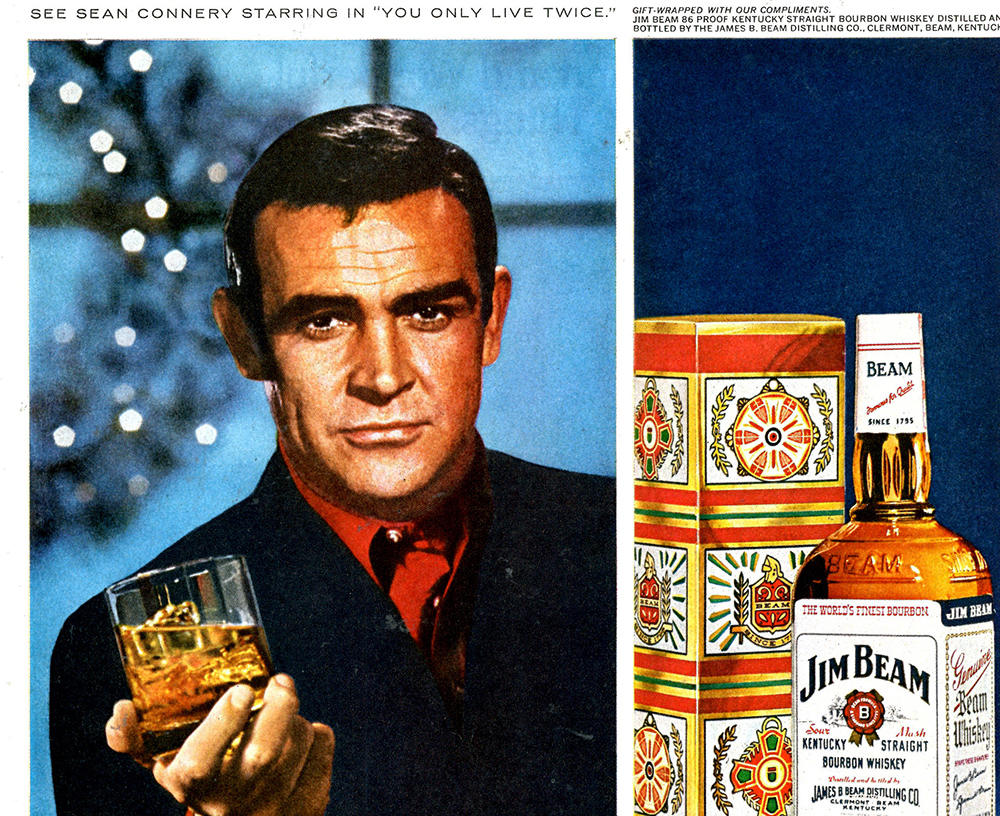 (Sean Connery 1966 Photo: Don O'Brien)
In her 2006 autobiography My Nine Lives, Diane Cilento claimed that Sean Connery physically abused her during their marriage and had knocked her out in their hotel room that same year, while filming the non-Bond movie The Hill (1965).
In a 1965 interview with Playboy magazine, Sean Connery commented on how he kept in shape – by playing football (soccer), golf, and swimming; and his growing dislike of playing Bond due to the overwhelming identification of him as the James Bond character vs Sean Connery the actor. When asked by the interviewer how he felt about roughing up a woman as James Bond sometimes did, Connery said:
"I don't think there is anything particularly wrong about hitting a woman–although I don't recommend doing it in the same way that you'd hit a man. An openhanded slap is justified–if all other alternatives fail and there has been plenty of warning. If a woman is a bitch, or hysterical, or bloody-minded continually, then I'd do it. I think a man has to be slightly advanced, ahead of the woman. I really do–by virtue of the way a man is built, if nothing else. But I wouldn't call myself sadistic." 
Twenty years later, in a 1985 interview when Barbara Walters asked 50+ Connery if he still felt the same, an unrepentant Sean Connery answered in the affirmative:
"I haven't changed my opinion…I don't think it's bad, and I think it depends entirely on the circumstances, and if it merits it. If you have tried everything else – and women are pretty good at this – when they can't leave it alone and want to have the last word, then you give them the last word. But they're not happy with having the last word, they want to say it again and get into a really provocative situation. Then, I think it's absolutely right."
Sean Connery had other starring roles in the 1960's, notably Alfred Hitchcock's suspense thriller Marnie (1964), opposite Tippi Hedren. Supporting cast members in Marnie included Diane Baker, Alan Napier, Mariette Hartley, and Bruce Dern.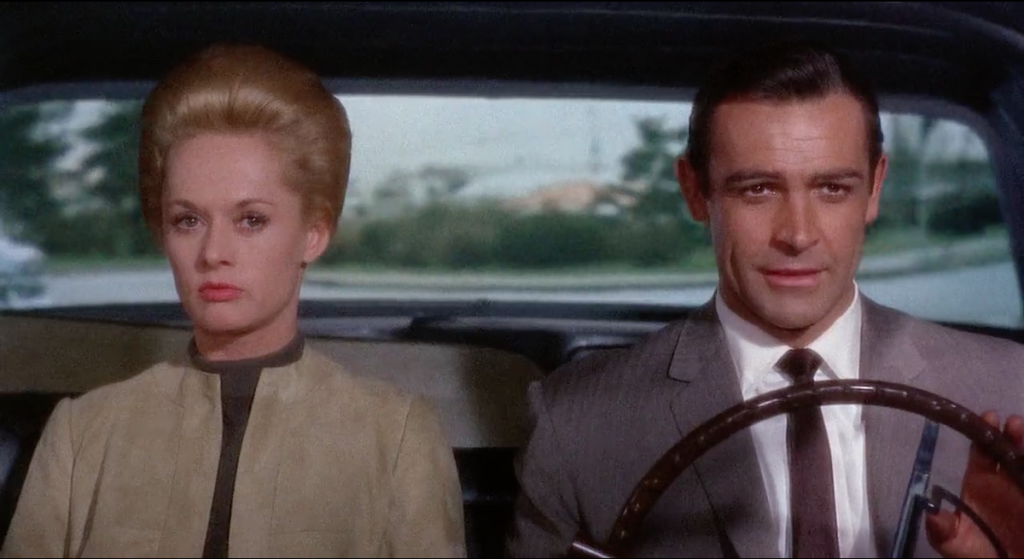 (Tippi Hedren & Sean Connery 1964 Marnie Movie Trailer)
Sean Connery returned as James Bond in 1971 for Diamonds Are Forever, co-starring opposite Jill St. John. The cast of Diamonds are Forever included new Bond girl Lana Wood as Plenty O'Toole, Charles Gray as Blofeld, Jimmy Dean, Bruce Cabot, and returning familiar faces Bernard L as "M", Desmond Llewelyn as "Q", and Lois Maxwell as Miss Moneypenny.
Sean Connery and Lana Wood are featured in this scene from Diamonds Are Forever.
Roger Moore took over the Bond duties after Diamonds Are Forever; James Bond was a role that Sean Connery had begun to hate because he was so identified with it.
Next: Sean Connery Part 2 of 2 – World's Sexiest Man, Senior
Note: This article was first published in 2015 with the title Celebrating Seniors – Sean Connery Turns 85. It has been updated with new & additional content.
*Images are believed to be in the public domain and/or Creative Commons licensed & sourced via Wikimedia Commons, Vimeo, YouTube, or Flickr, unless otherwise noted*