Best Classic Car Wash Scenes
A car wash scene in a film or television series episode doesn't have to be exclusively aimed at a comedic laugh or teenagers. These vintage movies and clips have a little something for everyone.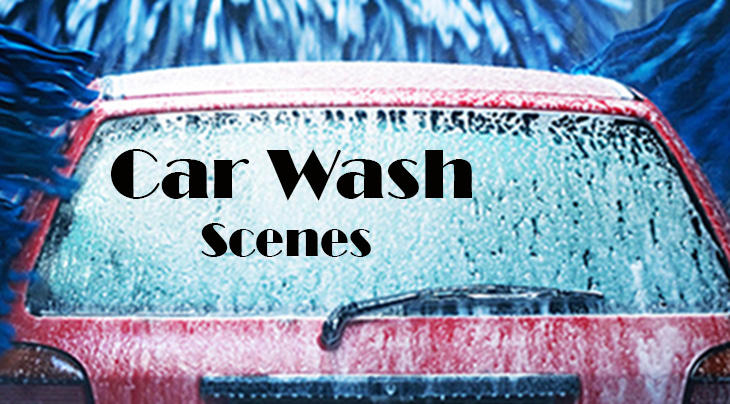 (Car Wash Photo: Camilo Jiminez via Unsplash)
Here are some of the best car wash scenes from classic movies and TV (anything BEFORE 2000 is considered "vintage" for this purpose!). 
Top Five Best Car Wash Scenes in Classic TV & Movies
1. Cool Hand Luke (1967)
Number one on almost every "best of" car wash scenes lists, has to be Cool Hand Luke. George Kennedy, Paul Newman and the other boys on the chain gang are getting very hot watching actress Joy Harmon in this iconic car wash scene from the 1967 classic movie Cool Hand Luke. 
What kind of car is that, anyway?
You'll recognize a lot of stars in Cool Hand Luke, including a very young Dennis Hopper. Also in the cast of Cool Hand Luke are Strother Martin, J.D. Cannon, Lou Antonio, Jo Van Fleet, Clifton James, Harry Dean Stanton, and Wayne Rogers.
Cool Hand Luke was a box-office and critical success, receiving four Academy Award nominations – Best Actor (Paul Newman); Best Screenplay, Best Original Music Score, and Best Supporting Actor (George Kennedy). Kennedy was the only Cool Hand Luke nominee to take home the Oscar for his category.
Although most of the afore-mentioned film stars are no longer with us, as of August 2021 actress Joy Harmon is still alive, as is Lou Antonio.
2. Move Over Darling (1963)
The ever-adorable Doris Day with one of her best leading men, James Garner, is shown in this funny movie trailer for the 1963 rom-com, Move Over Darling. Among the highlight scenes of this comedy film are the car wash incident…
Polly Bergen is trying her best to marry James Garner in this classic 1960s movie, but Doris Day as the presumed-dead first wife is having none of it. Thelma Ritter is excellent as Garner's mother/Day's mother in law. A stellar cast of supporting actors helps to make this (still) a very fun watch – Fred Clark, Don Knotts, Edgar Buchanan, John Astin, Pat Harrington Jr., Max Showalter, and Alvy Moore.
Doris Day and James Garner were paired in another 1963 rom-com, The Thrill of it All. Sadly, both Doris Day and James Garner are gone – Garner in 2014 and Doris more recently in 2019 at the age of 97.
3. Car Wash (1976)
In this video clip, Rose Royce sings the theme song Car Wash from the 1976 cult classic movie of the same name, in one of many car wash scene in the film. 
Seniors & baby boomers will recall the long list of comedy and music stars in the movie, including George Carlin, Melanie Mayron, Richard Pryor, and The Pointer Sisters.  
Once again (could it be we're all getting older?), the film's biggest stars are no longer with us – Richard Pryor died in 2005, and George Carlin in 2008.
4. Ally McBeal – Car Wash (1999)
Television screens across the world steamed up when Ally McBeal (Calista Flockhart) had sex in the car wash with Jason Gedrick, way back in 1999. This time, it wasn't just one of the many fantasies that Ally daydreamed on the Emmy Award-winning legal series.
Unfortunately, no Ally McBeal clip is available – but the scene is likely burned in the memory of anyone who ever saw it.
Ally McBeal regulars Courtney Thorne-Smith as Georgia, Greg Germann as Richard Fish, Lisa Nicole Carson as Renee, Jane Krakowski as Elaine, Peter MacNicol as John Cage, and Gil Bellows as Billy Thomas, are all in this episode.
Gedrick made a repeat guest-starring appearance later the same year in the episode Heat Wave.
Both Calista Flockhart and Jason Gedrick are still acting, so maybe fans will get a chance to see them together again onscreen, before they're too old to go through the car wash…
5. Wild Things (1998)
The crime thriller Wild Things(1998) has a sexually-charged scene when co-star Denise Richards washes teacher Matt Dillon's car.
Kevin Bacon co-starred and executive produced Wild Things because (to paraphrase his words), despite the trashy qualities, there are a lot of surprises.
As of August 2021, most of the cast of Wild Things are still quite active in movies or on TV, including stars Denise Richards, Matt Dillon, Kevin Bacon, and Neve Campbell. 
Honourable Mention
AARP – Betty White Car Wash (2011)
Let us not forget Betty White, getting her car washed in a memorable VIMEO clip for AARP when she was a spring chicken of 89, back in 2011. Ok, it's not "vintage" according to the year it was filmed, but Betty White is VINTAGE in capital letters.
AARP Betty White Car Wash from Charlie Brandwick on Vimeo.
Every Which Way But Loose (1978)
Clint Eastwood as Phil and his orangutan Clyde tangle with bikers in a scene that ends up at a car wash, in Every Which Way but Loose (1978).
Every Which Way But Loose is one of the handful of comedic films that Clint Eastwood starred in. His then-girlfriend Sondra Locke co-stars, with Geoffrey Lewis and Beverly D'Angelo in supporting roles.
Eastwood hadn't yet won his first Academy Award. He made up for that by later winning four – Best Picture and Best Director for Unforgiven (1992), and ditto in 2004 for Million Dollar Baby. He's just finished filming Cry Macho, to be released in 2021.
Note: This article was first published in 2015 as a series of 4 articles – Car Wash the Movie and Theme Song; Move Over Darling Car Wash Scene; Cool Hand Luke Car Wash; and Betty White Getting Her Car Washed. It has been updated with new & additional content.