Don Rickles Owed It All to Mom
Stand-up comedian and actor Don Rickles was born May 8, 1926 in New York City. Turns out, it was good ol' Mom that gave him the biggest boost to his career!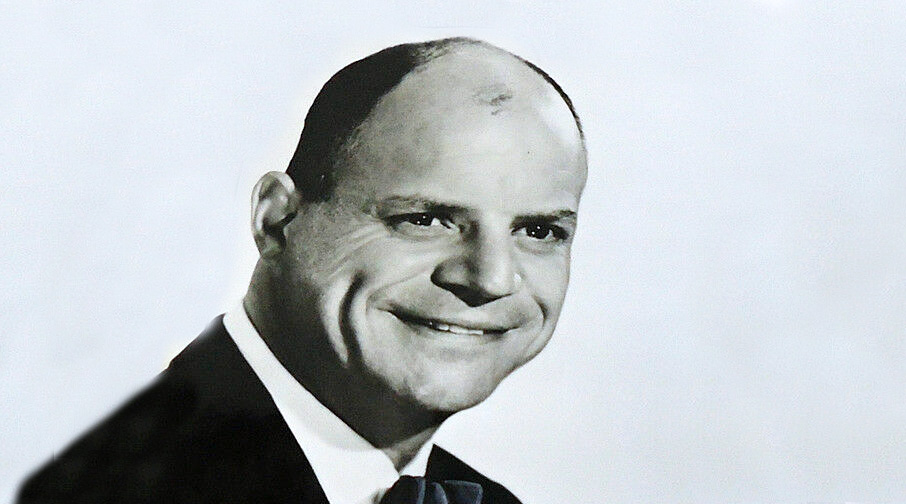 (Don Rickles 1965 Photo: TV Keynotes)
Two years after being honorably discharged from the U.S. Navy (he served as a seaman in the Philippines during World War II), Don Rickles enrolled at the American Academy of Dramatic Arts to study acting alongside Jason Robards, who became a friend. Although small acting gigs in the new field of television came his way, Rickles began performing stand-up comedy out of frustration from a lack of acting work. This frustration may have influenced his "insult" comedy style, which earned him the nickname "Mr. Warmth" (among others).
According to an interview with Vanity Fair in 2010, then-octogenarian senior Don Rickles recalled how his show-business career got a major boost in the early 1950's, courtesy of his supportive mother. Etta Rickles persuaded another mother – Dolly Sinatra – to get her son Frank Sinatra to go see Don Rickles' stand-up comedy show in Miami Beach.  Frank Sinatra did go, and was so delighted with the heckling he received from Rickles that he encouraged other celebrities to catch Don's act.
A lifelong friendship between Don Rickles and Frank Sinatra ensued (they would travel together), and Rickles soon became a popular stand-up comedy performer with followers like the Rat Pack (Frank Sinatra, Dean Martin, and Sammy Davis Jr.), and in Las Vegas clubs during the 1950's and 1960's. 
Don Rickles made his feature film start with small parts in movies like Run Silent, Run Deep (1958) with Clark Gable and Burt Lancaster, and The Rat Race (1960) with Tony Curtis and Debbie Reynolds, but his greatest fame (aside from his stand up comedy routines) came from comedic roles on television and other movies during the 1960's.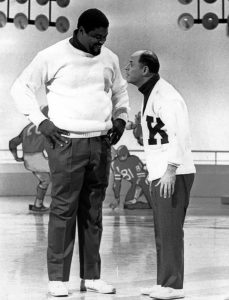 Pro football player Roosevelt Grier and Don Rickles appear in a 1968 Kraft Music Hall comedy skit. (Photo: NBC Television)
Don Rickles had guest-starring parts on popular 60's baby boomer sitcoms such as The Dick Van Dyke Show, The Addams Family, The Beverly Hillbillies, Gomer Pyle, U.S.M.C., The Munsters, The Andy Griffith Show, Gilligans Island, I Spy, Get Smart, and many others. He was in a series of beach party movies from 1964-1965 popular with baby boomers, that starred Annette Funicello and Frankie Avalon or Tommy Kirk – Muscle Beach Party (1964), Bikini Beach (1964), Pajama Party (1964), Beach Blanket Bingo (1965). 
In October 1965 Rickles made his first appearance on The Tonight Show Starring Johnny Carson. Johnny Carson and Don Rickles became life-long friends and during the next 27 years before Johnny Carson retired in 1992, Don Rickles would appear on The Tonight Show Starring Johnny Carson more than 100 times; it is Carson who is credited with Rickles' nickname "Mr. Warmth". Johnny Carson was a septuagenarian senior citizen when he died from a heart attack in January 2005.
Don Rickles was the guest-star on Night Train to Madrid 1967 episode of I Spy, starring regulars Robert Culp (as Kelly Robinson) and Bill Cosby (as Alexander Scott). Rickles played abrasive comedian (go figure!) Frank Bodie; fellow guest-stars on this episode of I Spy included Barbara McNair as Leona & Marianna Hill as Joanne, playing performers in his stage act. Rounding out the cast were Michael Strong as the bad guy Kutna, and Larry D. Mann as Arbuckle, the government official who assigns Robinson & Scott to keep Bodie out of trouble.
Rickles was in good company when he appeared in a supporting role in the Carl Reiner-directed comedy, Enter Laughing (1967), based on Reiner's novel. In addition to José Ferrer, Jack Gilford, and Michael J. Pollard, actresses Shelley Winters, Elaine May, Janet Margolin, and Nancy Kovack were in the cast.
In his autobiography Rickles Book: A Memoir (2007) by Don Rickles and David Ritz, Rickles describes meeting secretary Barbara Sklar for the first time when he went to see his movie agent Jack Gilardi. Barbara and Don Rickles have been happily married since in March, 1965 and celebrated their 50th wedding anniversary in 2015.
Daughter Mindy Beth Rickles was born June 1966. Mindy married in 1997 and made Rickles a grandfather with her sons Ethan and Harrison Mann. She began doing stand-up comedy after having her children, and today (in 2016) works under the professional name of Mindy Rickles.
Son Lawrence (Larry) Rickles was born in Los Angeles in May 1970. Larry Rickles would go on to work as a television sitcom writer and producer for shows such as Murphy Brown, which his septuagenarian senior citizen father would guest star on in 1998.
Don Rickles was kept busy with comedy and acting in television and the movies. The Don Rickles Show (1968-1969) was a half-hour television series he hosted that aired 17 episodes in the first season before it was cancelled. Rickles recorded and released two comedy albums, Hello Dummy! (1968) and Don Rickles Speaks! (1969).
Don Rickles was a scene-stealing Staff Sergeant Crapgame in the WWII war comedy Kelly's Heroes (1970) with Clint Eastwood, Donald Sutherland, Carroll O'Connor, and others. Below, in this scene from Kelly's Heroes, Don Rickles plays straight man and holds his own onscreen with co-star Clint Eastwood.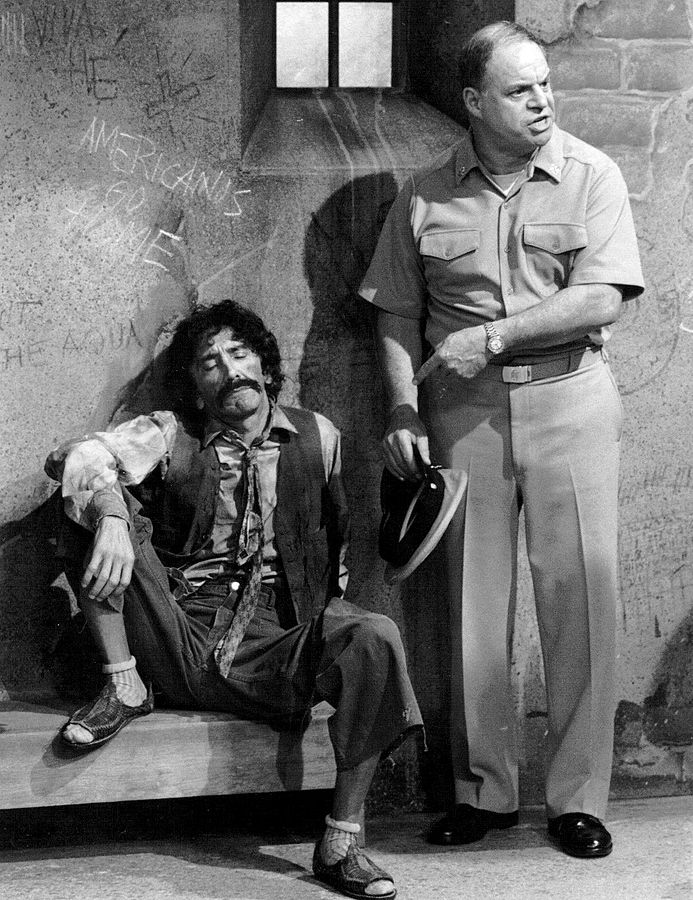 (Don Rickles & Sosimo Hernandez 197 C.P.O. Sharkey Photo: NBC Television)
During the 1970's and 1980's, Don Rickles' focus was on stand-up comedy, although he did appear in some movies and in his 50+ years, starred in the telesion series C.P.O. Sharkey from 1976-1978. 
A less successful sitcom series, also titled The Don Rickles Show (1972), had Don Rickles playing New York ad executive Don Robinson. The short-lived (7 episodes) The Don Rickles Show had a guest-star list crammed with faces familiar to television viewers in the 1960s and 1970s – his friend Bob Newhart, and actors such as Louise Sorel, Barry Gordon, Erin Moran, Robert Hogan, M. Emmett Walsh, Henry Jones, John Byner, and Edward Andrews.
He continued to guest-star on television shows such as Newhart and Hunter. 
New senior citizen Don Rickles was a regular on the sitcom Daddy Dearest (1993) as Al Mitchell, father to psychologist Dr. Steven Mitchell (played by fellow comedian Richard Lewis). Below, Don Rickles and Richard Lewis with some Daddy Dearest clips and outtakes.
Don Rickles became friends with Robert De Niro when he was cast in director Martin Scorsese's feature film Casino (1995), working alongside Joe Pesci, James Woods, Sharon Stone, Dick Smothers, and others. As a septuagenarian senior, Rickles continued to act in guest-starring roles on shows such as The Larry Sanders Show (1997). His last two on-screen appearances in feature films were in the comedies Dirty Work (1998) and Dennis the Menace Strikes Again (1998), in which he played Dennis' neighbor George Wilson, with Betty White as his wife.
Since then Don Rickles' big-screen movie roles have been limited to voice acting in animated movies, notably as Mr. Potato Head in the Toy Story (1995) movie franchise. Rickles was an octogenarian senior citizen by the time Toy Story 3 (2010) was released, and there are plans to film a Toy Story 4 movie when he is a nonagenarian. Rickles was awarded his star on the Hollywood Walk of Fame in 2000.
Since becoming an octogenarian senior in 2006, Rickles' television guest-star appearances have been scarce, but include a couple of episodes on Hot in Cleveland in 2011. He won a Primetime Emmy Award for Individual Performance in a Variety or Music Program for Mr. Warmth: The Don Rickles Project (2008); his son Larry Rickles  also won an Emmy as a producer for the special. Sadly, Larry Rickles passed away after a bout of pneumonia at the age of 41 in 2011.
Don Rickles and Bob Newhart first met 50 years ago in 1966, when Don's wife Barbara and her married best friend Ginny went with Ginny's husband Bob Newhart to see Don Rickles' show. In 2012, Rickles told Variety magazine that the two couples have traveled all over the world together
"And in all that time we've never had a serious argument. So many things happen, there's so much sadness. But we can laugh together."
Bob Newhart has called Don Rickles "The sweetest man I've ever known."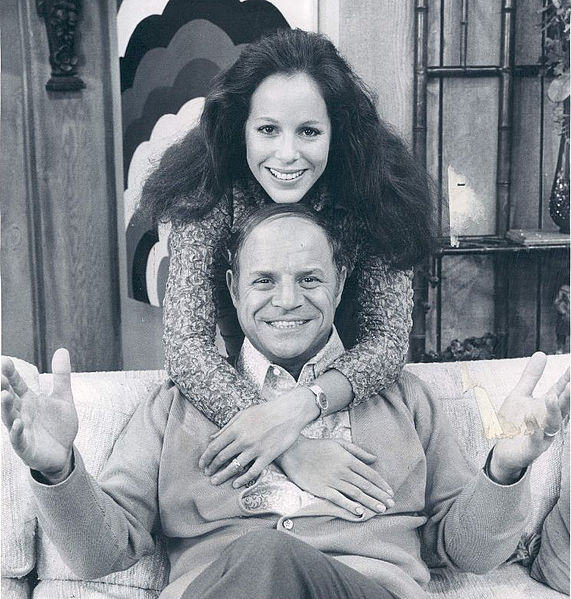 (Don Rickles & Louise Sorel c 1971 The Don Rickles Show Photo: Sheldon Leonard Productions)
Don Rickles said in 2010 that he keeps fit as senior citizen by riding a recumbent bike for half an hour every day, and he still shows no signs of retiring.
His last television role was the voice-over of Mr. Potato Head for Toy Story That Time Forgot (2014), the same year that he survived a bout of flesh-eating disease and the three surgeries that followed.
Rickles had cut back on live comedy shows in early 2016; he died on April 6, 2017 from kidney failure at the age of 90.
Below, a highlight reel of Don Rickles in his very politically incorrect heyday, with some faces that will be very familiar to baby boomers (and their parents).