Were You Alive in October 1945?
Trivia for baby boomers from October 1945: Elvis Presley, The World Series, and Milton Hershey

A star is born onstage on October 3, 1945 in Tupelo, Mississippi at a youth talent contest. Ten-year-old Elvis Presley sings Old Shep (he has to stand on a chair to reach the microphone) and wins 5th prize.
Elvis Presley will go on to become a favourite with the baby boomer generation.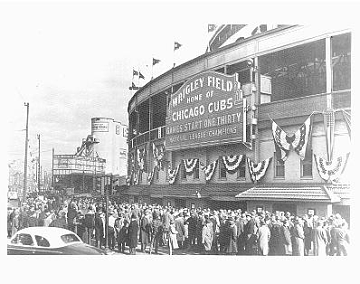 Baseball was in the news 70 years ago on October 10th, 1945 when the Detroit Tigers won the World Series, vanquishing the Chicago Cubs, who have never made it to the World Series again since then.  The Montreal Royals, a farm team for the Brooklyn Dodgers, break a colour barrier and sign African-American Jackie Robinson to play with them for the 1946 season. 
Right photo: thebaseballpage.com
Today's seniors will remember this day, while baby boomers can only wonder when the Chicago Cubs will once again make it to the World Series?
Having escaped death with his wife Kitty Hershey back in 1912 when he cancelled his reservation on the Titanic at the last minute, founder of The Hershey Chocolate Company Milton S. Hershey was an octogenarian senior citizen when he died on October 13, 1945 at age 88.
Throughout WWII, The Hershey Chocolate Company had kept American troops supplied with Ration D and Tropical Chocolate Bars, both of which were designed to resist melting at higher temperatures. 
For more "Were You Alive in 1945?",
Were You Alive in January 1945?
Were You Alive in February 1945?
Were You Alive in August 1945?
Were You Alive in September 1945?
Were You Alive in November 1945?