Were You Alive in April 1945?
News Headlines & Entertainment Trivia From April 1945: President Franklin Delano Roosevelt dies & President Harry S. Truman is sworn into office; World War II events in Europe & North America: "Il Duce" Benito Mussolini is killed; Battle of Okinawa; Ohrdruf death camp liberation; German U-Boat torpedoes a minesweeper near Nova Scotia. In sports & entertainment, goalie Frank McCool helps Toronto Maple Leafs win the Stanley Cup.

Frank McCool Helps Toronto Maple Leafs Win the Stanley Cup
The Toronto Maple Leafs hockey team defeated the Detroit Red Wings in game 7 on April 22, 1945 by a score of 2-1 to win the Stanley Cup. Despite losing their veteran goalie Turk Broda to army service during World War II, rookie Canadian goalie Frank McCool stepped up and saved the day. McCool kept the Detroit Redwings scoreless in the first three games of the Stanley Cup finals series, a playoff record that stood for 58 years and won him the 1945 Calder Trophy. 
(Toronto Maple Leafs Rookie Goaltender Frank McCool 1945 Stanley Cup Champions)
Calgary native Frank McCool was born October 27, 1918 and had served in World War II, but was discharged with stomach ulcers. Severe stomach ulcers plagued him for the rest of his life and were the reason for his retirement from hockey in 1946; they also played a role in his death in 1973 at age 54. His army service over, Turk Broda stepped back into the role of Toronto Maple Leafs goalie in 1946.
U.S. President Franklin Delano Roosevelt Dies
Senior citizens will remember the sad day that United States President Franklin Delano Roosevelt died, April 12, 1945.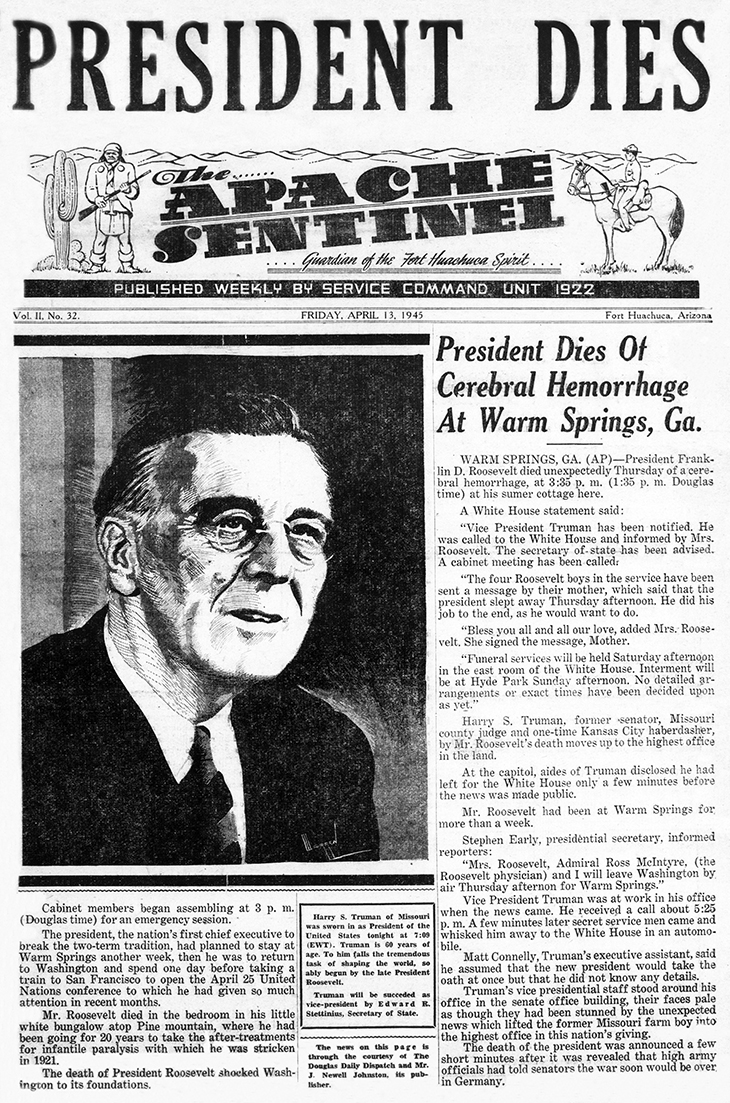 (Apache Sentinel April 13 1945) 
President Roosevelt had been staying at his cottage in Warm Springs, Georgia for more than a week leading up to his death. Newspapers reported he worked right up until the end:
"Mr. Roosevelt still had a stack of papers before him. His next visitor was N. Robbins, a New York artist who began sketching the President while he continued to examine the papers Hassett had left. Suddenly – around 1 p.m. – the President put his hand to the back of his head and said, 'I have a terrific headache.' Those were his last words. About 1:15 p.m., he slumped over unconscious. Arthur Prettyman, Mr. Roosevelt's Negro valet, picket him up and carried him into a small bedroom just to the left of the entrance to the Little White House. In another part of the building were two of the President's cousins – Miss Margaret Suckley and Miss Laura Delano – and his private secretary, Miss Grace Tully. Miss Delano called Cmdr. Hewart G. Bruenn, who arrived at once with another physician, Lieut. Comdr. George Fox. They took of Mr. Roosevelt's dark blue suit and put on his pajamas." –  Mr. Roosevelt Knew Time Had Come to Save His Strength – by Merriman Smith, Warm Springs, Ga. April 13, 1945, UP / The Columbus Ledger"
More doctors were summoned, but President Roosevelt died of a cerebral hemorrhage at 3:35 p.m. His wife Eleanor – from whom he had been living separately since 1942 – was in Washington at the time of his death and flew to Warm Springs the next day.
President Harry Truman Sworn In
V.P. Harry Truman was sworn in as the 33rd President of the United States at 7:00 p.m. that same day. The ceremony took place in the West Wing of the White House, with his wife Bess Truman and daughter Margaret Truman (a future author) by his side.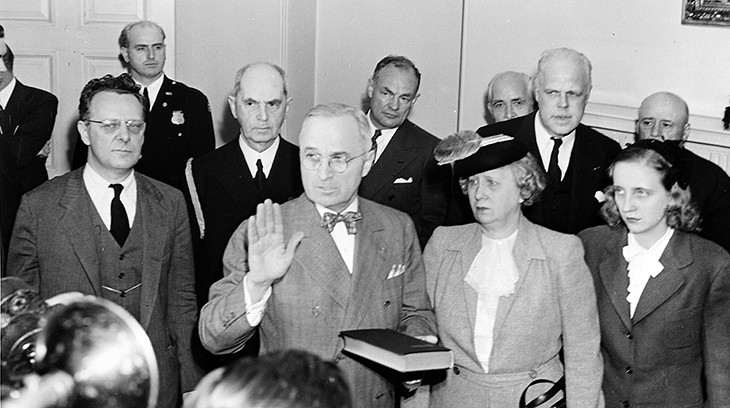 (President Harry S. Truman Takes the Oath of Office with Bess & Margaret Truman 1945: Abbie Rowe / NARA)
Born May 8, 1884, Harry Truman had graduated from high school in 1901, and took one year of business college classes. He held a variety of jobs, but primarily worked family farm from 1906-1917. Legally blind in one eye, Truman memorized the eye chart and enlisted in the U.S. Army in 1917, serving overseas in France during World War I.
Post WWI, Truman married Bess Wallace. The couple opened a haberdashery in Kansas City and Truman took night classes towards a law degree. The store went bankrupt during the 1921 recession, and Truman dropped out of law classes. He was elected as a county judge in 1922, lost his seat in 1924, and was elected again in 1926 & 1930.
His statesmanship at the city, county, and state level steered Truman towards politics, and he was elected as a U.S. Senator for Missouri in 1934. Truman was 60 years old when he somewhat reluctantly began serving as the United States Vice-President in January of 1946. A short 3 months later (82 days) he was sworn in as the 33rd President of the United States, completing his partial first term of office in 1948 and ran as an underdog, winning re-election to a second term.
Harry S. Truman's role as U.S. President ended in 1952. Highs and lows during his Presidency included oversight dropping the first atomic bombs on the Japanese cities of Hiroshima and Nagasaki to decisively end WWII; transition to a peacetime economy; the Housing Act of 1949; creation of the United Nations; the Berlin Airlift of goods and supplies to that Soviet-blockaded city; recognition of Israel; creation of the President's Committee on Civil Rights; Executive Orders to end discrimination in the Armed Services & federal agencies; Korean War involvement; and NATO support. He was unsuccessful in his fight to enact a national medicare system and ending segregation. 
President Harry S. Truman died of multiple organ failure on December 26, 1972 at the age of 88. He was survived by his widow Bess Truman and daughter Margaret Truman
Key World War II Events in April 1945
"Il Duce" Benito Mussolini & Mistress Killed

(Benito Mussolini 1945: UP / The Journal Herald, April 27, 1945)
Reports that a fleeing Benito Mussolini had been recognized in Lake Como, and was captured by Italian patriots while hiding in the destroyed monastery of Pallanza on the western shore of Lake Maggiore, began filtering out on in news reports on April 26, 1946.
German ally, former Italian Prime Minister and National Fascist Party leader Benito Mussolini "Il Duce" and his mistress Clara Petacci, were shot to death (along with other fascists) on April 28, 1945 by communist partisans when they attempt to escape from Italy and take refuge in Spain. Their bodies were hung on meat hooks for display in Milan's Piazza Quindici Martiri and stoned by onlookers; the plaza had just been renamed for 15 non-fascists "martyrs" who had been executed there by fascist forces.
One of the reasons Mussolini had originally aligned Italy with Germany was that he thought the British Empire was doomed because one-quarter of the British population in the late 1930's was over the age of 50.
Battle of Okinawa
In Japan, U.S. troops invaded Okinawa on April 1st to begin the Battle of Okinawa (known as Operation Iceberg).
Ohrdruf Death Camp Liberation
With American troops closing in, on April 1 1945 the Ohrdruf Concentration Camp SS began moving between 11,700 – 13,000 prisoners on death marches to Buchenwald Concentration Camp. Ohrdruf was the first death camp to be liberated during World War II, on April 4, 1945.
It's estimated that over 7,000 Ohrdruf prisoners died from exhaustion or were murdered inside or en route to / from the camp between November 1944, and April 4, 1945 when US troops arrived and liberated the prisoners.
German U-Boat Torpedoes a Minesweeper off Nova Scotia
A German U-boat torpedoed Royal Canadian Navy minesweeper HMCS Esquimalt near Halifax, Nova Scotia in the early morning hours of April 16, 1945.
The Esquimalt sank within 5 minutes and lost 44 of her crew, much of them to exposure from the cold water before rescuers arrived.
Note: This article was first published in 2015. It has been updated with new & additional content.
*Images are believed to be in the public domain, used by permission, and/or Creative Commons licensed & sourced via Wikimedia Commons, Vimeo, YouTube, or Flickr, unless otherwise noted*