Were You Alive in June 1945?
Baby Boomer Trivia From June 1945: PM Mackenzie King Wins 6th Term, Battle of Okinawa Ends, & Who's On First?

70-year-old septuagenarian senior citizen and Canadian Prime Minister William Lyon Mackenzie King won another majority Liberal Party federal government on June 11, 1945, beginning his record-breaking 6th term in office.
Collectionscanada.gc.ca 1944 photo below: Prime Ministers MacKenzie King (Canada), General Jan Smuts (Union of South Africa), Winston Churchill (Great Britain), Peter Fraser (New Zealand), and John Curtin (Australia)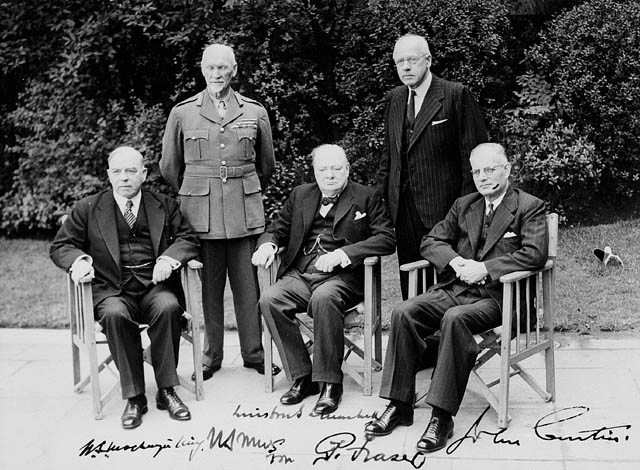 On June 10, 1945, Australian soldiers (with American air and navy support) landed on the island nation of Borneo and after 3 days of fighting, freed the town of Brunei from Japanese troops. The World War II Battle of Okinawa, which had started on April 1, 1945 was finally concluded on June 22, 1945. 82 days of fierce fighting in the Pacific islands ended with a victory for the Allies (primarily British and American troops in the air and at sea, and American troops on land) over Japanese forces.
The WWII Battle of Okinawa resulted in Allied forces losses of 14,009 deaths (killed or missing) and more than 82,000 casualties of all kinds. Japanese forces suffered losses of over 77,000 soldiers (killed, died of their wounds, or committed suicide). More than 40,000 civilians were either missing, killed, or committed suicide.
The Bud Abbott & Lou Costello baseball comedy The Naughty Nineties (1945) was released on June 20 1945, and the "Who's on First?" routine became a part of pop culture history enjoyed by baby boomers and future generations.
For more "Were You Alive in 1945?",
Were You Alive in January 1945?
Were You Alive in February 1945?
Were You Alive in August 1945?
Were You Alive in September 1945?
Were You Alive in October 1945?
Were You Alive in November 1945?