Grammy Hall of Fame: Jo Stafford
Grammy Hall of Fame recording artist Jo Stafford (You Belong to Me) sang with Frank Sinatra in the Pied Pipers, and had three solo #1 hit pop songs during the 1940s and 1950s.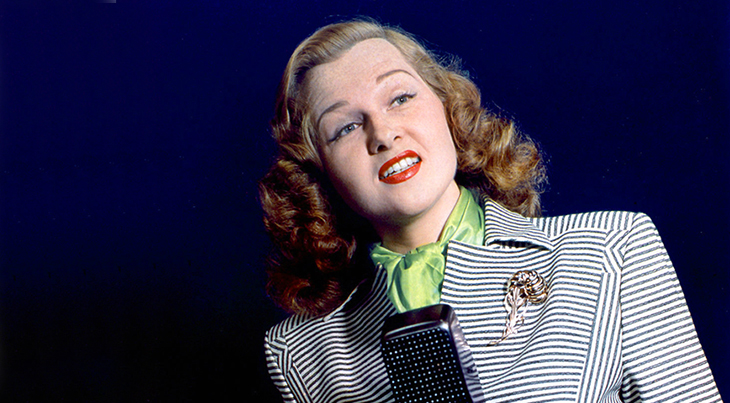 (Jo Stafford 1947 Photo: New York Daily News / Sunday News)
Jo Stafford climbed those starry heights with the help of pianist, composer, and musical arranger Paul Weston, who helped found the Grammy Awards in 1959. This is their story.
The Stafford Sisters & Pied Pipers
Singer Jo Stafford was born on Nov. 12, 1917 and began her musical career in the 1930s. Together with her older sisters Christine and Pauline, they performed as The Stafford Sisters while Jo was still in high school. Jo married musician and backing singer John Huddleston in October 1937 when she was 19.
The Stafford Sisters began to find work in films, and in 1938, merged with two other groups – The Four Esquires, and the Rhythm Kings – to form a new vocal group of 8 that included her husband John Huddleston, called the Pied Pipers.
Around this time Jo first met pianist, composer, and musical arranger Paul Weston, who was dating one of the Rhythm Kings sisters and working for orchestra leader and radio host Tommy Dorsey. 
The Pied Pipers worked on movie soundtracks and later radio for Dorsey; Dorsey insisted on a smaller group, but Jo and her husband John Huddleston survived the cut. In 1939 the Pied Piers added young singer Frank Sinatra, who seemed to show some promise….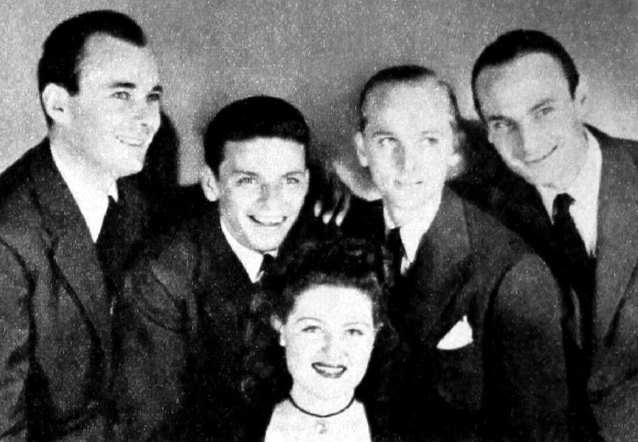 (John Huddleston, Frank Sinatra, Jo Stafford & Chuck Lowry, Clark Yocum 1939 Pied Pipers)
I'll Never Smile Again, written by Ruth Lowe, was a #1 hit song for the Pied Pipers in 1940 and was entered into the Grammy Hall of Fame in 1982. Jo Stafford sings along with Pied Piper lead vocalist Frank Sinatra, below.
Singer Johnny Mercer started Capitol Records in 1942 and hired Paul Weston as the music director. The following year, Jo Stafford divorced John Huddleston; Huddleston left the Pied Pipers and joined the U.S. Army as WWII was heating up.
The Pied Pipers had a #2 chart hit in 1944 with The Trolley Song, just before Jo left the Pied Pipers for good to embark on a solo career as a recording artist for Capitol Records.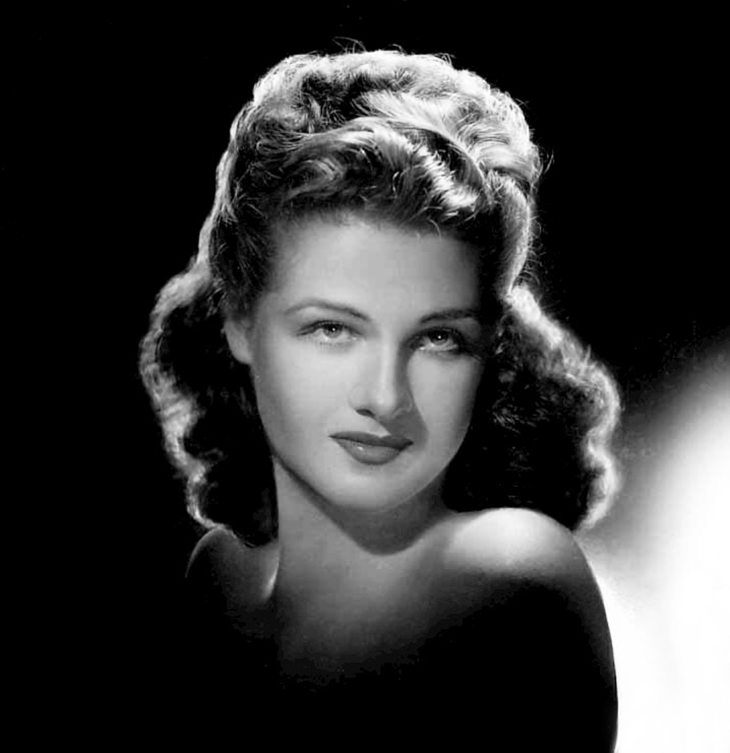 (Jo Stafford 1945 Photo: Ted Allan)
1940's Top Hit Songs
In addition to her participation in the #2 Hit song The Trolley Song while still with the Pied Pipers, Jo Stafford had 5 other Top 15 solo chart hits in 1944, including 3 Top Ten singles – Long Ago (and Far Away), I Love You, and It Could Happen to You. Her career as a solo recording artist was off to the races.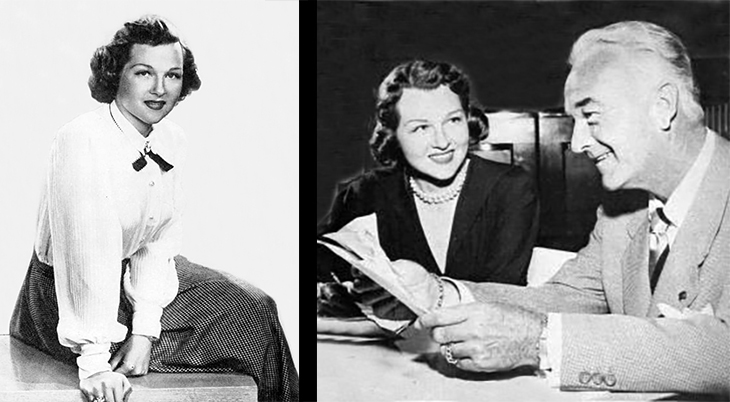 (Jo Stafford 1950 and with Hopalong Cassidy 1951 Voice of America)
For the remainder of the 1940s and into the 1950s, Jo Stafford was a regular on Voice of America radio.
As a recording artist, she had between 6-10 Top 30 hit songs every year. 
Her biggest hits during this period included Candy (1945), a #1 duet with Johnny Mercer, which also featured Paul Weston and The Pied Pipers. Candy was written by Alex Kramer, Mack David and Joan Whitney in 1944.
The Johnny Mercer-Jo Stafford recording of Candy was the first and only version of the song to make it to #1 on the pop charts.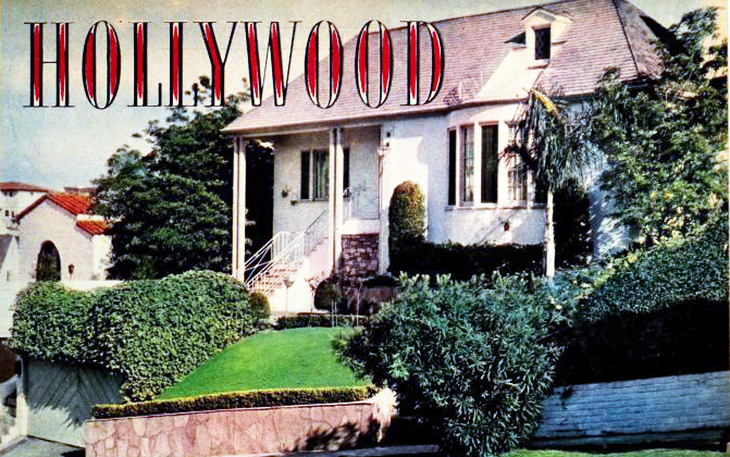 (Jo Stafford 1948 Westwood Home: Radio and Television Mirror)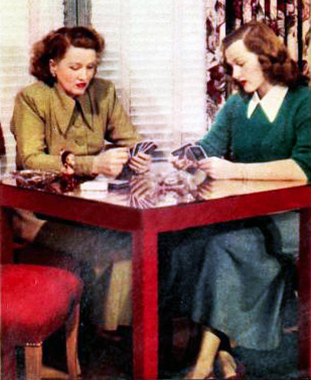 (Christine Stafford & Joe Stafford Playing Gin Rummy 1948 Photo: Radio and Television Mirror)
Jo began dating Paul Weston in 1947
Her older sister Christine lived with her in Stafford's Westwood home in the late 1940s.
Christine Stafford also worked as Jo's personal secretary.
Stafford's next #1 hit song after Candy was the rollicking, country-tinged and very comedic Temptation (Tim-Tayshun) (1947).
Red Ingle & The Natural Seven accompany her on Temptation (Tim-Tayshun).
Jo Stafford's 1949 recording of the classic standard ballad Some Enchanted Evening (1940), written by Oscar Hammerstein II and Richard Rodgers, made it to #4 on the charts.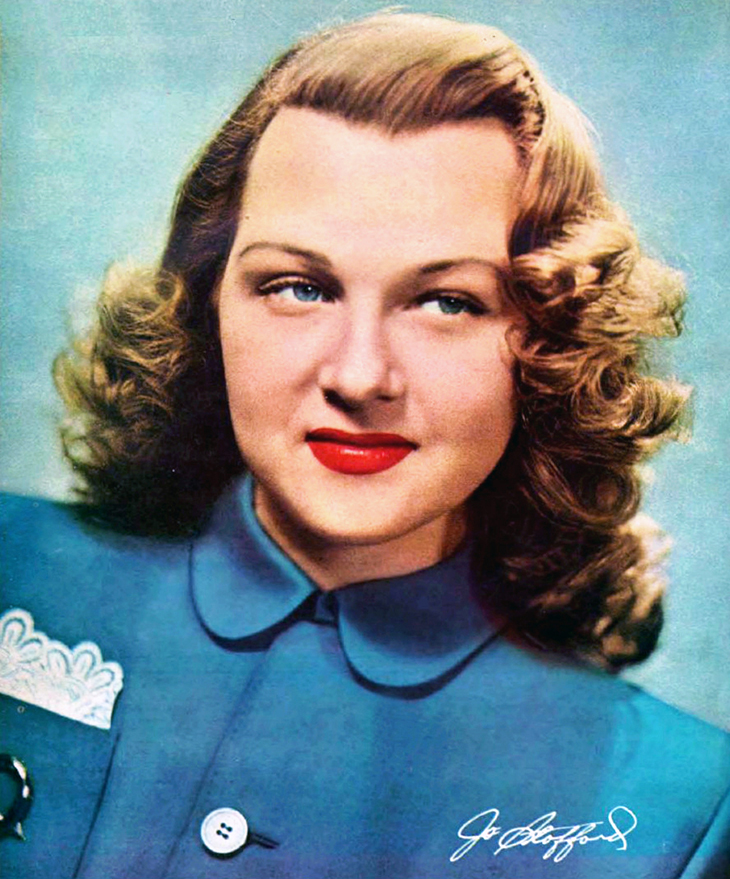 (Jo Stafford 1948 Photo: Radio Album | Dell Publications)
That same year, Some Enchanted Evening was a Top Ten hit for 3 other artists as well – Perry Como (#1), Bing Crosby (#3), and Frank Sinatra (#6). Stafford was the only female artist to achieve that level of chart success with Some Enchanted Evening, and her beautiful voice does the song justice.
W
When Paul Weston moved to Columbia Records in 1950, Jo Stafford came with him.
Television, Grammy Awards & The Top of the Song Charts
Jo Stafford and Paul Weston were married in February 1952, and on their honeymoon tour of Europe that year Stafford sang at the London Palladium.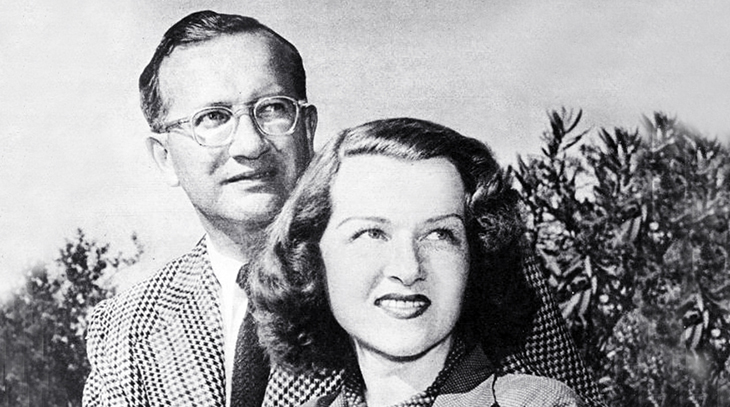 (Jo Stafford with husband Paul Weston Photo: 1952 Radio-TV Mirror)
1952 was a banner year for the singer; their son Tim was born, and her signature song and first solo #1 hit You Belong to Me, written by Chilton Price, was released in August 1952.
Her second #1 hit single was released in December 1953 – Make Love to Me!. The following year, Make Love to Me! and Secret Love (1954) sung by Doris Day, alternated the #1 spot on the Billboard song charts during February and March.
Below, Jo Stafford sings a medley of some of her hits from the 1950s – You Belong to Me, Make Love to Me (1954), and Jambalaya (1952), live on the Big Record in 1958.
From the 1950 through the 1970s Paul Weston worked in television, and helped start the Grammy Awards in 1959. Jo Stafford continued to be active on radio in the 1950s (Voice of America & The Jo Stafford Show), recording new songs, and hosted her own television series The Jo Stafford Show (1954).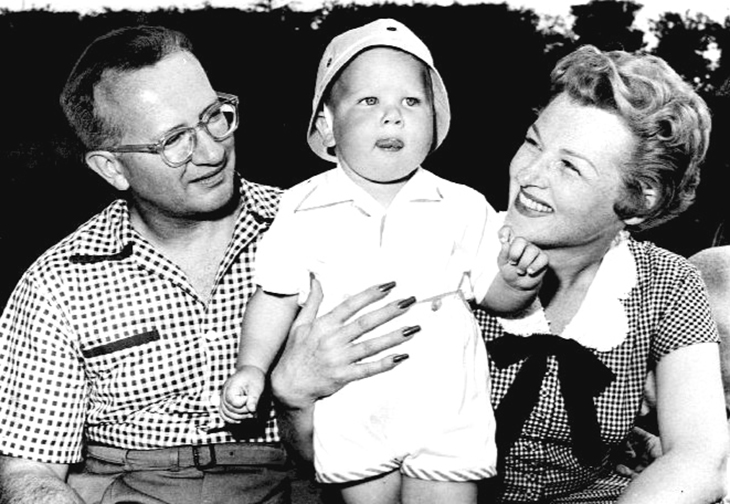 (Paul Weston, Tim Weston, and Jo Stafford 1954 Photo: Globe Photos / Mirror Enterprises Syndicate)
One of Stafford's lost Top 15 hits was Suddenly There's a Valley (1955), which was a #13 hit single.
Daughter Amy was born in 1956, and Jo had her last Top 40 chart hit that year – London Bridge.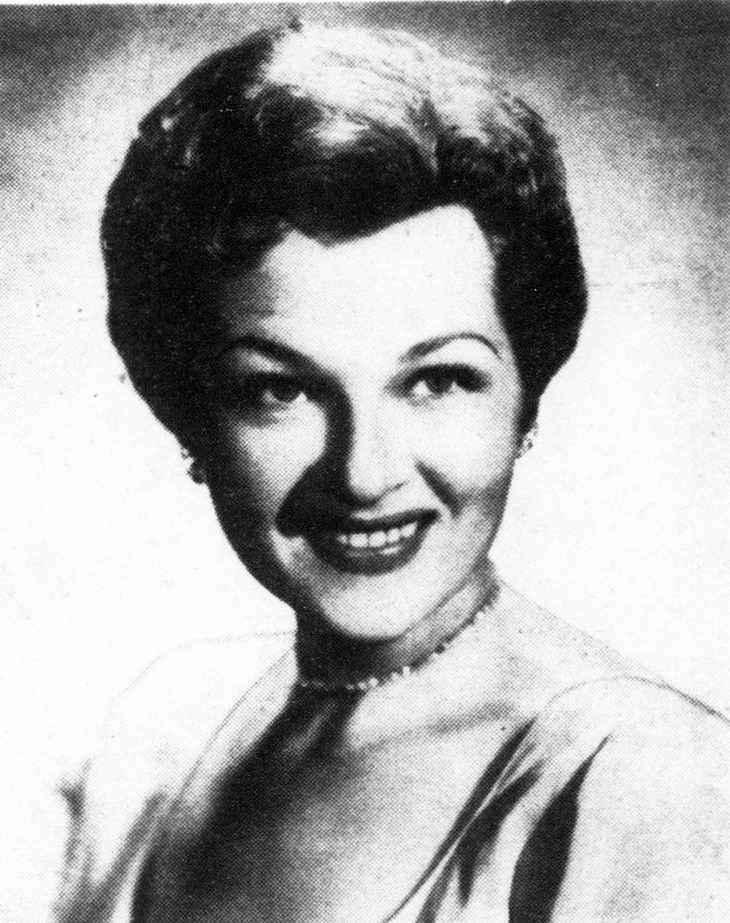 (Jo Stafford 1958 Photo: The Evening Star)
Throughout the 1950s, Jo Stafford and Paul Weston often performed together, Stafford singing and Weston playing piano. They perfected a musical comedy act parodying popular songs, Jonathan and Darlene Edwards, that won the Grammy Award for Best Comedy Album in 1961. Jo Stafford and Paul Weston guest-starred with Jack Benny, Ed Wynn, and George Burns on Shower of Stars in 1958, and demonstrated their prowess as Jonathan and Darlene Edwards.
Changing musical tastes with the advent of rock singers like Elvis Presley, combined with a desire to enjoy motherhood with her two young children, meant that Jo Stafford began to be heard less on the radio. 
Between 1961-1963, she hosted 9 one-hour TV specials for the BBC titled The Jo Stafford Show.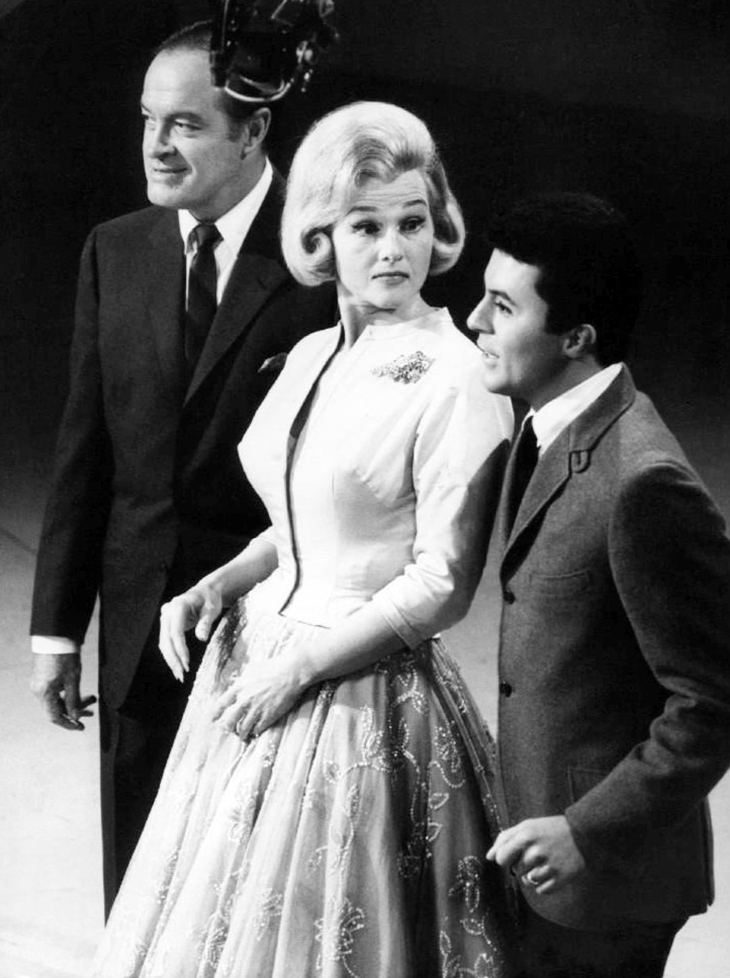 (Jo Stafford with Bob Hope & James Darren 1961 The Jo Stafford Show: CBS TV)
Guest performers on The Jo Stafford Show included Peter Sellers, Claire Bloom, Ella Fitzgerald, George Benson, James Darren, Bob Hope, Mel Torme, Rosemary Clooney, Edd Byrnes, Benny Hill, Peter Lawford, Peggy Lee, Eric Morecambe, and Robert Morley.
Paul Weston died of natural causes in 1996, and Jo Stafford died on July 16, 2008 at the age of 90 from congestive heart failure. She donated all of their music-related artifacts to the University of Arizona. Her legacy of song includes her other #1 hit single Make Love to Me! (1954), and over 75 other Top 30 singles released between 1944-1959.
Jo Stafford is in the Grammy Hall of Fame for her 1952 recording of You Belong to Me, and for the Pied Piers 1940 recording of I'll Never Smile Again. The Pied Pipers are also in the Vocal Group Hall of Fame.
*Images are believed to be in the public domain and/or Creative Commons licensed & sourced via Wikimedia Commons, Vimeo, YouTube, or Flickr, unless otherwise noted*