Arte Johnson Was a Verrry Interesting Actor
Emmy Award-winning American comedian and character actor Arte Johnson was born on January 20, 1929 in Benton Harbor, Michigan.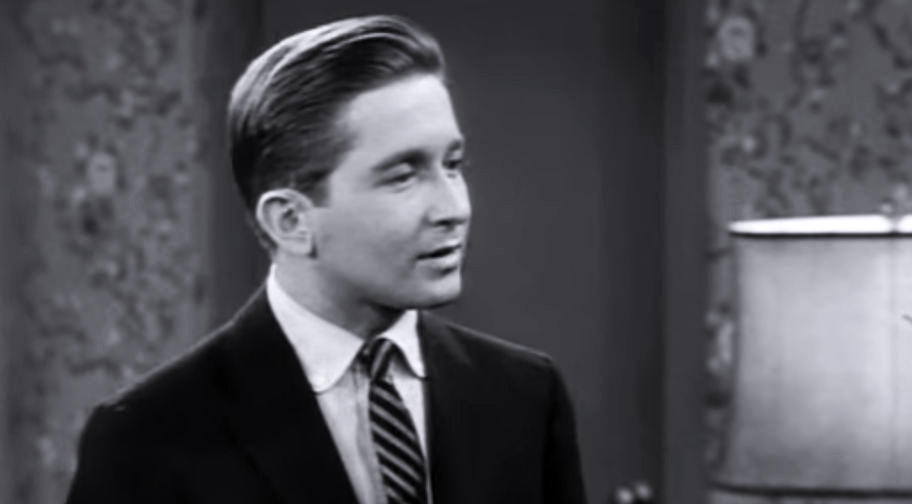 (Arte Johnson 1956 Make Room For Daddy)
His full name is Arthur Stanton Eric Johnson, and he told Coping® with Cancer Magazine that he grew up on a farm in southern Michigan. His twin brother Cos Johnson (nee Coslough) became a screenwriter, while Arte Johnson shifted from a career in writing at Viking Press in New York City, to performing onstage in Gentlemen Prefer Blondes and Broadway.
Arte Johnson got his start on television screens during the 1950's in the musical TV movie Best Foot Forward (1954), starring Robert Cummings. The following year he began a recurring role as Stanley Schreiber on the comedy series It's Always Jan, starring Janis Paige.
More guest-starring roles on TV followed, including the episode of Make Room For Daddy below in 1956, "Who Can Figure Kids". Johnson reluctantly sings and dances for series star Danny Thomas, prodded by his stage father (Frank Martin).
Next came a recurring role as Bascomb Bleacher Jr. on the TV comedy Sally in 1958. In an episode of Schlitz Playhouse in 1959, Arte Johnson and future TV stars Doug McClure (The Virginian) and Mary Tyler Moore played fellow students.
Although big-screen movies were never the forum that Arte Johnson made his name in, Arte Johnson did appear in 2 movies in the 1950's. The first was the romantic fantasy Miracle in the Rain (1956) starring Jane Wyman. 
In the early 1960's, Arte Johnson continued to find his way in movies, appearing in the drama The Subterraneans (1960). The Subterraneans starred Leslie Caron, George Peppard (Banacek), Roddy McDowall, Janice Rule, and Jim Hutton (Ellery Queen). This would be the first of several co-starring appearances for Arte Johnson, George Peppard, and Roddy McDowall.
George Peppard and Arte Johnson co-starred in an episode of Bob Hope Presents Chrysler Theatre (1964). Their fellow co-stars were Seymour Cassel, Darren McGavin, Diane Ladd, and Madlyn Rhue. 
The mystery movie The Third Day (1965) starred George Peppard, Peppard's future wife Elizabeth Ashley, and Roddy McDowall, with Arte Johnson and Sally Kellerman. 
P. J. (1968) was a mystery movie starring George Peppard, with Raymond Burr (Perry Mason), Susan Saint James, and Arte Johnson.
The TV musical Robin Hood (1968) co-starred Roddy McDowall as Prince John, Steve Forrest as the Sheriff of Nottingham, and Douglas Fairbanks Jr. as King Richard. Johnson played the character of Much in Robin Hood.
Johnson guest-starred on George Peppard's 80s series The A-Team, costarring with series regulars Dirk Benedict and Mr. T.
The TV fantasy movie Alice in Wonderland (1985) had an all-star cast with Roddy McDowall as the March Hare and Arte Johnson as the Dormouse. Joining them in Alice in Wonderland were Donald O'Connor, Shelley Winters, Scott Baio, Sammy Davis Jr., Telly Savalas, Ringo Starr, Ann Jillian, Carol Channing, Harvey Korman, Jack Warden, Sally Struthers, Donna Mills, Patrick Duffy, Steve Lawrence, John Stamos, Ernest Borgnine, Beau Bridges, and many other familiar faces for baby boomers.
Roddy McDowall and Arte Johnson guest-starred twice on the same episodes of the popular 1980's series Fantasy Island, starring Richardo Montalban.
Other movies of note for Arte Johnson during the 1960's were the sci-fi comedy thriller The President's Analyst (1967) starring James Coburn, with William Daniels (St. Elsewhere); and the romantic comedy That Funny Feeling (1965), starring teen idols Sandra Dee and Bobby Darin (who were married off-screen). Arte Johnson had been in an earlier movie with Sandra Dee, The Wild and the Innocent (1959) in an uncredited role. In the cast of That Funny Feeling with Arte Johnson were Donald O'Connor (another frequent co-star), Nita Talbot, and Larry Storch.
Donald O'Connor and Arte Johnson were co-stars onscreen in That Funny Feeling, Alice in Wonderland (1985), as well as the TV mini-series Condominium (1980). Condominium starred Barbara Eden, Dan Haggerty, Steve Forrest, Ana Alicia, Richard Anderson, Ralph Bellamy, Macdonald Carey, and Pamela Hensley. Johnson played Brooke Ames, with Elinor Donahue (Father Knows Best) as Audrey Ames. Donald O'Connor and Arte Johnson were guest-stars on the same episode of popular 80's baby boomer series Hotel. Along with Hotel regulars James Brolin, Connie Sellecca, Shari Belafonte, and Anne Baxter, their fellow Hotel guest-stars included Lorenzo Lamas, Liberace, and Margaret O'Brien. 
Episodic television appearances for Arte Johnson during the 1960's included guest-starring gigs on senior and baby boomer favorites such as The Twilight Zone and The Donna Reed Show. He also appeared in an episode of Westinghouse Playhouse with Nanette Fabray; Dr. Kildare, starring Richard Chamberlain; and Destry starring John Gavin; and he was Elizabeth Montgomery's (Samantha) meddling cousin Edgar on Bewitched. Arte Johnson worked with many more familiar faces on other series when he guest-starred, including:
Arte Johnson had a recurring role as Seaman Seymour Shatz on the sitcom Hennesey (1960-1961). Hennesey starred former child actor Jackie Cooper (Our Gang/Little Rascals) as a Navy doctor, and actress Abby Dalton as his secretary/nurse.
Johnson was a regular on the comedy series Don't Call Me Charlie (1962-1963) as Corporal Lefkowitz. Also in Don't Call Me Charlie was Alan Napier, soon to play Alfred the butler on Batman.
Most baby boomers and senior citizens will remember Arte Johnson best for his regular cast member role on the musical-comedy variety series Rowan & Martin's Laugh-In, from 1967-1971. Johnson's Rowan & Martin's Laugh-In co-stars included host comedians Dan Rowan and Dick Martin, and announcer Gary Owens. Johnson appeared as himself in comedy skits on Rowan & Martin's Laugh-In with fellow regulars Ruth Buzzi, Henry Gibson, Lily Tomlin, Jo Anne Worley, and Goldie Hawn. His twin brother Cos Johnson also worked on Laugh-In as a screenwriter from 1968-1970, and both Arte and Cos earned Emmy Awards for their work on the series.
Arte Johnson created the memorable and "Verrrry interesting" sketch character of a German soldier on Rowan & Martin's Laugh-In. Johnson told USA Today that his inspiration for his German character and the "Verrrry interesting" catchphrase was based Santa Fe Trail (1940), a movie set in the pre-Civil War era starring Errol Flynn and Ronald Reagan. Johnson then went on to co-write (with brother Cos Johnson) the comedy special Ver-r-r-ry Interesting (1971), appearing as himself along with Bing Crosby, Nancy Kulp (The Beverly Hillbillies), and Elke Sommer.
While he was still appearing on Rowan & Martin's Laugh-In, in 1969 Arte Johnson began doing voice over acting for films and television. He created the voice character of Misterjaw on the TV series The Pink Panther Show. Johnson also created and wrote the animated series Baggy Pants & the Nitwits (1977).
He and pal Ruth Buzzi re-created the voices of their "Nitwits" characters, first aired on Rowan and Martin's Laugh-In. That same year, Arte Johnson and Ruth Buzzi co-starred in the TV musical fantasy movie Once Upon a Brothers Grimm (1977) with Dean Jones, Teri Garr, John McCook, and Chita Rivera. 
Barbara Eden, singer Janis Joplin, and Arte Johnnson guest-starred on an episode of The Hollywood Palace hosted by Don Adams in 1968. The following year, Johnson guest-starred on Barbara Eden's series I Dream of Jeannie. They later co-starred in the 1980 mini-series Condominium.
(Diana Schatz, Dean Martin & Arte Johnson c. 1970 The Dean Martin Show Photo: NBC Television)
Arte Johnson was a frequent guest on TV talk shows and game shows – appearing as panelist on The Hollywood Squares TV game show from 1968-1980, and on Match Game 73 from 1974-1978.
For the remainder of the 1970's, Arte Johnson was seen in episodic television appearances and movies. Baby boomers and seniors might remember seeing him in these TV films: 
Call Holme (1972), a comedy with Arlene Golonka, Jim Hutton, Vic Tayback, and a young Danny Bonaduce. Johnson worked with Danny Bonaduce again when he guest-starred twice on The Partridge Family in 1972 and 1973; and he guest-starred in an episode of Fantasy Island with Arlene Golonka.
Twice in a Lifetime (1974), a comedy movie starring Ernest Borgnine, with Eric Laneuville. Arte Johnson had guest-starred on Ernest Borgnine's series McHale's Navy in 1963. Borgnine and Johnson would go on to co-star in the TV movie Alice in Wonderland (1985), an episode of Airwolf starring Jan-Michael Vincent and Alex Cord in 1985. In 1995, septuagenarians Ernest Borgnine and Arte Johnson were reunited onscreen in the feature film comedy Captiva Island (1995), more than 35 years after Johnson guest-starred on McHale's Navy.
Bunco (1977), a crime drama starring Tom Selleck (Magnum, P.I.), Robert Urich (Vega$, Spenser: For Hire), and Donna Mills.
Bud and Lou (1978), a biographical movie starring Harvey Korman as Bud Abbott and Buddy Hackett as Lou Costello. With Michele Lee, Robert Reed (The Brady Bunch), and Alan Feinstein.
The feature film Love at First Bite (1979) was a romantic comedy vampire spoof produced by and starring George Hamilton. Co-starring with George Hamilton in Love at First Bite were Susan Saint James, Richard Benjamin, Eric Laneuville, and Arte Johnson as scene-stealing Renfield.
Johnson's other television appearances during the 1970's including a regular cast member roles on the short-lived musical comedy variety series Ben Vereen… Comin' at Ya (1975) with Ben Vereen and Lola Falana; and on The Bobby Vinton Show (1975) starring Bobby Vinton. 
Arte Johnson hosted the children's weekly puppet comedy series Hot Fudge Show (1976), and guest-starred on popular 70s series such as:
Sesame Street, appearing with fellow guest-stars Alan Arkin, Dan Blocker, Carol Burnett, Bill Cosby, and Bonanza's Lorne Greene and Michel Landon.
Love, American Style, appearing in 3 episodes including one with Anita Gillette. 
Here's Lucy, a 1974 episode with Lucille Ball, Gale Gordon, and Ball's daughter Lucie Arnaz.
The Rookies 2 hour pilot episode with Georg Stanford Brown, Gerald S. O'Loughlin, Steve Forrest, Kate Jackson, Donna Mills, Robert Walden, and Jaimie Lyn Bauer.
Jigsaw John, a crime series based on real-life LAPD detective and serial murder expert John St. John, who served the LAPD for 51 years with a high conviction rate and worked the 1940's Black Dahlia murder case until his retirement in 1993. Jigsaw John starred Jack Warden (a future co-star in 1985's Alice in Wonderland), Alan Feinstein (Johnson's co-star in the 1978 TV movie Bud and Lou), Pippa Scott, and James Hong. Arte Johnson appeared in a 1976 episode of Jigsaw John that included familiar faces Michael Lerner, Bobby Sherman, and Lesley Ann Warren.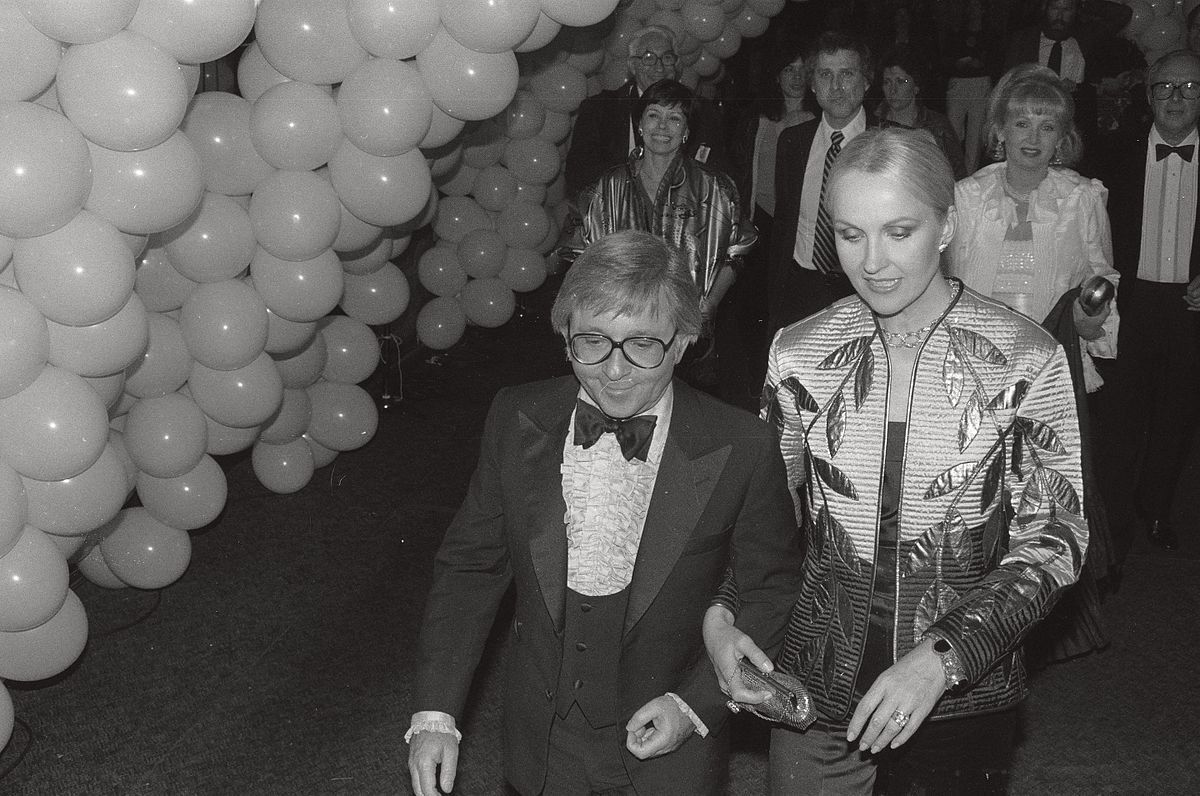 Arte Johnson and wife Gisela Johnson in 1980. (Photo: Alan Light)
As Arte Johnson turned the corner into his 50+ years in 1979, he continued the voice-acting work he'd begun ten years earlier. He could be heard on animated series such as The Dukes, The 13 Ghosts of Scooby-Doo, and The Flintstone Kids. On screen, baby boomer and senior fans might remember seeing him in these TV movies: 
If Things Were Different (1980), a drama co-starring Don Murray, Suzanne Pleshette and Tony Roberts.
Detour to Terror (1980), a thriller starring O. J. Simpson, Anne Francis, Lorenzo Lamas, and Gerald S. O'Loughlin (a former co-star from The Rookies pilot in the 70's).
The Love Taps (1980), a comedy starring Martin Balsam, Michael Constantine, and Mariette Hartley, with Wendy Phillips, Jan Smithers, and Loretta Swit.
Making of a Male Model (1983), a romantic drama starring Joan Collins, Jon-Erik Hexum, Kevin McCarthy, Ted McGinley, Jeff Conaway, and Robert Walker Jr.
By the late 1980's, Johnson's career had shifted to mostly voice-acting work. Some exceptions to this were appearances in a few feature films. He starred in the movies Tax Season (1989) with James Hong, and appeared as Harry Houdini in A Night at the Magic Castle (1988). Below, the movie trailer for A Night at the Magic Castle features Arte Johnson.
The star-studded cast of Cannonball Run II (1984) featured Burt Reynolds, Frank Sinatra, Jamie Farr, Dean Martin, Sammy Davis Jr., Marilu Henner, Shirley MacLaine, Susan Anton, Jackie Chan, Tim Conway, Tony Danza, Jim Nabors, Mel Tillis, and Chris Lemmon. Filming Cannonball Run II was a reunion for Arte Johnson and previous co-stars:
Telly Savalas, from a guest-staring gig on Kojak in the 1970's. Telly Savalas and Johnson would also co-star again the next year, in Alice in Wonderland (1985).
Catherine Bach, whom Johnson had worked with when he guest-starred on Dukes of Hazzard, starring Tom Wopat and John Schneider.
Don Knotts, from The Andy Griffith Show when Johnson had guest-starred on it, over 20 years earlier in 1962.
Ricardo Montalban and Jack Elam, who had been a fellow guest-stars with Johnson on Montalban's series Fantasy Island in 1981.
Doug McClure, who had appeared with a much younger Arte Johnson 25 years earlier, in a 1959 episode of Schlitz Playhouse.
Arte Johnson was a regular on Glitter (1984-1985) starring David Birney and Morgan Brittany, with Tracy Nelson and Dorian Harewood. David Birney and Johnson had been fellow guest-stars before, on an episode of Fantasy Island.
He was almost a regular on popular series The Love Boat, appearing on it 8 times between 1977-1987, and working with his former McHale's Navy co-star Gavin MacLeod, and The Love Boat regulars Bernie Kopell and Ted Lange. 
Other episodic television work for Arte Johnson during the 1980's included appearances on Trapper John, M.D., and:
Fame starring Debbie Allen and Lori Singer.
The New Mike Hammer starring Stacy Keach and Don Stroud. 
Murder, She Wrote starring Angela Lansbury, with George Clooney, Pat Crowley, George Furth, Steve Lawrence, and Buddy Hackett (his co-star from 1978's Bud and Lou).
Some very forgettable movies for Arte Johnsonson in the early 1990's were the duds Dan Turner, Hollywood Detective (1990), a direct-to-video effort with Marc Singer, Tracy Scoggins, and Clu Gulager and his wife Miriam Byrd-Nethery; Evil Spirits (1990), a horror movie with Karen Black, Virginia Mayo, and Michael Berryman; and the comedy fantasy Munchie (1992) with Loni Anderson, Andrew Stevens, and a young Jennifer Love Hewitt.
After becoming a senior citizen in 1994, his on-screen appearances began to rapidly dwindle. As a new senior, Arte Johnson appeared in the direct-to-video movie Second Chance (1996) starring Richard Hatch and Nicholas Walker.
In the comedy movie The Adventures of Tom Sawyer (1998) starring Erik Estrada, Johnson was billed as Grumpy Old Man, with Laraine Newman as Aunt Polly. The Adventures of Tom Sawyer was Johnson's last movie and his last on-screen role. 
Winding down his career on television, senior citizen Arte Johnson could be seen in only a few guest-starring TV series roles during the early 1990s. He appeared in the short-lived series Cafe Americain, starring  Valerie Bertinelli; and Pros and Cons, starring series regulars James Earl Jones and Richard Crenna. Johnson played the character of Gregor Korolenko, with Yakov Smirnoff as Yakov Korolenko, in an episode of popular series Night Court, with regulars Harry Anderson, Markie Post, John Larroquette, and Richard Moll.
On Mad About You starring Helen Hunt and Paul Reiser, he guest-starred in a 1996 episode with former Rowan & Martin's Laugh-In co-stars Jo Anne Worley and Henry Gibson. Almost 30 years after working together on Laugh-in, the former costars – now all senior citizens – played themselves on Mad About You.
In 1999, new septuagenarian senior citizen Arte Johnson told Coping® with Cancer Magazine about his personal experience with cancer after being diagnosed in 1997. Johnson told his family doctor he had noticed a slight swelling under his arm that promptly disappeared. His cautious family doctor referred him to another doctor, who sent him for a CAT scan that showed a growth on his right lung, which would have been hidden by a traditional x-ray. During surgery to remove the growth, a further diagnosis of non-Hodgkins lymphoma (cancer) was confirmed. After his diagnosis, Johnson became a regular on the cancer survivor speakers circuit. He has said he dealt with the reality of recovering from cancer and chemotherapy by immersing himself in reading, jazz music, spending time with his wife, and socializing with friends. His recommendation for other cancer survivors:
"Instead of pulling into yourself and locking yourself in the bed, get out. Sit outside. Watch the birds. Listen to the rustling of the leaves. There are so many things to life. You are alive until you die. While you're living, enjoy every moment….Cancer changes your outlook on life. I have more respect for life, and more enjoyment of it now." 
Arte Johnson has been retired from TV and movie screens since 1998, but returned to a last voice-acting role for an episode of the animated series Justice League Unlimited in 2005. That same year, he returned to the stage with old friend and game show host Peter Marshall in "Old Faces of 2002".
Johnson has also continued to narrate audiobooks as an octogenarian senior citizen, compiling over 80 audiobook narration credits. He told the Los Angeles Times back in 1994 that "Many times I will be absolutely hysterical laughing at what I am reading…But I love to read raw. I'm reading it as fresh as I possibly can, without any preconceived notions.".
Arte Johnson married German-born wife Gisela in 1968; in 2016, the senior couple celebrated their 49th wedding anniversary.
Update: Arte Johnson died July 3, 2019 of bladder and prostate cancer. He was 90 years of age and is survived by his wife of 50+ years, Gisela, and his twin brother Cos Johnson.
*Images are public domain or Creative Commons licensed & sourced via Wikimedia Commons, Vimeo, YouTube, or Flickr, unless otherwise noted*