Little Richard - His Story and Songs
Little Richard died of bone cancer on April 9, 2020 at the age of 87. This is his story, including 9 vintage performances of his classics: Long Tall Sally, Tutti Frutti, Rip It Up, The Girl Can't Help It, Lucille, Keep A-Knockin', Jenny, Jenny, Send Me Some Lovin', and Good Golly Miss Molly.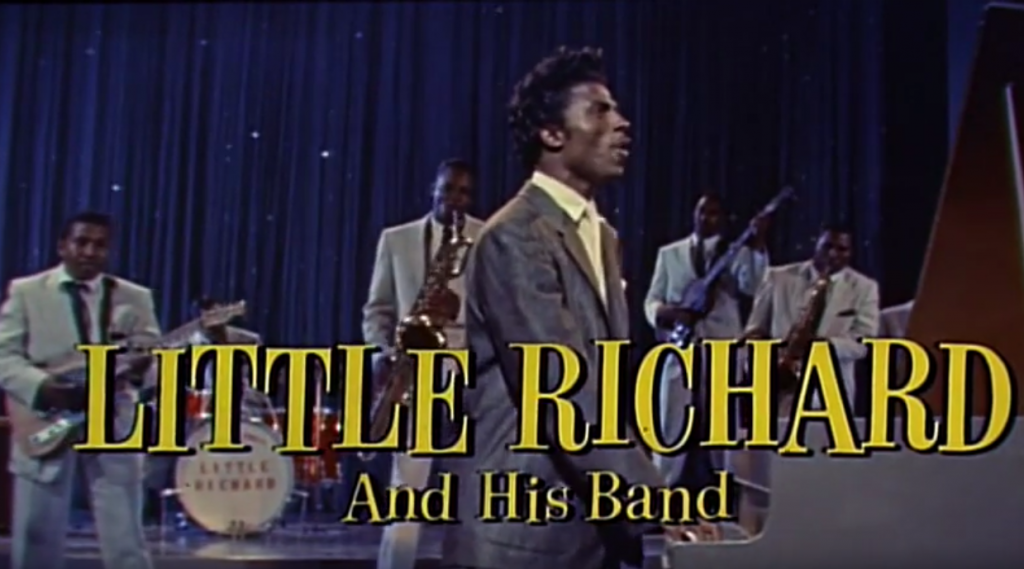 (Little Richard 1956 The Girl Can't Help It Trailer)
Rock & Roll Hall of Famer Little Richard (Richard Penniman) was born in Macon, Georgia on December 5, 1932. The Penniman family was deeply religious and several family members including his father, were involved in their churches. Richard preferred the Pentecostal church because of the live music. His loud singing voice was evident from an early age when he began singing in church. His family nickname of Lil' Richard also began at an early age and was due to his small, slight build; one leg was also shorter than the other.   
Richard grew up in the deep South during the time of segregation, and attended Macon, Georgia's Hudson High School. He picked up the alto saxophone quickly and began performing in the school's marching band. A part-time job selling soft drinks at concerts held at the Macon City Auditorium brought him to the attention of visiting performer Sister Rosetta Tharpe, who heard him sing before her concert October, 1947 concert. Sister Tharpe invited him up on stage to sing with her and Richard was hooked on performing.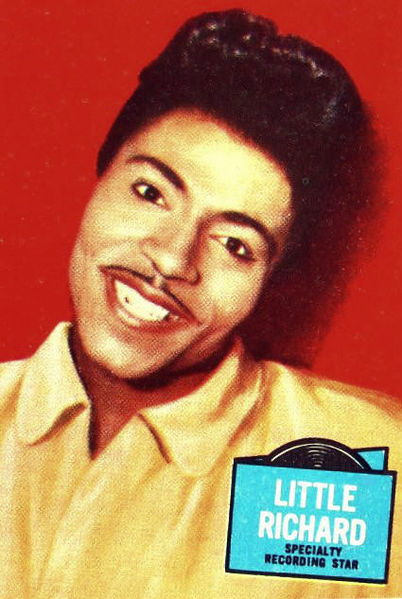 (Little Richard 1957 Photo: Topps Gum Cards)
Richard soon lost all interest in school and focused on performing with different bands and vaudeville groups. He began using the professional name of Little Richard and earned a reputation as a drag performer.
In various interviews Little Richard has said that he was kicked out of home at age 15 by his father for his effeminate mannerisms, occasionally wearing his mother's clothing and heavy makeup. He has also said he was sexually active with both women and men beginning in his early teens; he would evolve into participation in sexual orgies and voyeurism. 
Local Macon, Georgia couple Ann Johnson and her husband Enotris Johnson were the owners of the Tick Tock Club.
They gave a home to Little Richard after his father kicked him out, according to several sources. The Little Richard song Miss Ann written by Little Richard, generously gives a songwriting credit to Enotris Johnson, something Little Richard would do on several of his songs. 
Flamboyant R&B singer, dancer, and female impersonator Billy Wright "Prince of the Blues" was an early influence on Little Richard. It was Billy Wright that introduced Little Richard to local deejay Zenas Sears. Sears' 1951 recordings of Little Richard turned into a contract with RCA Victor.
Little Richard enjoyed some local success in Georgia with blues recordings, and learned how to play thumping boogie-woogio piano. From 1952-1955, Little Richard signed with different labels and fronted various bands such as The Tempo Toppers, that toured across the south.
While performing in clubs, Little Richard improvised a song with an intro drum rhythm and bawdy lyrics called Tutti Frutti. He was signed to Specialty Records in 1955, and a recording of Tutti Frutti caught the attention of record producer Robert "Bumps" Blackwell. Various sources have said the original lyrics by Little Richard referred to a homosexual man, and were either "Tutti Frutti, good booty. If it don't fit, don't force it. You can grease it, make it easy."; or, "Tutti Frutti, good booty. If it's tight, it's all right. And if it's greasy, it makes it easy." Songwriter Dorothy LaBostrie was hired to clean up some of the more controversial lyrics by Little Richard, and a new version of Tutti Frutti was released in November 1955. The revised lyrics go "Tutti Frutti, aw rooty. Tutti Frutti, aw rooty."  "Aw rootey" being slang for "All right". 
Tutti Frutti became a #17 Billboard Top 100 hit for Little Richard, reaching #2 on the R&B charts. Tutti Frutti has been voted by Mojo as the #1 song of The Top 100 Records That Changed The World, and called "the sound of the birth of rock and roll". Pat Boone, Elvis Presley, and the Beatles are among the many artists that later recorded and performed Tutti Frutti. 
Early the following year Little Richard's co-written single Long Tall Sally (writing credits are to Richard Penniman, his manager Robert Blackwell, and Enotris Johnson), was released in March 1956. Long Tall Sally climbed even higher on the charts – #6 on the Top 100 and #1 on the R&B charts; while the B side single Slippin' and Slidin' (written by Little Richard, Edwin Bocage/Eddie Bo, Al Collins, and Jame Smith) went to #2 on the R&B charts. Long Tall Sally has been covered by hundreds of artists, including The Beatles, The Kinks, and Elvis Presley; and the song (in whole or part) can be heard in the feature films Red Scorpion (1988) and Predator (1987). All three songs – Tutti Frutti, Long Tall Sally, and Slippin' and Slidin', were included on the Here's Little Richard album released in March 1957. 
In the rock & roll movie Don't Knock the Rock (1956), Little Richard performs two of his hits – Long Tall Sally, and Tutti Frutti.
Rip It Up written by Robert Blackwell and John Marascalco, was another chart success for Little Richard, making it to #17  on the Top 100 after it's June 1956 release, and was his 2nd #1 R&B hit (after Long Tall Sally). The B side single of Rip It Up was Ready Teddy, a #8 R&B hit; both songs were included on the album Here's Little Richard. 
In December 1956, Little Richard scored another Top 100 chart hit, and #7 on the R&B charts, with the single The Girl Can't Help It written by Bobby Troup. Below, Little Richard performs The Girl Can't Help It, with some help from Jayne Mansfield in clips from the 1956 movie of the same name. 
A romantic relationship with 16-year-old Audrey Robinson and 24-year-old Little Richard began in 1956. Over 50 years later, a now septuagenarian Little Richard told GQ Magazine in 2010 that Audrey (now going by the name Lee Angel) was his "life long soul mate", and "Was a wonderful lover. She would do anything to excite me, including having sex with other guys while I watched." Lee Angel denied these claims.
Little Richard continued to perform, record, and write songs. He hit #1 on the R&B charts again with Lucille, which he co-wrote with Albert Collins, when it was released in February 1957. Lucille made it to #21 on the Top 100 charts as well and is another Little Richard song that has been covered by numerous artists including John Lennon and Paul McCartney both as a duet, and as The Beatles; The Hollies, Eric Burdon/The Animals, The Everly Brothers, Waylon Jennings, and many and others.  The B side of Lucille was Send Me Some Lovin', a #3 R&B hit single, written by John Marascalso and Leo Price. Lucille, Send Me Some Lovin', and The Girl Can't Help It were included on the album Little Richard. Below, Little Richard performs Lucille. 
Jenny, Jenny was a Top 10 hit for Little Richard and #2 on the R&B charts, with the B side Miss Ann also making the Top 100; the singles were released in June 1957. Jenny, Jenny was co-written by Little Richard and Enotris Johnson.
Before 1957 was over, Little Richard had another hit with the single Keep A-Knockin'(#8 hit, #2 R&B) released in August 1957. Little Richard's version of Keep A-Knockin' was featured in the movie Christine (1983) and in the trailer for the movie Home Alone (1990). Below, a 50+ Little Richard performs Keep A Knockin' in 1990 live in concert for his baby boomer and senior fans.
As 1958 began, thanks to his baby boomer fans Little Richard scored another chart hit with Good Golly, Miss Molly (#10 Top 100, #4 R&B), released in January 1958. Good Golly, Miss Molly was co-written by John Marascalco and Little Richard's manager Robert "Bumps" Blackwell. His re-release of Good Golly, Miss Molly in 1977 went to #37 in the UK. Below, in a scene from the movie King Ralph (1991) with John Goodman, Little Richard performs Good Golly, Miss Molly. 
Little Richard told GQ Magazine that his decision to retire from performing rock & roll was spurred by the launch of the Russian satellite Sputnik in October 1957, which passed over the Australia stadium he was performing in.
"This big (red) light came over and it was frightening to me. I told the guys I was with in Australia, I am coming out of this business. I have always feared that the world was going to end. We got on a ferry and I said, 'Well, if you don't believe I'm going to stop, I'll throw all my diamonds in the ocean.' And I threw all my big rings in the water."  
He left the tour early to return to the U.S. and upon learning that his original return flight had crashed into the Ocean, was convinced leaving rock & roll music was what God wanted him to do. 
Richard moved to Huntsville, Alabama to enroll in theology studies at the bible college there. Accounts vary as to whether a male student exposed himself to Little Richard, or if Little Richard exposed himself to a male student; but the end result was that he was soon asked to leave the school. He told his biographer Charles White that while at school he was being urged to get married, and "I was afraid that if I didn't marry I would go to hell. So I decided to start looking for a wife." 17-year-old Audrey had no desire to be involved with the church; she moved away and became a stripper, going by the new name of Lee Angel; she and Little Richard stayed in touch.
He met secretary Ernestine Campbell, a recent high school graduate, at an evangelical rally in November 1957 and they began dating. The following year, Little Richard began traveling across the U.S. to preach with his Little Richard Evangelistic Team. Below, Little Richard backstage in 1958 with young teen singing sensation Frankie Lymon.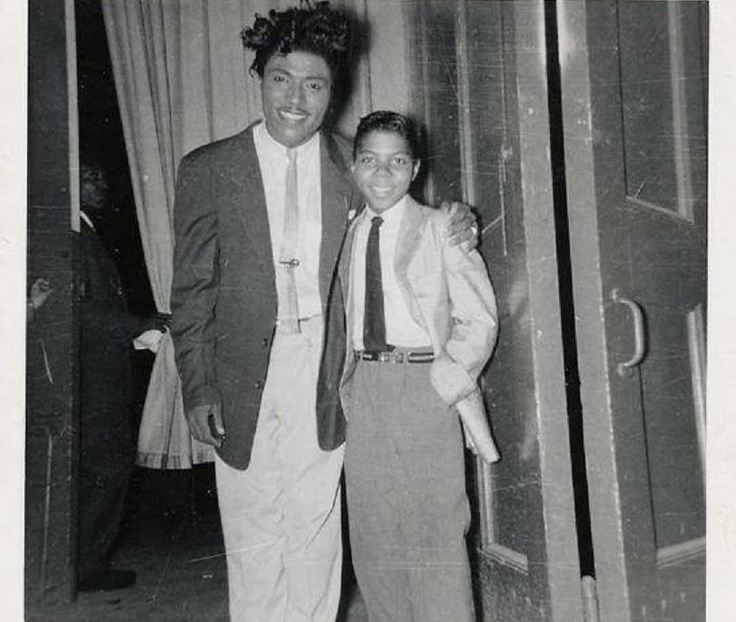 (Little Richard and Frankie Lymon 1958 Photo: Jeremy.almquist)
Little Richard Penniman and Ernestine Campbell got married in July 1959 and Campbell has said their marriage was happy and "normal" sexually, and "If he was gay he was very good about hiding it from me!". In his 1985 biography The Life and Times of Little Richard: The Quasar of Rock (1985) by Charles White, Little Richard confessed "I was gay…I was like a lot of men today who have got wives. I had to think of someone else to be with her, to be complete. I was thinking about Johnny. About Jimmy." The couple adopted one-year-old Danny Jones from a deceased church member in 1962. That same year, Little Richard had been arrested in Long Beach, California for spying on the men while they used the restroom toilets at a bus station. 
Paul McCartney, Mick Jagger and other members of the Beatles, The Rolling Stones, and many other members of the "British Invasion" have all cited Little Richard as a major influence on their own music. In October 1962 Little Richard came out of retirement after promoter Don Arden booked him a European tour. New British group The Beatles opened for Little Richard, who told GQ
"I'd met the Beatles in Liverpool so I took them with me (to Hamburg). We spent two months there. They would eat in my room every night."  He began the tour by singing only gospel music, but by the end of the tour he was back to singing his hit rock & roll singles. 
During the 1960's he developed new habits of alcohol abuse, cocaine and angel dust use, and resumed his previous well-established preferences for sexual voyeurism and participation in orgies. Little Richard's marriage to Ernestine Campbell ended in divorce in 1963, although she told his 1985 biographer Charles White that they stayed in touch and remained very close.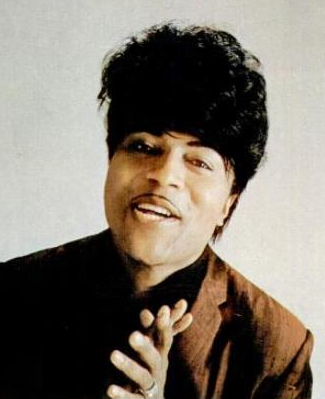 (Little Richard 1966 Photo: Okeh Records | Wikimedia Commons / Public Domain)
Little Richard struggled to find an audience after resuming his rock & roll career in the 1960's, never again hitting the same level of chart success he had enjoyed from 1955-1958.
Towards the end of the 1960's he began to perform in Las Vegas casinos and resorts across the country. A resurgence of his earlier popularity was spurred by live performances at major music festivals in 1969.
He appeared on talk and musical variety shows, including a guest-starring appearance on Welsh singer Tom Jones' TV series, This is Tom Jones. 
In 1970 Little Richard signed with a new record label and released The Rill Thing album,  which had some singles that made the Top 100. He was finally ordained a minister, but continued to perform rock & roll music, enjoying some success as guest musician in recording sessions for other artists. 
Another religious epiphany occurred in 1976 after his younger brother Tony Penniman (age 33) died of a heart attack; cocaine use played a role. From 1977 to 1989 Little Richard quit drugs, alcohol, and rock & roll. He cut his hair, sang gospel music, and when he wasn't preaching evangelical sermons, sold Black Heritage Bibles for Memorial Bibles International. 
In October 1985, a now 50+ Little Richard's car crashed into a telephone pole in California, where he had been taping a guest spot for Miami Vice. The resulting months-long recovery from a broken right leg, ribs, and injuries to his head and face, kept him from attending his induction into the Rock & Roll Hall of Fame in January 1986. 
Little Richard began riding a new wave of publicity that had begun the previous year when his biography Quasar of Rock: The Life and Times of Little Richard by Charles White was published. When asked by White about his sex life, Little Richard's response was "We are all both male and female. Sex to me is like a smorgasbord. Whatever I feel like, I go for."
He appeared with fellow rock & roll legend Chubby Checker in the sci-fi comedy Purple People Eater (1988), starring Peggy Lipton, Ned Beatty and Neil Patrick Harris.
A 1989 comeback for Little Richard intensified when he returned to singing his rock and roll music at an Aids benefit hosted by Cher. During the 1990's he performed on singles and albums for other recording artists, and toured the world. Along with numerous other artists, he can be heard on the Operation Desert Storm morale-booster single Voices That Care (1991), with became a #11 Top 100 hit.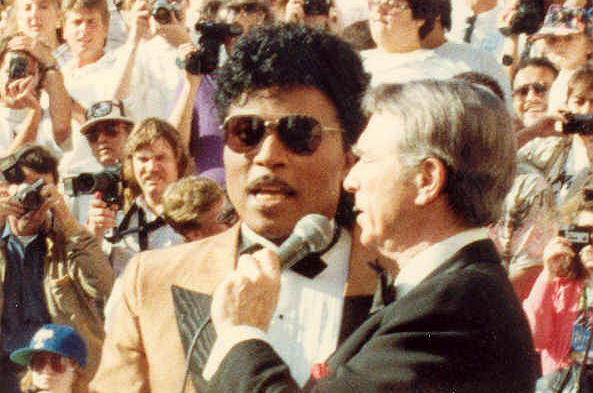 (Little Richard 1988 Photo: Alan Light)
Little Richard was a septuagenarian senior when he began using crutches in 2007, due to sciatica. A couple of years later in 2009 he underwent hip replacement surgery on his left hip, the recovery from which was not entirely successful. He's said to have refused further hip operations and although still performing in early 2013 (now an octogenarian senior), began being brought onstage by wheelchair.  
Further health troubles came to light in September 2013 when Little Richard survived a heart attack; his doctor confirmed that his life was likely saved by taking aspirin and having his son turn the air conditioning on. That month, he announced his retirement as a performer to Rolling Stone magazine.  In 2016 Little Richard lives in a Nashville Hilton penthouse suite, where former girlfriend Lee Angel/Audrey Robinson has visited him.
Reports by a friend of his imminent demise in May 2016 were refuted by Little Richard via his lawyer Lee Sobel, who told Rolling Stone that Little Richard insisted to him "I'm still singing. I don't perform like I used to, but I have my singing voice, I walk around, I had hip surgery a while ago but I'm healthy.'" 
Note: This article was first published in 2016 under the title Little Richard is 84 – His Story and Songs. It has been updated.
*Images are believed to be in the public domain and/or Creative Commons licensed & sourced via Wikimedia Commons, Vimeo, YouTube, or Flickr, unless otherwise noted*