Celebrating Seniors - Lee Grant is 91, Part 2
Lee Grant, Part 2: From Shampoo To Mulholland Drive, Directing and Documentaries (1975-2016)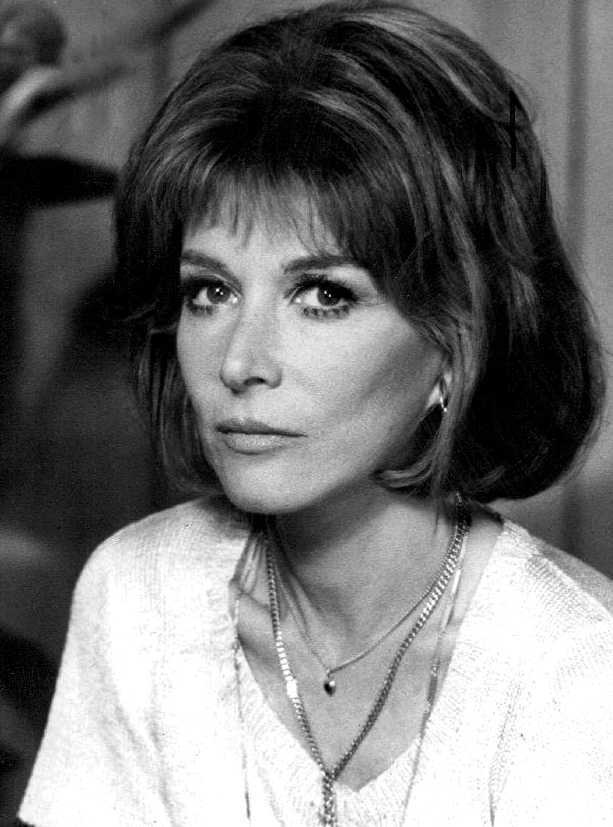 (Lee Grant 1975 Fay Photo: NBC TV)
As Lee Grant entered her 50+ years in 1975, she starred in her own comedy series Fay (1975-1976), as 40ish divorcee Fay Stewart, happily single, independent, and getting back into dating.
Audra Lindley of Three's Company appeared in Fay with Grant.
Although Lee Grant was nominated for an Emmy for Outstanding Lead Actress in a Comedy Series for her performance in Fay, the series was cancelled after 10 episodes. 
Below, and older Lee Grant talks about her television sitcom Fay during an interview
The romantic comedy Shampoo (1975) was co-written by and starred Warren Beatty as amorous hairdresser George. Lee Grant co-starred as housewife Felicia Karpf, who is having an affair with George, married to Lester Karpf (Jack Warden), and mother to Lorna Karpf (Carrie Fisher). Beatty's character has a complicated romantic past and present with most of the women in Shampoo, including Julie Christie and Goldie Hawn. Other co-stars in Shampoo included Howard Hesseman (WKRP in Cincinnati), and bit players Andrew Stevens (Dallas), Susan Blakely & Michelle Phillips (Knots Landing). Lee Grant won the Academy Award for Best Supporting Actress for her performance in Shampoo (her third nomination, after 1952's Detective Story and 1971's The Landlord).
Years later, in Grant's autobiography I Said Yes to Everything (2014), she recalls 1970's Hollywood elite including herself and husband Joey (Joseph) Feury) doing cocaine in the bathrooms, and weed in the living rooms – reminiscent of the themes in Shampoo.
Madeline Kahn and Joel Grey present Lee Grant with her Oscar at the 1976 Academy Awards ceremony, below.
Lee Grant continued to find directing work in the latter half of the 1970's. She directed a stage play as well as the short Stronger (1976) starring her daughter Dinah Manoff, and the TV comedy movie For the Use of the Hall (1975) starring Susan Anspach, Barbara Barrie, and David Hedison. 
In the last of the 1970's and the early 1980's, Lee Grant's movies included several thrillers, disaster flicks, and horror films. Her baby boomer and senior fans could see her in movies and co-stars that included: 
Voyage of the Damned (1976), a war drama inspired by true story of the MS St. Louis ocean liner carrying Jewish refugees from Germany to Cuba in 1939. Grant co-starred in Voyage of the Damned as Lili Rosen, with Faye Dunaway as Denise Kreisler, Nehemiah Persoff as Mr. Hauser, Jonathan Pryce as Joseph Manasse, Max Von Sydow as Captain Schroeder, Malcolm McDowell as Max Gunter, Michael Constantine as Luis Clasing, Katharine Ross as Mira Hauser, Julie Harris as Alice Fienchild, and José Ferrer as Manuel Benitez. Lee Grant received her fourth Academy Award nomination for Best Supporting Actress for her performance in Voyage of the Damned.  
Airport '77 (1977), a star-studded thriller with Jack Lemmon, Joseph Cotton, Brenda Vaccaro, Olivia de Havilland, James Stewart, George Kennedy, Christopher Lee, Robert Foxworth, Monte Markham, Kathleen Quinlan, Gil Gerard (Buck Rogers in the 25th Century), and M. Emmet Walsh. Also in Airport '77 was Lee Grant's old friend Darren McGavin, whom she had first met in New York City in 1950. In Airport '77, Grant played nasty wife Karen Wallace, married to diver Martin Wallace (Christopher Lee). Airport '77 was a success at the box office.
The Swarm (1978), another star-studded horror film starring Lee Grant and Henry Fonda in their second movie together (after 1970's There was a Crooked Man (1970). Accompanying Grant and Fonda in The Swarm were actors Michael Caine, Katharine Ross and José Ferrer (Grant's co-stars from Voyage of the Damned), Richard Widmark, Richard Chamberlain, Patty Duke, Bradford Dillman, Fred MacMurray (My Three Sons) in his final movie, and Olivia de Havilland (who had been in Airport '77 with Grant the previous year). Despite it's all-star cast, The Swarm flopped at the box office and was savaged by critics.
When You Comin' Back, Red Ryder? (1979), a drama about a drug dealer co-starring married couple Candy Clark and Marjoe Gortner, and produced by Marjoe Gortner. Lee Grant's other co-stars in When You Comin' Back, Red Ryder, included Hal Linden, Peter Firth, and Audra Lindley, Grant's co-star from her 1975 TV series Fay.  
Damien: Omen II (1978) a horror film she co-starred in with William Holden; they are married couple Richard and Ann Thorn who have their nephew Damien living with them. Also in the cast of Damien: Omen II  is Robert Foxworth, who plays a manager at Thorn Industries.
William Shatner (Star Trek, T. J. Hooker), and Lee Grant co-starred in two films in the 1970s.
In the made-for-TV drama Perilous Voyage (1976), their supporting cast included Michael Parks, Louise Sorel (Days of Our Lives), Michael Tolan (The Doctors and the Nurses), and Stuart Margolin (The Rockford Files). Grant and Louise Sorel had both appeared in Plaza Suite (1971), and Grant and Shatner had worked together previously in an episode of For The People in 1965 co-starring Jessica Walter. 
William Shatner and Lee Grant paired up again in the thriller Visiting Hours (1982), which also starred Michael Ironside and Linda Purl. In Visiting Hours, Lee Grant plays Deborah Ballin, a feminist activist journalist who is targeted by psychopathic serial killer Colt Hawker (Michael Ironside). Linda Purl is a nurse at the hospital where Deborah is sent after being attacked by Hawker the first time, and William Shatner played Grant's boss Gary Baylor.
The television mini-series Backstairs at the White House (1979) spanned the eras of 8 former Presidents and featured Lee Grant as Mrs. Grace Coolidge, opposite Ed Flanders (St. Elsewhere) as Calvin Coolidge. Other stars in Backstairs at the White House were Harry Morgan (M*A*S*H), Barbara Barrie, Estelle Parsons (Roseanne), Claire Bloom, George Kennedy, Paul Winfield, Robert Vaughn (The Man From U.N.C.L.E.), Ann Doran, Bibi Besch, and Dana Wynter.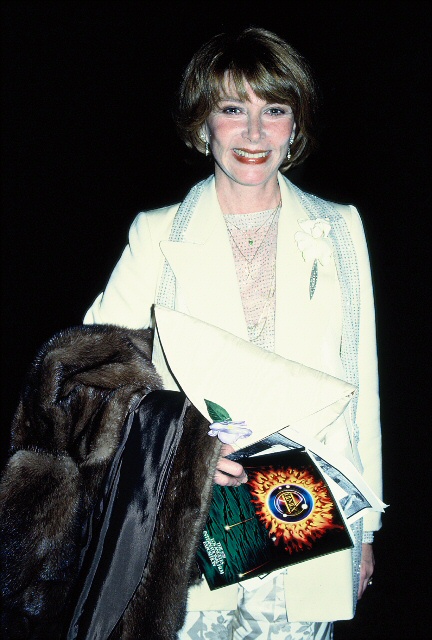 (Lee Grant 1978 Photo: Alan Light)
Backstairs at the White House reunited Lee Grant with Louis Gossett Jr., her co-star in The Landlord (1970); Julie Harris, who had appeared in 1976's Voyage of the Damned with her; and Grant's old friends from the late 1940's and early 1950's, former blacklisted actor John Randolph, and Cloris Leachman.
Lee Grant had also worked with Backstairs at the White House co-star Leslie Nielsen before, on TV in Peyton Place and the sci-fi movie Night Slaves (1970) with James Franciscus; and in the feature film There Was a Crooked Man… (1970) (which John Randolph and Kirk Douglas had also appeared in). 
Joseph (Joey) Feury and Lee Grant relocated from Malibu to New York City in the 1980s.
They formed Feury/Grant Productions, with Feury producing and Lee Grant directing, for movies like Nobody's Child starring Marlo Thomas (That Girl). Lee Grant became the first female director to win the Directors Guild of America Award for directing Nobody's Child.
The TV movie A Matter of Sex (1984) about workplace discrimination, was produced by Feury, directed by Grant and was based on the documentary The Willmar 8 (1981), also directed by Grant. Lee's daughter Dinah Manoff appeared in A Matter of Sex. 
Lee Grant and Joseph Feury collaborated on several HBO documentaries, most notably Down and Out in America (1986) which won the Academy Award for Best Documentary.
During the 1980's, baby boomer audiences could see Lee Grant in a few feature films, such as Teachers (1984). Teachers is a dark comedy-drama starring Nick Nolte as a teacher, JoBeth Williams as a lawyer, Judd Hirsch as a vice principal, Lee Grant as a school superintendant, Richard Mulligan as a wandering mental outpatient mistaken for a substitute teacher, and students Ralph Macchio, Laura Dern, and Crispin Glover. Also in the cast of Teachers are Morgan Freeman and Steven Hill (Mission Impossible).
The cast of the thriller The Big Town (1987) included Matt Dillon, Diane Lane, Tommy Lee Jones, Bruce Dern, Tom Skerritt, Suzy Amis, Don Francks (La Femme Nikita), Cherry Jones, David James Elliott (JAG), with Don Lake, Gary Farmer, and Lolita Davidovich. Lee Grant and Bruce Dern play a married couple and are professional gamblers in The Big Town. 
Lee Grant's television appearances during the 1980's were more frequent than her feature films. Baby boomers may remember seeing Grant in made-for-TV movies like For Ladies Only (1981), a drama starring Gregory Harrison (Trapper John, M.D.), Marc Singer, Viveca Lindfors, Dinah Manoff Louise Lasser (Mary Hartman, Mary Hartman). Although Grant's daughter Dinah Manoff was in For Ladies Only, Manoff and her mother didn't have any scenes together (although their characters slept with the same man). 
The Million Dollar Face (1981) TV movie co-starring Tony Curtis, William Daniels, Deidre Hall (Days of Our Lives), Roddy McDowall, Murray Matheson, and Polly Bergen, reunited Lee Grant with several actors she had worked with previously:
William Daniels and Grant had both been in the same episode of The Doctors and the Nurses in the 1960's. 
Tony Curtis and Lee Grant had co-starred in the featured film romantic comedy Little Miss Marker (1980). Their co-stars in Little Miss Marker were Walter Matthau (Grant's co-star in 1971's Plaza Suite), Julie Andrews, Bob Newhart, and Brian Dennehy.
Murray Matheson and Lee Grant had both been in the TV movie Lieutenant Schuster's Wife (1972).
Roddy McDowall and Grant had co-starred in the feature film Charlie Chan and the Curse of the Dragon Queen (1981), which also had Peter Ustinov, Angie Dickinson, Richard Hatch, Brian Keith, and Michelle Pfeiffer in the cast.
The romantic drama Bare Essence (1982) TV movie co-starred Lee Grant and a host of television stars: Bruce Boxleitner (Scarecrow and Mrs. King), Linda Evans (Dynasty), Genie Francis (General Hospital), Donna Mills, Jonathan Frakes (Star Trek: The Next Generation), Belinda Montgomery (Man From Atlantis), prolific character actor Tim Thomerson, and John Larroquette (Night Court). Grant and Linda Evans had appeared in an episode of The Big Valley together in 1967.
Grant co-starred with Jerry Orbach (Law & Order) in a lived televised production of Plaza Suite (1982) on HBO. 
The following year, the TV biographical drama Will There Really Be A Morning? (1983) was based on life of actress Frances Farmer. Will There Really Be A Morning? starred Susan Blakely as troubled actress Frances Farmer, Lee Grant as her mother Lillian Farmer, and John Heard as Clifford Odets, Frances' lover. 
In an episode of popular baby boomer series One Day at a Time, Lee Grant appeared with regular and guest stars Valerie Bertinelli and Nanette Fabray.
The TV miniseries Mussolini: The Untold Story (1985) starred George C. Scott as Benito Mussolini, David Suchet (Agatha's Christie's Poirot), Lee Grant as Rachele Mussolini, with Virginia Madsen, Robert Downey Jr. and Gabriel Byrne also in the cast.
As the 1980's came to an end, Lee Grant appeared in the dramatic TV movie The Hijacking of the Achille Lauro (1989) with co-stars Karl Malden (The Streets of San Francisco), Christina Pickles, E. G. Marshall, and Vera Miles. Once again Grant was united with former co-stars in The Hijacking of the Achille Lauro. Over 30 years earlier, Lee Grant had worked with E.G. Marshall and Patrick Macnee in an episode of Playwrights '56 (1956); and actress Vera Miles was among her co-stars in an episode of ABC Stage 67 in 1966, 20+ years earlier. 
The comedy-drama Staying Together (1989) was directed by Lee Grant and co-produced by husband Joseph Feury. Grant directed a Staying Together cast that included Sean Astin, Stockard Channing, Melinda Dillon, Levon Helm, Dermot Mulroney, and Daphne Zuniga, with Grant's daughter Dinah Manoff appearing briefly. Although Staying Together got good reviews, it flopped at the box office and was the last feature film directed by Grant. 
Lee Grant became a senior citizen in 1990 and continued to act in and direct projects that interested her. Grant and husband Joseph Feury had a home on New York City's Upper West Side, her daughter Dinah Manoff was living in California, and their adopted daughter Belinda was attending college in Florida.  
The romantic comedy fantasy Defending Your Life (1991) was written and directed by star Albert Brooks, with co-stars Meryl Streep, Rip Torn, Michael Durrell (Santa Barbara), James Eckhouse (Beverly Hills, 90210), Clayton Norcross (The Bold and the Beautiful), and Lee Grant as prosecuting attorney Lena Foster.
Albert Brooks and Lee Grant are featured in this clip from Defending Your Life.
In the TV crime drama She Said No (1990), Lee Grant's co-stars included Veronica Hamel, Ray Baker, and Judd Hirsh, who had appeared in Teachers 16 years earlier with Grant.
In 1992, Lee Grant guest-starred on her daughter Dinah Manoff's series Empty Nest, co-starring Richard Mulligan and Kristy McNichol. That same year, Grant also appeared in 3 TV movies:
Lee Grant played Carol Gertz in a movie based on the life of AIDS activist Alison Gertz, in Something to Live For: The Alison Gertz Story (1992) (Fatal Love in the UK). Also in Something to Live For: The Alison Gertz Story were star Molly Ringwald as Alison Gertz, with Perry King (Riptide), Christopher Meloni (Law & Order: Special Victims Unit), and Martin Landau as Alison's father and Carol's husband, Jerry Gertz.

In My Daughter's Name (1992), co-starring Donna Mills, John Getz, and John Rubinstein.
Citizen Cohn (1992), starring James Woods as lawyer Roy Cohn, Joseph McCarthy's (Joe Don Baker) chief Council. Lee Grant played Dora Cohn, Roy's beloved mother and Joseph Bologna appears as journalist Walter Winchell. Ed Flanders (one of Grant's co-stars in the 1979 miniseries Backstairs at the Whitehouse) is an opposing lawyer, and Pat Hingle (another co-star from 1979's When You Comin' Back, Red Ryder?) is J. Edgar Hoover, Cohn's mentor. Josef Sommer as Albert C. Cohn, Daniel Benzali as Cardinal Spellman, John Finn (Cold Case) and Tovah Feldshuh rounded out the cast of Citizen Cohn. Lee Grant earned another Emmy Award nomination for her performance in Citizen Cohn.  
Lee Grant directed 3 made-for-TV movies in a row in 1994: Seasons of the Heart starring Carol Burnett and George Segal; Reunion starring Marlo Thomas (whom Grant had first directed in 1986's Nobody's Child), Peter Strauss, and Lee Lee Sobieskie; and Following Her Heart with Ann-Margret, George Segal, and Brenda Vaccaro (one of Lee Grant's co-stars in Airport '77). When she was finished work on Following Her Heart, Grant took some time off in L.A. and passed out one night. She was taken to the hospital and diagnosed with atrial fibrillation; a pacemaker was put in. In 2014 when Lee Grant was writing her autobiography, she mentioned she was by then on either her third or fourth pacemaker to control her atrial fibrillation.
After becoming a septuagenarian senior citizen in 1995, Lee Grant appeared in another AID's drama, the feature film It's My Party (1996) starring Eric Roberts as gay architect Nick Stark, who has been given a few months to live and throws a party for family and friends. Gregory Harrison (Lee Grant's co-star from 1981's For Ladies Only) is Brandon, Stark's estranged lover who comes to the party uninvited. Lee Grant plays Amelia Stark, George Segal (whom Grant had directed in 2 movies in 1994) is Paul Stark, Marlee Matlin is Daphne Stark. Other cast members in It's My Party included Margaret Cho, Bruce Davison, Roddy McDowall (a co-star from 1981's The Million Dollar Face), Olivia Newton-John, Bronson Pinchot, Christopher Atkins, Dennis Christopher, and Ron Glass. Sally Kellerman, Nina Foch, and Greg Louganis rounded out the cast of It's My Party. 
In the romantic comedy Dr. T & the Women (2000) starring Richard Gere as gynecologist Dr. Sullivan Travis, Lee Grant played a fellow doctor. Farrah Fawcett played his wife, Helen Hunt is his love interest/golf instructor Bree Davis, Laura Dern is his sister-in-law, and Shelley Long is his secretary. Also in Dr. T & the Women are Robert Hays, Matt Malloy, Andy Richter, and Janine Turner (Northern Exposure). Laura Dern and Lee Grant had both worked together previously in the feature film Teachers (1984).
The Amati Girls (2000) is a drama starring Lee Grant's real-life friend Cloris Leachman (and former co-star in Backstairs at the Whitehouse in 1979) as mother Dolly Amati. Playing sisters are actresses Mercedes Ruehl, Grant's daughter Dinah Manoff, and Sean Young, with Lee Grant as Aunt Splendora. Also in The Amati Girls are Gary Hershberger, Mark Harmon, Jamey Sheridan, and Paul Sorvino. Cloris Leachman and Grant had first met 50 years earlier when they co-starred in the play Lo and Behold in New York. 
Director David Lynch (Twin Peaks) had begun to film the movie Mulholland Dr. (1999) as a TV thriller, starring Naomi Watts as aspiring actress Betty Elms and Laura Harring (Sunset Beach) as an amnesiac hiding in Betty's aunt's apartment. Unhappy with the final TV film, Lynch made changes and released Mulholland Drive (2001) as a feature film. Mulholland Drive had virtually same cast members as the TV movie – Lee Grant as Louise Bonner, Justin Theroux, veteran actress Ann Miller in her last film role, Robert Forster, Dan Hedaya (Cheers), Chad Everett (Medical Center), James Karen, Billy Ray Cyrus, Melissa George, Michael Des Barres, Michael Fairman (Ryan's Hope, The Young and the Restless), Billy Ray Cyrus, and others. Septuagenarian senior Lee Grant had guest-starred on an episode of Chad Everett's TV series Medical Center 30 years earlier, in 1969.
From 1999-2004 Lee Grant directed 45 episodes of biographical interview documentaries for Lifetime's Intimate Portrait series, which included the American Masters episode Sidney Poitier: One Bright Light (2000). Grant also provided narration for Sidney Poitier: One Bright Light; she had co-starred with Poitier 33 years earlier in the movie In the Heat of the Night (1967). 
In her octogenarian senior citizen years beginning in 2005 Lee Grant directed her last documentary, ... A Father… A Son… Once Upon a Time in Hollywood (2005), about father-son actors Kirk Douglas and Michael Douglas. Grant had co-starred with Kirk Douglas in her first feature film Detective Story (1951), 54 years earlier. 
Lee Grant's last film acting role was in the romantic drama Going Shopping (2005). Going Shopping was written by and starred Victoria Foyt; also in the cast with Lee Grant were Rob Morrow, Cynthia Sikes, Pamela Bellwood, Juliet Landau (Martin Landau's daughter) and Jennifer Grant (Dyan Cannon and Cary Grant's daughter), Grant's husband Joseph Feury, and Charles Matthau (Walter Matthau's son) in an uncredited role.
In 2013, after almost 40 years away from the stage, Lee Grant returned to in a play directed by her daughter Dinah Manoff, The Gin Game. 
As of November 2015, nonagenarian senior citizen Lee Grant is a grandmother several times over. She and her husband Joseph Feury (Joey Fioretti when they met 53 years ago in 1963), live in New York with Joe's sister Phyllis. Grant's daughters Dinah and husband live not too far away in Washington, and Belinda and her family live in New Jersey.
In her memoir I Said Yes to Everything (2014), Lee Grant had this to say about her life now as a "senior" senior:
"In these last two years, Joey, now seventy-four, wakes up and takes my hand. He doesn't want to lose me. I worry about his hip. "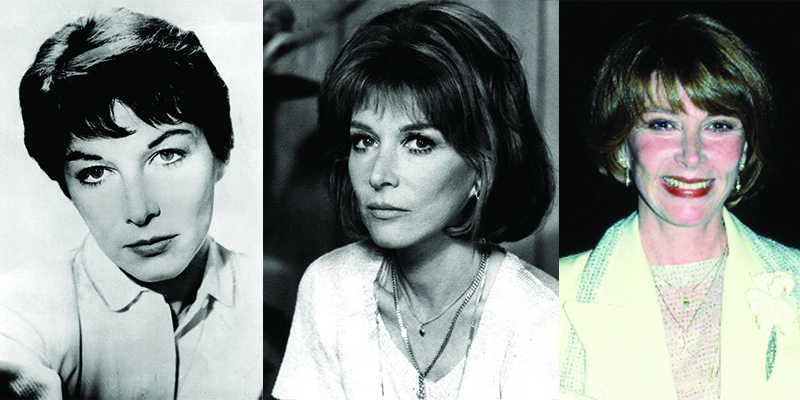 (Photo Sources: Public Domain / Alan Light; Photo Montage: A Hamilton)
During her 7 decade career in film, Lee Grant acquired more than 100 film acting credits and 25 directing credits. She was nominated for 7 Emmy Awards and won 3 – two for Peyton Place in the 1960's and a TV movie in the 1970's. Grant was nominated 4 times for an Academy Award, and won for Shampoo (1976). 
Previously: Lee Grant, Part 1:  The Detective, Blacklisted, Peyton Place and In The Heat of the Night (1925-1974)
*Images are public domain or Creative Commons licensed & sourced via Wikimedia Commons, Vimeo, YouTube, or Flickr, unless otherwise noted*