Farewell, Sam Shepard
Pulitzer Prize-winning playwright, screenwriter, author, and Academy Award-winning actor Sam Shepard died July 27, 2017 at the age of 73. Cause of death was ALS (amyotrophic lateral sclerosis) complications. Shepard leaves behind oldest son Jesse Mojo Shepard (b. 1970), whom he had with his ex-wife O-Lan Jones (m. 1969-1984), and two children from his long relationship with actress Jessica Lange – daughter Hannah (b. 1985), and son Samuel (b. 1987).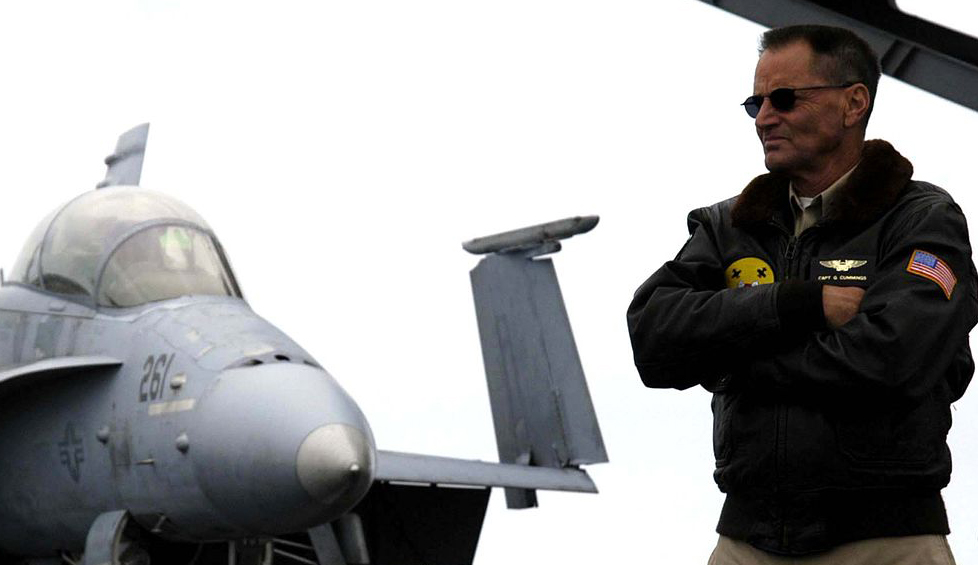 (Sam Shephard 2004 Photo: Tyler J. Clements, U.S. Navy | Wikimedia Commons / Public Domain)
Sam Shepard was born Samuel Shepard Rogers III on November 5, 1943 in Fort Sheridan, Illinois. Although better known by movie-goers and television watchers for his acting roles, Shepard was almost as prolific behind the screens as he was on them, writing over 40 plays and several books. He began writing plays in the early 1960s and won six Obie Awards during that era; he also directed most of his plays. Movie screenplays written or co-written by Sam Shepard include Zabriskie Point (1970), Paris, Texas (1984), as well as:
Renaldo and Clara (1978) co-written with Bob Dylan, who also co-starred and directed the movie. The Renaldo and Clara cast included a diverse cast of recording artists and actors – Joan Baez, Ronnie Hawkins, Jack Elliott, Harry Dean Stanton, Allen Ginsberg, Rubin "Hurricane" Carter, T Bone Burnett, Ronee Blakely, Roberta Flack, Arlo Guthrie, Roger McGuinn, and Joni Mitchell. Sam Shephard had a small role in Renaldo and Clara.
Fool For Love which was first produced as a play, then a movie in 1985; and revisited on-screen as shorts in 2007 and 2015. Sam Shepard co-starred in Fool For Love (1985) with Kim Basinger, Harry Dean Stanton, and Randy Quaid.
Buried Child (2016), based on Shepard's 1979 Pulitzer Prize-winning play. 
The romantic drama Days of Heaven (1978) starred Richard Gere and Brooke Adams and was the first significant on-screen role for Sam Shepard. This was followed by the fantasy-drama Resurrection (1980), in which he co-starred with Ellen Burstyn as her on-screen lover. Also in the cast of Resurrection were Richard Farnsworth Jeffrey DeMunn, Madeleine Sherwood, and Lois Smith.
Sam Shepard was a leading man again opposite Sissy Spacek in Raggedy Man (1981), directed by Spacek's husband Jack Fisk. Eric Roberts played a love interest for Spacek and child actor Henry Thomas played her son Harry in Raggedy Man.
Sam Shepard and Jessica Lange first met on the set of Frances (1982), based on the real-life tragic story of actress Frances Farmer. The movie clip above from Frances features Jessica Lange and Sam Shepard. Romance bloomed between the two actors and they would be lovers off-screen for almost 30 years, although they never married. Supporting cast members in Frances included Bonnie Bartlett, Jeffrey DeMunn (his second movie with Sam Shepard), James Karen, and Kim Stanley. Shepard and Jessica Lange teamed up again onscreen:
As a married couple of farmers in Country (1984).
Crimes of the Heart (1986), a comedy-drama co-starring Diane Keaton, Sissy Spacek (in her second movie with Sam Shepard), and Tess Harper. Diane Keaton and Sam Shepard would be co-stars 3 more times:

The comedy Baby Boom (1987), with Harold Ramis, Sam Wanamaker, James Spader, and Pat Hingle.
Diane Keaton and Sam Shepard were romantic leads in the drama The Only Thrill (1997). Diane Lane, Tate Donovan, Robert Patrick, Sharon Lawrence played supporting roles in The Only Thrill.
Darling Companion (2012) with Kevin Kline, Dianne Wiest, Richard Jenkins, and Elisabeth Moss.

In Don't Come Knocking (2005), Sam Shepard played an aging former western movie star who tries to find a child he hadn't known about. Shepard also wrote the screenplay for Don't Come Knocking. Actors James Roday, Majandra Delfino, George Kennedy, Tim Matheson, James Gammon, Tim Roth, Fairuza Balk, Sarah Polley, Marley Shelton, Eva Marie Saint (as his on-screen mother), and Jessica Lange had supporting roles in Don't Come Knocking.
The Right Stuff (1983) had Sam Shepard playing test pilot and astronaut Chuck Yaeger, abetted onscreen by fellow astronauts Scott Glenn as Alan Shepard, Ed Harris as John Glenn, Dennis Quaid as Gordon Cooper, Fred Ward as Gus Grissom. Barbara Hershey played Yaeger's wife Glennis in The Right Stuff, with Kim Stanley, Veronica Cartwight, Pamela Reed, Mary Jo Deschanel, Kathy Baker, Scott Paulin, Charles Frank, Lance Henriksen, and Levon Helm in supporting roles. Shepard won the Academy Award for Best Supporting Actor for his performance in The Right Stuff. Barbara Hershey and Sam Shepared would be paired onscreen again in the legal thriller Defenseless (1991). Defenseless cast members included Mary Beth Hurt, J. T. Walsh, Jay O. Sanders, and Sheree North. Below, Sam Shepard in a scene from The Right Stuff as test pilot Chuck Yaeger, breaking the sound barrier.
Steel Magnolias (1989) saw Sam Shepard in a large ensemble cast that focused on the female stars – Sally Field, Dolly Parton, Shirley MacLaine, Daryl Hannah, Olympia Dukakis, Bibi Besch, and Julia Roberts. The other primary male cast members in Steel Magnolias were Tom Skerritt, Dylan McDermott, Kevin J. O'Connor. Steel Magnolias co-stars Julia Roberts and Sam Shephard were co-stars again in The Pelican Brief (1993), another legal mystery based on a book by John Grisham. Denzel Washington was Roberts' leading man, with John Heard, Tony Goldwyn, James Sikking, William Atherton, Robert Culp, Stanley Tucci, Hume Cronyn, and John Lithgow among the stellar (and large) cast of The Pelican Brief.  Below, Dolly Parton and Sam Shepard are featured in a scene from Steel Magnolias.
Sam Shepard co-starred with Dermot Mulroney and Lili Taylor in the road movie Bright Angel (1990). Valerie Perrine, Burt Young, Bill Pullman, Benjamin Bratt, Mary Kay Place, Delroy Lindo, Kevin Tighe, and Sheila McCarthey played supporting roles in Bright Angel. Dermot Mulroney and Sam Shepard were co-stars again twice more onscreen:
Inhale (2010), a thriller with Diane Kruger, Rosanna Arguette, and David Selby.
August: Osage County (2013) starred Meryl Streep, Julia Roberts (his Steel Magnolia's co-star), Julianne Nicholson, Juliette Lewis, and Sam Shepard as members of the Weston family. Chris Cooper, and Ewan McGregor were among Mulroney and Shepard's co-stars in August: Osage County.
Safe Passage (1994) co-starred Susan Sarandon, Sam Shepard, Nick Stahl, Marcia Gay Harden, Sean Astin, and Robert Sean Leonard in a family drama. Below, the movie trailer for Safe Passage features Sam Shepard, Susan Sarandon, Robert Sean Leonard, and Sean Astin.
The western television mini-series Streets of Laredo (1995) based on Larry McMurtry's book, co-starred Sissy Spacek, and James Garner. Also in Streets of Laredo were Ned Beatty, Randy Quaid, Wes Studi, Charles Martin Smith, comedian George Carlin in a rare serious role. Streets of Laredo was the third film project for Sam Shepard and Sissy Spacek, after the 1980s movies Raggedy Man and Crimes of the Heart.
Val Kilmer had the starring role in Thunderheart (1992). Graham Greene, Sam Shepared, Fred Ward, and Fred Dalton Thompson were in supporting roles in Thunderheart. Val Kilmer and Sam Shepard would be co-stars again onscreen in:
Blind Horizon (2003), a mystery thriller with Neve Campbell and Faye Dunaway.
Felon (2008), a crime drama starring Stephen Dorff, with Anne Archer and Harold Perrineau (Lost).
Supporting roles for Sam Shepard during the 1990s and 2000's:
The comedy-fantasy It All Came True (1998) starred James Spader and Polly Walker. Brits Maggie Smith and Michael Caine were joined by Buck Henry, Sam Shepard, Frank Whaley, Marcia Gay Harden, and Frances Sternhagen as supporting actors in It All Came True.
Snow Falling on Cedars (1999) starred Ethan Hawke, with Max Von Sydow, James Cromwell, Richard Jenkins, and Sam Shephard also in the cast. Shepard had second-billing to Ethan Hawke again in Hamlet (2000), playing the ghost to Hawke's Hamlet. Kyle MacLachlan, Liev Schreiber, Julia Stiles, and Steve Zahn had supporting roles in Hamlet.
All The Pretty Horses (2000) starred Matt Damon,

Penélope Cruz

, and Henry Thomas; Henry Thomas had been a child actor when he previously co-starred with Sam Shepard in 1981's Raggedy Man. Supporting cast members in All the Pretty Horses included Sam Shepard, Robert Patrick, and Rubén Blades. Penélope Cruz and Steve Zahn co-starred again with Sam Shepard and Salma Hayek in Bandidas (2006). Country music star and actor Dwight Yoakam also had a supporting role in Bandidas.
Jack Nicholson was the star of The Pledge, which boasted a large, name ensemble cast along with Sam Shepard: Patricia Clarkson, Benicio Del Toro, Aaron Eckhart, Costas Mandylor, Helen Mirren, Michael O'Keefe, Robin Wright, Vanessa Redgrave, Mickey Rourke, Lois Smith, and Harry Dean Stanton.
The DEA crime thriller Swordfish (2001) co-starred John Travolta, Hugh Jackman, and Halle Berry. Don Cheadle, Sam Shepard, Drea de Matteo, and Camryn Grimes, had supporting roles in Swordfish.
Black Hawk Down (2001) starred Josh Hartnett, Ewan McGregor, and Tom Sizemore. Black Hawk Down's testosterone-fuelled historical war story was a good fit for supporting actors Eric Bana, Welliam Fichtner, Sam Shepard, Kim Coates, and Hugh Dancy, among others.
Joseph Fiennes, Elisabeth Shue, Justin Chambers, Sam Shepard, and Dennis Hopper shared screen time in Leo (2002).
The sci-fi adventure flick Stealth (2005) starred Josh Lucas, Jamie Foxx, and Jessica Biel. Sam Shepard and Nicholas Hammond had supporting roles in Stealth.
Walker Payne (2006) starred Jason Patric in the title role, with actors Bruce Dern and Sam Shepard in the cast.
Towards the end of his career Sam Shepard had larger roles in these movies:
The Assassination of Jesse James by the Coward Robert Ford (2007), playing Frank James, the brother of Jesse James (Brad Pitt). Mary Louise Parker, Casey Affleck (Robert Ford), and Jeremy Renner were also in the cast of The Assassination of Jesse James by the Coward Robert Ford.

Brad Pitt and Sam Shepard were co-stars again in the crime thriller Killing Them Softly (2012). Killing Them Softly cast members included Scoot McNairy, James Gandolfini, Richard Jenkins, and Ray Liotta.
Casey Affleck and Sam Shepard were also re-united onscreen when they played supporting roles in the thriller Out of the Furnace (2013). Out of the Furnace co-starred Woody Harrelson, Christian Bale, Zoe Saldana, Willen Dafoe, and Forest Whitaker.

The Accidental Husband (2008) starring Uma Thurman, Jeffrey Dean Morgan, Colin Firth and Sam Shepard. Veteran actors Isabella Rossellini and Keir Dullea played supporting roles in The Accidental Husband.
Brothers (2009) starring Jake Gyllenhaal, Tobey Maguire, Natalie Portman, Sam Shepard, and Mare Winningham as members of the Cahill family.
Safe House (2012) starring Denzel Washington, Ryan Reynolds, Vera Farmiga, Brendan Gleeson, and former co-star

Rubén Blades

.
Mud (2012) starring Matthew McConaughey and Reese Witherspoon, with Sarah Paulson, Michael Shannon, Joe Don Baker, and Sam Shepard in supporting roles.
Savannah (2013) starring Jim Caviezel, Chiwetel Ejiofor, with Bradley Whitford, Hal Holbrook, and Jack McBrayer in the cast.
Sam Shepard starred as James Blackthorn (the former Butch Cassidy), now hiding out in Bolivia in the western adventure movie Blackthorn (2011). Steven Rea and Nikolaj Coster-Waldau had supporting roles in Blackthorn. The movie trailer for Blackthorn (above) features Sam Shepard. 
The television series Bloodline had Sam Shepard playing the head of the Rayburn clan in a Florida Everglades mystery. His on-screen wife in Bloodline? None other than his former frequent leading lady from the 1980s, Sissy Spacek. Kyle Chandler, Linda Cardellini, Norbert Leo Butz, Ben Mendelsohn, and Jacinda Barrett, played Shepard's progeny and their family members in Bloodline. Bloodline would be Shepard's last television role. Below, a Bloodline Netflix featurette that features Sam Shepard, Kyle Chandler, and other cast members of the series.
Sam Shepard's last movies included
Ithaca (2015) a drama co-starring Tom Hanks and Meg Ryan.
Midnight Special (2016), a sci-fi mystery co-starring Michael Shannon, Joel Edgerton, and Kirsten Dunst.
In Dubious Battle (2016), a 1930s California labor movement drama starring James Franco, Nat Wolff, Vincent D'Onofrio, and Selena Gomez. Veteran actors Sam Shepard, John Savage, Robert Duvall, and his former The Right Stuff co-star from 1983 – Ed Harris – all had supporting roles in In Dubious Battle.
A starring role as Paul Stark in the thriller Never Here (2017).
Farewell, Sam Shepard.