Celebrating Seniors - Martin Sheen is 76, Part Two
Martin Sheen: Gandhi and The Dead Zone to Gettysburg (1980-1994)
Fully recovered from the heart attack he'd suffered at the early age of 36 in 1977 while filming Apocalypse Now, in the 1980's Martin Sheen returned to acting with a vengeance; during the 1980's alone he starred in over 35 productions. Sheen began the era with the money-losing sci-fi feature film The Final Countdown (1980), co-starring with James Farentino, Charles Durning, Kirk Douglas and Katharine Ross; the next year he was in Loophole (1981) with Albert Finney and Susannah York.
Martin Sheen appeared numerous times on the religious program Insight between 1970-1980, and won a Daytime Emmy Award in 1981 for Outstanding Individual Achievement in Religious Programming. By this time Sheen had given up drinking and returned to his Roman Catholic religion, advocating against capital punishment, war, and abortion. Despite this, Sheen has said he supports same-sex marriage, and because he is not a woman, could not judge anyone else's rights with regards to abortion.
Martin Sheen traveled to Paris and India in 1981 to film Gandhi (1982) with star Ben Kingsley and Candice Bergen. He donated his salary for Gandhi movie to Mother Theresa's order. Gandhi was only one of five movies released in 1982 that had Martin Sheen as the star or co-star, as he was a box-office draw with baby boomer audiences.
He played CIA agent Alex Holbeck, who tangles with a KGB agent Dimitri Vasilikov (Sam Neill), while trying to steal a code scrambler in Enigma (1982).
In the TV movie In The Custody of Strangers (1982), Martin Sheen played father to his real-life son Emilio Estévez's character in their second movie together. 
The following year, Martin Sheen could be seen in no less than six television and feature film productions. In the mini-series Kennedy (1983) he played John F. Kennedy, opposite Blair Brown as wife Jackie Kennedy and John Shea as his brother Robert F. Kennedy, with Kelsey Grammer in one of his first roles on screen. Sheen was nominated for Best Actor by the British Academy Television Awards and the Golden Globe Awards in 1984 for his performance in Kennedy.
In the television movie Choices of the Heart (1983), Martin Sheen played a priest and co-starred with Melissa Gilbert, Peter Horton, Helen Hunt, Patrick Cassidy, and Mike Farrell; and in the HBO movie The Guardian (1984) his co-star was Louis Gossett, Jr.
Before 1983 was complete, Martin Sheen became a grandfather for the first time at the young age of 43, to son Emilio Estévez's son Taylor. He also appeared in two feature films. Sheen played a family man whose affair comes back to haunt him in Man, Woman and Child (1983), with Blythe Danner and Craig T. Nelson. And in the first of two Stephen King-based sci-fi/horror movies, Sheen had a scene-stealing role as a charismatic but dangerous US Senatorial Candidate in the thriller-horror movie The Dead Zone (1983) starring Brooke Adams, Anthony Zerbe, Christopher Walken, and Tom Skerritt. Below, a scene from The Dead Zone with Martin Sheen and Christopher Walken.
Approximately 20 years later, Sheen would work again with both Christopher Walken (Catch Me if You Can, 2002), and Tom Skerritt, who guest-starred in a 2003 episode of series The West Wing.
The next year, Martin Sheen could be seen in movie theatres in another Stephen King move, Firestarter (1984) starring David Keith, Drew Barrymore, Heather Locklear, Louise Fletcher, and George C. Scott, his Rage (1972) director and co-star.
The two-part mini-series The Atlanta Child Murders (1985) saw Sheen working again with Rip Torn (Blind Ambition), and co-starring with Jason Robards (d.2000), James Earl Jones, Morgan Freeman, Barbara Harris and many others in a huge ensemble cast,
In the TV movie The Fourth Wise Man (1985) Martin Sheen worked again with Alan Arkin (Catch-22), his sons Ramon Estévez and Charlie Sheen, and his brother Joe Estévez.
Son Charlie Sheen also appeared with his father in the TV movie Out of the Darkness (1985) which marked the film debut of actor D. B. Sweeney, in his first (but not last) movie with Martin Sheen.
In 1986 Sheen won a Daytime Emmy Award for Outstanding Individual Achievement in Children's Programming for his part in a CBS Schoolbreak Special. That same year, he starred as an alcoholic father in the TV movie Shattered Spirits (1986), which marked the film debut for Martin Sheen's daughter Renée Estévez as "Girl at Phone". Father and daughter would next be in a TV movie together in the drama Guilty Until Proven Innocent (1991); as of 2016, Martin Sheen and his daughter Renée Estévez have worked together/appeared in the same productions (movies, TV movies, DVD's, and television series) 14 times.
Martin and his son Charlie Sheen played father and son in their sixth movie together, the critical and box-office hit movie Wall Street (1987) starring Michael Douglas and Darryl Hannah.
Sheen continued his involvement with activist causes. Below, he appears with Homeless Advocate Mitch Snyder and Mayor Raymond L. Flynn of Boston, Mass. in 1987.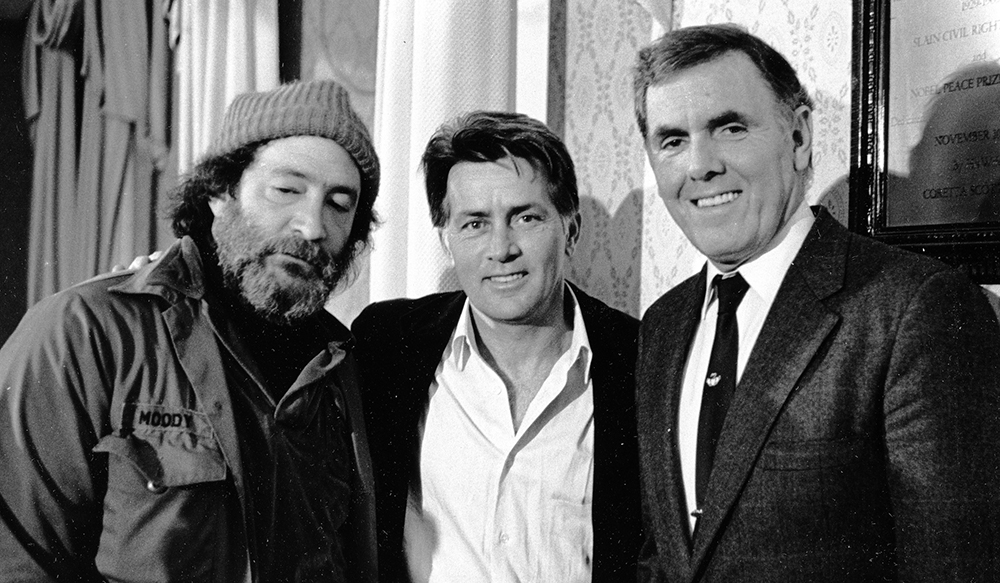 (Martin Sheen 1987 Photo: City of Boston Archives | Flickr some rights reserved)
Before the 80's were over, Sheen returned to the stage in the off-Broadway play Julius Caesar (1988), and appeared in the Canadian-American crime thriller Cold Front (1989) with Michael Ontkean, Beverly D'Angelo, and Kim Coates. In 1989 Martin Sheen was named the honorary mayor of Malibu, California, where the Sheens have lived since 1967.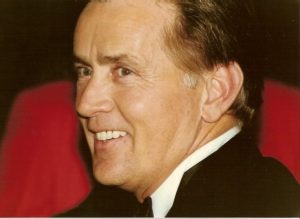 (Martin Sheen at the 1990 Cannes film festival Photo: Georges Biard)
As the 1990's began and Martin Sheen entered his 50+ years, he directed and starred in the movie Cadence (1990), along with his sons Charlie Sheen and Ramon Estévez; and once again appearing with Laurence (Larry) Fishburne (Apocalypse Now).
Sheen served as narrator for several docu-dramas and documentaries in the early 1990's, including two videos about the Serbia/Croatia conflict, and was once again on Broadway in a revival of the play The Crucible (1991).
Martin Sheen and David Keith (Firestarter) shared the screen again in the Africa conservation-themed movie Running Wild (1992) along with Brooke Shields, and Sheen's daughter Renée Estévez. Sheen and his daughter Renée Estévez played a father and daughter in the TV movie Touch and Die (1992).
In 1993 alone, 10 Martin Sheen film projects were released. In Alex Haley's Queen (1993), the pre-Civil War era mini-series starring Halle Berry, Martin Sheen and Ann-Margret played plantation owners. In the thriller Hear No Evil (1993), D. B. Sweeney, Marlee Matlin, and Martin Sheen co-star.
Martin Sheen had an uncredited role in the parody Hot Shots! Part Deux (1993), in which Sheen and his son Charlie referenced their roles in Wall Street (1987); and co-starred in the TV drama A Matter of Justice (1993) with Patty Duke.
The Civil War movie Gettysburg (1993) starred Tom Berenger as General James Longstreet, and Martin Sheen as General Robert E. Lee. Berenger and Sheen had both done voice-overs in the 1987 documentary Dear America: Letters Home from Vietnam.
For the remainder of the 1990's, Martin Sheen kept up the pace of appearing in between 9-12 film projects a year. Although this is an unprecedented output of work for an actor of any age, it's even more impressive as Sheen approached his later 50+ years.
However, many of Sheen's projects were declining in quality and some of his roles were becoming smaller; instead of being the star of the movie he was often part of a large ensemble cast or had smaller supporting roles. 
In 1994 Martin Sheen guest-starred in an episode of his former Gandhi (1982) co-star Candice Bergen's television series Murphy Brown. Sheen won the Primetime Emmy Award for Outstanding Guest Actor in a Comedy Series for his performance on Murphy Brown.
In the made-for-TV movies Roswell (1994) Martin Sheen co-starred with actors Kyle MacLachlan, Charles Martin Smith, and actor-country singer Dwight Yoakam; and in One of Her Own (1994), his co-stars included Lori Loughlin and Greg Evigan.
Sheen also co-starred in two western feature films in the same year with both Jürgen Prochnow and Corbin Bernsen – Guns of Honor (1994) and Trigger Fast (1994). Martin Sheen would team up again with both Jürgen Prochnow and Corbin Bernsen in later productions (Bernsen guest-starred on a couple of episodes of The West Wing in 2001).
*Images are public domain or Creative Commons licensed & sourced via Wikimedia Commons, Vimeo, YouTube, or Flickr, unless otherwise noted*
More Martin Sheen: 
Martin Sheen, Part One: Early Years to Apocalypse Now (1940-1979)
Martin Sheen, Part Three: The American President to The West Wing (1995-2005)
Martin Sheen, Part Four: The Departed and Bobby to Grace and Frankie (2006-2016)