Celebrating Seniors - Martin Sheen is 76, Part Three
Martin Sheen Part Three: The American President to The West Wing (1995-2005)
Now in his 55+ years and still an activist, Martin Sheen and Paul Watson were in a hotel on the Magdalen Islands (Quebec) in May 1995 representing the non-profit environmental organization Sea Shepherd Conservation Society, when they were confronted by Canadian sealers. Sheen had to negotiate with the protesting sealers while the local police gave Watson a police escort to the airport. 
In the movies, Sheen played a priest again in Gospa (1995), costarring Michael York and Morgan Fairchild, and made his second movie with star Michael Douglas (Wall Street) – the romantic drama The American President. In addition to co-star Annette Benning, the supporting cast of The American President included veteran actors Richard Dreyfus, David Paymer, and Michael J. Fox. The American President was one of screenwriter Aaron Sorkin's first screenplays, and he included a cameo for himself.
That same year, Martin Sheen appeared in the TV short movie Present Tense, Past Perfect (1995) – written and directed by Richard Dreyfus, one of his The American President co-stars. Anne Archer, Bruce Davison, Carrie Fisher and Peter Weller appeared with Sheen in Present Tense, Past Perfect.
More than 20 years after first appearing together in the Vietnam veteran movie Welcome Home, Johnny Bristol (1972), Martin Landau and Martin Sheen both appeared in two more movies films released in the same year. The comedy The Elevator (1996) had Martin Sheen in film-within-a-film scenes. In addition to Martin Sheen and Martin Landau, the star-studded cast of the Great War mini-series 1914-1918 (1996) included Judi Dench (before she was a Dame), Leslie Caron, Ralph Fiennes, Jeremy Irons, Helen Mirren, Marion Ross and many others. 1914-1918 also reunited Martin Sheen with former fellow actors (from different films) Jürgen Prochnow (Trigger Fast, Guns of Honor), Michael York (Gospa); and David Keith (Firestarter, Running Wild).
The Vietnam War movie The War at Home (1996) was directed by Emilio Estévez, and saw Martin Sheen and his son Emilio Estévez co-starring as a father and son. Kathy Bates appears as Sheen's wife/Emilio's mother, and Sheen's daughter Renée Estévez also had a small role in the The War at Home. 
Brian Keith, Moira Kelly, Martin Sheen, and his daughter Renée Estévez were in Entertaining Angels: The Dorothy Day Story (1996), about the Catholic activist that Sheen had first met and worked with in New York City in the early 1960's.
In 1997 Martin Sheen and D. B. Sweeney worked together again in the action/horror movie Spawn (1997), and he reunited with Lori Loughlin (One of Her Own) in the TV movie Medusa's Child (1997). Sheen had a bigger role in Hostile Waters (1997), a TV movie about an American/Russian submarine collision with a cast that included Rutger Hauer, Max Von Sydow, and Colm Feore.
Sheen's son Charlie Sheen co-founded the film production company Sheen/Michaels Entertainment in 1998 with former Poison lead singer and rock star Bret Michaels. Among the ten film productions Martin Sheen appeared that year, three of them were movies from Sheen/Michaels Entertainment production company:
A Letter from Death Row (1998) – Bret Michaels wrote, directed, and co-starred with Martin Sheen in this crime drama.
Free Money (1998) – This prison movie with Donald Sutherland and Charlie Sheen was filmed in Canada and reunited Martin Sheen more than 20 years later with his Apocalypse Now co-star Marlon Brando. 
No Code of Conduct (1998) – Bret Michaels wrote and directed the movie, in which Sheen and his son Charlie once again play a father and son. Martin Sheen's brother Joe

Estévez

and his daughter

Renée

Estévez also make appearances in No Code of Conduct. 
Sheen appeared in several mostly forgettable movies in 1999, such as the TV movies The Darklings (1999) with Suzanne Somers, Timothy Busfield, and Tippi Hedren; D.R.E.A.M. Team (1999) with Angie Everhart and Ian McShane; and Forget Me Never (1999) with Mia Farrow and Colm Feore, one of his Hostile Waters co-stars.
By the end of 1999 baby boomers and television audiences of other generations were loving Martin Sheen as President Josiah (Jed) Bartlett, the star of creator, writer, and producer Aaron Sorkin's The West Wing (1999-2006) popular TV series. Below, Lt. Eileen D'Andrea and Martin Sheen behind the scenes of The West Wing, discussing set-up of a scene featuring Navy participants.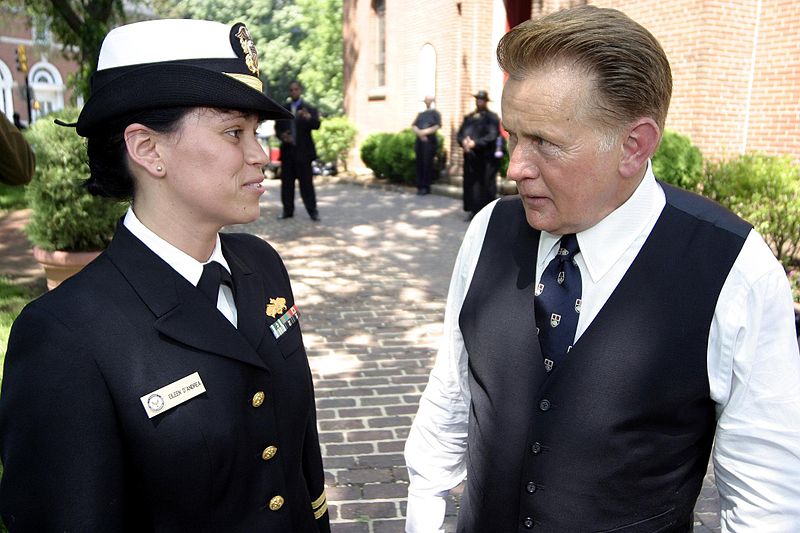 (Martin Sheen 2004 Photo: U.S. Navy Chief Journalist Daniel Ross | Wikimedia Commons / Public Domain)
Martin Sheen was nominated for 6 Primetime Emmy Awards as Outstanding Lead Actor in a Drama Series for his work on The West Wing (2000, 2001, 2002, 2003, 2004, and 2006), and he won the Golden Globe Best Actor Award in 2001 and the Screen Actors Guild (SAG) Award Outstanding Performance by a Male Actor in a Drama Series Award in 2001 and 2002.
By the time The West Wing went off the air, Martin Sheen was an official senior citizen. Sheen and others involved in the series reunited in three Walk & Talk West Wing Reunion short films in 2012.
Despite working long days on The West Wing set for most of the early 2000's, Sheen still found time for other film projects and to support various causes. When Martin Sheen's conservative sound-alike brother Joe Estévez did a voice-over for a pro-gunmaker commercial in 2000, Sheen voiced his support of gun control.
Several of Sheen's movies during the early 2000's while he was still appearing on The West Wing were higher profile. In Catch Me If You Can (2002) starring Tom Hanks as an FBI man and Leonardo DiCaprio as con artist Frank Abagnale, Jr., Martin Sheen plays the father of Brenda Strong (actress Amy Adams), who has fallen in love with Frank. Also in the cast of Catch Me If You Can are actors James Brolin and Christopher Walken (Frank Abagnale Sr.), who had first worked with Sheen in 1983's The Dead Zone. 
In an update on Shakespeare's Othello, the feature film O (2001) starred younger actors Mekhi Phifer, Josh Hartnet, Andrew Keegan, and Julia Stiles, while Martin Sheen and John Heard rounded out the cast.
Martin Sheen made a guest appearance on Spin City in 2002 after Michael J. Fox's Parkinson's Disease had progressed and he was replaced by Charlie Sheen. Three years later, Sheen once again guest-starred in Charlie's new series, Two and a Half Men, and earned a 2006 Primetime Emmy Award nomination for Outstanding Guest Actor in a Comedy Series.
The Commission (2003), a docu-drama about the Warren Commission investigation into JFK's assassination, was the fourth film project with both Martin Sheen and Martin Landau in the cast. Also appearing in The Commission were Sam Waterston, Edward Asner, Joe Don Baker, Stephen Collins, and Corbin Bernsen (Trigger Fast, Guns of Honor), in his third movie with Martin Sheen.
By the end of 2005, new senior citizen Martin Sheen had begun filming two movies that would be released in 2006 – the murder mystery Bordertown, part of which was filmed at various locations in Mexico; and the crime thriller The Departed, mostly shot on location in Boston, Massachusetts. The cast of The Departed included Martin Sheen, Leonardo DiCaprio, Matt Damon, Jack Nicholson, Mark Wahlberg, Vera Farmiga, Anthony Anderson, and Alec Baldwin, among others.
Still an activist, Sheen had been opposing the invasion of Iraq since 2003 and prayed with anti-Iraq War activist Cindy Sheehan in 2005 at Camp Casey in Texas. Located outside President George W. Bush's Prairie Chapel Ranch in Texas, Camp Casey was founded by Cindy and named in honor of her son Casey Sheehan, who was a casualty of the Iraq War. Although Sheehan was not successful in her goal of getting a meeting with then-President George W. Bush, Sheen (who was still appearing on The West Wing as President Bartlett), comforted her by saying "At least you've got the acting president of the United States."
More Martin Sheen:
Martin Sheen, Part One: Early Years to Apocalypse Now (1940-1979)
Martin Sheen, Part Two: Gandhi and The Dead Zone to Gettysburg (1980-1994)
Martin Sheen, Part Four: The Departed and Bobby to Grace and Frankie (2006-2016)