This Was Nifty in September 1950
News Headlines & Entertainment Trivia from September, 1950: Classic Movie Premiere – Panic in the Streets, Oscar-winning screenwriters Edna & Edward Anhalt; Operation Magic Carpet Yemen is completed; Ernest Hemingway's Across the River and Into the Trees is published
Classic Film-Noir Premiere: Panic in the Streets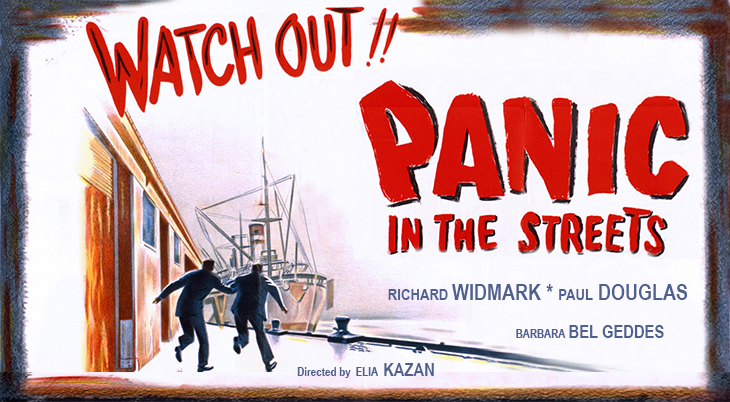 (Panic in the Streets 1950 Ad: 20th Century Fox / Modified)
Director Elia Kazan's film-noir Panic in the Streets, starring Richard Widmark, Paul Douglas, Barbara Bel Geddes, Jack Palance, and Zero Mostel, was released across the United States on September 15, 1950. Filmed on location in picturesque New Orleans, pre-release working titles for Panic in the Streets included Port of Entry and Outbreak.
The quasi-documentary-style story of Panic in the Streets begins in New Orlean's waterfront dock area, where a card game ends very badly for sick player Kolchak (Charles Lewis), when he's murdered by local hood Blackie (Jack Palance) with help from two henchmen (one of whom is played by Zero Mostel).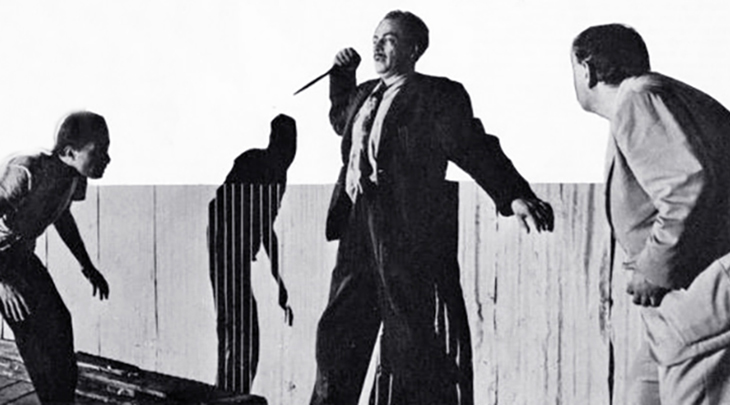 (Panic in the Streets 1950 Photo: 20th Century-Fox Dynamo)
Lieutenant Commander Clinton Reed (Richard Widmark) is a doctor and heads the local Public Health department. It's Reed who discovers the murder victim is a carrier of an airborne pneumonic plague (a pulmonary version of the bubonic plague; this could be comparable to COVID-19 as a version of the flu). Realizing this could unleash an epidemic in the United States, Dr. Reed begins a manhunt for the murderer with help from local police Captain Tom Warren (Paul Douglas).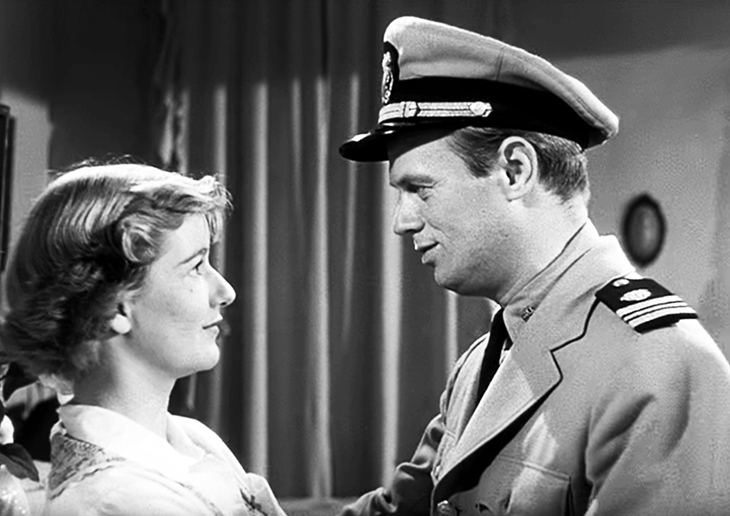 (Barbara Bel Geddes & Richard Widmark 1950 Panic in the Streets)
Actress Barbara Bel Geddes (best known to many TV fans for playing Ellie on Dallas), is Reed's sympathetic wife, and child actor Tommy Rettig (he later played Jeff Miller on TV's Lassie) is their son.
Local politicians and authorities are skeptical of Reed's emphasis about the need for concern and quick action; he argues with the police captain before Warren gets on board. They try frantically to catch the murderer before a reporter (Dan Riss) breaks the story in the newspaper and causes widespread panic.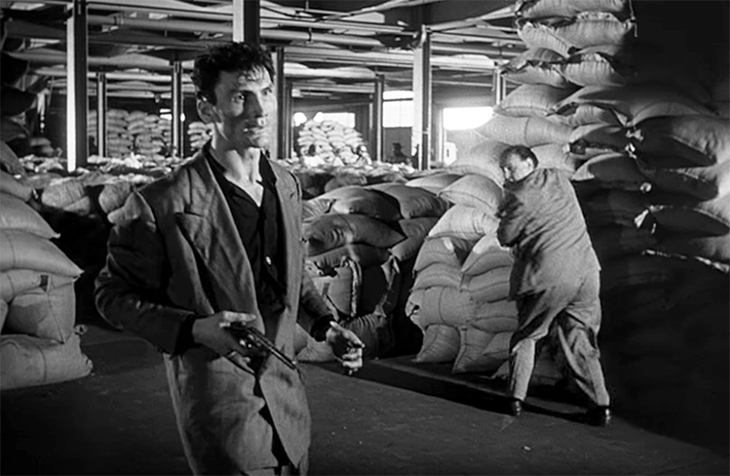 (Jack Palance 1950 Panic in the Streets)
Tension in Panic in the Streets builds to the climactic scenes back at the wharf.
This 20th Century Fox trailer for Panic in the Streets features stars Richard Widmark, Paul Douglas, Jack Palance, Barbara Bel Geddes, Zero Mostel, and Dan Riss.
Director Kazan pulls a Hitchcock and appears in a brief cameo as "Cleaver" in Panic in the Streets. Elia Kazan won the Venice Film Festival International Award for his work directing this film.
Edna & Edward Anhalt
The Panic in the Streets husband and wife writing team of Edna Anhalt and Edward Anhalt won the Academy Award for Best Motion Picture Story (the screenplay was actually written by Richard Murphy). Their competition for this award included The Gunfighter, while the Oscar for Best Story Screenplay went to Joseph L. Mankiewicz for All About Eve (along with the awards for Best Director & Best Motion Picture), and the Best Story and Screenplay Academy Award went to Charles Brackett, Billy Wilder, and D.M. Marshman Jr. for Sunset Boulevard (1952). 
A few years later, the Anhalt writing duo later worked on The Sniper (1952) screenplay for producer Stanley Kramer, earning another Oscar nomination. 
Both Edward Anhalt and Edna Anhalt nee Thompson) were born in 1914, were married sometime between 1936-1940. Their professional writing collaboration seems to have begun while they were in their mid-20s while they worked together on the film script for Problem Child (1936), which according to The Educational Screen (1938) was a production for Columbia University. Edna is listed as "scenarist Edna Thompson", and Edward as Educational Cinematographer Edward Anhalt of New York City. They were married by the time Living Films (1940) was published, listing Edward Anhalt as producer and a scriptwriter for Problem Child, along with Edna Anhalt. Edward began working for Columbia Broadcasting Corporation in 1939 as a researcher in color television and motion pictures.
As a couple, Edna and Edward Anhalt worked together as screenwriters / associate producers on 13 major studio films that were released between 1947-1957, including the screenplay for The Member of the Wedding (1952), before divorcing in 1956. Edna Anhalt soon retired from working as a producer and screenwriter; she died in 1987. 
Edward Anhalt continued working as a screenwriter and producer, winning a second Oscar for his 1964 adaptation of Becket for the screen.Edward Anhalt's obituary in the Los Angeles Times references four other marriages after his divorce from Edna. According to Art Daily, divorced Los Angeles art enthusiast Jacqueline George (nee Richards) opened an art gallery soon after her marriage to Edwart Anhalt in the 1960s; another marriage circa 1979 was to writer-actress Camilla Carr. Edward Anhalt was 86 when he died on September 3, 2000, leaving his fifth wife Huguette (nee Patenaude) a widow.
Hemingway's Across the River and Into the Trees
American author Ernest Hemingway's novel Across the River and Into The Trees was first published by Scribners on September 7, 1950. The story was serialized in Cosmopolitan magazine earlier that year.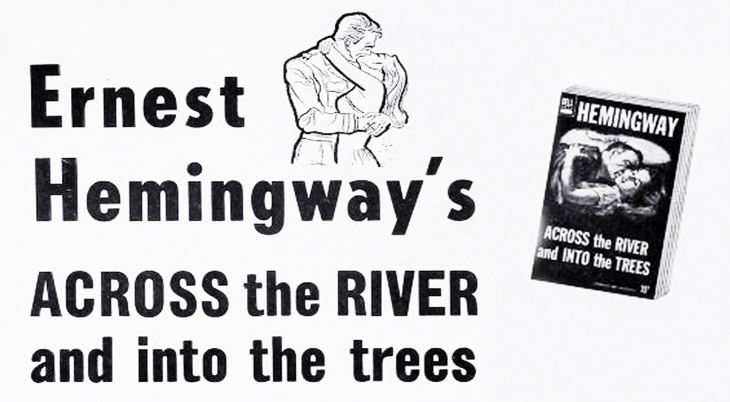 (Across the River and Into the Trees: Dell Ad, Modified)
More than twenty-six years had passed since Hemingway was first published (Three Stories and Ten Poems, 1923), followed by five more short story collections and five of his novels, including the classics The Sun Also Rises (1926), A Farewell to Arms (1929), To Have and Have Not (1937), and For Whom the Bell Tolls (1950).
Hemingway later went on to write what is perhaps his most famous story, the Pulitzer Prize-winning short novel The Old Man and the Sea (1953).
Across the River and Into the Trees takes place at the end of World War II, with 50-year-old Colonel Richard Cantwell duck-hunting in Venice. The story as told in flashbacks reveals Cantwell is  terminally ill, had served in the Italian Army in World War I, and then the American Army, and was demoted from General to Colonel. Cantwell is in love with beautiful 18-year-old Renata, who wants to hear his wartime stories and to whom he leaves his belongings when he dies. 
The novel was not well received by the majority of critics at the time, and unlike Hemingway's other major works, was never filmed as a full-length movie. However, film director Paula Ortiz and actors Liev Schreiber and Giancarlo Giannini are currently attached to a movie production of Across the River and Into the Trees, so this may be about to change.
Operation Magic Carpet Yemen
Almost 50,000 Yemenite Jews were repatriated to the newly created country of Israel in Operation Magic Carpet Yemen (official name, Operation on Wings of Eagles, aka Operation Messiah's Coming) in September 1950.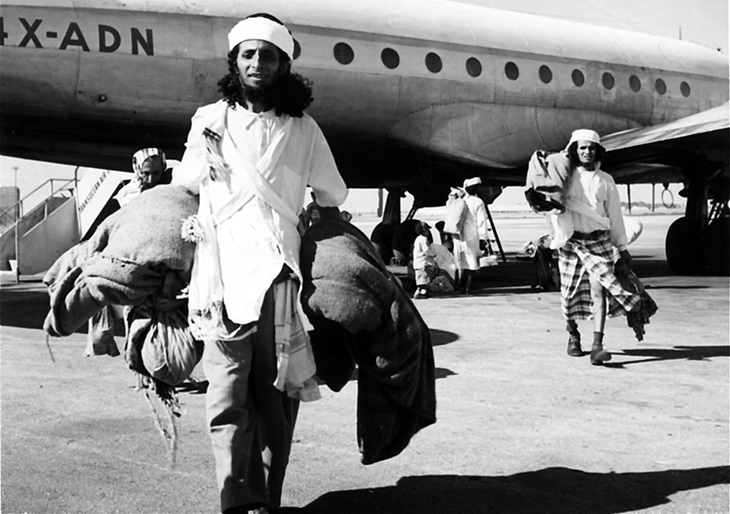 (Operation Magic Carpet 1950 Photo: Fritz Cohen National Photo Collection of Israel)
The airlift exodus of Yemenite Jews from Saudi Arabia, Yemen, Aden , Eritrea and Djibouti, required 380 British and American transport planes to transport the emigrants between June-September 1950.  
*Images are believed to be in the public domain and/or Creative Commons licensed & sourced via Wikimedia Commons, Vimeo, YouTube, or Flickr, unless otherwise noted*