What Was New in May 1952?
News Headlines & Entertainment Trivia from May, 1952 – Film-Noir Premiere: Arthur Franz and The Sniper; Blue Tango is #1 Song of 1952, Radio's Ma Perkins Starring Virginia Payne Wins Favorite Daytime Serial Award
The Sniper Film-Noir Premiere Starring Arthur Franz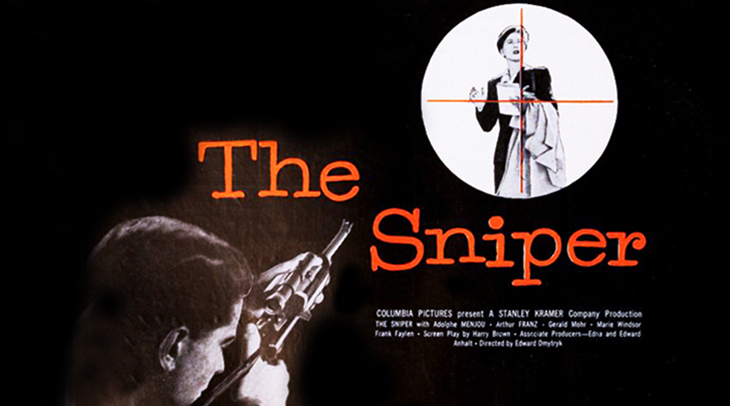 (The Sniper 1952 Movie)
Shot on location in San Francisco, director Edward Dmytryk's film-noir crime drama The Sniper (1952) premiered on May 9th, 1952 in New York City.
The Sniper stars Arthur Franz as Edward Miller, a woman-hating, mentally unstable ex-soldier working as a delivery man. On Miller's trail are suave veteran actor Adolphe Menjou (no moustache this time) as Police Lt. Frank Kafka, character actor Gerald Mohr as Sergeant Joe Ferris, and Frank Faylen as Inspector Anderson. Actress Marie Windsor is singer and early victim Jean Darr, while Richard Kiley plays Dr. James G. Kent. 
Producer Stanley Kramer opted to hire Edward Dmytryk for The Sniper, giving Dmytryk his first directing job since being blacklisted by HUAC and serving a jail term for contempt of Congress. Harry Brown is credited for the screenplay, while Kramer's go-to creative team of Edward and Edna Anhalt (husband and wife) were Associate Producers and received an Academy Award Nomination for their contribution of Best Story for The Sniper.
This trailer for The Sniper features Arthur Franz, Marie Windsor, Jay Novello, Richard Kiley, and Adolphe Menjou.
The Sniper was the first of nine films that director Edward Dmytryk and actor Arthur Franz worked together on. It was quickly followed by another Stanley Kramer-produced film, Eight Iron Men / aka The Dirty Dozen (1952) with Lee Marvin and Richard Kiley. Their other seven movies:
Three Lives (1953), a short with Jane Wyman, Randolph Scott, Charlton Heston, and Arthur Franz as commentators. 
The Caine Mutiny (1954), based on the 1952 best-selling novel by Herman Wouk and starring Humphrey Bogart, José Ferrer, Van Johnson, Fred MacMurray, and Robert Francis, with E.G. Marshall, Lee Marvin, Claude Akins, and Warner Anderson. The Caine Mutiny was also produced by Stanley Kramer; Franz is a Navy prosecutor and narrator for the film.
The Young Lions (1958), a WWII film starring Marlon Brando, Montgomery Clift, Dean Martin, Hope Lange, Barbara Rush, May Britt, and Maximilian Schell. With Lee Van Cleef, Parley Baer, and Herbert Rudley. 
The Carpetbaggers (1964), a romantic drama starring George Peppard (Banacek star), Alan Ladd, Carrol Baker, Robert Cummings, Martha Hyer, Elizabeth Ashley, Lew Ayres, and Martin Balsam. 
Alvarez Kelly (1966), a Civil War western starring William Holden, Richard Widmark, Janice Rule, and Patrick O'Neal; with Harry Carey Jr. and Don "Red" Barry. 
Anzio (1968), a WWII drama about the Anzio battle, starring Robert Mitchum, Peter Falk, Robert Ryan, Earl Holliman, Mark Damon, Arthur Kennedy, and Giancarlo Giannini.
The 'Human' Factor (1975), a thriller starring George Kennedy, John Mills, Raf Vallone, and Barry Sullivan.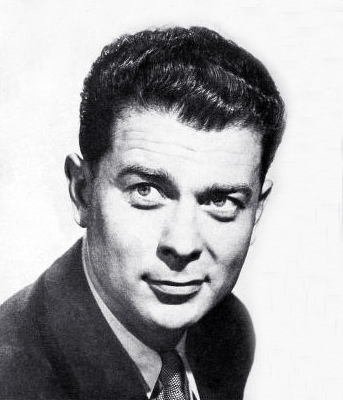 (Arthur Franz 1952 Photo: Photoplay)
Arthur Franz received acclaim for his performance as the psychopathic killer in The Sniper, a rare leading role for him in an "A" movie, and perhaps the role he's most well-remembered for.
Prior to beginning his film career, Franz told Photoplay that he had been assigned to a bomber crew as a first lieutenant soon after Pearl Harbor, in 1941. He met actress Adele Longmire at an air base party in Italy while she was there performing with the USO. Soon after they met, Franz was shot down on a mission over Yugoslavia and mistakenly reported killed in action.
A few days later he was released by his captors and turned up alive. Before the war was over, his plane was shot a second time, this time over northern Italy, and Franz and his crew were taken as POW's. Arthur Franz attained the rank of Major, and was awarded a Purple Heart and an Air Medal for his service in WWII.
A first marriage in 1945 to actress Anna Minot resulted in a son (Michael Franz), before Anna and Arthur Franz divorced in 1946. Back in the U.S., Franz began acting on Broadway and re-connected with Adele Longmire, who was having some success on stage herself. Adele and Arthur Franz were married in September 1948 in Princeton, New Jersey, and had daughters Melissa Merrill Franz (b. June 22, 1949), and Gina Franz (b. May 30, 1953).
During their marriage, the couple moved to Hollywood and Franz waited tables at a restaurant, in between landing film roles. He broke into the movies playing one of a platoon of soldiers stranded on a Pacific island during WWII in Jungle Patrol (1948). Other early co-starring film credits included Red Stallion in the Rockies (1949), Red Light (1949) starring George Raft, and Flight to Mars (1951). 
Perhaps his military experience influenced his film roles; whatever the reasons, Arthur Franz was often cast as a soldier, officer, doctor, or legal official of some kind in films with a war-related storyline. Some of these more notable roles and movies include:
Sands of Iwo Jima (1949), a WWII war drama starring John Wayne, John Agar, Adele Mara, and Forrest Tucker. Franz plays a corporal reporting to Wayne.
Tarnished (1950),a crime drama starring Arthur Franz as a former WWII hero and ex-con who returns home to make a new life and finds it hard going. Co-starring Dorothy Patrick, Barbra Fuller and Jimmy Lydon.
Abbott and Costello Meet the Invisible Man (1951) has Franz as a navy officer who drinks a serum that makes him invisible, a great asset in fights.Starring Bud Abbott and Lou Costello, with  Sheldon Leonard.
Submarine Command (1952), a WWII drama starring William Holden, Nancy Olson, William Bendix, Don Taylor, and Franz as a lieutenant under Holden. With Darryl Hickman and Moroni Olsen.
Member of the Wedding (1952), a drama starring Julie Harris, Ethel Waters, and Brandon De Wilde. Franz is Harris' adored big brother and a soldier, whose wedding causes his sister to have a meltdown. 
Flight Nurse (1953), a Korean War drama starring Joan Leslie and Forrest Tucker. Franz is helicopter pilot Captain Mike Barnes, fiance of USAF nurse Lt. Polly Davis (Joan Leslie). With Jeff Donnell, and Ben Cooper.
Bad for Each Other (1953), a post-Korean War drama starring Charlton Heston and Lizabeth Scott. Heston and Franz are both doctors.
Battle Taxi (1955), a war drama with Franz playing a former jet pilot now flying rescue helicopters and reporting to Sterling Hayden; with Marshall Thompson.
New Orleans Uncensored (1955), a film-noir drama starring Arthur Franz as a Navy veteran who gets involved with capturing racketeers.Co-starring Beverly Garland, Michael Ansara, and Ed Nelson.
Hellcats of the Navy (1957) starring Ronald Reagan as a submarine commander in WWII; Franz is his Lieutenant Commander. Billed as Nancy Davis in the film credits, Ronald's wife Nancy Reagan co-stars as a nurse. 
Franz had begun appearing on television in the 1950s, co-starring with with Marshall Thompson on the short-lived TV show World of Giants in 1959. He guest-starred 5 times on Perry Mason, and made several appearances on popular series such as Climax!, The F.B.I.; Hawaiian Eye, Mod Squad; Death Valley Days, Rawhide, Wagon Train, 77 Sunset Strip, Mr. Novak, The Nurses, The Virginian, and Mission: Impossible. By the mid-1970s both his TV and film career had wound down significantly. 
Adela Longmire and Arthur Franz were divorced sometime between 1957 and 1962. Arthur Franz was married to his third wife, actress Doreen Lang from July 3, 1964 until her death (April 21, 1999). He married fourth wife Sharon Keyser on February 14, 2006 and died just 4 months later at the age of 86 from heart disease and emphysema, on June 16, 2006. He was survived by Sharon, his two daughters from his marriage to Adele Longmire, and his son from his marriage to Anna Minot.
Blue Tango is 1952's #1 Song on Billboard
The captivating tune of composer Leroy Anderson's instrumental Blue Tango made it to #1 in the third week of May 1952 on Variety's list of Record Talent and Tunes. Blue Tango was later ranked by Billboard as the #1 song of 1952.
You can hear Blue Tango in the feature films La Bamba (1987), Loverboy (1989), and Six Degrees of Separation (1993).
Ma Perkins Win Radio's Favorite Daytime Serial
Long-running daytime radio serial Ma Perkins starring Virginia Payne, was awarded Favorite Radio Daytime Serial Program by Radio-TV Mirror readers in the May, 1952 issue.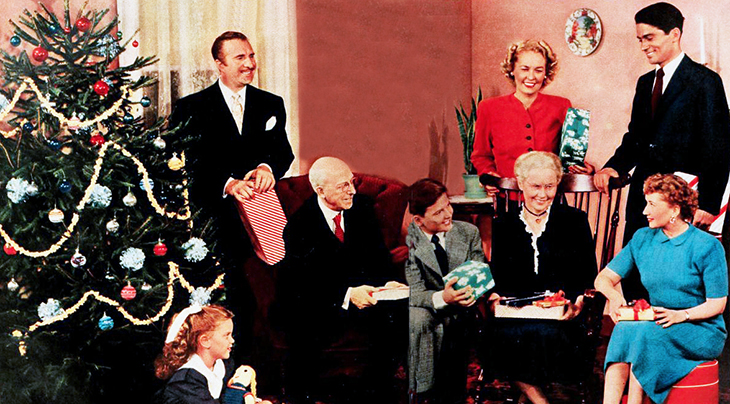 (Cast of Ma Perkins December 1949)
Seated from bottom left – Paulette (Fay's daughter, played by Judith Lockser), Shuffle Shober (Charles Egelton), Junior Fitz, Ma Perkins, and Fay Perkins Henderson (Rita Ascot). Standing from left are Willie Fitz Sr. (Murray Forbes), Evey (Kay Campbell), and Ma's adopted son Joseph.
Virginia Payne
Virginia Payne starred on the popular radio soap opera Ma Perkins 5 days a week (Monday-Friday) for 27 years, from it's first episode on August 14, 1933 until it went off the air with it's final episode in 1960.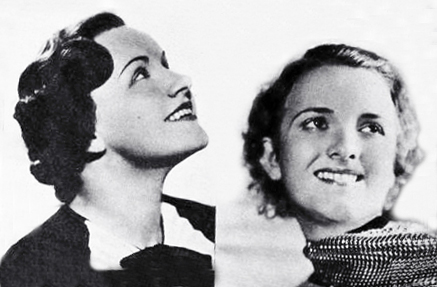 When the series began in 1933, the very youthful and beautiful 23-year-old actress Virginia Payne (shown at age 26 in 1936) originated the role of matronly Ma Perkins in Chicago in 1933 – playing a woman more than twice her age.
Shown beside Payne is actress Marjorie Hannan, who played Ma's daughter Fay Perkins in 1936 on the daytime soap opera.
Payne was almost always shown in full Ma Perkins make-up whenever the series was featured in magazines. 
Virginia Payne also voiced the role of housekeeper Fran Kennedy on the daytime radio soap Brighter Day, was a regular on the WWII era-series Lonesome Women, and voiced Mama Schultz on Today's Children.
Payne contributed an article to Radio Mirror in 1937 about her childhood friend, actor Tyrone Power.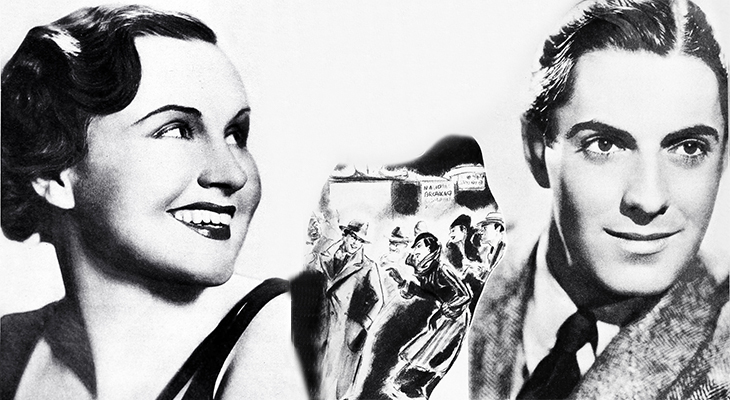 (Virginia Payne & Tyrone Power 1937 Photos & Illustration)
Virginia Payne had grown up with Tyrone Power in Cincinnati, and attended the Schuster Martin Dramatic School alongside him, where his mother Patia Power (a retired stage actress) taught acting. Years later when Tyrone arrived in Chicago where Virginia Payne was already working on radio, they went out for dinner and she encouraged him to look for work in that medium. Power found radio jobs in Chicago for six months before heading to New York, where he achieved success on stage, and then in the movies.
Other Major Characters and Plot Points of Ma Perkins
Ma Perkins, the co-owner (with her best friend Shuffle Shober) of a lumber yard in the small town of Rushville Center.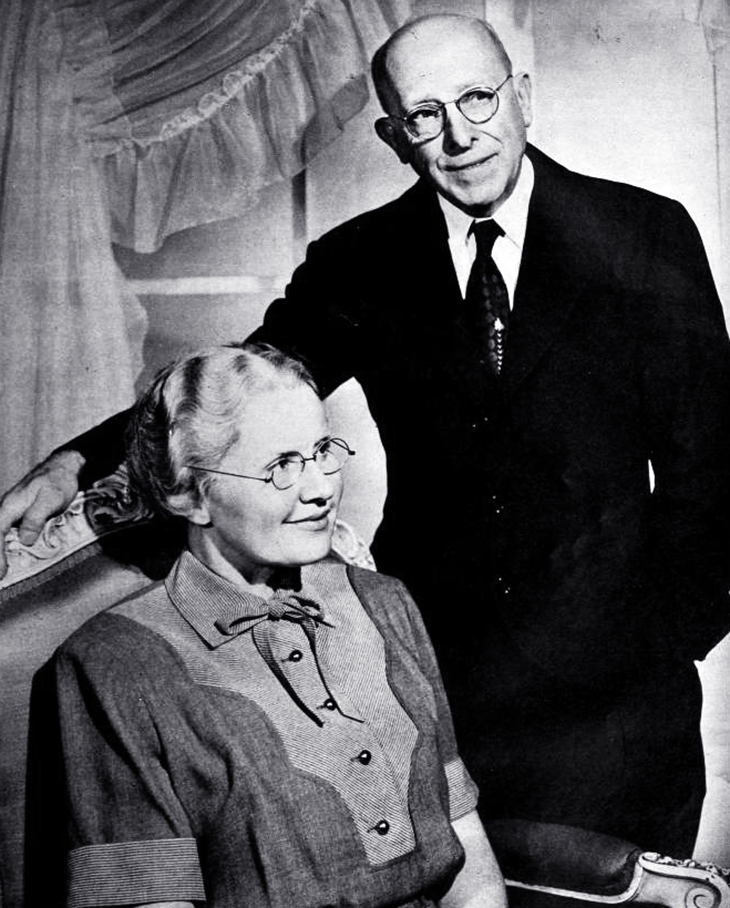 (Virginia Payne as Ma Perkins & Charles Egelston as Shuffle Shober 1953)
Ma is described as "the salt of the earth…whose life was never too busy for the problems of others", according to On the Air: The Encyclopedia of Old-Time Radio author John Dunning.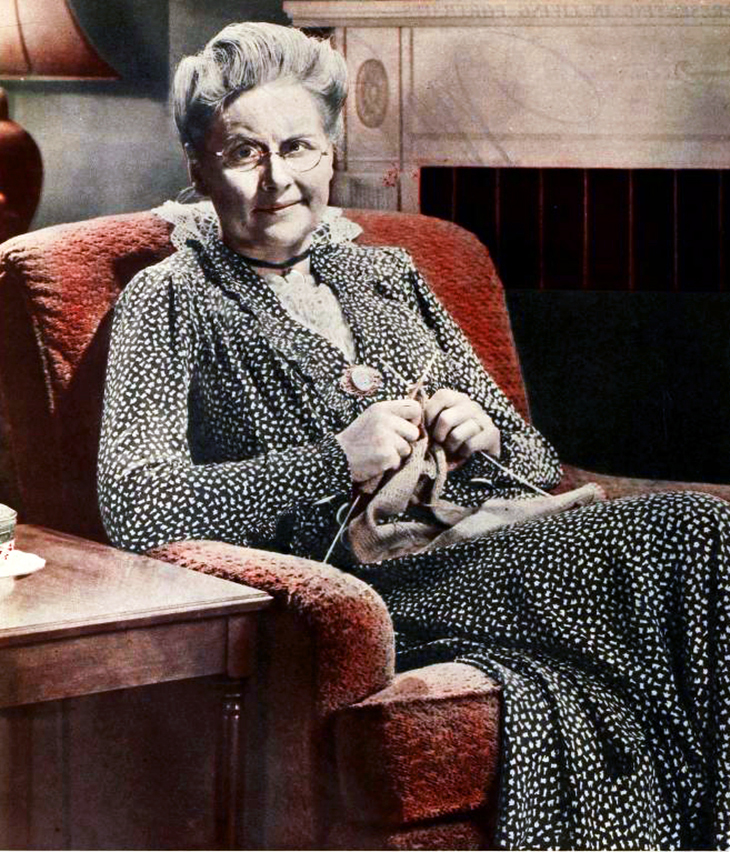 (Virginia Payne in character as Ma Perkins 1945)
Ma's oldest child, daughter Evey, played by Hazel Dopheide (1938), Dora Johnson (1940-41), Laurette Fillbrandt from 1944-1945, and Kay Campbell from 1945-1960.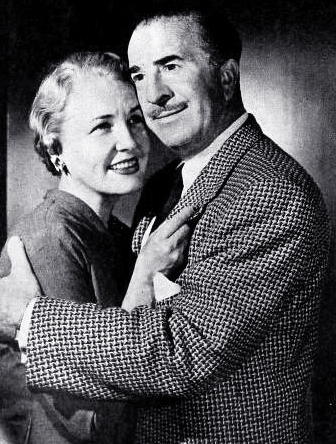 (Kay Campbell & Murray Forbes as Evey & Willy Fitz Sr. 1953 Ma Perkins)
Kay Campbell was kept very busy on several radio series such as The Living Bible, Katie's Daughter, The Flying Patrol, and Sweet River.
In 1947 alone, in addition to voicing Evey Fitz, Campbell also played Martha Logan on Breakfast Club (ABC) and Kay Benning on Breakfast with the Bennetts. 
Kay Campbell went on to become a regular on daytime television series, playing Helene Benedict on Guiding Light (1957-1964), Kate Martin on All My Children (1970-1985). Kay Campbell died after a car accident in 1985 at the age of 80.
When the Ma Perkins series began in 1933, Evey was already married to husband Willy Fitz, played by Murray Forbes. 
Willy and Evey's son Junior Fitz was played by Cecil Roy, George Fogle Jr., Bobby Ellis, and Arthur Young.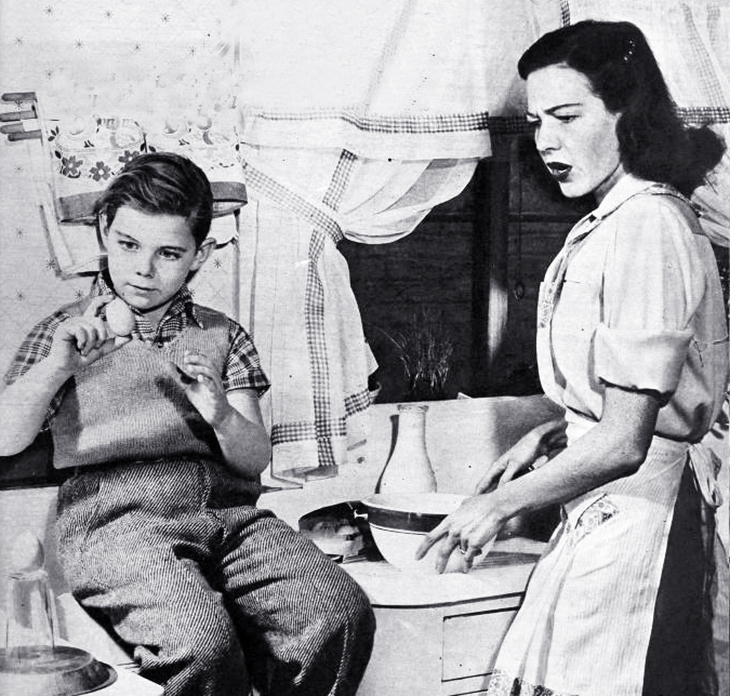 (Laurette Fillbrandt and Bobby Ellis as Evey Fitz and her son and Willy Jr. 1945 Ma Perkins)
Evey and Willy have another child – in 1953, 20 years later in real time!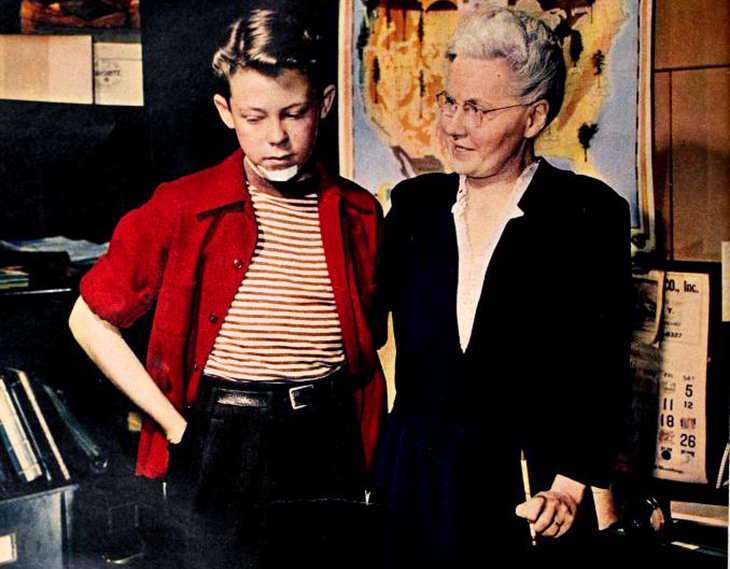 (Virginia Payne as Ma Perkins with Junior Fitz 1947) 
Actor Murray Forbes (Willy Fitz Sr.) started out as a vaudeville actor. He segued into radio, and was also a writer, noted scribbling away in a notebook when he wasn't at the microphone for Ma Perkins or his other radio series, Talkie Picture Time, The Hoofinghams, Today's Children (he voiced Papa Schultz), The Guiding Light, and Story of Mary Marlin with former silent film idol Francis X. Bushman. Murray Forbes married actress Adrienne Bass in 1942. His novel Hollow Triumph (1946) was made into a 1948 film-noir movie of the same name, starring Paul Henreid, Joan Bennett, Eduard Franz, and Herbert Rudley. Forbes played his character of Willy Fitz for the entire 27 years that Ma Perkins was on the air. He died of cancer in 1987.
Shuffle Shober, played by Charles Egelston from 1933-1958. Actor Charles Egelston was in his 70s when he died in 1958, and the role of Shuffle was taken over by actor-director Edwin Wolfe from 1958-1960.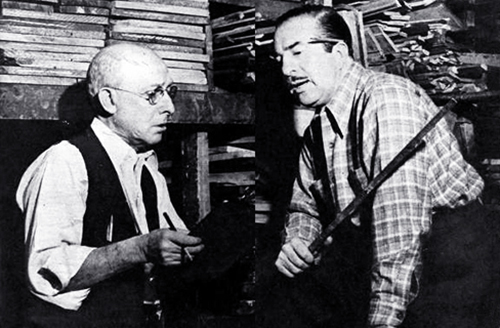 (Charles Egelston as Shuffle Shober and Murray Forbes as Willy Fitz 1945 Ma Perkins)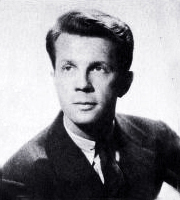 (Gil Faust 1941 AFRA Antics)
John Perkins (Gilbert Faust) is Ma's son and middle child; John was killed off on the series during World War II. Voice over actor Gil Faust played characters on other daytime serials such as Today's Children during the 1940s. He moved into directing and producing other radio series (Melody Lane, Sinclair Quiz Club, Dr. Paul; Straight Arrow)
This episode of Ma Perkins from 1951 features Virginia Payne as Ma Perkins, Murray Forbes as Willy Fitz, and Charles Egelston as Shuffle Shober.
Fay Perkins Henderson is Ma's youngest; played by Isabelle Krehbiel in 1933, and later Marjorie Hannan (1936), Cecil Roy (1938), Rita Ascot (1938-1940),Cheer Brentson (1945), Nannette Sargent (1946), Joan Tompkins (1953), Margaret Draper (1959), and Laurette Fillbrandt also voiced Fay. Rita Ascot, who voiced Fay for at least 10 years on and off, beginning in 1938-1949, was a diminutive 4′ 9″ actress.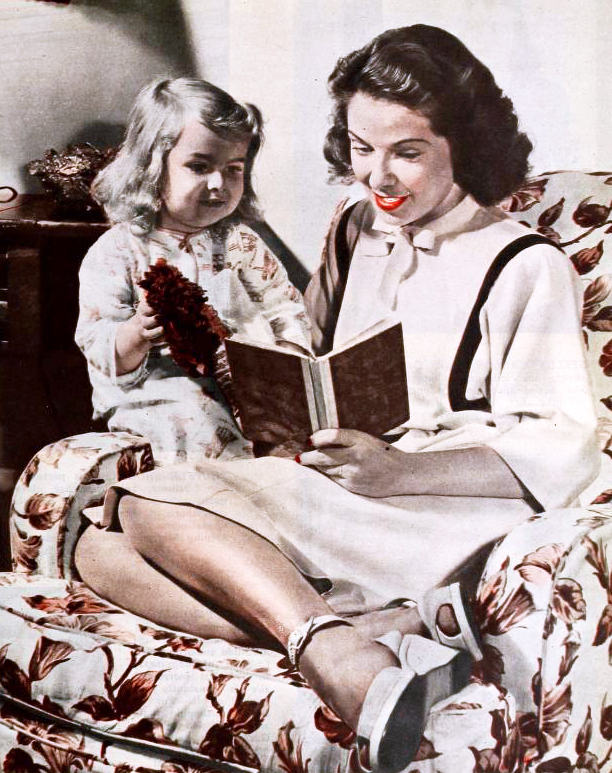 (Cheer Brentson as Fay Perkins 1945 Ma Perkins)
Fay married Paul Henderson (actor Jonathan Hole) in 1939, and he was tragically killed in 1940, leaving Fay a widow. Fay's daughter Paulette was voiced by Nannette Sargent for the first five years of Paulette's life, beginning in 1940 with and the first baby cry.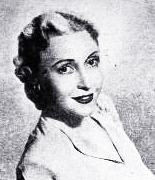 (Nanette Sargent, Paulette / Fay on Ma Perkins 1946)
In July of 1946, Nannette Sargent switched from playing child Paulette, to playing mother Fay on Ma Perkins. Other actresses who voiced Paulette include Judith Lockser. Petite 4′ 11″ Nanette Sargent was a busy radio star – in 1946 alone she voiced roles from babies to adults on other NBC and CBS radio series (Today's Children, Judy and Jane, Masquerade). 
Fay's romances and heartbreaks, and Evey's attempts to climb the social ladder, where central themes of Ma Perkins.
Ma "adopts" a son, Dr. Joseph / Joe (voiced by Joe Helgeson), who bears a strong resemblance to her deceased son John. Joseph's introductory storyline and that of his runaway wife Starr Bassett (daughter of Pleasant Haven cult leader, Professor Bassett), were also published in two different Ma Perkins novelettes in 1948 "The Other John Perkins", and 1949 "What's Real for You", in Radio Mirror magazine. Joe is a philosopher to begin with, then becomes a milkman.The role of Joe was later voiced by Ivor Francis, and Kort Falkenberg.
Town banker Augustus Pendleton was portrayed by Maurice Copeland; and Pendleton's high society wife Mathilda by Beverly Younger.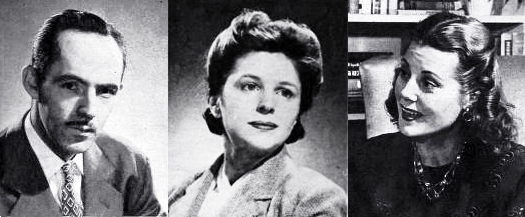 (Maurice Copeland, Beverly Younger & Patricia Dunlap as Augustus, Mathilda & Gladys Pendleton 1945)
Augustus and Mathilda's daughter Gladys was played first by Patricia Dunlap (above in 1945), and later Helen Lewis.
Gladys is perpetually unhappy in love during the 1930s and 1940s on Ma Perkins, but does marry in the mid-1950s – to Ma's adopted son Joe (and they have a baby!).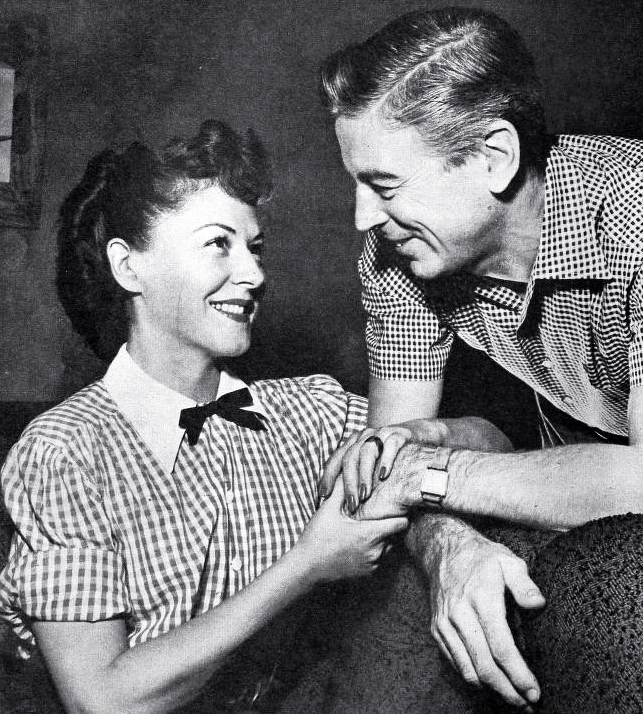 (Helen Lewis & husband David Penn 1952)
Actress Helen Lewis was yet another busy radio voice-over actress.
In addition to playing Gladys Pendleton on Ma Perkins, in 1952 she also voiced Maggie Lowell Dana on The Road of Life, and Martha Wayne on Hollywood Screen Test. 
Lewis started off as a theatre actress, under-studying Olivia de Havilland in a touring production of Midsummer Night's Dream.
It was in theatre that Helen met her husband, then-actor David Penn.
Ma Perkins producers Frank and Anne Hummert were responsible for between 40-100 radio serials beginning in the 1930s.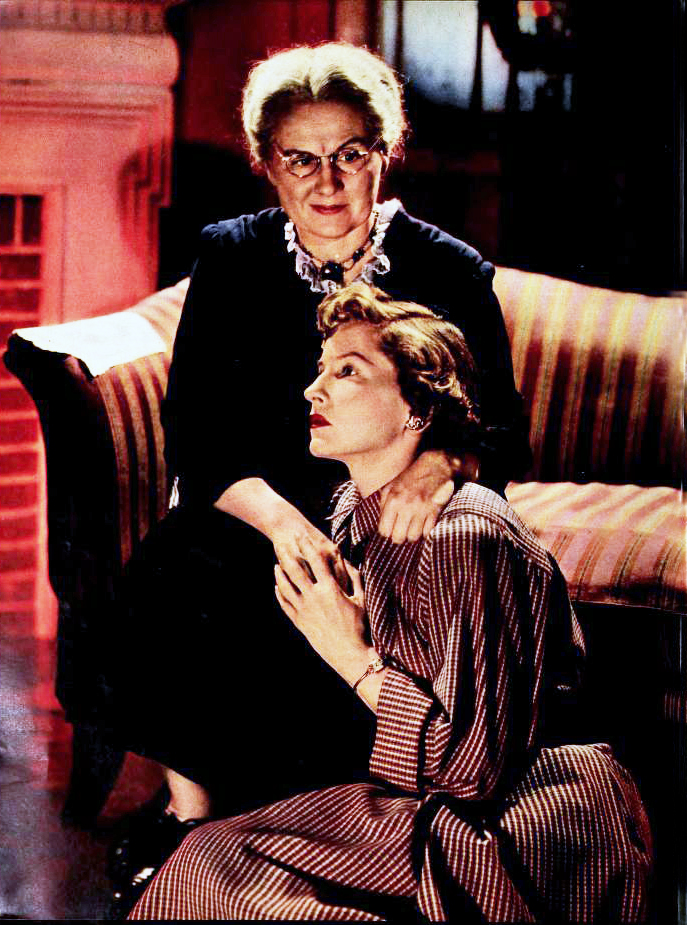 (Virginia Payne made up as Ma Perkins, with on-air daughter Fay 1951)
In the latter part of 1951, the plot of Ma Perkins revolved around Ma's concerns over her daughter Fay's engagement to ambitious businessman Spencer Grayson. Fay had just returned from a trip to New York to meet Spencer's friends and family. Fay's sister Evey (actress Kay Campbell) and Evey's husband Willy, as well as Ma's friend Shuffle, all want to hear about Fay's trip. Willy is set to be the best man, and Shuffle is going to give the bride away.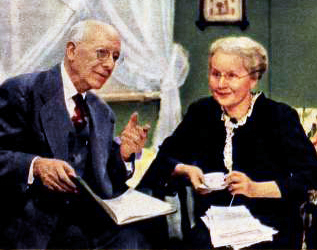 (Charles Egelston & Virginia Payne as Shuffle Shober & Ma Perkins 1952)
Fay and Spencer's engagement is derailed when Spencer changes several of their wedding plans for different business reasons; she realizes that Spencer will never need her.
This discovery is spurred by Fay's growing attraction to writer Tom Wells , who is staying at Ma's while he recuperates.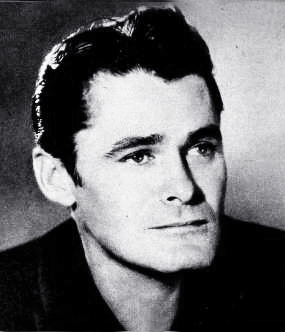 (John Larkin 1952)
Tom knew Spencer of old and his published story is a thinly veiled account of Spencer's treatment of another girl who loved him and was abandoned by him, during the war.
The role of writer Tom Wells was originated by movie and television actor John Larkin. Larkin was perhaps better known to radio fans as the star of Perry Mason, which he voiced at the same time as he played Tom Wells on Ma Perkins. John Larkin won Radio-TV Mirror's Award for Favorite Radio Daytime Serial Actor in May 1952. 
This 15-minute episode of Ma Perkins from 1951 is a scene between Fay and Tom Wells, prefaced by Oxydol advertisements.
The story of the Fay, Spencer, and Tom tangle, was also published in a Ma Perkins novelette Nightmare Love, in Radio-TV Mirror in 1952. After many trials and tribulations, Fay and Tom eventually marry. Tom was later played by Casey Allen.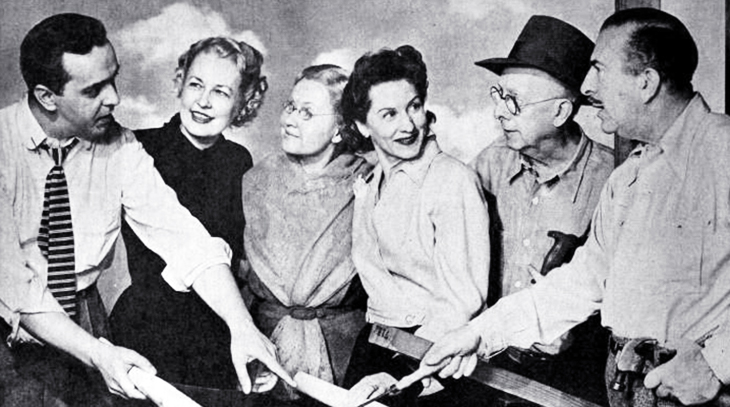 (Ma Perkins Family 1955: Ivor Francis as Joe, Kay Campbell as Evey, Virginia Payne as Ma, Joan Tompkins as Fay, Charles Egelston as Shuffle, and Murray Forbes as Willy)
Other actors and characters who could be heard on Ma Perkins include Studs Terkel, Mike Wallace, Ray Suber (as Charley Brown the grocer), Rye Billsbury (as Gary Curtis, one of Fay's more troublesome boyfriends), and McKay Morris as Gregory Ivanoff.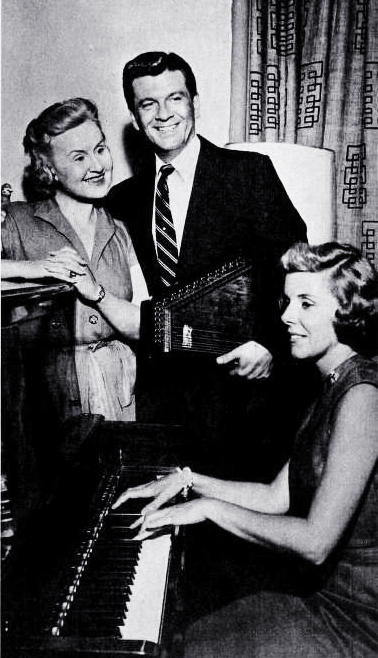 (Virginia Payne, Hal Hackett & Jean Gillespie 1958 Ma Perkins | CBS) 
Actor Hal Hackett played wealthy architect Bob Lyle on Ma Perkins for a couple of years in the latter half of the 1950s.
Actress Jean Gillespie voiced Esther, the widowed wife of a farmer and the mother of 6 children. By 1958, Esther and Bob are married on the series.  
While the series was on-air in New York, Ma Perkins leading actress Virginia Payne was also busy having a house built for herself in Ogunquit, Maine. Radio TV-Mirror noted that the actress had never missed so much as a single performance as of 1957:
"Virginia Payne…hasn't missed a show in 23 years (over 6,000 scripts), in spite of accidents, storms and erratic time-pieces. Once she broke an ankle on way to the studio. She had it taped and went on to work. She was flying back from Maine on a Sunday when a storm grounded her plane in Massachusetts. By combination of bus, streetcar, train, and cab, she got to the New York studio Monday morning."
The end was nearing for Ma Perkins; in 1958, the series was off the air for a few weeks before it was re-instated. It was a last gasp…Ma Perkins aired it's final episode on November 25, 1960.
*Images are believed to be in the public domain and/or Creative Commons licensed (Flickr, YouTube, Wikimedia, Vimeo) or used by permission, unless otherwise noted*