History Fix From November 1946
Baby Boomer Trivia From November 1946: First BAA (NBA) Game, JFK Elected Congressman, Thurgood Marshall Escapes Lynch Mob

On November 1, 1946 the New York Knicks (short for Knickerbockers) basketball team played the Toronto Huskies at Maple Leaf Gardens. It was the first game of the newly-formed BAA (Basketball Association of America), which would evolve into today's NBA. The New York Knicks beat the Toronto Huskies 68-66 to win the first-ever game for their team, and for the BAA. 
The Toronto Huskies basketball team only lasted for the very first season (1946-1947) of the BAA, before folding. It would be almost 50 years before Toronto had another major-league basketball team. The Toronto Raptors were formed in 1995, and in 2009 the Raptors debuted a commemorative jersey to honor the Huskies, which was worn several times by the Raptors in the 2009-2010 season.
Democratic candidate John F. Kennedy was elected on November 5, 1946 to the U.S. House of Representatives for the 11th Congressional district in Massachusetts. JFK served as a congressman for 6 years.
Incumbent Democratic Congressman James Michael Curley stepped down from his office in 1946, reportedly at the urging of Joseph P. Kennedy Sr. James Curley then ran for the office of Mayor of Boston, Massachusetts in 1946 and won.
On November 18, 1946, lawyer Thurgood Marshall (an African-American) was arrested by Columbia, Tennessee police and avoided a lynch mob, after participating in the grand jury trial of two white police officers. Earlier that year, in February 1946 a race riot had broken out in Columbia after a African-American U.S. Navy veteran and a white store clerk got into an argument about repairs to a radio. A few days later, Columbia policemen reported that 2 prisoners had grabbed guns from white officers, and began shooting; the white officers retaliated and killed 2 black prisoners and wounded a third. The all-white grand jury found the 2 white police officers not guilty of any crimes.
Below from left, Matthew J. Ryan, Anthony J. Mazullo, Thurgood Marshall, and Dean Harold Reuschlein.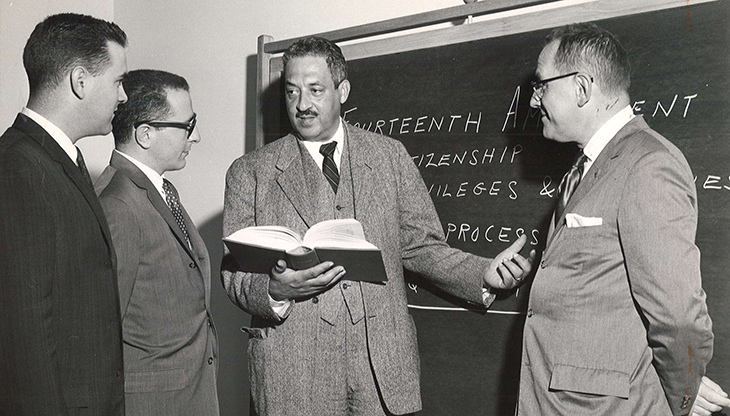 (Thurgood Marshall 1958 Photo: Villanova Law Library | Flickr) 
A native of Baltimore, Maryland, Thurgood Marshall's grandfather and great grandfather were both slaves. Marshall graduated first in his class from Howard University School of Law in 1933. He started a private law practice and in 1940 founded the NAACP Legal Defense and Educational Fund, arguing civil rights cases before the Supreme Court. Thurgood Marshall was appointed United States Solicitor General in 1965 by President Lyndon B. Johnson, the first African-American to hold that office. 
History was made again when President Johnson appointed Marshall to the U.S. Supreme Court in June 1967; Marshall served on the Supreme Court until his retirement in 1991. Thurgood Marshall was an 84-year-old octogenarian senior citizen when he died of heart failure in January 1993.  
*Images are public domain or Creative Commons licensed & sourced via Wikimedia Commons or Flickr, unless otherwise noted*