Remembering Jane Wyman
Academy Award-winning actress Jane Wyman began her film acting career in 1932 at the tender age of 15, and continued in a career that would endure for over 50 years.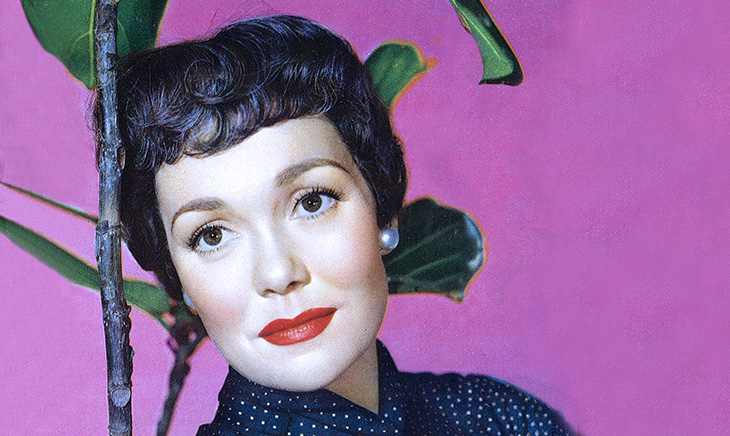 (Jane Wyman 1953 Photo: Eiga no Tomo)
Marriage to Brother Rat Co-Star Ronald Reagan
Born Sarah Jane Mayfield on January 5, 1917 in Saint Joseph, Missouri, her first marriage was as 16-year-old Jane Fulks, to salesman Ernest Wyman in April 1933. Jane had taken her foster father's (Richard D. Fulks) last name, after her father died and her mother moved away. Ernest and Jane Wyman were divorced in 1935 after 2 years of marriage.
In June 1937 Jane Wyman married for the second time, to businessman Myron Futterman. Myron Futterman and Wyman separated after 3 months, reportedly because she wanted children and he did not; their divorce was finalized in December 1938.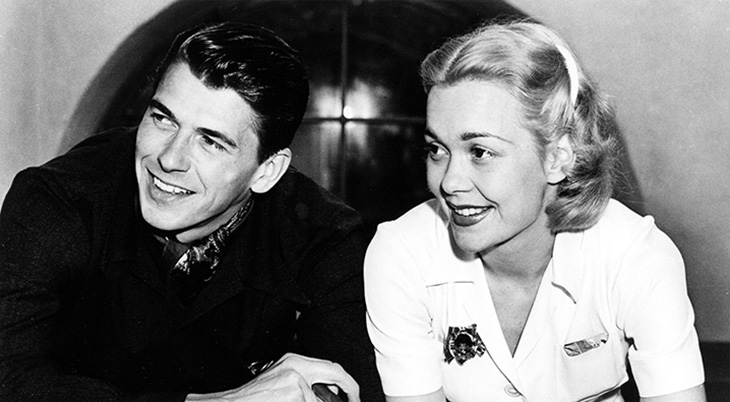 (Ronald Reagan and a blonde Jane Wyman on their honeymoon in 1940 Photo: UPI)
By the end of the 1939, Jane Wyman had already appeared in 40 feature films in small roles, and was beginning to make a name for herself in Hollywood. 
At 23, she married for a third time in January 1940 to actor Ronald Reagan (his first marriage). Jane was a blonde when she married future President Ronald Reagan in 1940; but her career really took off soon after, when she went brunette. 
Wyman and Reagan had co-starred in the comedy films Brother Rat (1938) and it's sequel Brother Rat and a Baby (1940).
Ronald Reagan and Jane Wyman had 3 children together – Maureen Reagan, adopted son Michael Reagan, and daughter Christine Reagan (died shortly after birth), before divorcing in 1949. 
This preview clip for Brother Rat features a bespectacled (and blonde!) Jane Wyman as Claire Adams, Ronald Reagan & Wayne Morris as soldiers Dan Crawford & Billy Randolph, and Priscilla Lane as Joyce Winfree.
Despite their divorce, Jane remained an admirer of ex-husband Ronald Reagan's, telling her personal assistant that she voted for him twice as President, and saying at his 2004 funeral that
"America has lost a great President and a great, kind, and gentle man."
Movie Stardom & Academy Awards
Jane Wyman won the Academy Award for Best Actress for her role as a deaf-mute rape victim in Johnny Belinda (1948). Her co-stars in Johnny Belinda included Lew Ayres, Alan Napier (Batman) as a defense attorney, and Agnes Moorehead (Bewitched), in her first of five movies with Jane Wyman. Johnny Belinda composer Max Steiner was nominated for Best Music Score of a Dramatic or Comedy Picture. 
Below, the movie trailer for Johnny Belinda features Jane Wyman, Lew Ayres, Agnes Moorehead, and Charles Bickford.
Other notable films, co-stars, and filming locations for Jane Wyman during her heyday as a leading lady in the 1940s and 1950s golden age of movies included:
The Lost Weekend (1945), co-starring with actor Ray Milland as alcoholic Don Birnam. Filmed on location in New York City & Bellevue Hospital in New York, Jane Wyman plays Ray Milland's on-screen girlfriend Helen in The Lost Weekend. 
Night and Day (1946) co-starring Cary Grant and Eve Arden, with Alexis Smith and Dorothy Malone (Peyton Place). A fictionalized storytelling of Cole Porter's life, filmed in part at Hill Grove Estate in Beverly Hills, California. The estate which was demolished in the 1960s.
The Yearling (1946), co-starring with Gregory Peck and Claude Jarman Jr. Both Jane Wyman (Orry Baxter) and Gregory Peck (Penny Baxter) were nominated for Academy Awards for Best Acting for their performances as parents to Claude Jarman Jr. (Jody Baxter) in The Yearling. Filming took place in Big Bear Lake and the San Bernardino National Forest in California.
Magic Town (1947) has Jimmy Stewart as struggling pollster Rip Smith, who secretly visits a small town to boost his business and falls for civic-minded resident Mary Peterman (Jane Wyman). Filmed in Chico, California and at RKO Studios in Hollywood, California.
The Glass Menagerie (1950), co-starring with Kirk Douglas, Arthur Kennedy, and Gertrude Lawrence. Jane Wyman plays the crippled, shy sister (Laura) of marine Tom Wingfield (Arthur Kennedy), with Gertrude Lawrence playing their nagging mother Amanda. Kirk Douglas is Wyman's on-screen romantic interest, playing a friend of Tom's who is nice to her. Filmed at the Warner Brothers Burbank Studios in Burbank, California.
The Blue Veil (1951), a drama co-starring Charles Laughton, Joan Blondell, and Agnes Moorehead in her second movie with Jane Wyman. Other co-stars for Wyman in The Blue Veil were a young Natalie Wood, Vivian Vance (I Love Lucy), and Alan Napier, also in his second movie with Wyman. Jane Wyman was nominated for an Academy Award for Best Actress for her performance as a young widow who takes care of other people's children in The Blue Veil, but lost to Vivien Leigh in A Streetcar Named Desire. Wyman's friend Virginia Zambonie told Forbes that while filming The Blue Veil in and around New York City's St. Patrick's Cathedral, Jane Wyman's interest in the Catholic faith was deepened.
Stage Fright (1950), with Marlene Dietrich, Michael Wilding, Richard Todd, and Alastair Sim; directed by Alfred Hitchcock. In the above movie trailer for Stage Fright, Wyman accepts a Photoplay award, and clips from the film feature her co-stars Marlene Dietrich, Michael Wilding, and Richard Todd. According to The President's Ladies: Jane Wyman and Nancy Davis (2014) author Bernard F. Dick, Wyman had first become interested in Catholicism while in London, England filming, after a visit to Westminster Cathedral. 
Just For You (1952), co-starring Bing Crosby, with Ethel Barrymore, Natalie Wood, and Robert Arthur. This movie musical has Crosby as a dysfunctional father to kids played by Wood and Arthur, with Wyman as his fiancee. More notable for the 1950s style women's suits that Wyman wore, than for the songs or plotline.
So Big (1953), co-starring Sterling Hayden, Nancy Olson, Steve Forrest, Martha Hyer, Richard Beymer, and Tommy Rettig (of Lassie fame). Wyman plays Selina, wife to Dirk DeJong (Steve Forrest) and mother of Pervis (Sterling Hayden), who later builds a thriving farm business as a widow and steers her son to follow his architecture dreams. Filming took place in California on the Warner Bros. lot in Burbank, with exteriors at Los Angeles City College.
Magnificent Obsession (1954), co-starring Rock Hudson, Barbara Rush (Peyton Place), Gregg Palmer, and Agnes Moorehead (her third film starring Jane Wyman). Rock Hudson is the selfish playboy whose rescue from an accident may be the reason Wyman's character is left a widow…and becomes Hudson's love interest. Once again Jane Wyman was nominated for an Academy Award for Best Actress for her performance in Magnificent Obsession. Filming locations in California included Venice, Lake Arrowhead & Big Bear Lake in the San Bernardino National Forest, and the Universal Studios lot.
All That Heaven Allows (1955) was the second movie to co-star both Jane Wyman and Rock Hudson as romantic leads, and was Wyman's fourth movie with Agnes Moorehead. Once again Wyman is a (rich) widow, falling in love with her gardener (Hudson). Familiar actor Hayden Rorke (I Dream of Jeannie) also makes an appearance in All That Heaven Allows. The movie was filmed at Universal Studios in Universal City, California.
Below, a clip from All That Heaven Allows with Jane Wyman, Agnes Moorehead, and Rock Hudson. 
In November 1952 Jane Wyman married for a fourth time, to Hollywood bandleader Fred Karger. They were married for 3 years before divorcing in December 1954. Jane Wyman and Fred Karger remarried again in 1961 and once again divorced in March 1965 – Wyman's fifth and final marriage and divorce; she never remarried. 
Wyman became a Catholic in 1954 along with her son Michael and daughter Maureen Reagan. Jane Wyman was lifetime friends with and attended mass with fellow actresses Loretta Young and Irene Dunne, also devout Catholics; they would go on religious retreats during Lent.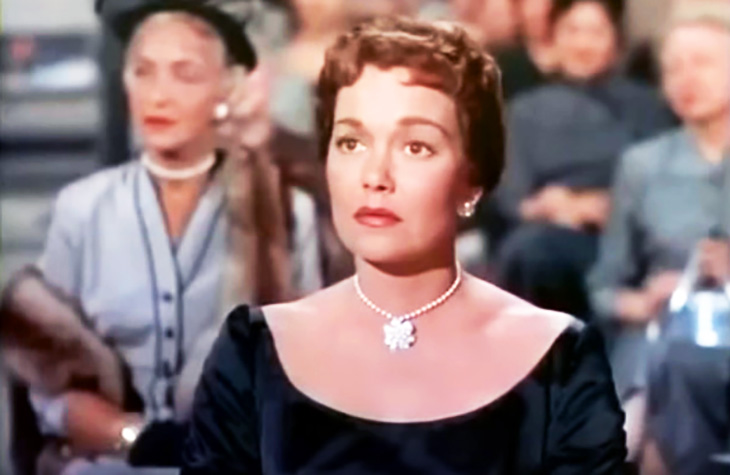 (Jane Wyman 1955 Lucy Gallant)
Fading into Television
From 1955-1958, Jane Wyman hosted her own anthology television series, Jane Wyman Presents The Fireside Theatre. She was nominated for an Emmy Award for Jane Wyman Presents The Fireside Theatre. 
The romantic comedy Holiday for Lovers (1959) was Wyman's last film of the decade and signaled the beginning of the end of her feature film career. Wyman and her on-screen husband (played by Clifton Webb) are parents to teenagers played by Jill St. John and Carol Lynley. Also in the cast are Paul Henreid, Gary Crosby, and dancer José Greco showing his abilities on the dance floor.
As the 1960's began, Jane Wyman co-starred as Aunt Polly with Walt Disney child/teen actress Hayley Mills, in Pollyanna (1960). Several soon-to-be familiar faces from later 1960's TV series also appeared with Mills and Wyman in Pollyanna, including Karl Malden (The Streets of San Francisco), Reta Shaw (The Ghost & Mrs. Muir), James Drury (The Virginian), and Edward Platt (Get Smart). Frequent Disney movie actress Nancy Olson (Wyman's co-star from 1953's So Big) is in the film, and Agnes Moorehead appears in Pollyanna as Mrs. Snow, in her fifth and last movie with Jane Wyman.
Bon Voyage (1962) with Fred MacMurray, Michael Callan, Deborah Walley, Jessie Royce Landis, Tommy Kirk, and Kevin Corcoran, was Jane Wyman's second of two films in the 1960s. Another Disney film, Bon Voyage was filmed in France on locales in Paris and the Côte d'Azur. 
By the 1970's, Jane Wyman's star was fading as she worked through her 50+ years. Her last big-screen film was the musical comedy How to Commit Marriage (1969) co-starring Bob Hope and Jackie Gleason, with Leslie Nielsen, Tina Louise, and Tim Matheson.
Baby boomer and senior fans might have caught Jane Wyman in guest-starring appearances on television series in the 1970's and 1980's such as My Three Sons; Charlie's Angels, The Love Boat, and Owen Marshall, Counselor at Law starring Arthur Hill.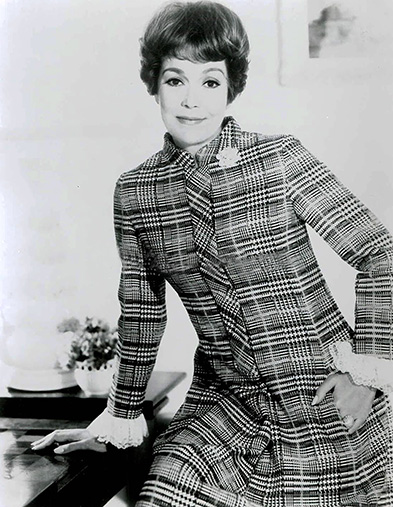 (Jane Wyman c. 1960s-1970s Photo: TV Scout Sketch)
In the episode of Owen Marshall, Counselor at Law that Jane Wyman guest-starred in, actors David Soul (Starsky & Hutch), MacDonald Carey (Days of Our Lives), Randolph Mantooth (Emergency!) and Henry Jones (Phyllis, Who is the Black Dahlia?) also made appearances. Henry Jones had guest-starred on an episode of her series Jane Wyman Presents The Fireside Theatre in 1956.
Jane Wyman guest-starred twice on The Bold Ones: The New Doctors starring David Hartman and John Saxon. Her fellow guest-stars iincluded Leslie Nielsen, Ron Howard (The Andy Griffith Show, Happy Days), Jim Davis (Dallas), Mike Farrell (M*A*S*H), Robert Hogan (Peyton Place), and Kathleen Nolan (The Real McCoys, Broadside).
Made-for TV movies for Jane Wyman during the 1970's were:
The Failing of Raymond (1971), a TV thriller co-starring with Dean Stockwell, Dana Andrews, and Tim O'Connor. Young actors Katey Sagal and William Katt had small roles in The Failing of Raymond.
Amanda Fallon (1973), a TV drama with her co-stars from episodes of The Bold Ones: The New Doctors – Kathleen Nolan, and Leslie Nielsen. 
The Incredible journey of Doctor Meg Laurel (1979) starred Lindsay Wagner as Meg Laurel, and Jane Wyman as Granny Arrowroot. Supporting cast members in The Incredible Journey of Doctor Meg Laurel were Andrew Duggan, Gary Lockwood, Brock Peters, John Reilly, James Woods, Dorothy McGuire, Tracey Gold, and Gloria Stuart. The Incredible journey of Doctor Meg Laurel was Jane Wyman's last movie.
New Career Life as Angela Channing on Falcon Crest
At age 66, senior citizen Jane Wyman won a Golden Globe Award for Best Actress in 1983 for her role as Angela Channing on Falcon Crest (1981-1990).
She portrayed Angela Channing from 1981-1990, co-starring with contemporaries Anne Jeffreys, Cliff Robertson and Rod Taylor. Some of her many younger Falcon Crest fellow cast members over her ten-year tenure on Falcon Crest included:  Lorenzo Lamas, David Selby, Susan Sullivan, Margaret Ladd, Ana Alicia, Robert Foxworth, William R. Moses, Abby Dalton, Simon MacCorkindale, Dana Sparks, Mel Ferrer, Cesar Romero, Kristian Alfonso, Jamie Rose, Morgan Fairchild, and Gregory Harrison (Trapper John, M.D.). Veteran character actor Henry Jones and John Saxon, both of whom Jane Wyman had worked with when she guest-starred in the early 70s on an episode of Owen Marshall, Counselor at Law, had regular or recurring roles on Falcon Crest.
Below are some clips from Falcon Crest featuring Jane Wyman.
By the time her tenure on Falcon Crest ended in 1990, Wyman was a septuagenarian senior and had begun to suffer health issues (diabetes, a liver problem, and later on, arthritis).
Jane Wyman's last film appearance was a 1993 guest-starring role on the TV series Dr. Quinn, Medicine Woman, starring Jane Seymour, Joe Lando, Chad Allen, George Furth, and Orson Bean.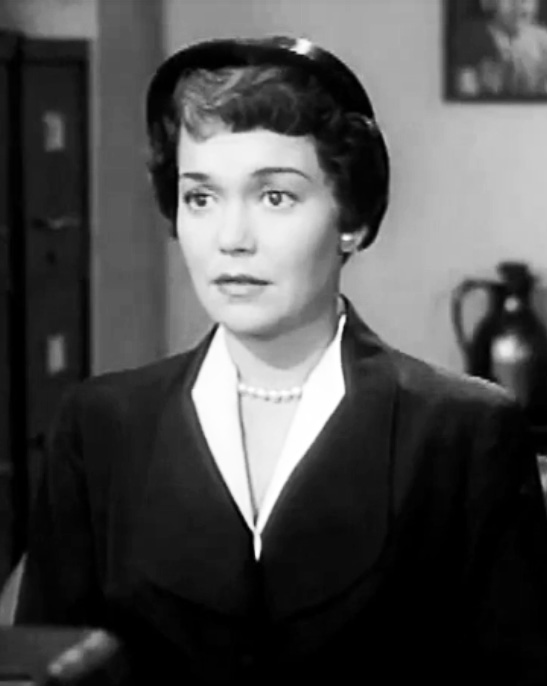 (Jane Wyman 1951 Three Guys Named Mike)
Wyman was completely retired after her performance in Dr. Quinn, Medicine Woman and was rarely seen at public appearances during her octogenarian senior years.
By the time of her death from natural causes at age 90 on September 10, 2007, Jane Wyman had acquired over 110 film credits, starred in 83 movies, two successful TV series, and been nominated for an Academy Award four times, winning once for her role as a deaf-mute rape victim in Johnny Belinda (1948).
A posthumous tribute to Jane Wyman's long film career was aired at the 80th Annual Academy Awards in February 2008.
Note: This article was first published in January 2015. It has been updated with new & additional content.
*Images are public domain or Creative Commons licensed & sourced via Wikimedia Commons, Vimeo, YouTube, or Flickr, unless otherwise noted*