Dean Stockwell - A Quantum Leap From Kim
Classic movie and television actor Dean Stockwell's fans may remember him best from his long-running role on Quantum Leap (1989-1993), but his 8-decade acting career began in the 1940s, and didn't end until 2015.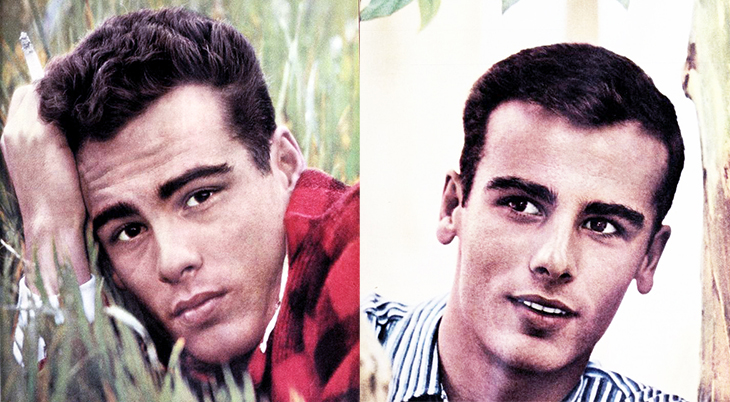 (Teen Heartthrob Dean Stockwell 1958 & 1957)
Emmy Award-winning actor Dean Stockwell was born on March 5, 1936 in North Hollywood, California and practiced his craft for more than 70 years before retiring. His parents – mother Nina Olivette and father Harry Stockwell – and his older brother Guy Stockwell, were all actors. Stockwell's father and mother separated when Dean was 6 years old, and he began working as a child actor at the age of 7.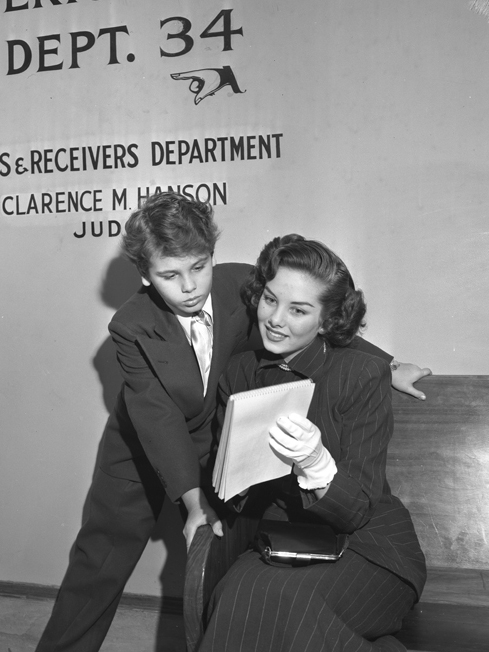 12-year-old Dean and 20-year-old Colleen Townsend wait for movie contract approval in a 1949 Los Angeles court. (Photo: Los Angeles Times photographic archive)
Stockwell was soon under contract to MGM and began his movie acting career in 1945, appearing in 3 movies released that year:
The Valley of Decision, starring Greer Garson, Gregory Peck, and Marsha Hunt.
Anchors Aweigh, starring Frank Sinatra, Kathryn Grayson, and Gene Kelly.
Bud Abbott and Lou Costello in Hollywood, starring Bud Abbott and Lou Costello
He was Nick Charles, Jr. in Song of the Thin Man (1947) starring William Powell and Myrna Loy as his onscreen parents, Nick and Nora Charles.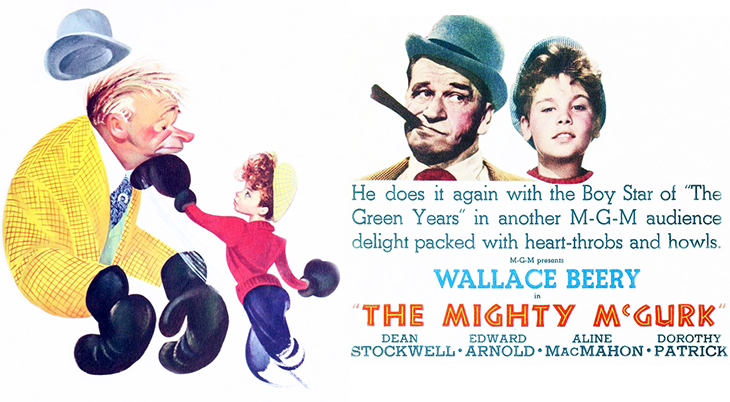 (Wallace Beery & Dean Stockwell 1947 The Mighty McGurk)
He co-starred with Wallace Beery in the 1947 boxing comedy comedy The Mighty McGurk, along with supporting actors Edward ARnold, Aline MacMahon, Cameron Mitchell, and Dorothy Patrick. Despite these name actors, The Mighty McGurk was not well received by critics.
Dean Stockwell won the Golden Globe for Best Juvenile Actor in Gentleman's Agreement (1947). This critically acclaimed film was produced by Daryl F Zanuck, directed by Elia Kazan, and had a screenplay written by Moss Hart. Co-starring in Gentleman's Agreement are Gregory Peck, Dorothy McGuire, John Garfield, Celeste Holm, June Havoc, and Jane Wyatt.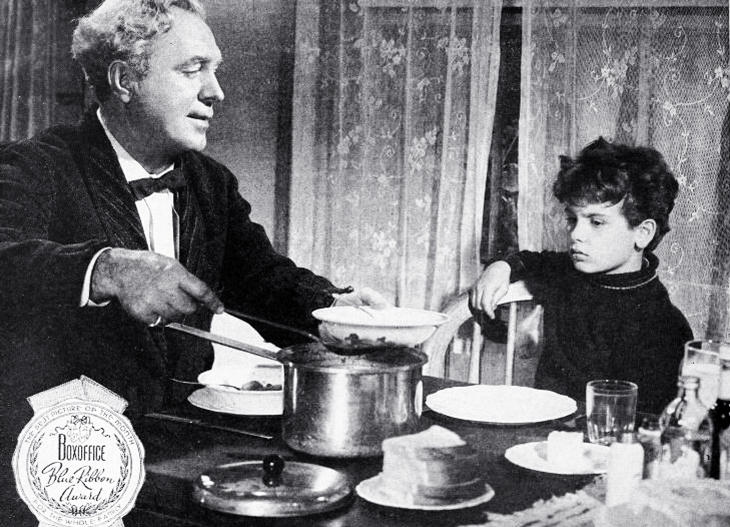 (Pat O'Brien & Dean Stockwell 1948 The Boy With Green Hair)
The following year, Stockwell's turn in Howard Hughes' comedy The Boy With Green Hair (1948) won praise. His co-stars in The Boy With Green Hair included Pat O'Brien, Barbara Hale, Robert Ryan. Another notable role was as invalid Colin Craven, onscreen cousin to actress Margaret O'Brien's character Mary Lennox, in The Secret Garden (1949).
Despite his talent and success as a child actor, Stockwell said that it was not an enjoyable time for him. An notable exception to this was his experience on set with Errol Flynn while they filmed the movie Kim (1950).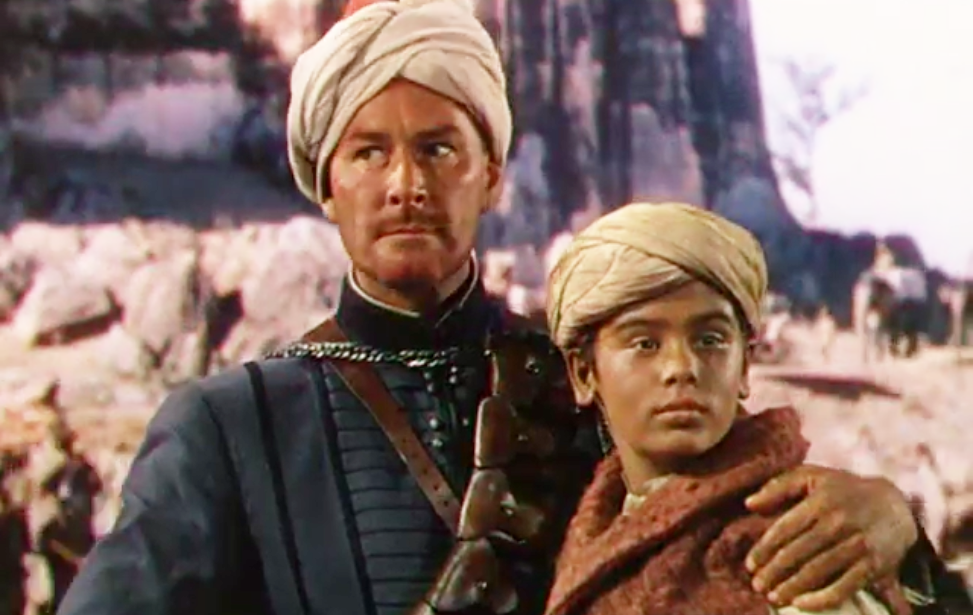 (Errol Flynn & Dean Stockwell 1950 Kim Trailer)
Young teenager Dean looked up to Flynn in the absence of his own father, and later commented that observing and talking to Erroll Flynn gave him his earliest insights into manhood and sex. Errol Flynn's arm around a young Stockwell above, reflects their off-screen friendship while filming the movie. 
Dean Stockwell attended the Little Red Schoolhouse on the MGM lot along with classmates Elizabeth Taylor, Roddy McDowall, Jane Powell, and Russ Tamblyn, who would become a long-time friend. The young stars socialized in and out of the classroom and formed lifelong friendships. Below, the photo of Elizabeth Taylor's high school graduation on the set of the MGM movie Father of the Bride (1950) captures the camaraderie of their schooldays there.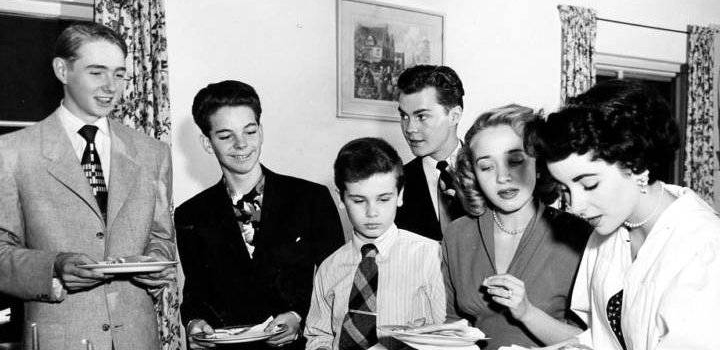 Left to right: Claude Jarman Jr., Russ Tamblyn, Dean Stockwell, Tom Irish, Jane Powell, Elizabeth Taylor. (Photo: listal.com) 
After graduating from Alexander Hamilton High School, Dean Stockwell attended the University of California at Berkeley for a year under the name of George Stockwell. While there, Stockwell explored his interests in the areas of artwork (he did digital collages) and composing music, before dropping out to return to working in the movies.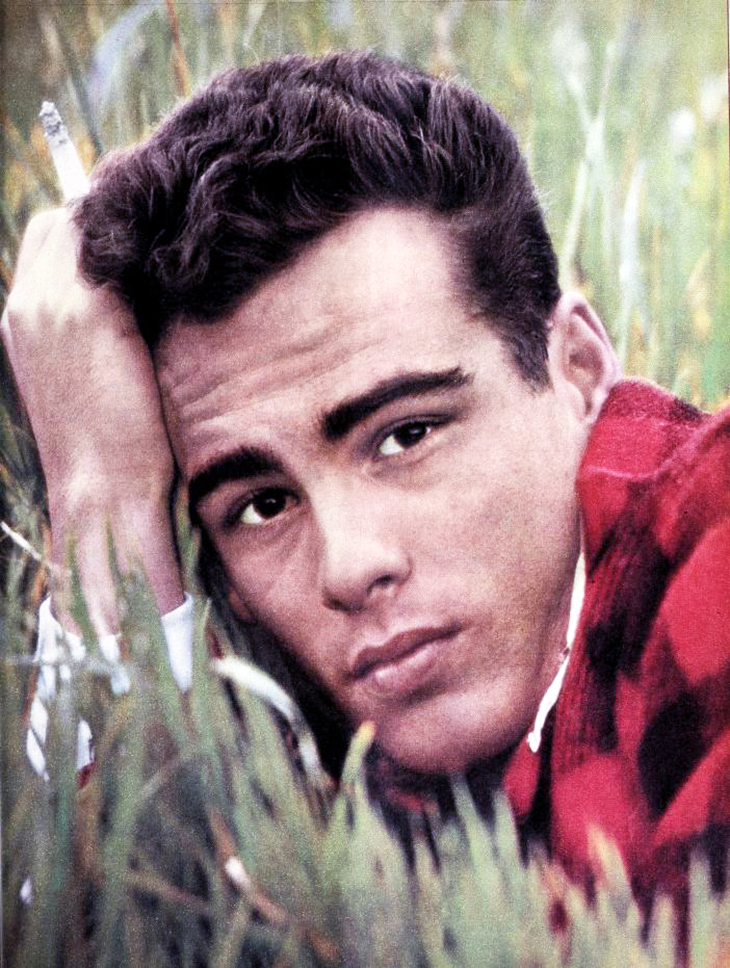 (Dean Stockwell 1958)
He made his television debut in 1956, in Matinee Theatre, and appeared on the popular television series Wagon Train 4 times between 1957-1961.
Photoplay Magazine ran an article in December 1959 which detailed the arrival of young actress Millie Perkins in Hollywood in January of 1958 to begin filming the movie The Diary of Anne Frank (1959). 23-year-old Dean Stockwell was completing his run in the stage play Compulsion when he met Millie at a dinner party in April of 1958 – or, according to a Screenland retrospective in January 1960 – they met at actor Robert Blake's drama school and love blossomed during class breaks. 
Millie and Dean Stockwell began dating and were engaged in August of that year, a surprise to her parents according to The Herald-News (September 1, 1959).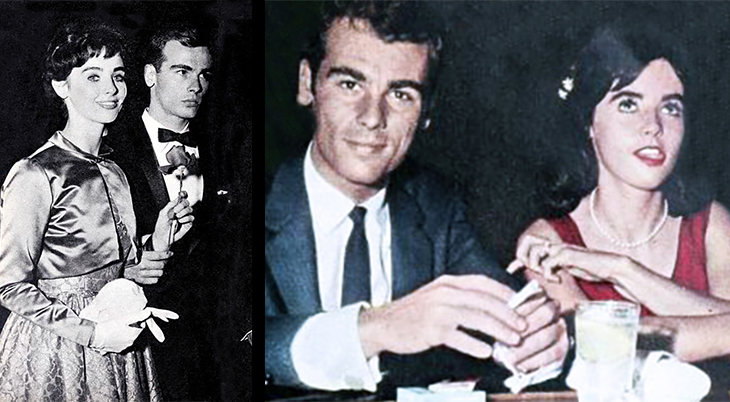 (Dean Stockwell & Millie Perkins 1959 & 1961)
By early 1960, Dean Stockwell had gotten married to Millie Perkins (in April of that year), and won his first Best Actor Award at the Cannes Film Festival for his role in the dramatic movie Compulsion (1959). He'd also completed filming the movie Sons and Lovers (1960), for which he was nominated for a Golden Globe Award for Best Actor.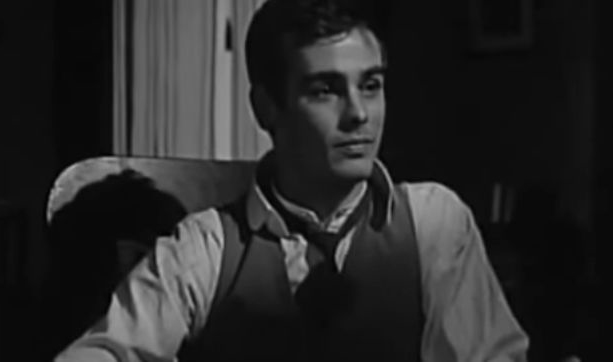 Dean Stockwell in Long Day's Journey Into Night (1962).
Their marriage was short-lived; Dean Stockwell and Millie Perkins were divorced in July 1962. That same year, Dean Stockwell won his second Best Actor Award at the Cannes Film Festival, for the movie Long Day's Journey Into Night (1962). During the filming of Long Day's Journey Into Night, co-star Katharine Hepburn chastised Stockwell about his drinking. Despite this, his performance in Long Day's Journey Into Night was critically acclaimed, along with the rest of the cast.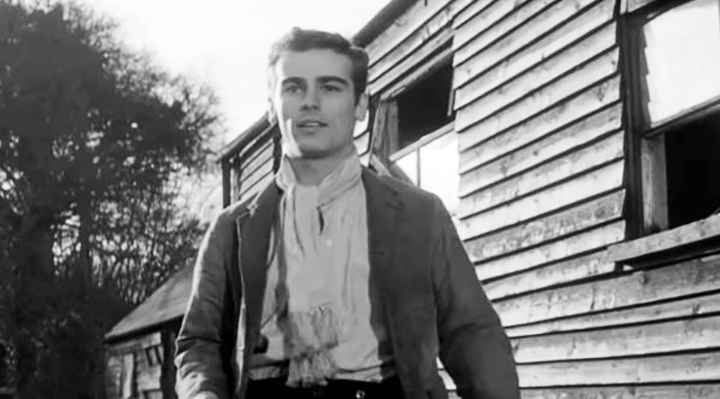 (Dean Stockwell 1960 Sons and Lovers Trailer)
Throughout the rest of the 1960's, Dean Stockwell's baby boomer fans saw him appearing less frequently on the big-screen and in television. He spent much of his time exploring drugs and drinking, living the hippie lifestyle. He struck up a friendship with Canadian musician and fellow Topanga Canyon resident Neil Young in the late 1960's, after Young came across a copy of a screenplay written by Dean Stockwell titled After The Goldrush. Neil Young was inspired to write the songs for his iconic album, After the Goldrush (1970), and invited Stockwell to be present during the recording of the album. Dean Stockwell would later design the album cover art for Neil Young's album Stars 'N Bars (1977).
Dean Stockwell, Neil Young, and Stockwell's friend Russ Tamblyn collaborated on the 1982 movie Human Highway together. From all reports a wild atmosphere pervaded the filming of Human Highway, both on an off set; Jerry Casale of the band Devo told Rolling Stone Magazine that Stockwell was often either drunk or stoned (or both).
During the 1970's and early 1980's, although he did work on television and in the movies, Dean Stockwell's career languished; at one point he worked as a real estate broker. His personal life began to improve when he met textiles expert Joy Marchenko in Cannes. Stockwell told People Magazine in a 1985 interview that since Joy Marchenko lived in Morocco, for the next 5 years they communicated via phone and letters. Joy Marchenko visited Dean Stockwell in L.A. in 1981 and ended up staying; they married in December of that year.
Son Austin Stockwell was born in November 1983 and daughter Sophia Stockwell was born in August 1985. 
Happier now on the home front, Dean Stockwell's career also started to improve in the mid-1980's. He began to get small roles in bigger movies such as Paris, Texas (1984); Dune (1984); The Legend of Billie Jean (1985), and To Live and Die in L.A. (1985).
By the beginning of 1986, a 50+ Dean Stockwell had acquired a resume of 49 movie credits, and his career was enjoying a revival. During the next 5 years he appeared in 14 movies including Blue Velvet (1986), Beverly Hills Cop II (1987), and Married to the Mob (1989), for which he received an Academy Award Nomination for Best Supporting Actor. This movie trailer for Married to the Mob features Stockwell and his co-stars Michelle Pfeiffer, Alec Baldwinn, Dean Stockwell, Matthew Modine, Mercedes Ruehl, Tracey Walter, and others.
Next was a co-starring role in the popular television series Quantum Leap (1989-1993). Dean Stockwell won 3 Emmy Awards for Outstanding Supporting Actor in a Drama Series (1990-1993) for his performances in Quantum Leap. 
In this 1990 Golden Globes clip , tockwell accepts the Best Supporting Actor for his performance in Quantum Leap. He thanks his mother and his wife Joy, who is shown in the audience.
Between 1991-2000, Dean Stockwell acted in another 21 movies including the box office hits Air Force One (1997), The Rainmaker (1997), Batman Beyond: Return of the Joker (2000).
During the early 1990's his television appearances were primarily in made-for-television movies such as Bonanza: The Return (1993). In the latter half of the 90's, in addition to guest starring roles on television series, Stockwell appeared on 14 episodes of The Tony Danza Show (1997-1998) as Frank DiMeo. 
Dean Stockwell had 5 movies released in 2001, but after appearing in Inferno (2002), the pace of his work slowed.
A recurring role as Senator Edward Sheffield began in 2002 on the television series JAG for 11 episodes, and continued onto a spin-off First Monday for another 3 episodes that year. That same year his movie re-make The Manchurian Candidate (2004) was released. 
Dean Stockwell appeared in 7 movies between 2006-2015, and was on 14 episodes of the popular television series Battlestar Galactica between 2006-2009. His most recent television appearance came as in 2014, on NCIS: New Orleans as Tom Hamilton.
His fans could see him on the big screen in 2014's Deep in the Darkness and the movie Entertainment (2015). Dean Stockwell and other cast members are featured in this movie trailer for Deep in the Darkness (2014).
In 2017, Joy contacted me to advise that Dean had recovered from the stroke, but was retired from acting. She also confirmed that his birthday is March 5, 1936 (not 1935 as previously stated). When Dean Stockwell died of natural causes on November 7, 2021, he was survived by Joy and their two children.
Note: This article was first published in 2016 as Celebrating Seniors – Dean Stockwell is 81. It has been updated with new & additional content.