That Little Rascal Robert Blake
Actor Robert Blake's legacy includes a long list of notable performances in movies and on TV, beginning as a child actor in the 1930s Hal Roach Little Rascals / Our Gang comedy film shorts. For some, his legacy includes the question "Did he or didn't he?" about the death of his second wife, Bonny Lee Bakley, whose murder he was acquitted of in a 2005 trial.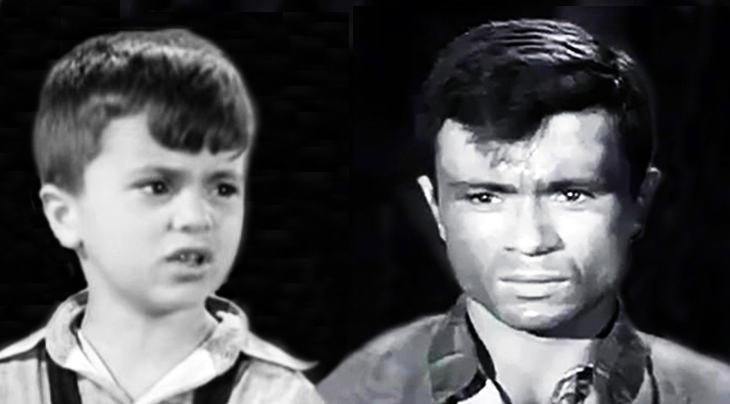 (Robert Blake 1940 Gang | Zane Grey Theater 1959)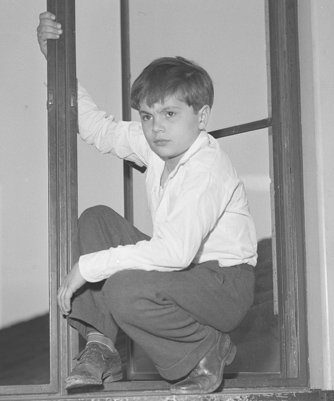 (Robert Blake 1944 Photo: The Los Angeles Times / UCLA Library)
Italian-American Robert Blake (nee Michael James Gubitosi) was born on September 18, 1933 in Nutley, New Jersey.
His parents Elizabeth Cafone and Giacomo (James) Gubitosi were vaudeville performers and in 1936, Michael Gubitosi and his older siblings James Gubitosi (1930-1995) and sister Giovanna Gubitosi (1932-1985) began appearing onstage as "The Three Little Hillbillies". Times were tough all over during the Great Depression years.
His paternal grandfather Mike Gubitosi ran a shoe repair shop in Allwood, New Jersey. 
The Gubitosi family moved to Los Angeles in 1938 and the kids began appearing in the movies as extras. 
As an adult, Robert Blake has said that his childhood was terrible, with both parents "insane"; he claimed his father James Gubitosi was a sadistic alcoholic, and that he was subject to child abuse – often locked in a closet, beaten, forced to eat off the floor, and sexually abused. His father James Gubitosi committed suicide in 1955.
Our Gang / Little Rascals Big Break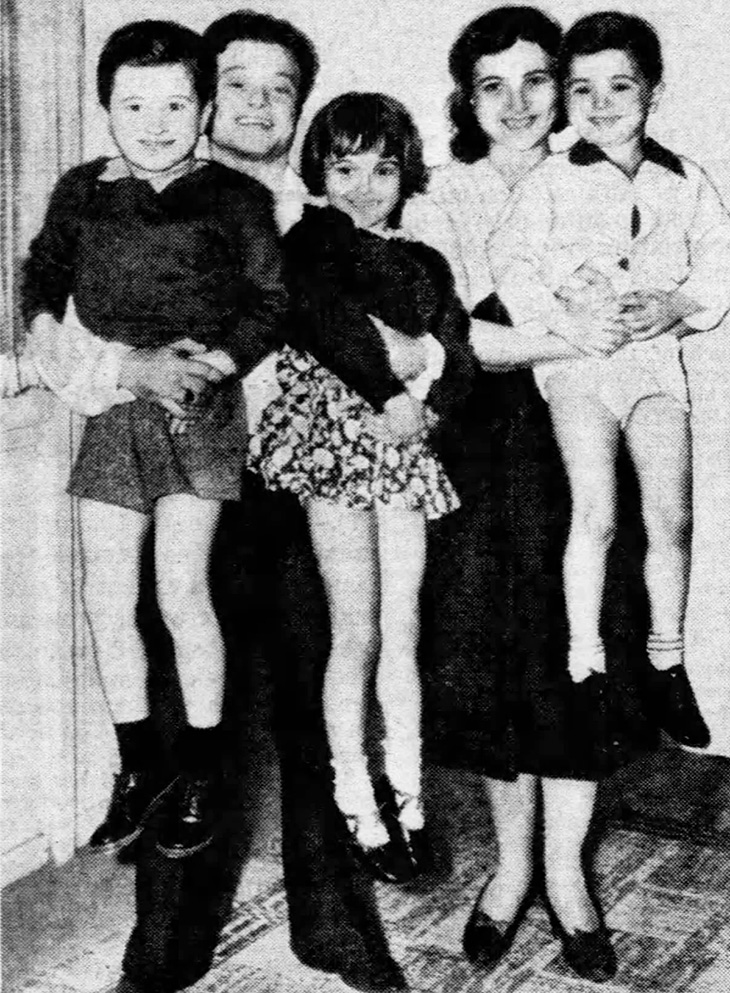 (From left: James Jr., James Sr., Giovanna, Elizabeth, and Michael Gubitosi 1939: AP Wirefoto)
"Three small children of a New Jersey WPA blacksmith, who broke through the gates of a Hollywood casting office all by themselves, went to work on movie sets today. They are Michael, 5; Jovanni, 6, and James Gubitosi, 7 of Nutley, N.J. They did pretty well performing at picnics and amateur shows in the East, and four months ago their father brought them to Hollywood. He got no nearer than the doorman at the studio [MGM] casting offices. Alone, the children walked in, amused the film men with a song and dance act, and were signed up." – 3 Smart Kids Crash Hollywood, Daily News, February 25, 1939
Young Michael Gubitosi began working in the movies in 1939 at the age of 6, and appeared in the feature film Bridal Suite (1939) in an un-credited role as Toto.
"The signing of 5-year-old Michael Gubitosi as a member of 'Our Gang' is no stop-press news, but what is interesting is that he is the 43rd placed under contract to the Gang since the Comedies started." – Joins the Gang, The Evening Star, Aug. 18, 1939
He appeared in over 40 of MGM's Our Gang (The Little Rascals) short films from 1939-1944 as the character Mickey, either uncredited or credited as Mickey Gubitosi (1939-1942), or Bobby Blake (1942-1944).
Above, the "Our Gang" kids help Waldo (Darwood Kaye, in glasses) with his failing lemonade stand. Robert Blake is "Mickey" in the dark overalls, Darla Hood is Darla , George "Spanky" McFarland is Spanky, Carl "Alfalfa" Switzer is Alfalfa, and Billie "Buckwheat" Thomas is Buckwheat. A donkey tries to steal the show, and Billie "Froggy" Laughlin is a reluctant customer.
Robert Blake's brother James (aka Jimmy) and sister Giovanna Gubitosi also got work as extras in Our Gang, with Giovanna changing her name to Joan Blake when Robert changed his name to Bobby Blake. The Young Artist Foundation recognized Robert Blake with a Former Child Star "Lifetime Achievement" Award in 1995 for his performances on Our Gang.
Red Ryder's Pal Little Beaver Goes into the Army
By 1944, when Our Gang was ending, Robert Blake was 11 years old and had already been kicked out of elementary school for fighting. He had only begun attending school for the first time when he was 10. 
From Our Gang short films, Bobby Blake segued into the Red Ryder/Tucson Raider movies, playing the Native American character of Little Beaver in 23 short films from 1944-1947.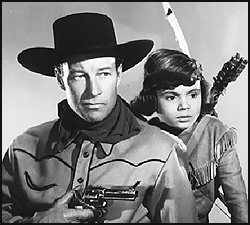 (William / Bill Elliott as Red Ryder and Robert Blake as Little Beaver Photo: Lindell Dillon)
"In the movies, Bobby has a 42-year-old 'standin', a midget who does the difficult horseback riding scenes and other dangerous things required of Little Beaver. Bobby, however, says he loves outdoor sports. He goes riding or hunting with his father. He is a good marksman with a bow and arrow, and loves horses." – Robert Blake interview by Walter Whitaker, The Daily Times-News, August 25, 1947
Throughout his adult film career, Robert Blake often played Latin or Native American characters, and/or detectives or criminals. 
During and after his short films, Blake also appeared in full-length feature films.
Occasionally some of his Our Gang cast-mates joined him. Carl Switzer (Alfalfa) appeared with him in I Love You Again (1940), and Billie "Buckwheat" Thomas was also in the movie Mokey (1942), in which Blake played the title character and used the professional name Bobby Blake for the first time.
An adult Robert Blake told Entertainment Weekly that his first hug – ever – was from actress Donna Reed on the set of 1942's Mokey, when he was 8. As a pre-teen, Blake and his parents portrayed a different outlook:
"Like his father, Bobby is an avid hunter and fisherman. He also swims, rides horseback, and has three pets, a dog, a cat and a mock turtle named Speedy. Speedy has made several attempts to get away but he is always returned to Bobby – the Blake name and address are stenciled on the turtle's back. As his guardian, Bobby's mother has seen to it that most of the youngster's earnings are invested in U.S. savings bonds. The dark-haired lad has a weekly allowance no larger than that of most other youngsters his age." – Bobby Blake Vet at 12, The Decatur Daily, June 13, 1948
Other movies of note that Bobby Blake appeared in during the 1940's were: 
Andy Hardy's Double Life (1942) starring Mickey Rooney and Esther Williams.
China Girl (1942) starring Gene Tierney, George Montgomery.
Lost Angel (1943) starring Margaret O'Brien, with Marsha Hunt.
The Big Noise (1944), a Stan Laurel and Oliver Hardy comedy.
Dakota (1945) a western starring John Wayne.
Humoresque (1946) starring Joan Crawford.
The Treasure of the Sierra Madre (1948) starring Humphrey Bogart and Walter Huston. 
As a child actor in the 1940's, several times Bobby Blake was in movies where one of the star's was an animal, as in The Return of Rin Tin Tin (1947) co-starring the dog Rin Tin Tin III. In two movies, Blake appeared with cowboy stars and their famous horses – The Last Round-up (1947) starring actor Gene Autry and Champion, and Out California Way (1946), with actor Roy Rogers and Trigger. Ten years later, Robert Blake appeared with Roy Rogers and Trigger on an episode of The Roy Rogers Show (1956). 
"He was just back from Africa…where he played the part of an Arab servant boy in 'The Black Rose', filmed in Morocco…He and his dad had spent four months in Africa and Europe, filming the picture and visiting grandfather Mike's home town of Apice, Italy…'The company flies us everywhere,' said the father. It wasn't always like that. Eleven years ago James Gubitosi was broke, getting only part-time work on a WPA project." – Little Beaver, Home from Africa, Visits Grandfather in Allwood, The Herald-News, July 12, 1949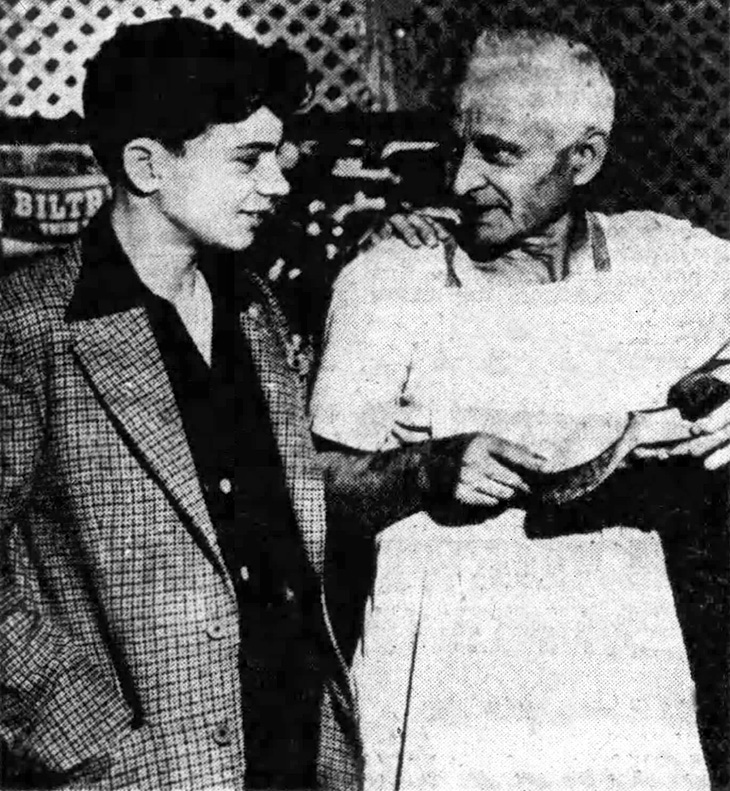 (Robert Blake / Mickey Gubitosi, age 15 & grandfather Michael Gubitosi 1949: The Herald-News)
Robert Blake said in an interview as an adult, that he ran away from home as a teenager, abused drugs and alcohol, was kicked out of 5 high schools, and drafted into the Army beginning in 1950. The truth? 
"Filmland's Little Beaver has traded moleskins for khaki. Bobby Blake, 19-year-old former player in the Red Ryder Western series and Our Gang comedies, entered the army today." – Little Beaver in Army, Los Angeles, May 29, The Spokesman-Review, May 30, 1953
He told the Los Angeles Times in 1992 that he was a sergeant in the Special Services, stationed in Alaska and putting on performances when he fell in love for the first time, with a 16-year-old girl. Their engagement was cut short when her father had him arrested for statutory rape, and he was put in the stockade pending a court martial. Blake has been quoted as saying he plotted to kill her father, but a priest arranged a settlement between the girl's family and the Army, resulting in Blake agreeing never to see her again and being honorably discharged from the Army.  
From Taking Acting Classes to Teaching Acting
"'If it weren't for acting, I'd probably be carrying a gun today, or I'd be dead. I always thought I'd be dead by the time I was 30.'…Blake admits he was emotionally confused for most of his early life and carried a monumental chip on his shoulder for being short and foreign-looking. He had assorted other hang-ups and when he got out of the Army in 1956, Bob was uniformly messed up. 'The Army gave me $100 a month to go to school…but I couldn't make it at City College. I couldn't talk to anybody. I had a place up in Laurel Canyon and all it was was wine, women and pills." – Robert Blake – An Actor Who's Acting for His Life, by Don Page, The Los Angeles Times, September 16, 1966
He began taking acting classes with black-listed actor Jeff Corey. No longer the cute young kid, like many other grown up former child actors, Blake struggled to find acting work. For most of the 1950's, his acting jobs were few and far between. Still, beginning in 1952 dedicated baby boomer TV watchers might have caught Bobby Blake on episodes of TV westerns such as The Cisco Kid (1953), Broken Arrow, and Zane Grey Theater (1959).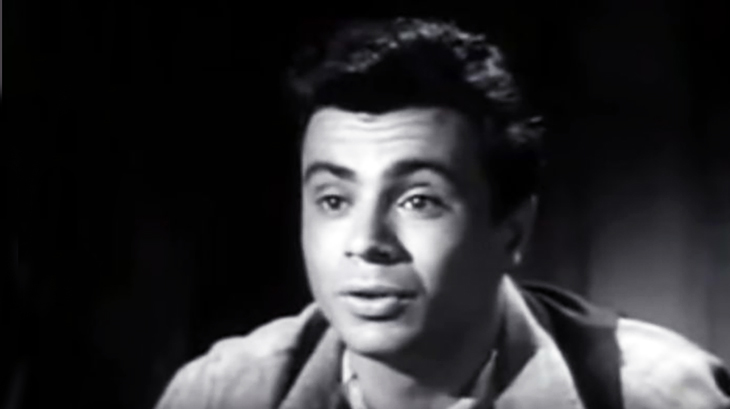 (Robert Blake 1957 26 Men)
Movie roles began to come his way again in the latter half of the 1950's, and in 1956 alone Bobby Blake appeared in the Korean War movie The Rack starring Paul Newman, with Cloris Leachman; Three Violent People with Charlton Heston and Jamie Farr; and the WWII film Screaming Eagles, starring Tom Tryon, Jan Merlin, Alvy Moore, Martin Milner, Paul Burke, and Pat Conway. 
He first used the professional name of Robert Blake that same year the crime drama Rumble on the Docks (1956) starring James Darren. Robert Blake was in another James Darren movie in 1957 – The Tijuana Story.
Robert Blake began to find more work, in bigger roles/bigger movies. He had a co-starring role in the prison break movie Revolt in the Big House (1958). Blake turned down the role of Little Joe Cartwright on Bonanza in 1959, but was in the Korean War movie Pork Chop Hill (1959) starring Gregory Peck, Rip Torn, and a cast that included George Peppard (Banacek), Harry Dean Stanton,  Martin Landau, Clarence Williams III (Mod Squad), and Gavin MacLeod, among others.
When he wasn't onscreen himself Blake was teaching drama classes. When rumors of actress Millie Perkin's engagement began making the rounds, a fan magazine "expose" indicated that Millie was sharing an apartment with actress and friend Sandra Knight (actor Jack Nicholson's one and only ex-wife).
"Sandra was a longtime student – and friend – of respected Hollywood drama coach Robert Blake, and it was only after Millie enrolled in Blake's class that her love blossomed. It was there, during a coffee break, that Millie got into a conversation with a diffident, slender fellow student Dean Stockwell." – Behind Millie Perkins' Engagement, Screenland Plus TV-Land, January 1960
"Attending his [drama school] were such talents as Dean Stockwell, Millie Perkins and Connie Stevens. he even discovered Shirley Knight (1961 Academy Award nominee and now starring in 'Little Mary Sunshine' in Hollywood) for his production of 'Look Back in Anger." – 'Hollywood Lacks Creativity' Asserts Actor Robert Blake, by Dave Holland, Valley Times, November 25, 1961 
Marriage, Children & Depression Over In Cold Blood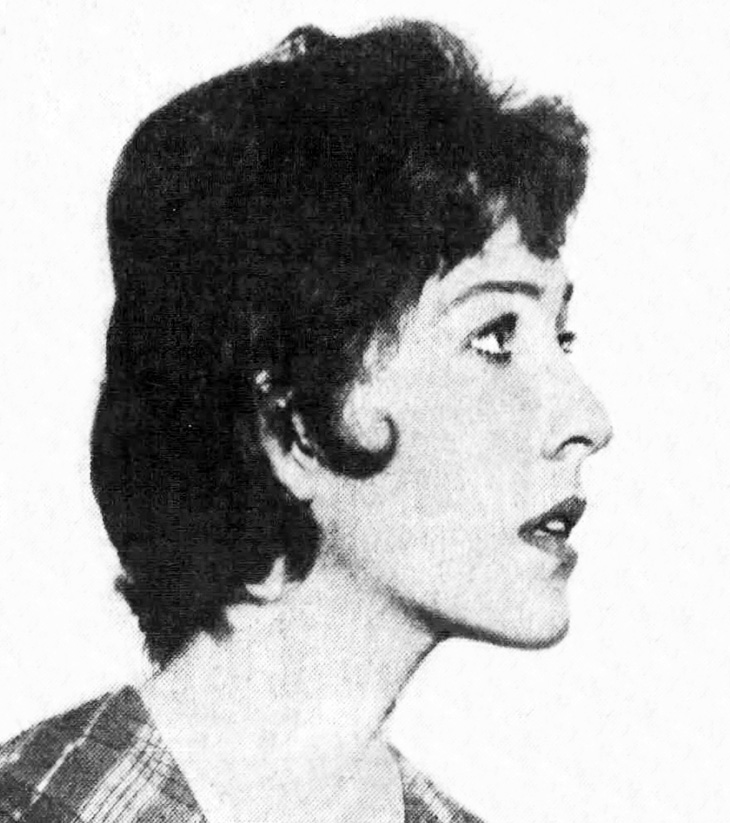 (Sondra Kerr 1959)
Robert Blake has said he met actress Sondra Kerr (backstage at a play; they married in November 1961 and had son Noah Blake (b. 1965) and daughter Delinah Blake (b. 1966).
He began mental therapy which continued for many years (he told Entertainment Weekly in 1993, more than 30 years). 
Baby boomers could see Robert Blake on television in episodes of TV shows like Bat Masterson, Naked City, The F.B.I., and in an episode of the crime drama Cain's Hundred starring Peter Mark Richman, with Keir Dullea.
Blake worked several times with actor Richard Boone, appearing 3 times on his series Have Gun – Will Travel (1960-1962), and co-starred with him on the anthology series The Richard Boone Show (1963-1964), along with other regulars Lloyd Bochner and Harry Morgan. 
War movies – Town Without Pity (1961) starring Kirk Douglas, and PT 109 (1963) starring Cliff Robertson and Robert Culp – and Westerns on television and the movies were Robert Blake's forte. He appeared on 2 episodes of Rawhide (1965) starring Clint Eastwood and starred as Billy the Kid on an episode of Death Valley Days (1966).
Blake was one of the star-studded cast in the bible epic The Greatest Story Ever Told (1965), starring Max Von Sydow, Dorothy McGuire, Angela Lansbury, Pat Boone, David McCallum, Roddy McDowall, Sidney Poitier, Sal Mineo, Claude Rains, Telly Savalas, and John Wayne; also in The Greatest Story Ever Told were both Charlton Heston and Jamie Farr, who had both been in the 1956 movie Three Violent People (1956) with Robert Blake.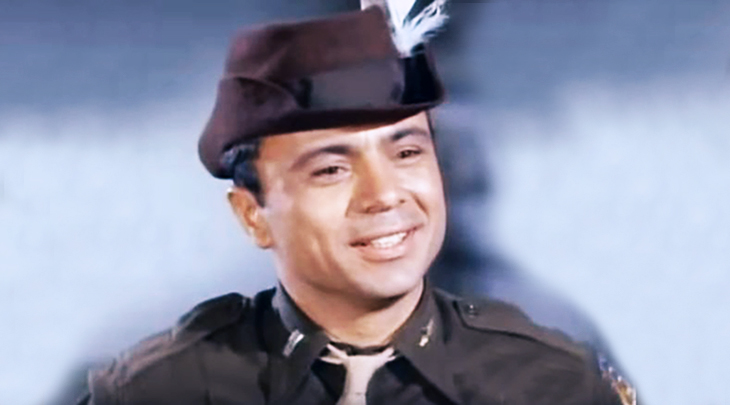 (Robert Blake 1966 12 O'Clock High)
Other movies of note during the mid-1960's for Robert Blake were the romantic drama This Property is Condemned (1966), starring Natalie Wood and Robert Redford. 
His break out movie role was as Perry, a drifter and serial killer on the run in the dark biographical drama In Cold Blood (1967).
Blake's former acting teacher Jeff Corey played his co-killer's father in the film. Based on Truman Capote's book In Cold Blood, the movie did well at the box office and Robert Blake's performance was critically acclaimed. He told People that after In Cold Blood he suffered from depression, needed psychiatric help, and couldn't work for two years.
TV's Baretta & Joe Dancer
Recovered from his depression, and with the success of In Cold Blood on his resume, former child actor Robert Blake found starring and co-starring movie roles. In the Native American crime drama Tell Them Willie Boy is Here (1969). In Tell Them Willie Boy is Here, Robert Blake starred as the title character Willie Boy, on the run and pursued by Robert Redford (his co-star from This Property is Condemned) as Deputy Sheriff Cooper. Actress Katharine Ross played his on-screen girlfriend Lola.
Robert Blake was nominated for a Golden Globe Award as Best Actor in a Motion Picture – Drama for his performance in the crime film Electra Glide in Blue (1973); the next year, he co-starred with Elliott Gould in the crime comedy Busting (1974).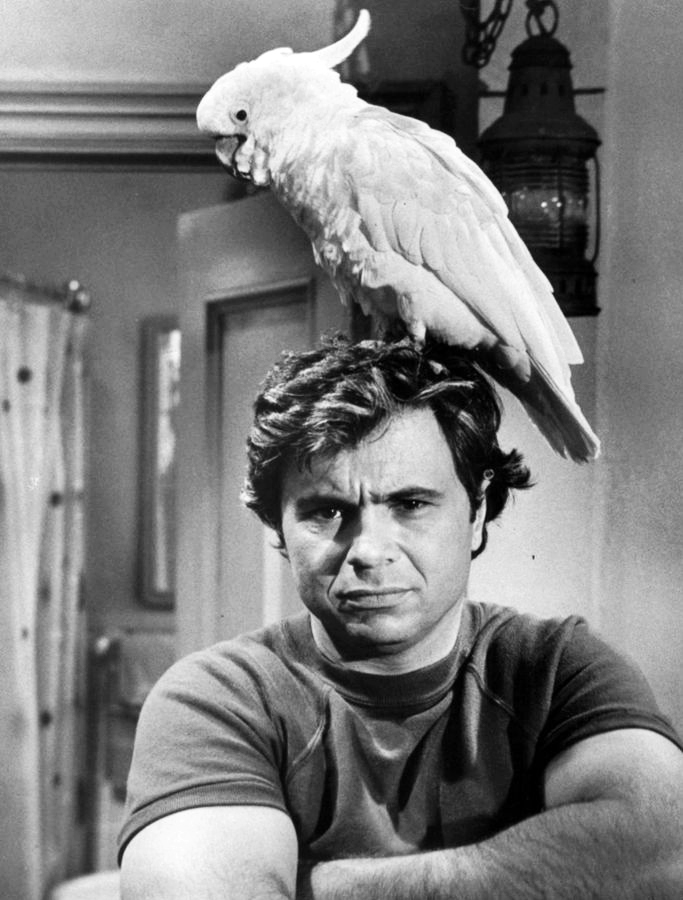 (Robert Blake as Detective Tony Baretta, with his pet cockatoo Fred 1975: ABC Television)
Baby boomers may remember Robert Blake best from his starring role on television as undercover New York Detective Tony Baretta in Baretta (1975-1978). Wife Sondra Blake guest-starred twice on Baretta. His performances in Baretta were critically acclaimed throughout the series 3-year run.
Blake won the 1975 Emmy Award for Outstanding Lead Actor in a Drama Series (and was nominated again in 1977), as well as the 1976 Golden Globe Award for Best Actor in a Television Series (tied with Telly Savalas for Kojak).
In a series of talk show appearances to promote Baretta, Blake bared his soul and his previous drug abuse, telling Merv Griffin 
"I've sold dope, used it, snorted it, done everything you can do to it."  
Blake took a few years off after filming on Baretta ended, before returning to work in 1980 with a role in the big-screen romantic comedy Coast to Coast (1980), co-starring with Dyan Cannon, Quinn Redecker, and Michael Lerner. In the comedy Second-Hand Hearts (1981) Robert Blake co-starred with Barbara Harris; his wife Sondra Blake also appeared.
On television, Robert Black helped create and played the role of hard-boiled private detective Joe Dancer in TV movies The Big Black Pill (1981), The Monkey Mission (1981), and Murder 1, Dancer 0 (1983).
Blake served as executive producer on the Joe Dancer movies, as well as on the TV movie Of Mice and Men (1981). He was drifter George Milton to Randy Quaid as Lenny Small in Of Mice and Men. Others in the cast included Ted Neeley as Curley, and Pat Hingle. Blake's wife Sondra Blake appeared in each of these movies. The following year, Sondra and Robert Blake separated (1982); they divorced in 1983.
Hell Town Breakdown
In 1983, a now 50+ Robert Blake starred in the TV movie Blood Feud as Jimmy Hoffa. A dramatization about Senator Robert Kennedy's pursuit of Jimmy Hoffa, the large cast of Blood Feud included Ernest Borgnine as J. Edgar Hoover, Danny Aiello, Edward Albert, Brian Dennehy, Jose Ferrer, and Michael Lerner (his co-star from Coast to Coast). Robert Blake was nominated for both a Golden Globe and Emmy Award for Lead Actor for his performance as Jimmy Hoffa in Blood Feud.
After another couple of years away from film, Robert Blake created, wrote, and starred in the TV movie Hell Town (1985), which may have been partially inspired by his experience in the Army in Alaska. Blake played Catholic priest Father Noah 'Hardstep' Rivers in the movie.
The TV movie inspired the 1985 TV series of Hell Town, which Blake also starred in. His co-stars in the television series included his old acting teacher Jeff Corey, and Vonetta McGee as Sister Indigo. Hell Town was cancelled after 13 episodes when Blake abruptly quit, suffering a nervous breakdown. 
He told the Los Angeles Times that the stress from the aftermath of his divorce and work on Hell Town, as well as other film projects, was more than he could handle. 
"I'd be so uptight I could hardly breathe…My heart hurt, my soul hurt. I've always been a fierce competitor and a perfectionist, but during 'Hell Town' I only remember being terrified. One morning I realized I was only days–maybe hours–away from sticking a gun in my mouth and pulling the trigger."
Robert Blake took 7 years off after his breakdown, got psychiatric help with a new therapist, and finally returned to film in the TV movie Judgement Day: The John List Story (1993), a true crime drama about churchgoing John List, whose wife and three children are killed in their house. Blake starred as John List, and Beverly d'Angelo played his wife Helen List; two of their daughters were played by Carroll Baker (Alma List) and Melinda Dillon (Eleanor List). David Caruso appeared as Police Chief Bob Richland. Judgement Day: The John List Story was Robert Blake's last television credit.
Robert Blake, Beverly D'Angelo, and David Caruso are featured in this promo clip for Judgement Day: The John List Story.
He made two big-screen feature films before he became a senior citizen in 1998; in the crime comedy Money Train (1995), Robert Blake co-starred with Wesley Snipes, Woody Harrelson, Jennifer Lopez, and Chris Cooper. His last feature film credit was in the David Lynch thriller Lost Highway (1997), starring Bill Pullman and Patricia Arquette.
The movie trailer for Lost Highway features a heavily made up Robert Blake, Bill Pullman, and Patricia Arquette.
The Murder of Bonnie Lee Bakley
Robert Blake was 66 when he first met 43-year-old failed actress, failed model, and successful con artist Bonnie Lee Bakley in a jazz club in 1999. Bakley had already acquired a long list of arrests for nude picture and lonely hearts mail-order scams, as well as drug possession and passing back cheques since the 1980s. In 1998 she was arrested for having 5 driver's licenses and 7 Social Security cards, all under different names.
Bonnie Lee was obsessed with meeting celebrities and her goal was to marry one. She pursued singer Jerry Lee Lewis in the early 1990's and claimed a child she had was his, until DNA tests disproved it. Other celebrities she pursued and claimed to have known included Dean Martin, Gary Busey, and Frankie Valli.
Before she met Blake, Bonnie Lee was married 9 times, deserting one of her husbands within an hour (DeMart C. Besley) after getting married. She was also in a long-time relationship with Christian Brando (Marlon Brando's son). Bakley had begun writing Christian letters and sending pictures of herself to him while he was serving a 10-year prison sentence starting in 1991 for murdering his sister's boyfriend. Upon Christian Brando's prison release in 1996, he and Bakley began a sexual relationship. Bakley got pregnant in 1999 and gave birth to a daughter she named Christian Shannon Brando in 2000, then told Robert Blake that he might be the father. A paternity test confirmed it, and the child's name was changed to Rose Lenore Sophia Blake.  
In November of 2000, Robert Blake married Bonnie Lee Bakley after she agreed to a pre-nup that gave Blake temporary custody of Rose and monitored visits for Bakley. Bakley lived in a small guest house beside Blake's house in the San Fernando Valley. Blake hired a private detective to gather information on Bakley, and discovered that she was still running her lonely hearts mail order scam. On May 4, 2001, Robert Blake and Bonnie Lee Bakley went to dinner at Vitello's, a restaurant that Blake often ate at. The couple went out to Blake's car on a side street around the corner from the restaurant, and Blake said he returned to the restaurant to get a gun he had left there. He said he returned to the car to find Bakley still sitting in the passenger seat, shot in the head. 
In April 2002 Robert Blake was arrested and charged with first degree murder with special circumstances and 2 counts of solicitation of murder of his wife; he was held in jail without bail until his murder trial ended. Blake's bodyguard Earle Caldwell was charged with murder conspiracy, and Blake paid his legal bills. During Blake's criminal trial, it was found that the gun he said he retrieved from the restaurant wasn't the one that killed Bakley. In March 2005, a jury found Blake not guilty of murder and 1 of the counts of solicitation; they were deadlocked 11-1 in favor of acquittal on the other count, so the charge was dropped. All charges against Caldwell were dismissed. 
In November 2005, a civil trial against Robert Blake and Earle Caldwell cleared Caldwell but found Robert Blake liable for Bakley's death. Bakley's family sued for damages in 2005 and Blake was ordered to pay $30 million, an amount that was reduced to $15 million after the civil suit appeal verdict was upheld in April 2008. Meanwhile, Blake filed for bankruptcy in February 2006, claiming debts of $3 million for unpaid taxes and legal fees.
Below, an older Robert Blake talked to CNN's Piers Morgan in 2012 about the death of his wife Bonnie Lee Bakley.
Released from jail after his 2005 acquittal, Robert Blake (mostly) stayed out of the limelight He wrote and self-published his autobiography Tales of a Rascal: What I Did for Love in 2012. Blake is mentioned in author Quentin Tarantino's dedication for his 2021 novel Once Upon a Time in Hollywood, written after the film was released, and which focuses on the character of Cliff (the stuntman played by Brad Pitt) and his back story.
That Little Rascal alumni Mickey Gubitosi – Bobby Blake – Robert Blake, died of heart disease at the age of 89 on March 9, 2023.
Note: This article was first published in 2016 in two parts, as Robert Blake Turns 83. It has been updated with new & additional content.
*Images are public domain or Creative Commons licensed & sourced via Wikimedia Commons, Vimeo, YouTube, or Flickr, unless otherwise noted*