Boomer TV Trivia: The F.B.I.
Q1. Did J. Edgar Hoover (real-life Director of the F.B.I. from March 1935 until his death in May 1972), ever appear on The F.B.I.? 
Q2. In April 1968, what suspected assassin and fugitive did Efrem Zimbalist Jr. ask the public to provide information about, during the real-life "Ten Most Wanted" segment at the end of The F.B.I. episode? 
Below from left, the cast of The F.B.I. in 1965 – Stephen Brooks (Special Agent Jim Rhodes), Lynn Loring (Barbara Erskine), and Efrem Zimbalist Jr. (Inspector Lewis Erskine).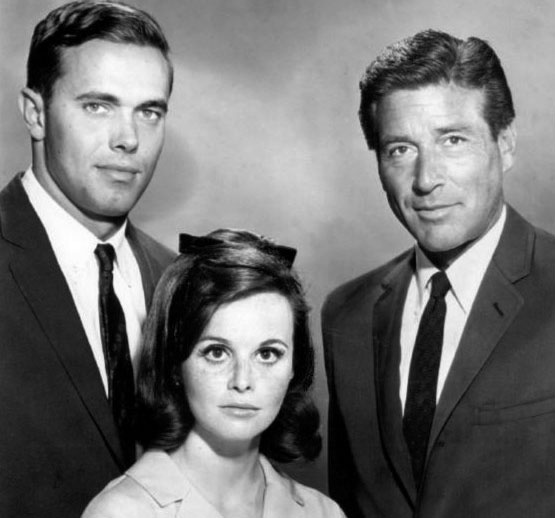 (1965 The F.B.I. Photo: ABC Television)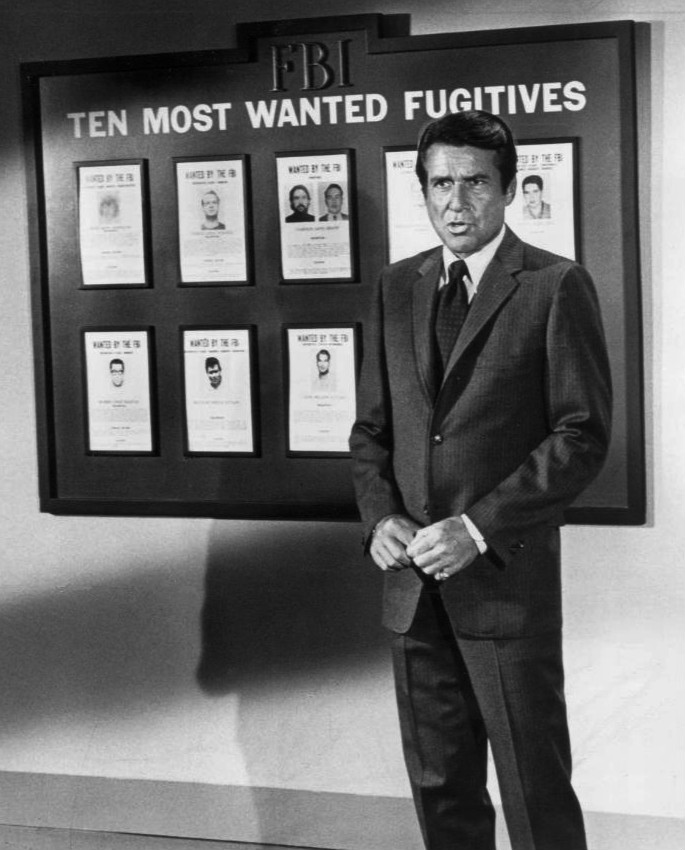 (Efrem Zimbalist & The FBI Ten Most Wanted List 1969 Photo: ABC Television)
For 9 years (1965-1974) Quinn Martin Productions and Warner Bros. Television co-produced The F.B.I. TV series, starring Efrem Zimbalist, Jr. as F.B.I. Inspector Lewis Erskine. The F.B.I. was the longest-running of all of Quinn Martin's TV shows, surpassing his other popular baby boomer series The Fugitive, The Streets of San Francisco, Cannon, and Barnaby Jones.
Inspector Erskine's back story was that of a widower whose wife died as a result of an ambush intended for him. At the end of most episodes of The F.B.I., Efrem Zimbalist would present the real, current F.B.I.'s "Ten Most Wanted" list of fugitives.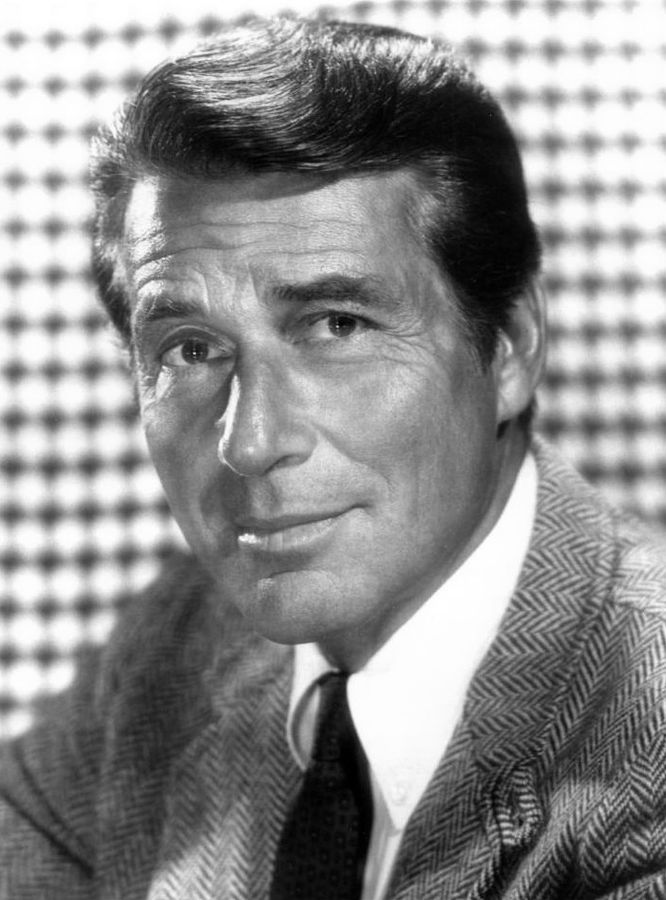 (Efrem Zimbalist Jr 1971 The F.B.I. Photo: ABC Television)
Likable and already well-established movie and television (77 Sunset Strip) actor Efrem Zimbalist, Jr. spent considerable time with F.B.I. Director J. Edgar Hoover to prep for his role in The F.B.I., and the two men were remained on very good terms with each other during and after the series ended.
When The F.B.I. ended, Efrem Zimbalist went on to  guest-star in many other series, including a recurring role as con man Daniel Chalmers on his daughter Stephanie Zimbalist's series Remington Steele. He lost both his first wife Emily McNair (m. 1945-1950) and second wife Loranda Spaulding (1956-2007), to cancer. Efrem Zimbalist, Jr. was a 95-year-old nonagenarian senior citizen when he died from natural causes in May 2014.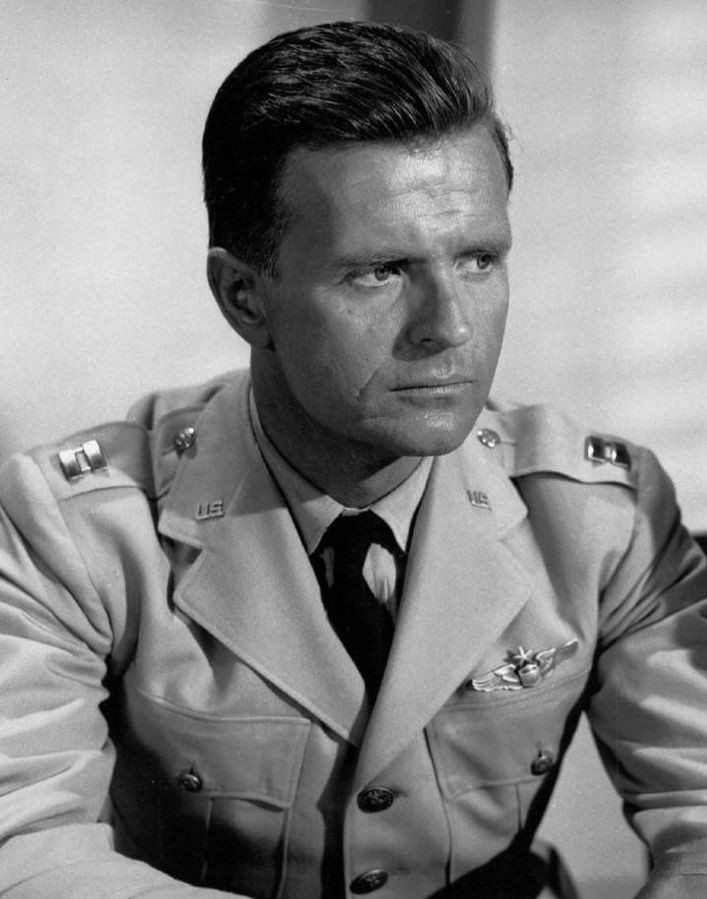 (Philip Abbott 1958 Steve Canyon Photo: NBC Television)
Zimbalist's Inspector Erskine reported to J. Edgar Hoover's assistant director, Arthur Ward (played by Philip Abbott for all 9 seasons of The F.B.I.). 
Philip Abbott got his start on television on the soap opera Search for Tomorrow (1951) as Dr. Dan Walton, and was a popular guest-star on television before and after his co-starring role on The F.B.I.
Philip Abbot returned to the soaps as Grant Stevens on The Young and the Restless in 1986.
Abbott was a septuagenarian senior citizen when he died from cancer in February 1998.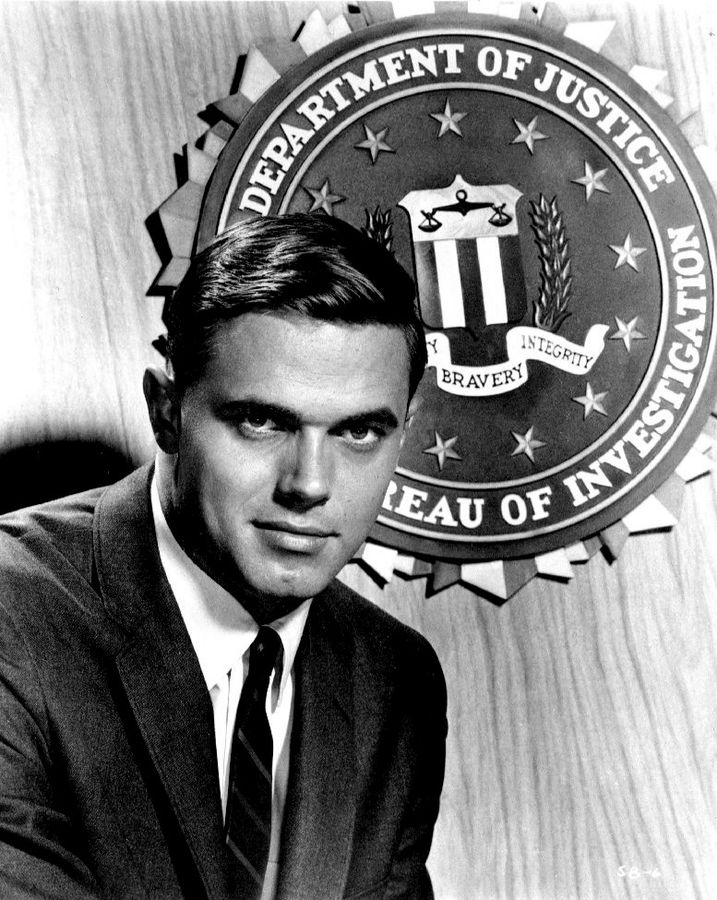 (Stephen Brooks 1966 The F.B.I. Photo: Warner Brothers Studios)
Erskine's assistant for the first two seasons of The F.B.I. was handsome Special Agent Jim Rhodes (Stephen Brooks).
The F.B.I. was actor Stephen Brooks' claim to fame, although he was also a regular as Dr. Greg Pettit on The Interns from 1970-1971. In Season 9, former football player turned actor Shelly Novack was Agent Chris Daniels.
Both Stephen Brooks and Shelley Novack died of heart attacks; Novak was only 34 years old when he died in May 1978, and Stephen Brooks was 57 when he died in December 1991. 
For Seasons 3-9, Erskine's assistant was Special Agent Tom Colby (William Reynolds). Reynolds was already married with two children, and had been acting for 16 years when The F.B.I. began. When The F.B.I. television series ended in 1974, he retired from show business and became a businessman. William Reynolds is a widower and octogenarian senior citizen as of October 2016.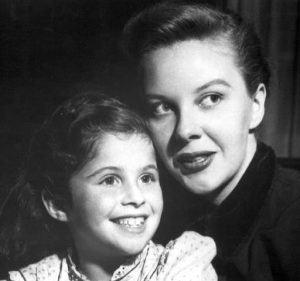 (Lynn Loring & Mary Stuart 1951 Search for Tomorrow Photo: CBS Television)  
Former child actress Lynn Loring was a regular on daytime soap Search for Tomorrow for 10 years (1951-1961) as Patti Barron Tate Whiting McCleary, from the age of 7 to 17. Loring played Barbara Erskine, Inspector Erskine's daughter and Special Agent Jim Rhode's fiance, in 12 episodes of The F.B.I. during the first season in 1965, before her character was dropped. Lynn Loring quit acting in 1975, became a TV and feature film producer, and was the President of MGM/UA Television Productions until she announced her retirement in 1990. 
Lynn Loring had two children with actor and first husband Roy Thinnes (married 1967-1984), and married lawyer Michael Bergman in 1988. As of March 2018 Lynn Loring is a septuagenarian senior citizen. 
Notable recurring guest-stars appearing in 5 or more episodes during The F.B.I.'s 9-year run included:
Peter Mark Richman as Hammond
Richard Anderson as Alex Ramsey
Wayne Rogers as Bryan Carlson
Harold Gould as Arnold Bruzzi
Dabney Coleman as Allen Clarke
Bradford Dillman as Curtis Breer
Ellen Corby (The Waltons) as Auntie Florrie Buell
Jessica Walter as Carla Payne
Robert Duvall as Ernie Milden
William Windom (Murder, She Wrote) as David Roger Spiers
Arthur Hill (Owen Marshall, Counselor at Law) as Max Griswold
Lee Meriwether as Joanna Lauren
Dana Wynter as Barbara Holman
A1. J. Edgar Hoover never appeared on The F.B.I., although he was a consultant for the show up until his 1972 death.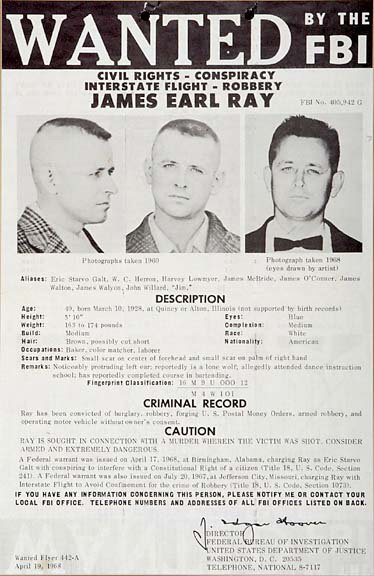 (James Earl Ray FBI 1968 Wanted Poster Photo: U.S. F.B.I.)
A2. 40-year-old James Earl Ray was already a previously convicted felon for multiple offences, when he became a suspect in the assassination of American Civil Rights leader Dr. Martin Luther King Jr. on April 4, 1968.
James Earl Ray was arrested on June 8, 1968 at London's Heathrow Airport, and later convicted of the assassination of Dr. King when he entered a guilty plea to forestall a jury trial, thus avoiding the death penalty.
Ray later took back his confession in an unsuccessful attempt to get a retrial.
He was a 70-year-old septuagenarian senior citizen when he died in prison in 1998.
*Images are public domain or Creative Commons licensed & sourced via Wikimedia Commons, Vimeo, or Flickr, unless otherwise noted*