Remembering Cloris Leachman
Oscar and Emmy-winning actress and great-grandmother Cloris Leachman died of natural causes on January 27, 2021 at the age of 94. She was often cast as an motherly figure on television sitcoms such as Lassie; The Facts of Life; The Mary Tyler Moore Show, and Phyllis, a role she lived offscreen as well.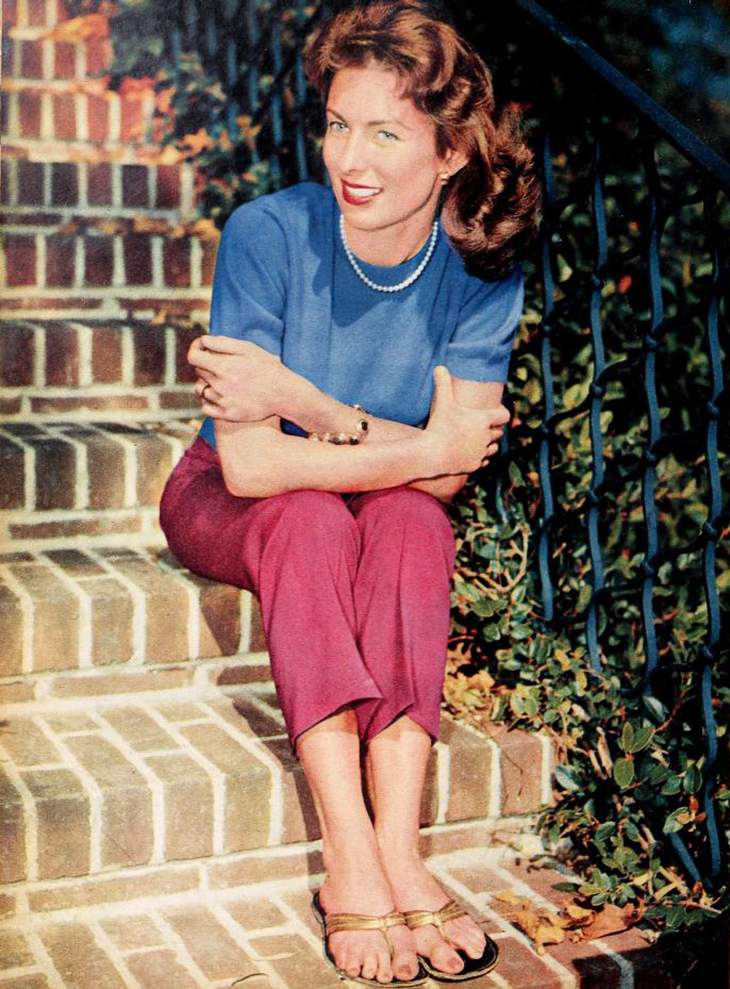 (Cloris Leachman 1958 Photo: TV and Radio Mirror)
Cloris Leachman was born on April 30, 1926 in Des Moines, Iowa. She studied piano beginning at age 7 and in her Cloris: My Autobiography (2009) written by Cloris Leachman with George Englund, her love of music continued through her life.
After graduating from Theodore Roosevelt High School and with some experience onstage at the Des Moines Playhouse, she attended Northwestern University on a drama scholarship. While at Northwestern University, Cloris met classmates and became friends with, comedian Paul Lynde and actress Charlotte Rae.
In 1946, Cloris won the Miss Chicago Pageant and went on to compete in the Miss America pageant. Scholarship in hand, Leachman moved to New York City to pursue a career in acting.
(Cloris Leachman & Edward Binns 1948 Sundown Beach)
Cloris Leachman joined the 1947 inaugural class of the newly formed Actors Studio in New York City with teacher Elia Kazan, along with fellow students Marlon Brando, Montgomery Clift, Julie Harris and others. In her autobiography Cloris said about Marlon Brando:
"Marlon asked me out several times, but I didn't go. I felt he'd want to take me to his apartment and probably it wouldn't be clean, and I'd find it disgusting. Also, he was after every girl that twitched, and I didn't want to be one of the multitude."
Leachman was soon working professionally, with small roles in television, the movies and on stage. She met wealthy, older, and married father of one, Hyman Sobiloff in 1947 and their affair lasted several years. Hy's wife was schizophrenic (according to Cloris: My Auotobiography) and in and out of hospital. Hy Sobiloff himself was a businessman, filmmaker, philanthropist, poet…and a heavy drinker. Cloris broke up with Hy in early 1950, after she had begun appearing in the Broadway play As You Like It (1950) with Katharine Hepburn and a lesser-known actress called Pat (Patsy) Englund. Hy Sobiloff died of a heart attack in 1970.
Patsy Englund and 24-year-old Cloris Leachman shared a dressing room and became friends.
One night after a performance of As You Like It, Cloris met Patsy's brother, actor George Englund (the same age as Cloris); George and Cloris began a romance. They appeared together in the Broadway play Lo and Behold! (December 1951-January 1952), directed by Burgess Meredith.
Cloris Leachman and George Englund were married in North Haven, Connecticut on April 19, 1953; she was pregnant with their son Adam Englund, who was born in October 1953 in New York.
Throughout their marriage, Cloris Leachman and George Englund would separate several times; Leachman has described their marriage as "somewhat open". During one of their early separations, Cloris opened in the Broadway play King of Hearts, but by October 1954 she was pregnant again.
In April the next year, Cloris Leachman's first big-screen movie, the dark thriller Kiss Me Deadly (1955) was released. Two months later their second son Bryan Englund was born (June, 1955). In the movie trailer for Kiss Me Deadly, below courtesy of Criterion Collection, Cloris Leachman runs down the road at night in terror. 
Later that summer, Cloris Leachman introduced Marlon Brando to her husband at a party at the home of Burgess Meredith, and the two men (and their families) became lifelong friends and eventual business partners in a movie production business.
Below, on the set of The Ugly American (1963) from left, cinematographer Clifford Stine, Leachman's husband director-producer George Englund, and actors Marlon Brando, and Sandra Church.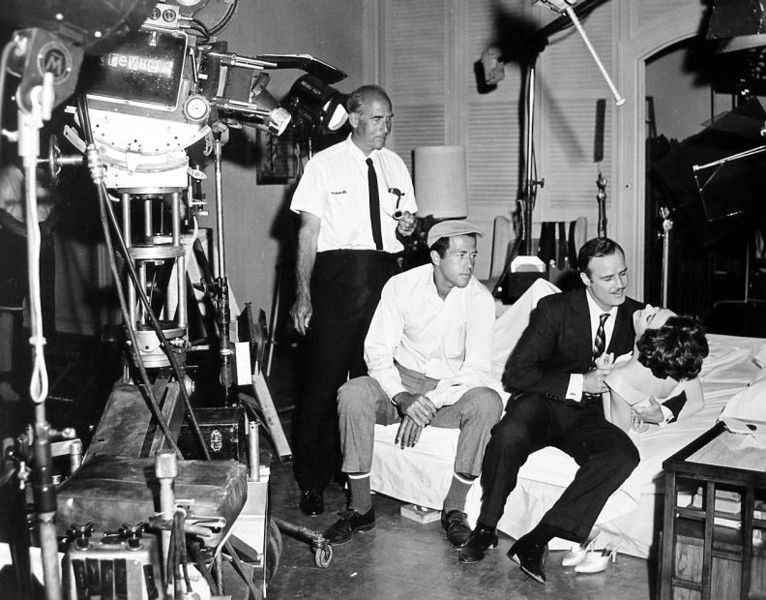 (The Ugly American 1963 Photo: Universal Pictures)
Leachman and her family would visit the Brando's on Marlon's Tahiatian atoll, Tetiaroa. As a couple, George Englund and Cloris Leachman were also friends with Steve McQueen and his first wife Neile, Paul Newman and Joann Woodward, and were neighbours to Judy Garland and Sid Luft.
By the end of 1958, Cloris Leachman had another big-screen movie under her belt – The Rack (1956) with neighbor Paul Newman – and had landed a starring role in television's Lassie series for the 1957-1958 season.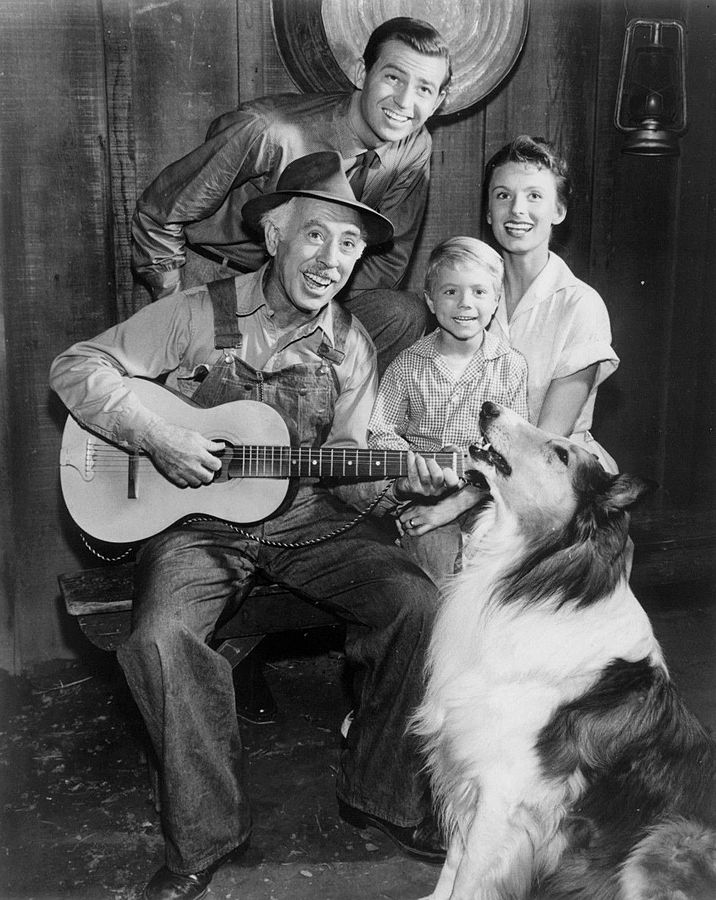 (Lassie cast 1957 clockwise from left: George Chandler, Joe Shepodd, Cloris Leachman, Jon Provost as Timmy, & Lassie Photo: CBS Television)
Off-screen, Cloris Leachman's private life was a mix of ups and downs; her husband George (now a producer with MGM) was in the midst of an almost 2-year affair with actress Joan Collins – but he was also still sleeping with Cloris when he was at home.
Leachman gave birth to their third child, son George Englund Jr. in May 1957 in New York City.
Cloris Leachman has said that while she was in New York in the cast of the play A Touch of the Poet in 1959, Joan Collins called her to tell her she was having an affair with George in Los Angeles.
For her part, Joan Collins has said that she grew tired of George promising to divorce Cloris but never following through. Joan Collins finally Englund for Warren Beatty. 
During the 1960's, Cloris Leachman continued acting while raising her family and embracing a vegetarian lifestyle. She had small, episodic roles in over 20 different television series, and appeared in two more movies, including a part in Butch Cassidy and the Sundance Kid with friend Paul Newman, and Robert Redford. She was a guest star on many television series throughout the 1950s and 60s, including Boris Karloff's Thriller.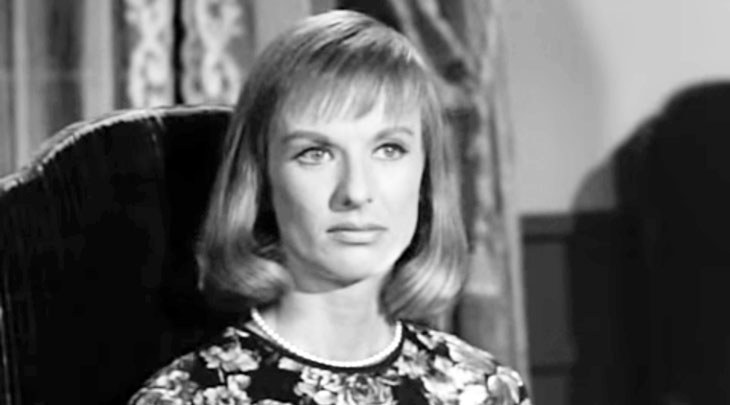 (Cloris Leachman 1960 Thriller)
During this time Cloris and George Englund had two more children – son Morgan Englund (b. August 1963), and daughter Dinah Englund (b. January, 1966). 
Cloris Leachman's career blossomed in the 1970's with no less than 17 big-screen and 21 made-for-TV movies released.
She won a Best Supporting Actress Academy Award for her role as Ruth Popper in author Larry McMurtry's The Last Picture Show (1971), co-starring with Timothy Bottoms as Sonny Crawford, Cybill Shepherd as Jacy Farrow, Jeff Bridges as Duane Jackson, Ellen Burstyn as Lois Farrow, Ben Johnson as Sam the Lion, Clu Gulager as Abilene, and Randy Quaid as Lester Marlow.
Although she was once again separated from George Englund, Cloris Leachman brought him with her to the 1972 Academy Awards ceremony.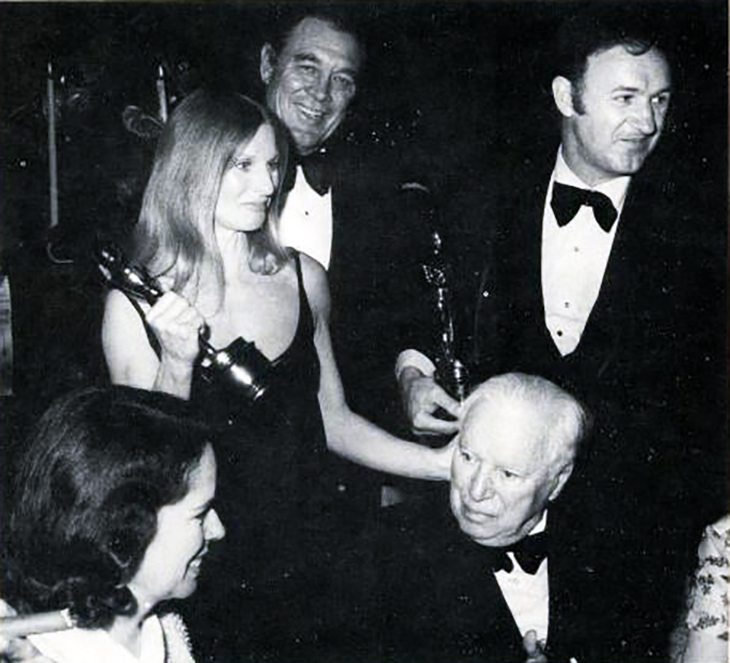 Leachman with her fellow Oscar-winners, actors Ben Johnson and Gene Hackman, and seated, director-actor Charlie Chaplin with his wife Oona O'Neil Chaplin.
Raquel Welch and Gene Hackman present the Best Supporting Actress Award at the 1972 Academy Awards in a classic Oscar video. Fellow nominees Barbara Harris and Ann-Margret, and Cloris Leachman sitting beside George Englund, are shown sitting in the audience before Cloris is announced as the winner and accepts the Academy Award.
Cloris Leachman co-starred twice with actress Barbara Rush (Peyton Place) – in the comedy Suddenly Single (1971), with Hal Holbrook and Margot Kidder; and the TV mystery Crime Club (1973). Joining Leachman and Barbara Rush in Crime Club were William Devane, Belinda Montgomery, Martin Sheen, Richard Hatch, and Devid Hedison.
She had a supporting role in the true crime story Dillinger (1973), which starred Warren Oates, Ben Johnson, Michelle Phillips, Harry Dean Stanton, Geoffrey Lewis, Richard Dreyfus, and Steve Kanaly
Cloris Leachman appeared with her mother-in-law Mabel Albertson (married names were Ripley, and Englund) in the made-for-TV movie Pete 'n' Tillie (1974).
Before the 70s had ended, Cloris Leachman also starred in the first two of three movies she made with director Mel Brooks – playing Frau Blucher in the hit comedy Young Frankenstein (1974) with Gene Wilder, and Nurse Diesel in High Anxiety (1977).
Below, Betty White as Sue Ann Nivens & Cloris Leachman as Phyllis Lindstrom on The Mary Tyler Moore Show in 1973.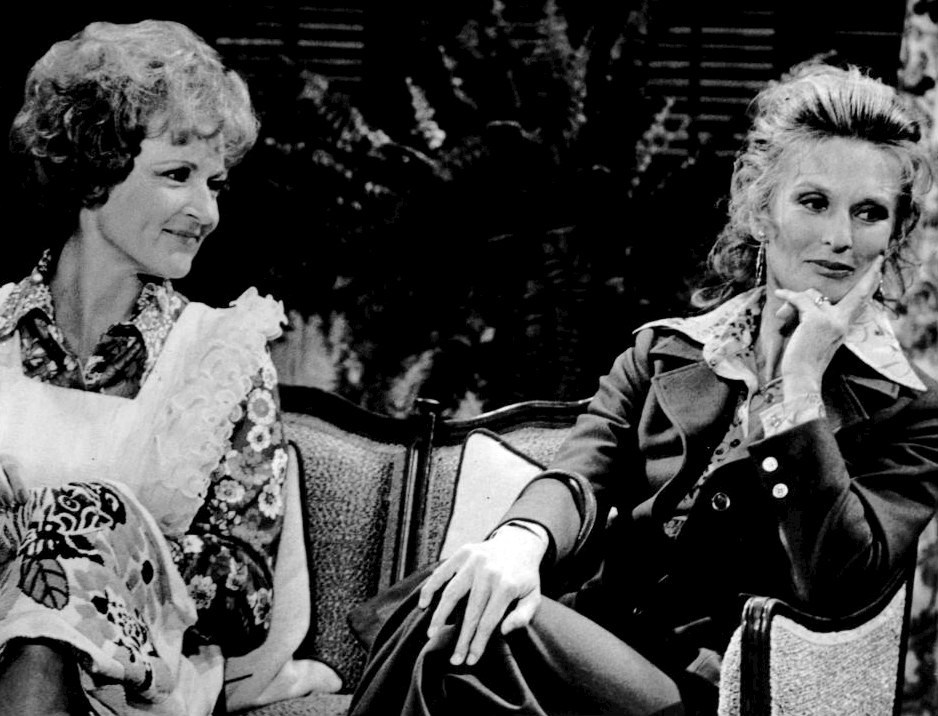 (1973 Photo: CBS Television)
The character of Phyllis Lindstrom was born and played by Cloris Leachman – first on the popular baby boomer television series The Mary Tyler Moore Show (1970-1975)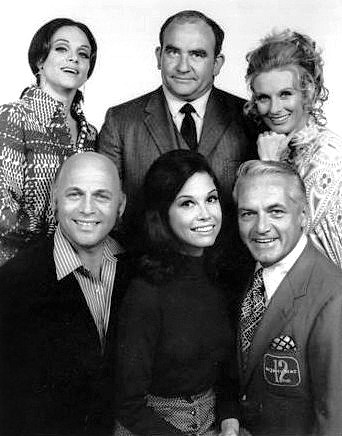 (The Mary Tyler Moore Show 1977 cast clockwise from top left: Valerie Harper as Rhoda Morganstern, Edward Asner as Lou Grant, Cloris Leachman as Phyllis Lindstrom, Ted Knight as Ted Baxter, Mary Tyler Moore as Mary Richards, and Gavin MacLeod as Murray Slaughter. Photo: CBS TV)
Leachman carried over her Phyllis Lindstrom character for a few crossover episodes on Rhoda (1974), and then starred in her own television series as she entered her 50+ years, Phyllis (1975-1977).
During different separations from George Englund, Cloris Leachman had a few flings herself – notably with Gene Hackman, and also with Bobby Darin. Cloris had first met Darin in 1968 and then filmed the horror movie Run, Stranger, Run (also titled Happy Mother's Day, Love George) (1973) with Darin in Nova Scotia.
Leachman guest-starred in an episode of The Bobby Darin Amusement Company (1972) television series as well.
Cloris Leachman appeared in the TV movie Long Journey Back (1978) starring Mike Connors, Stephanie Zimbalist, and Nicolas Coster.
As the 70's came to a close, so too did Leachman's 26-year marriage to George Englund; they divorced in 1979. Although Englund married again in 1980 to Bonnie Graves, Cloris Leachman has remained single; she and George are still close friends. Englund helped her write her 2009 autobiography and wrote and directed her 2010 Las Vegas one-woman show. 
Cloris Leachman's acting pace didn't slow down during the 1980's and 1990's as she became first a new senior citizen, then a septuagenarian. She appeared in 45 movies including 25 feature films such as History of the World, Part I (1981) with director Mel Brooks, and Prancer (1989).
In Texasville (1990), actors Jeff, Bridges, Cybill Shepherd, Cloris Leachman, Timothy Bottom, and Randy Quaid reprised their roles from The Last Picture Show.
A supporter of PETA and a devout vegetarian, 82-year-old Cloris Leachman wore a dress made of red cabbage and lettuce in a 2008 Times Square ad to support the organization. 
Some of Cloris Leachman's most memorable roles upon becoming a senior citizen were as a grandmother – in The Beverly Hillbillies (1993) she played Granny, and in Now and Then (1995) she played Grandma Albertson.
Cloris replaced her old friend from Northwestern University, Charlotte Rae, in the popular television series The Facts of Life, playing new character Beverly Ann Stickle from 1986-1988, and was in the made-for-TV movie The Facts of Life Down Under (1987).
 Cloris Leachman with her The Facts of Life co-stars at a 2014 reunion – below from left: Nancy McKeon, Charlotte Rae, Mindy Cohn, Geri Jewel, Lisa Whelchel, Leachman, with Kim Fields in front.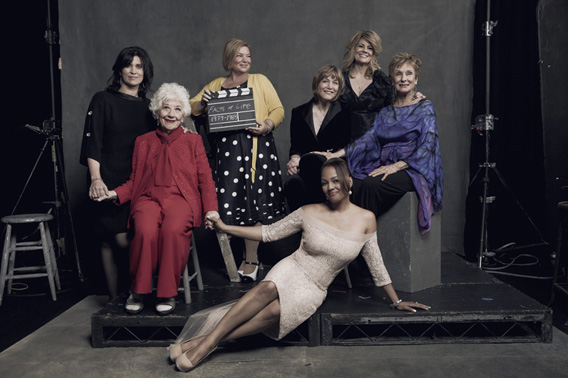 (Facts of Life 2012 Reunion Photo: Dr. Duru)
Several other short-lived TV sitcoms that Cloris Leachman was a regular on include The Nutt House (1989), and Walter & Emily (1991-1992). Somewhere she also found time to return to performing on stage as well. 
Bryan Englund, Cloris Leachman's second son, died in February 1986, a blow that the very family-oriented and now happy grandmother Leachman found difficult to overcome. Her other children and some grandchildren (ie Morgan Englund) have also acted or been in entertainment. 
Cloris Leachman's biggest movies as a septuagenarian senior citizen were roles in Luke & Emma (2003), Spanglish (2004), The Longest Yard (2005), and Scary Movie 4 (2006). In Spanglish, she co-starred with Adam Sandler and Téa Leoni.
Leachman was a regular on the sitcom The Ellen Show (2001-2002). Upon becoming an octogenarian senior, she could be seen in The Women (2008), You Again (2010) playing a rival grandma to Betty White's character; and she voiced the role of Gran in The Croods (2013) animated movie.
Cloris Leachman's television appearances included a turn on Dancing With the Stars in 2008 as their oldest celebrity contestant to date, at age 82. Her partner on Dancing with the Stars was Corky Ballas. Other opportunities to see Cloris Leachman on TV in recent years include:
Sitcom series Raising Hope from 2010-2014. 
She guest-starred on Hot in Cleveland, reuniting with her old castmate from The Mary Tyler Moore Show, Betty White.
Guest-starring roles on The Millers and Hawaii Five-0 in 2015.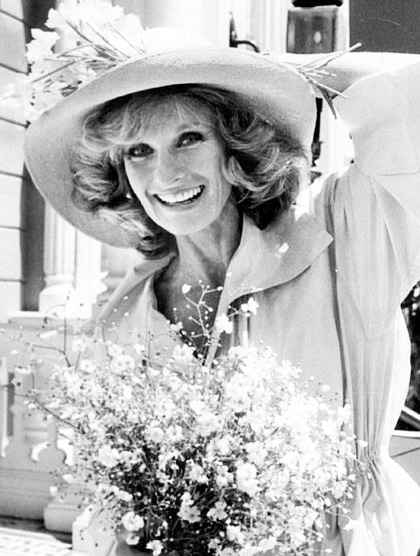 (Cloris Leachman 1974 Phyllis Photo: CBS Television)
Retirement was never in her vocabulary despite her advancing years.
Cloris credited her vegetarian lifestyle for her healthy aging, and told InTouch magazine in 2009 about her commitment to living healthy and naturally.
At the time of her death in 2021, the 94-year-old Leachman had two feature films in post-production and had reprised her voice-over role as Granny in the film sequel The Croods: A New Age (2020). She leaves behind family, friends, fans, and a film legacy of over 250 television and movie credits.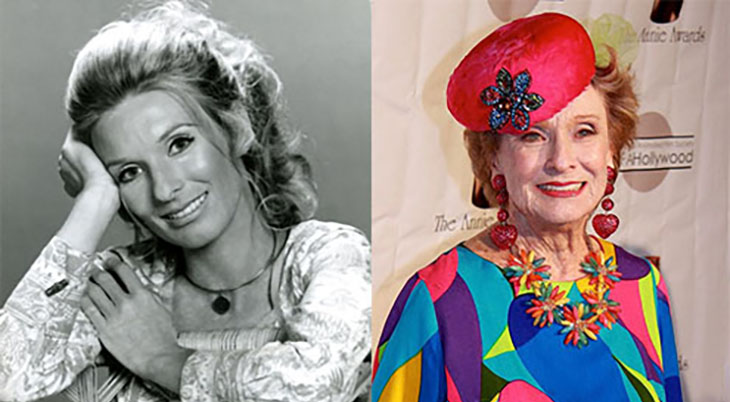 (Source Photos: 1970 CBS Television / Lewis Wayne Gallery | 2014 Voice Chasers)
Note: This article was first published in 2016 as Celebrating Seniors – Cloris Leachman Turns 90. It has been updated with new & additional content.
*Images are public domain or Creative Commons licensed & sourced via Wikimedia Commons, Vimeo, or Flickr, unless otherwise noted*