Larry McMurtry Has Left the Book Store
Pulitzer Prize-winning novelist, Academy Award-winning screenwriter, and Booked Up mega-bookstore owner Larry McMurtry died on March 25, 2021 at the age of 84.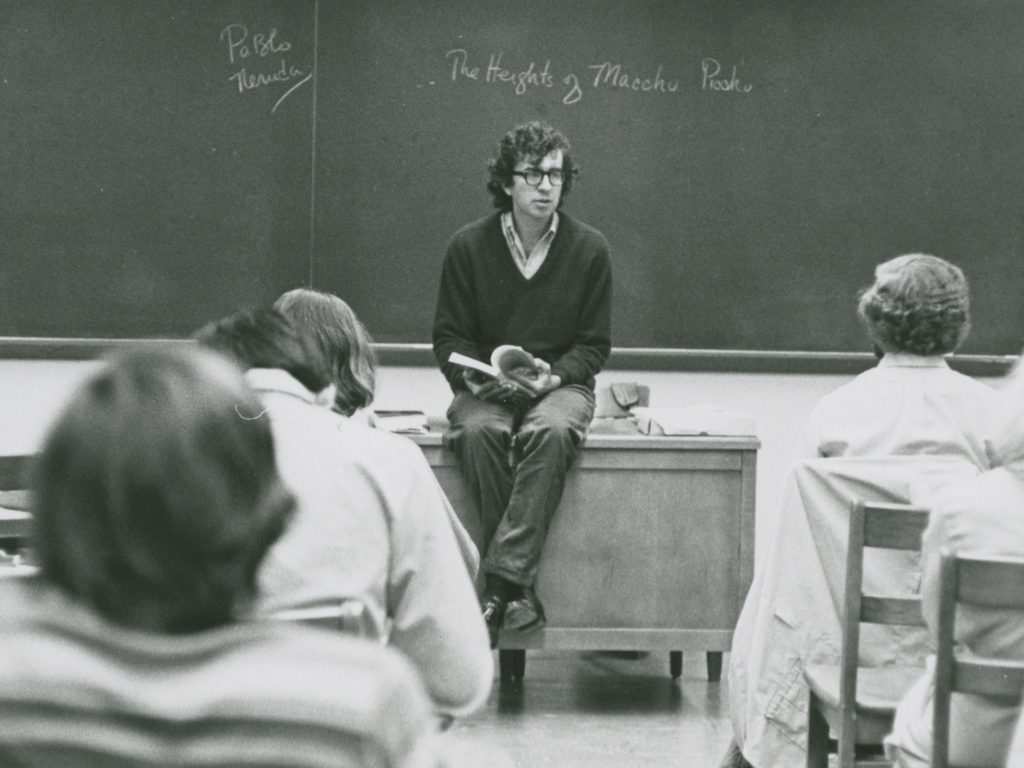 Larry McMurtry teaching at Rice University in 1972. (Photo: CC BY – Rights to this material belong to Rice University)
Larry McMurtry was born on June 3, 1936 in Wichita Falls, Texas. Story-loving McMurtry grew up with his family on his grandfather's ranch in Archer County, Texas and graduated from Archer City High School in 1954 at age 18.
After a short stop at Rice University in Houston, Texas, Larry McMurtry transferred to North Texas State College (now University of North Texas) in Denton, Texas in 1954. Before graduating from UNT with a B.A. in 1958, McMurtry wrote short stories and published his fiction and poetry in local and student magazines; he also met fellow writer and Texas Woman's University student, Jo Ballard Scott.
In Larry McMurtry and the West: An Ambivalent Relationship, biographer Mark Busby recounts McMurtry enrolling at Rice University again – this time as a graduate student – in the fall of 1958. McMurtry finished writing the first draft of what would become his his debut novel that fall, wrote book reviews for The Houston Post, and married Jo Scott the following year, in July 1959.
After graduating from Rice with an M.A. in 1960, Larry accepted a scholarship to Stanford University in California, and studied creative writing with novelists such as Ken Kesey (One Flew Over the Cuckoo's Nest). During his year at Stanford, McMurtry also became a rare-book scout for book dealers, and cemented a lifelong friendship with Ken Kesey.
In 1961 his first novel Horseman, Pass By was published, and Larry McMurtry returned to the Houston, Texas area to live. He taught at Texas Christian University in Fort Worth, Texas for a year (1961-1962), during which time son James Lawrence McMurtry was born (March 1962). After Jo and Larry McMurtry separated in 1964 (their divorce was finalized in 1966), single father Larry raised son James in Houston.
Horseman, Pass By was adapted for the movie Hud (1963) starring Paul Newman and McMurtry was a consultant during the filming, which took place on location near Claude, Texas in May and June of 1962. 
McMurtry managed the rare and Texana book store Bookman in Houston for a couple of years for owner Grace David, with whom he remained friends after he quit. Grace David is said to be the inspiration for the character of Aurora Greenaway in his book Terms of Endearment (1975); the sequel, Evening Star (1992) is dedicated to her. Grace David was a nonagenarian senior citizen when she died in 2010 at age 97.
In 1963 Larry McMurtry began teaching English at Rice University and published his second novel, Leaving Cheyenne (1963). He won a Guggenheim Grant for creative writing the next year, and continued to write and teach at Rice University for the remainder of the 1960's. His third novel The Last Picture Show (1966) was the first of five novels to feature the character Duane Moore. 
Larry and his son James McMurtry moved from Houston to Waterford, Virginia near Washington, D.C. in 1969. The following year McMurtry opened a used and rare book store in Washington called Booked Up, with partners Marcia McGhee Carter and John Curtis.
In between writing book reviews for the Washington Post, McMurtry continued to write novels, essays, and wrote the sceenplay for the movie The Last Picture Show (1971) – an adaptation (with director Peter Bogdanovich) of his 1966 book. The Last Picture Show filmed in Archer City, Texas where McMurtry had grown up.
The Last Picture Show was nominated for 8 Academy Awards including Best Picture and Best Adapted Screenplay; Supporting Actor Ben Johnson and Supporting Actress Cloris Leachman both won the Academy Award for their performances. After filming on the movie ended, Peter Bogdanovich and Cybill Shepherd remained friends with Larry McMurtry; in 1973 they cast his 11-year-old son James in their next movie as Cybill's brother, and the McMurtry's went to Europe to film Daisy Miller (1974). 

Larry McMurtry's 1963 novel Leaving Cheyenne was adapted by Larry McMurtry and Stephen J. Friedman for the movie Lovin' Molly (1974) starring Anthony Perkins, Blythe Danner, and Beau Bridges. Once again filming for Lovin' Molly took place in Texas, in the town of Bastrop.
Terms of Endearment (1975) written by Larry McMurtry, was adapted by James L. Brooks for the 1983 movie starring Shirley MacLaine as Aurora Greenaway. Some scenes in Terms of Endearment were filmed in Houston near Rice University, where McMurtry had attended school and later taught. Terms of Endearment was popular with baby boomer audiences and won the Academy Award for Best Picture and Best Adapted Screenplay, as well as acting awards for Shirley MacLaine and Jack Nicholson. Larry McMurtry's sequel novel The Evening Star (1992) was adapted by McMurtry and Robert Harling for a 1996 movie. Unlike Terms of Endearment, The Evening Star movie bombed at the box office.
After Larry McMurtry's father died in 1977, McMurtry began spending more time at the family ranch near Archer City, Texas. During the 1980's he worked on a lot of screenplays and traveled frequently from his home in Virginia to California and Arizona to see then-girlfriend and writer Leslie Silko. In Tucson, Arizona, he met and became friends with Diana Ossana in the mid-1980's. Booked Up expanded, with locations in Dallas and Houston opening up. In 1988, McMurtry opened another store in his hometown of Archer City and began to extensively grow the used and rare book collection there.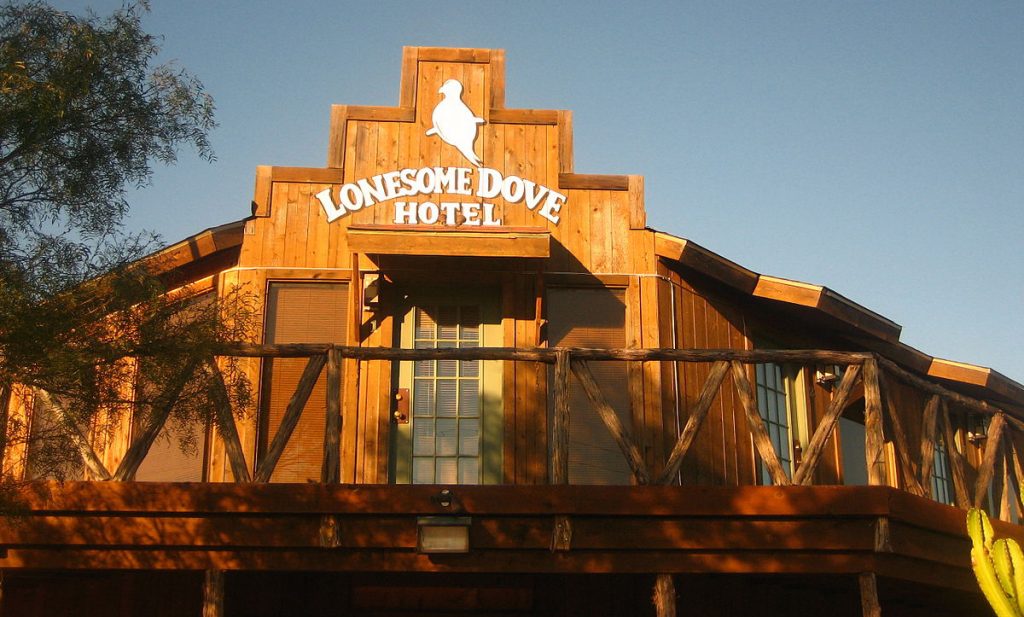 (Lonesome Dove Hotel Photo: Billy Hathorn at en.wikipedia)
Lonesome Dove (1985) is Larry McMurtry's masterwork novel, winning a Pulitzer Prize in 1986 and spawning a 1989 television mini-series and three sequel books. Each of the three Lonesome Dove sequel books – Streets of Laredo (1993) starring Sam Shepard, Dead Man's Walk (1995), and Comanche Moon (1997) – have also been made into television mini-series, most recently Comanche Moon in 2016. Larry and Diane worked on the teleplays for Streets of Laredo (1995) and Comanche Moon (2008).
Texasville (1987) the first sequel to The Last Picture Show, was made into a movie by friend Peter Bogdanovich in 1990. Once again Bogdanovich and McMurtry worked on the film adaptation of the novel. Although most of the cast from the first movie returned, the movie Texasville (1990) did not fare well commercially or critically. 
From 1989 to 1991 Larry McMurtry became the president of PEN , an organization of writers, translators, and editors, that works to "advance literature, defend free expression, and foster international literary fellowship." He also opened the Blue Pig bookstore in his hometown of Archer City, run by his sister Sue Deen. 
In 1991 his son James McMurtry had a son Curtis with his wife Elena, making Larry McMurtry a grandfather. In June of that year, now in his 50+ years, McMurtry's years of poor eating and exercise habits – due in part to frequent travel and hours of sedentary work writing screenplays, novels, and book review – caught up with him. He suffered a heart attack and underwent quadruple heart-bypass surgery at Johns Hopkins Hospital in Baltimore, Maryland in December 1991.
Larry McMurtry spent most of the next 3 years on his friend Diana Ossana's couch in Tucson, Arizona recuperating from his heart attack and bypass surgery, and struggling with the depression that strikes 20 percent of heart attack survivors. Although he could no longer read for pleasure, he was still able to write and completed the novel Streets of Laredo (1993), a sequel to Lonesome Dove.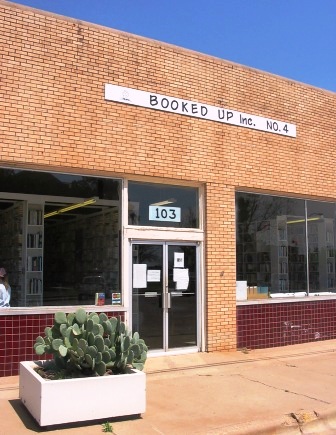 (Booked Up 2005 Photo: Surgeonsmate)
By 1997 Larry McMurtry had sold his Booked Up stores in Houston and Dallas, and had formed a writing partnership with Diana Ossana. The Blue Pig bookstore in Archer City had undergone a name change to Booked Up, and expanded to 4 buildings with an inventory of 100,000 books. He told The New York Times on the Web that his dream was to turn Archer City into an American version of Hay-on-Wye, a British book town that is a worldwide tourist attraction.
After becoming a senior citizen in 2001, Larry McMurtry and his Washington Booked Up partner Marcia Carter ended their partnership of 32 years, although they have remained personal friends. With Diana Ossana, he adapted the screenplay for Annie Proulx's short story Brokeback Mountain (1997). At the 2006 Academy Awards, the movie Brokeback Mountain (2005) won 3 Academy Awards, including Best Adapted Screenplay award for Ossana and McMurtry. 
Larry McMurtry has continued to write novels and screenplays in his septuagenarian senior citizen years with writing partner Diana Ossana. He's completed three memoirs so far; Books (2008) described his novel writing methodology; in Literary Life (2009) he talked about writing books, and in Hollywood: A Third Memoir (2010) he shared tidbits of his decades in Hollywood as a screenwriter and consultant on over 70 movies. McMurtry said he likes working with beautiful, smart women, and has also written screenplays with actresses Goldie Hawn, Cybill Shepherd, and Diane Keaton. 
Larry McMurtry married Faye Kesey, the widow of his friend Ken Kesey (who died in 2001), in May 2011 in Archer City. He told Grantland in 2014 that
"I went up and drug Faye out of Oregon…I think I had seen Faye a total of four times over 51 years, and I married her. We never had a date or a conversation. Ken would never let me have conversations with her." 
The following year, he auctioned off over half of the 450,000 books in his Booked Up store. McMurtry told interviewer Michael Lindenberger that his memory was failing and his days as a novelist were over, that he was too old:
"It's toward the end of my life…writing novels is something else. It's not progressive. You don't get better."
He gave as the reason for the auction, that the books would be a burden instead of an inheritance for his son, singer-songwriter James McMurtry, when he died. About the advance of e-publishing at the time, McMurtry said
"I don't feel threatened by the digital world at all…I don't know anything about it. I've never even used a computer. I work on a manual typewriter."
Larry McMurtry and wife Faye have lived with Diana Ossana for several years, splitting their time between Tucson, Arizona, and Archer City. The octogenarian senior citizen said in 2014 he reads 3 newspapers a day, and despite having said he was giving up novel writing in 2012, his most recent novel The Last Kind Words Saloon, was published in 2014. He's also working on a fourth memoir, 62 Women, about the many professional and personal relationships he has had with the women in his life.
As he moved into his octogenarian senior citizen years, Larry McMurtry had written 38 novels, 14 non-fiction books/collections of essays, 8 big screen adaptations of his own works, 12 teleplays, and has worked on more than 70 Hollywood movie projects.
Note: This article was first written in 2016 with the title Celebrating Seniors – Larry McMurtry is 80. It has been updated with new & additional content.
*Images are public domain or Creative Commons licensed & sourced via Wikimedia Commons or Flickr, unless otherwise noted*