William Shatner's Byword: Boldly Go
Actor, comedian, singer, author and producer William Shatner is also a Canadian – born March 22, 1931 in Montreal, Quebec. Below, Shatner in the early 1960's in a guest-starring role on Thriller.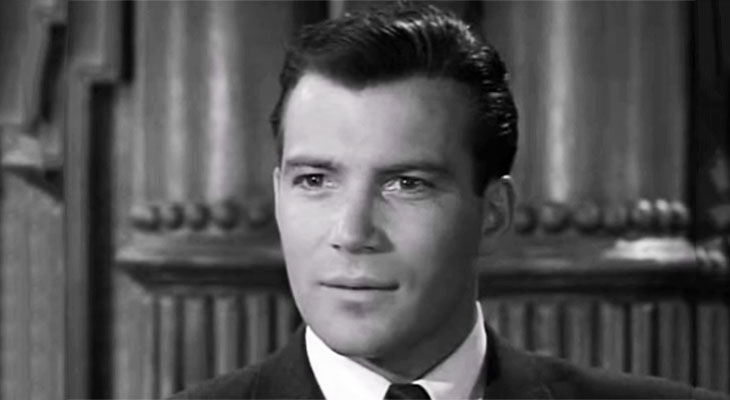 (William Shatner 1961 Thiller)
William Shatner was interested in acting as a child and took classes at the Montreal Children's Theatre. After studying economics at McGill University in Montreal, he graduated with a Bachelor of Commerce degree in 1952. Before his post-graduate stint as the business manager for the Mountain Playhouse in Montreal ended, he met fellow Canadian actor Christopher Plummer. Co-incidentally both Shatner and Plummer migrated from Montreal to the Canadian National Repertory Theatre in Ottawa.
William Shatner moved to Toronto in 1954 and spent his winter months finding work acting on radio, in television and on films and writing scripts; summers were spent performing continuously in plays at the Shakespearean Stratford Festival in Stratford, Ontario from 1954-1956. Once again Plummer and Shatner's paths crossed, with Shatner understudying Plummer in the Stratford Festival production of Henry V.
While in Toronto, William Shatner appeared on a couple of episodes of the Canadian television series Encounter, as did actor James Doohan, actress Kathy (Katherine) Burt (later named Kathy McNeil), and an actress going by the professional name of Gloria Rand (born Rabinowitz). Shatner sold several of his scripts and sold a few – one of which, Dreams, became a television episode for the Canadian series On Camera in 1956. Shatner cast Gloria Rand in the Dreams teleplay after seeing her act.
Canadian-born Peter Sloan often goes by the name Peter Shatner, and has claimed for many years that he is the son of William Shatner and Canadian actress Katherine (Kathy) McNeil (formerly Kathy Burt). Sloan told The Tampa Tribune that he was adopted shortly after his birth in late 1956 and when he found his birth mother Kathy McNeil, she told him it was possible his father was William Shatner. Sloan met William Shatner for the first time in 1984, but Shatner has never acknowledged Peter as his son, and no DNA test has been done. 
In January 1956, William Shatner made his Broadway debut in a Canadian production of Tamburlaine the Great; although the show closed after two weeks, his performances had caught the attention of Hollywood for the first time.
William Shatner and Gloria Rand married in August 1956 and spent their honeymoon in Scotland, where he starred in a Henry V productions at the Edinburgh Festival. 
Over the next several years, Shatner continued to find plentiful work on television in Canada and the United States, on stage including Broadway plays, and in the movies; he made his Hollywood feature film debut in The Brothers Karamazov (1958). In addition to guest-starring on popular baby boomer TV series like Dr. Kildare, he made a couple of appearances on Boris Karloff's suspense series Thriller in 1961.
By the end of 1965, Gloria and William Shatner had moved to California; he was finding more and more work in television series, including an episode of The Man from U.N.C.L.E. (1964) which also featured Leonard Nimoy, and had filmed 5 more big-screen movies. Over at NBC, Lucille Ball and Desilu Studios had produced a pilot episode called The Cage for a new sci-fi series. The first pilot episode was rejected by NBC, but Lucille Ball intervened and exercised an option for a second pilot.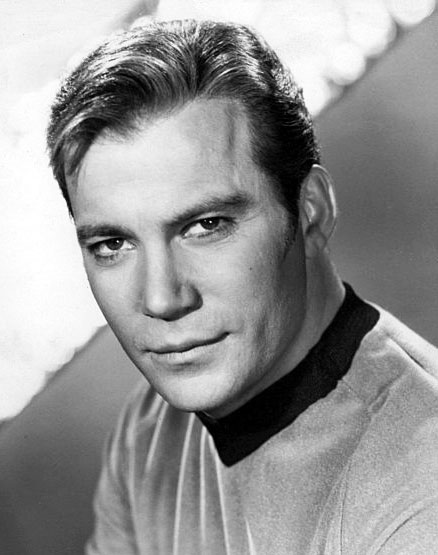 (William Shatner 1960s Star Trek Photo: NBC Television)
The new pilot episode, Where No Man Has Gone Before, was filmed in July 1965. William Shatner was cast as a new ship's Captain, James Kirk; new characters James Doohan as Chief Engineer Montgomery Scott and George Takei as Lt. Sulu were introduced, and Leonard Nimoy reprised his role of Science Officer Spock. Post-production on the Where No Man Has Gone Before pilot episode wasn't completed until early 1966. Meanwhile, Shatner kept acting on other television series and even had a recurring role on Dr. Kildare in 1966.
In September 1966 the first pilot episode of Star Trek, Where No Man Has Gone Before, debuted on NBC. Star Trek ran from September 1966 to June 1969 until it was cancelled by NBC because of low ratings, after 79 episodes and 3 years on air. It wasn't until the television series when into syndication several years later, that Star Trek achieved cult status – which has increased over time, spawning 5 spin-of television series, 12 movies and a plethora of ancillary products in the last 45+ years since it went off the air. 
Shatner narrates theEnterprise's mission statement at the beginning of each episode: "to boldly go where no man has gone before"
Shatner's focus on his career and acting in the Star Trek series played havoc with his marriage to Gloria, which was already "rocky", according to an interview he gave to Mirror.co.uk in 2009.
"Gloria stayed home with our girls and it seemed like each week new and beautiful – and seemingly available – women showed up on the set…We had separated emotionally years earlier, but while we were making Star Trek I physically moved out of the house."
Work on the Star Trek series also resulted in both Leonard Nimoy and William Shatner suffering from tinnitus (ringing in the ears) after an on-set explosion. For months Shatner wore an electronic device that emitted a "white noise" sound, until he became accustomed to the condition. Shatner still suffers from tinnitus today.
In his biography Get a Life! (1999) written with Chris Kreski, Shatner recounted that in 1969, his divorce from Gloria was finalized in March after 13 years of marriage, Star Trek went off the air in June, and alimony payments (based on his no longer available Star Trek income), drove him to sleep in the back of a pickup truck after the series ended, as he traveled from place to place looking for work.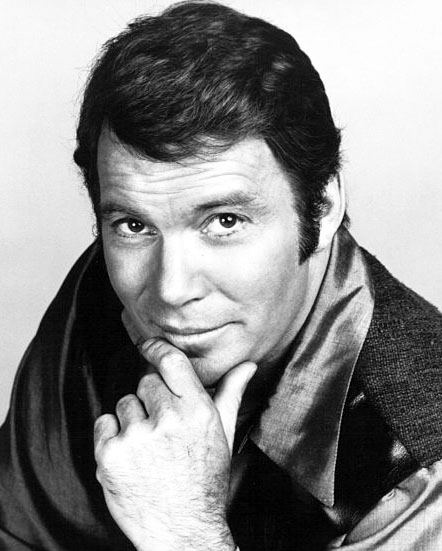 (William Shatner 1975 Barbary Coast Photo: ABC Television)
Over the next 10 years during the 1970's, Shatner scrounged for work in commercials (for the Loblaws grocery chain in Ontario, Canada), in the movies and on television, taking whatever he could get. He has appeared on over 100 television series, including:
Recurring voiceover television work on Star Trek: The Animated Series (1973-1974).
Hosting the Canadian interview series Flick Flack (1974).
Playing Captain Harrison on the miniseries How The West Was Won (1978).
Starring as 19th century spy Jeff Cable on Barbary Coast (1975-1976), with Doug McClure, Richard Kiel, and Dave Turner. 
William Shatner had learned how to ride horses bareback for a starring role in the movie Alexander the Great (1968). He has said that he bought his first horse many years later, by mistake at an auction. A love of horses was something that he shared with his second wife, actress Marcy Lafferty (15 years younger than Shatner). Lafferty and William Shatner were married in October 1973 at the home of her father, CBS TV executive Perry Lafferty.
During his marriage to Marcy Lafferty, Shatner discovered a love for saddlebred horses as well as quarterhorses. In the early 1980's, the Shatners established a 360 acre horse breeding and training facility, Belle Reve Farm, near Versailles, Kentucky (just outside of Lexington); both Shatners competed in horse shows.
William Shatner, Belle Reve Farm, and some of Shatner's horses, are featured in A Celebration of Horses: The American Saddlebred with William Shatner. 
Marcy Lafferty and William Shatner occasionally worked together onscreen in movies such as Kingdom of the Spiders (1977), Crash (1978), Star Trek: The Motion Picture (1979), Airplane II: The Sequel (1982). Marcy Lafferty also guest-starred on William Shatner's 1975 Barbary Coast TV series, and appeared on T. J. Hooker 4 times between 1982-1986.
When William and Marcy Shatner's divorce was finalized after 21 years of marriage in 1994, Marcy Lafferty negotiated breeding privileges from Belle Reve Farm as part of the divorce settlement, and set up her own horse farm in Lexington, called Poser Farm.
As the 1970's ground to a close, William Shatner's acting career began to pick up. He found more work in made for television movies such as Riel (1979), a Canadian movie starring old pal Christopher Plummer. However, it was his appearance in the big-screen movie Star Trek: The Motion Picture (1979) that revitalized his career; Star Trek had now become a cult classic and the movie was a box-office success.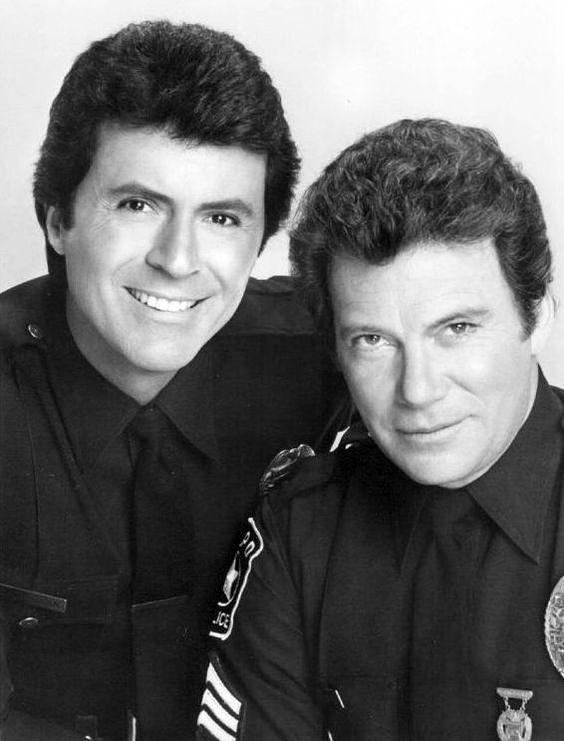 (James Darren & William Shatner 1983 T. J. Hooker Photo: ABC TV)
William Shatner has worked steadily in the movies and onscreen ever since, appearing in a total of 7 Star Trek movies, including Star Trek VI: The Undiscovered Country (1991), which features Christopher Plummer as an opposing Klingon.
In addition to starring in Star Trek V: The Final Frontier, Shatner also directed the movie. His last appearance in a Star Trek movie was in Star Trek Generations (1994), by which time the now 63-year-old actor was bowed out of the series and a new Star Trek generation was introduced to movie-goers.
Shatner's acting career on television also boomed in the 1980's, beginning with a 4-year run on T. J. Hooker from 1982-1986 as the title character.
1960's teen idol and Gidget (1959) actor James Darren, actress Heather Locklear, and Adrian Zmed starred with William Shatner on T. J. Hooker. Both Heather Locklear and James Darren joined the series in Season 2. 
William Shatner began directing in 1982, and directed 10 episodes of T. J. Hooker while starring on the series.
William Shatner followed his run in T. J. Hooker with another long-running series, as the host of the reality show Rescue 911 (1989-1996). From 1997-2004 William Shatner, now a senior citizen, guest-starred as Denny Crane in the legal drama The Practice, winning an Outstanding Guest Actor in a Drama series Emmy Award in 2004.
William Shatner married his third wife, model Nerine Kidd (28 years his junior), in November 1997, while he was simultaneously starring or co-starring on The Practice, Rescue 911, and A Twist in the Tale television series. Nerine Kidd guest-starred in an episode of A Twist in the Tale in 1999. Below, William Shatner as the Narrator, and Nerine Kidd as Laura Bradley on A Twist in the Tale.
While The Practice was on the air, Shatner endured a tragedy in his home life. In a 2015 interview with The Daily Mail/MailOnline, Shatner said that although he knew Kidd was an alcoholic before they  married – and their best man Leonard Nimoy, also an alcoholic, warned him he was in for a rocky ride if they got married – Shatner thought their marriage and his love could save her. His hopes were quickly dashed; they had been together for 7 years, but married for only two when he came home one night in August, 1999 to find Nerine Kidd unconscious (drowned) in their swimming pool with alcohol in her system.
Shatner talked about Nerine's death, the media scrutiny surrounding her death, and forming a charity in her honour, on the George Stroumboulopoulos Tonight show in 2011.
While at a horse show, Shatner met the woman who would become wife number four, Elizabeth (Anderson Martin) Shatner. Despite a a 27 year age gap, they have been happily married since February 2001, and celebrated their 15th wedding anniversary last month (Feb 2016).
Below, a video clip of William Shatner in 2008 with his daughter from his first marriage, Liz Shatner, and his wife, Elizabeth Shatner.
Elizabeth and William Shatner still share a love of horses and competing in horse shows. In addition to their Kentucky horse farm, the Shatner's built a horse farm in California called Shatner's Belle Reve, where they now live.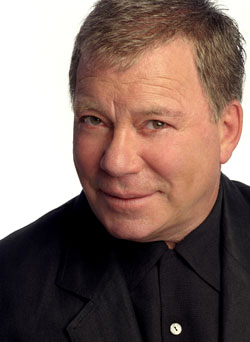 (William Shatner 2005 Photo: Jerry Avenaim)
When The Practice ended in 2004, Shatner reprised his character Denny Crane for the new series Boston Legal (2004-2008), once again winning an Emmy Award, this time as Outstanding Supporting Actor in a Drama Series. By the time Boston Legal ended, Shatner was now a septuagenarian senior citizen. He was kept very busy in the movies during his seventies – reprising his role as Stan Fields for Miss Congeniality 2: Armed and Fabulous (2005), among other movies. As he approached his eighties, Shatner played himself onscreen numerous times, and began doing more voice roles. 
As an octogenarian senior citizen, Shatner has made numerous guest appearances on television series such as Hot in Cleveland, Psych, and also starred in the series $h*! My Dad Says (2010-2011), in addition to narrating the 2015 documentary series Breaking Ground. William Shatner can be seen in 2 movies slated to be released in 2016; Creators: The Past will also star Gerard Depardieu.
His health has been robust for a senior – other than tinnitus which has never gone away – but he did have hip replacement surgery in early 2008 after a horse fell on him, and recovered to continue riding and showing horses. 
Shatner has kept busy throughout his 50+ and senior years with off-screen interests. In addition to his passion for horses, and supporting charitable interests, he has recorded spoken-word albums, voice-overs for video games, and written or co-written numerous works of fiction/book series (TekWar, Star Trek, War, Quest for Tomorrow, etc.). 
In 2011 William Shatner was the recipient of the Governor General of Canada's Performing Arts Award for Lifetime Artistic Achievement, and granted an Honorary Doctorate of Letters from his old alma mater, McGill University.
William Shatner's memoir Leonard: My Fifty-Year Friendship with a Remarkable Man (2016), is now on sale. Shatner and Nimoy had been friends for decades, but were estranged at the time of Nimoy's death in early 2015. In the book, Shatner says Leonard Nimoy never explained why he broke off their friendship, but Shatner surmises that it was because Shatner's Star Trek documentary The Captains (2011) included a picture of Nimoy that was taken at a Star Trek convention, and Leonard had wanted no part of the documentary.
When asked about aging and being a grandparent, William Shatner told the Mirror in 2014,
"I have five grandchildren. I sit them on my knee and tell them stories. They're probably a bit too young to fully understand what a fantastic storyteller I am…When they're a bit older they will appreciate my true value. At the moment they just think I'm the weird old guy they have to put (up) with."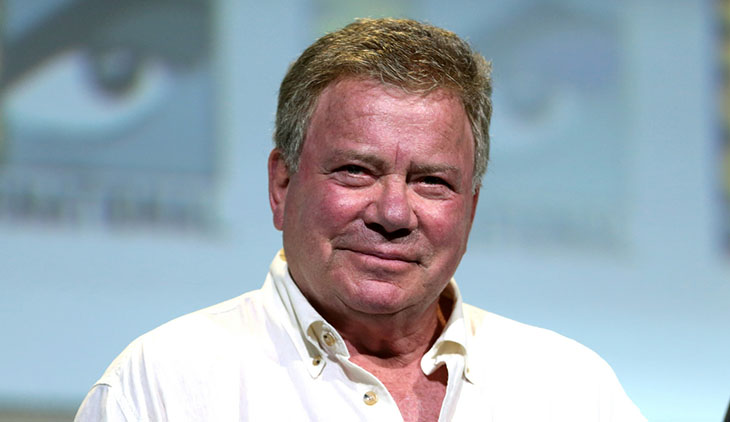 (William Shatner 2016 Photo: Gage Skidmore)
His daughter Melanie told Senior Voice in 2015 that for William Shatner,
"Working is what keeps him young, excited and creative. You've got to give him points for always trying something new."
William Shatner's indomitable spirit has enabled him to boldly go through life's ups and downs. Below, he talked to Inside Edition after a 2017 fall at a horse and buggy show; Shatner recovered and went on to win the show. He talked about a gradual shift from horse driving to horse riding, and his new book, Spirit of the Horse (2017). 
It doesn't seem like William Shatner has any retirement plans in the near future, so his fans can continue to look for him online, in bookstores, on TV, and in movie theatres.
Note: This article was first published in 2016. It has been updated with new and additional content.
*Images are public domain or Creative Commons licensed & sourced via Wikimedia Commons, Vimeo, or Flickr, unless otherwise noted*