Celebrating Seniors - Doris Day Part 3of3
Doris Day – 1960's Movies, TV and Retirement
In the early 1960's Doris Day's hit singles were petering out, while her movie career continued to soar with baby boomers, scoring several #1 box office hits. Throughout the 60's she was paired onscreen with some of the biggest names in Hollywood as her leading men.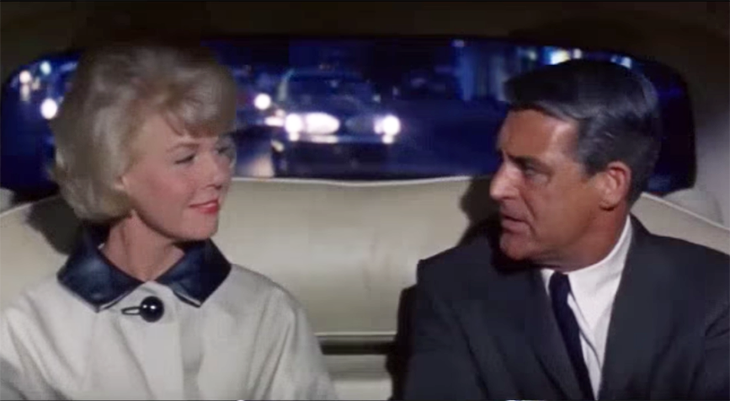 (Doris Day and Cary Grant 1962 That Touch of Mink Trailer Screenshot)
Day's first movie of the 1960's was the romantic comedy Please Don't Eat the Daisies (1960) co-starring David Niven, in which her hit song from The Man Who Knew Too Much (1956) – Que Sera, Sera (Whatever Will Be, Will Be) – was reprised.
The thriller Midnight Lace (1960) opposite leading man Rex Harrison that same year earned Day a Golden Globe Best Actress nomination. Day's husband and agent Martin Melcher received co-producer credits on both Midnight Lace and Please Don't Eat the Daisies.The official movie trailer for Please Don't Eat the Daisies features Doris Day, David Niven, and Janis Paige.
Lover Come Back (1961) was Doris Day's second movie featuring Tony Randall as a supporting actor and Rock Hudson as her leading man (all three actors had been in 1959's Pillow Talk).   Doris and Rock had become friends and would remain so until Hudson's death from AIDS in 1985. Rock Hudson, Doris Day and Tony Randall's last movie together was another romantic comedy, Send Me No Flowers (1964). Marty Melcher had producing credits on all three of the Doris Day/Rock Hudson movies. 
The movie trailer for Lover Come Back (below) featured Doris Day, Rock Hudson, Tony Randall, and Edie Adams.
Perennial second fiddle Gig Young was in the cast of the commercially and critically successful romantic comedy That Touch of Mink (1962), which starred Doris Day and popular leading man Cary Grant. That Touch of Mink made over $17.5 million at the box office and was the #4 hit of 1962.
In the circus movie Billy Rose's Jumbo that same year, Day earned another Golden Globe Best Actress nomination.
Below, in a scene from That Touch of Mink, Doris Day attends a fashion showing – a glimpse at some classic early 1960's fashion:
James Garner was the preferred choice to co-star with Marilyn Monroe in a 1962 movie called Something's Got to Give in 1962; when Garner wasn't available due to filming The Great Escape (1963), Dean Martin was tapped. Soon after filming started, Marilyn was fired from the movie for not showing up on set, and filming was suspended; Monroe was re-hired but her death in August 1962 put the movie back on the shelf. The following year, Doris Day and James Garner co-starred in The Thrill of it All (1963) written by Carl Reiner.
Something's Got to Give was renamed Move Over, Darling, with Doris Day now as lead actress and James Garner once again as her leading man, and also released in 1963. Day's rib was accidentally broken by Garner during a the filming of a massage scene. The final scene to be filmed in Move Over, Darling was the car wash scene, because of concern that the detergent in the car wash would damage her complexion.
Doris Day was nominated for another Golden Globe Best Actress award for her performance in Move Over, Darling, and the title song Move Over, Darling (written for Doris Day by her son Terry Melcher), became a #8 hit in the U.K. 
Doris Day's husband Martin Melcher was one of the producers on both of the Day/Garner movies.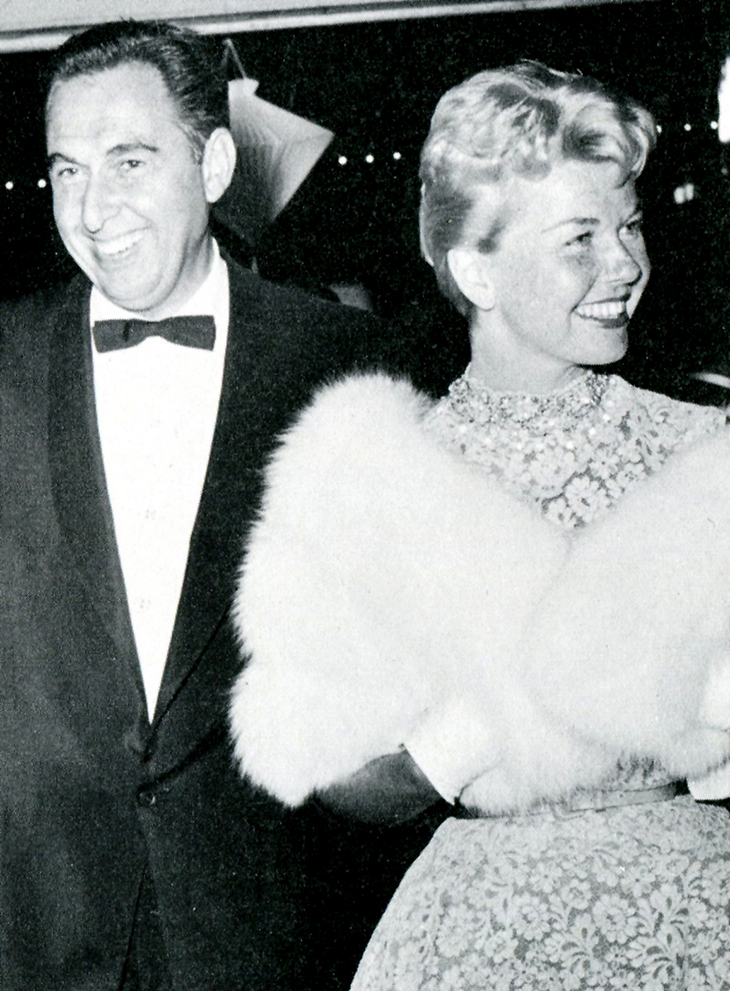 (Doris Day & Martin Melcher Photo: kate gabrielle)
 In a Vanity Fair article, Garner gave his impression of Marty Melcher:
"A shallow, insecure hustler…When we were making Move Over, Darling, he was bragging a lot about money he had just borrowed from the Teamsters to finance some big hotel or other… we all knew where his clout came from, and without Doris he couldn't have driven a truck for the Teamsters. I never knew anyone who liked Melcher."
Doris Day's second and last movie with co-star Rod Taylor, The Glass Bottom Boat (1966) is a light romantic comedy that pokes fun at the suburban American cold war/spy fears. The Glass Bottom Boat includes a snippet of Que Sera, Sera (Whatever Will Be, Will Be), and was Doris Day's last Top 10 box office movie hit of her career.
Below, Doris Day sings the title tune in The Glass Bottom Boat, with co-stars Rod Taylor and Arthur Godfrey.
Caprice (1967) is a comedic spy thriller starring Doris Day as a industrial designer for a perfume company; actor Richard Harris is her co-worker and romantic interest, while Jack Kruschen is the company owner. A plot involving a rival company and other shenanigans unfolds, involving supporting actors, Ray Walston, Edward Mulhard, Larry D. Mann, Michael Romanoff, and Michael J. Pollard.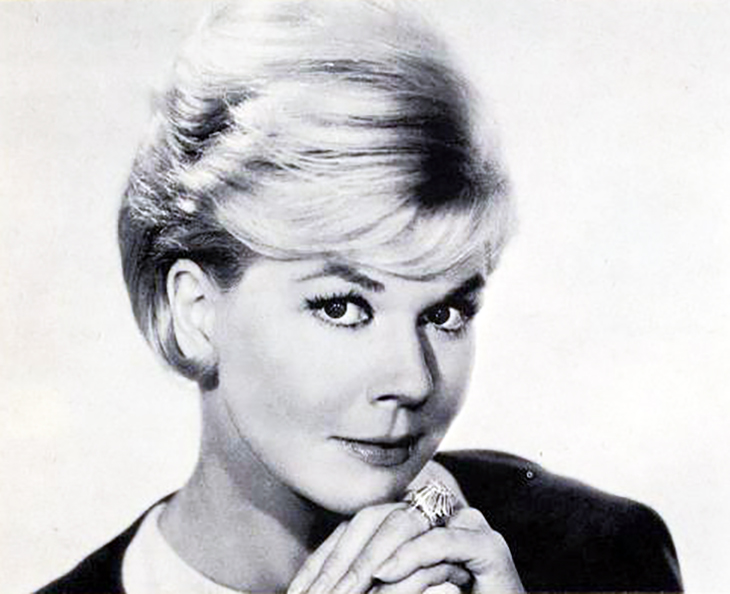 (Doris Day 1966 Hollywood Studio Magazine)
By the end of 1967, Doris Day's movie career was almost over. Although their parents still liked her and the "sexy but virginal" persona she exuded onscreen, Day and her light sex farce comedies were no longer preferred by the first wave of baby boomer teenagers undergoing the sexual revolution of the 1960's. For her part, Day had never been a fan of swearing and didn't like scripts with "vulgarity".
In 1967 she was still recording music, including The Love Album, which was not released until almost 30 years later, in 1994. Doris Day's last hit single from the 1960's was Sorry (1967), which went to #19 on the US  Adult Contemporary chart.
One of Doris Day's last films was the comedy Where Were You When The Lights Went Out (1968). Her co-stars in Where Were You When The Lights Went Out included  Patrick O'Neal, Lola Albright, and comedic stars Robert Morse, Terry-Thomas, Steve Allen, Jim Backus, Ben Blue, and Pat Paulsen.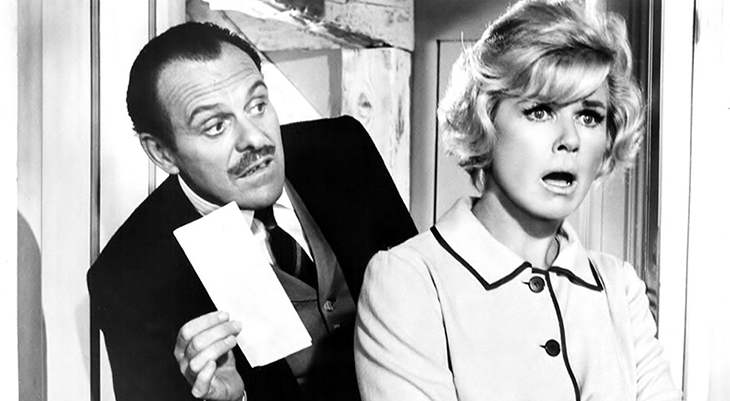 (Doris Day & Terry-Thomas 1968 Where Were You When The Lights Went Out Photo: MGM)
While Day and her co-star Brian Keith were filming With Six You Get Eggroll (1968), Day's husband Martin Melcher became ill. Once again, Melcher refused to consult a doctor due to his Christian Science faith, and was only hospitalized when his conditioned had severely deteriorated; he died in April 1968. They had been married for 17 years. Day completed filming of With Six You Get Eggroll and then promptly retired from making movies. The movie clip below from With Six You Get Eggroll features Doris Day with M*A*S*H stars Jamie Farr and William Christopher as hippies. 
After Martin Melcher's death, Doris Day discovered he'd committed her to a 5-year contract to do the The Doris Day Show television series without her knowledge. Her son Terry also found out that Melcher and his business partner Jerome Rosenthal had left her facing a mountain of debt. She sued Rosenthal for fraud and malpractice, and settled in 1974 for approximately 6 million dollars; Rosenthal countersued, but Day's judgements were upheld and he was ultimately disbarred. Doris Day never publicly accused Melcher of wrongdoing and said he'd trusted the wrong person.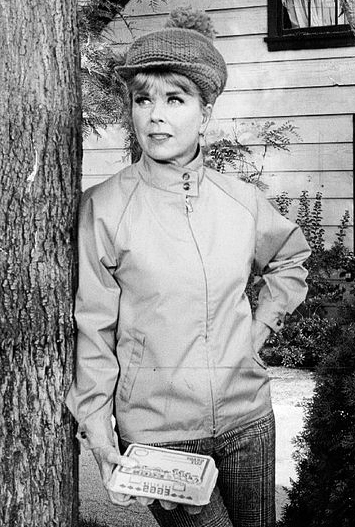 (Doris Day 1968 The Doris Day Show Photo: CBS Television)
Doris Day fulfilled her 5-year contract for The Doris Day Show, which was a favorite baby boomer television series (always in the Top 10) from September 1968 – March 1973.
Day was an executive producer in the last season and refused to renew the contract for another year when it was offered.
Her now-grown son Terry Melcher had become a musician and vocalist (The Beach Boys) and music producer (The Byrds), and also served as an executive producer on the series.
While still starring in The Doris Day Show, Day co-founded Actors and Others for Animals in 1971 in Los Angeles.
When interviewed for a Vanity Fair article about Doris Day, female impersonator Jim Bailey recalled meeting Doris Day at a party in 1972 and spending the evening talking to her about dogs. When he later met Day's son Terry Melcher, and told him how wonderful Doris was, Melcher replied that Bailey must have dogs, because otherwise his mother likely wouldn't have spoken to him. "It's all about animals now." In June 1973 as her television show was ending, Day had already acquired 11 dogs (at one point she had 30).
After The Doris Day Show ended in 1973, although Day appeared in a few television specials of her own (Doris Day to Day in 1975) and as a guest-star on other specials (with John Denver in 1974), she was almost retired from show business.
When 50+ Day's autobiography (as written with A. E. Hotchner) Doris Day: Her Own Story (1975) was published, in talk show interviews she said her current life was very happy. Day said in retirement she filled her days with an active lifestyle:
"I have a lovely home, a beautiful swimming pool, and I love to swim, I love to walk, I love to bicycle, I love to see my friends."
Day said at the time, that if "something really lovely" came along, and was in Carmel, she might make another movie.
At age 52, Doris Day married for the fourth and last time in April 1976, to 10-years-younger restaurant maitre d' Barry Comden. Barry Comden and Doris Day bought a home near Carmel-by-the-Sea in 1978 (according to the Los Angeles Times), where Day had first walked on the beach with Louis Jourdan while filming their movie Julie (1954). Day was still living near Carmel on an 11-acre estate when she died..
Doris Day's overwhelming love of dogs and pets eventually scuppered the marriage; according to Comden he always came second to her 14 dogs (at the time), and they divorced in 1981. Barry Comden died from heart failure in May 2009.
Day would go on to found and fund more animal-related charities, and in her early 60's hosted 26 episodes of an animal-related talk show Doris Day's Best Friends (1985-1986). Day became a grandmother in May 1983 when her son Terry Melcher and his wife Terese had their son Ryan Melcher. Doris and Terry Melcher became part-owners of the historic Cypress Inn in Carmel-by-the-Sea in 1988, and made it a pet-friendly hotel (dogs and cats). Below, Gary Collins interviewed Doris Day in 1985 about her Doris Day's Best Friends series (video is not perfect in quality!)
Doris Day's The Love Album album (first recorded in 1967) was finally released in 1994, the same year she became a septuagenarian senior citizen. Ten years later, octogenarian senior citizen Doris Day lost her son Terry, who died in November 2004 at age 62 from skin cancer. Her 29th studio album My Heart (2011) album was a Top Ten album hit in the U.K., and contained 3 songs written by son Terry Melcher. Proceeds from the album (as with several other albums) go to fund one of her charities, the Doris Day Animal League. 
Although rarely seen in public appearances since the mid-1990's, Day received numerous awards and recognition for her contributions to music, film and movies. President George W. Bush awarded her the Presidential Medal of Freedom in 2004 for her work in entertainment and on behalf of animals. She has a Grammy Lifetime Achievement in Music Award in 2008 and 3 other Grammy Hall of Fame Awards for her classic songs Sentimental Journey, Secret Love, and Que Sera, Sera (Whatever Will Be, Will Be). Fellow Carmel-by-the-Sea resident and still-working actor, director and producer Clint Eastwood presented her with a Cecil B. DeMille Award for outstanding contributions to the world of entertainment, at the 1989 Golden Globe Awards.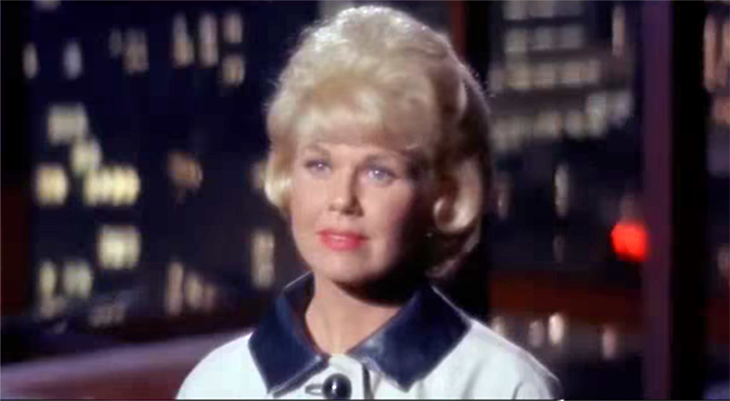 (Doris Day 1962 That Touch of Mink Trailer Screenshot)
Today, nonagenarian senior citizen Doris Day still lives in her home near Carmel-by-the-Sea, California where she has lived over 38 years, and goes by the name Clara Kappelhoff. Grandson Ryan Melcher nearby in Carmel-by-the-Sea and is a real estate agent.
Day had previously expressed a desire to work someday with Clint Eastwood, and had said that if she were ever to do a movie again, it would have to be in Carmel. In September 2015, rumours of Doris Day coming out of retirement to shoot a movie with Eastwood in Carmel, were refuted by Day. She told People Magazine in April 2016 as she celebrated her 92nd birthday, that they don't make the kind of movies she made any more.
About aging and getting older, nonagenarian Doris Day had this to say:
"I'm not really fond of birthdays anymore…Age is just a number. How you feel and live your life is more important."
*Images are public domain or Creative Commons licensed & sourced via Wikimedia Commons, Vimeo, or Flickr, unless otherwise noted*
Previously in Celebrating Seniors:
Part 1 – Doris Day – 1940's Songs, Movies, and Romances