Celebrating Seniors - Hayley Mills Turns 70
English actress and new septuagenarian senior citizen Hayley Mills was born on April 18, 1946 to actor Sir John Mills and Mary Hayley Bell, a writer and actor.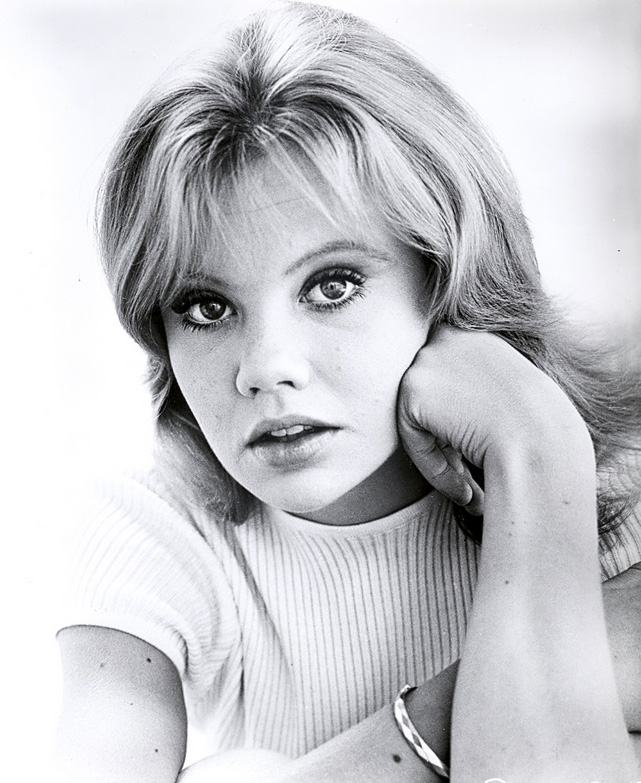 (Hayley Mills 1960's Photo: Film Star Vintage | Flickr Some rights reserved)
Hayley's older sister Juliet Mills is also an actress. Not surprisingly, Hayley Mills began acting as a child at age 12, playing the role of a witness to a murder in the mystery/thriller movie Tiger Bay (1959). 
Her father John Mills played a police superintendent investigating the murder.
Hayley Mills won the BAFTA Most Promising Newcomer to Film Award in 1960 for her performance in Tiger Bay, which had also brought her to the attention of the Walt Disney Studios.
Mills' character looks innocent in the Tiger Bay scene below with co-star Horst Buchholz, but in reality her character is a mischievous brat who gets in over her head when she tries to help an attractive, conflicted murder (Buchholz). It's hard to know whether you're supposed to like her character or not as you watch the film.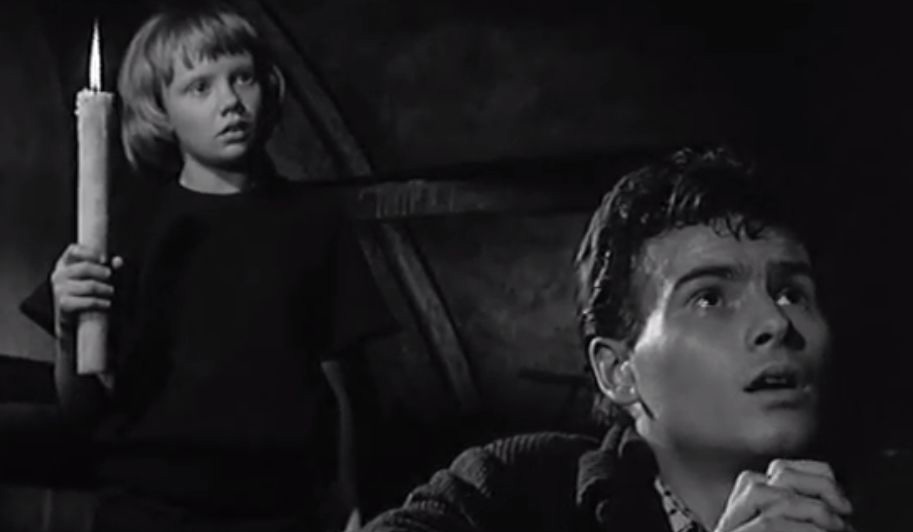 (Hayley Mills & Horst Buchholz 1959 Tiger Bay Screenshot)
Hayley Mills' first Disney movie in her 6-year contract with Walt Disney Studios saw her starring in Pollyanna (1960), for which she won a special Academy "Juvenile" Award.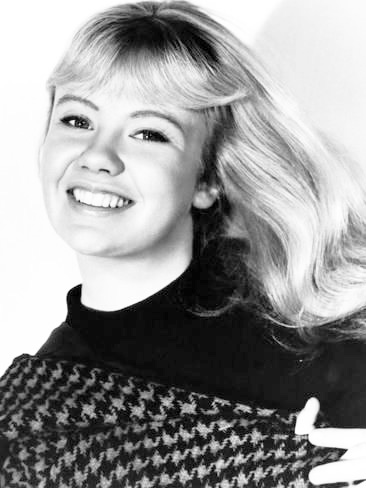 (Hayley Mills 1964 The Moon-Spinners Photo)
Five more Walt Disney films forever embedded Hayley Mills in the minds of movie-going baby boomers and their parents:
The Parent Trap (1961) with Brian Keith, JOanna Barnes, Leo G. Carroll, Una Merkel, Charles Ruggles, Nancy Kulp (The Beverly Hillbillies) and Maureen O'Hara.
In Search of the Castaways (1962) with Maurice Chevalier, George Sanders, and Michael Anderson Jr..
Summer Magic (1963), a musical with Dorothy McGuire, Burl Ives, Deborah Walley, James Stacy, James Mathers, Michael J. Pollard, and Una Merkel. 
The Moon-Spinners (1964) with Eli Wallach and Peter McEnery. Set in Greece, the movie also featured silent-film star Pola Negria as Madame Habib in her last on-screen appearance, along with Irene Papas and Joan Greenwood.
That Darn Cat! (1965) with Dean Jones, Dorothy Provine, Roddy McDowall, Elsa Lanchester, William Demarest, and Frank Gorshin (Batman).
Below, Hayley Mills as mischevious twins Susan Evers and Sharon McKendrick in a scene from The Parent Trap.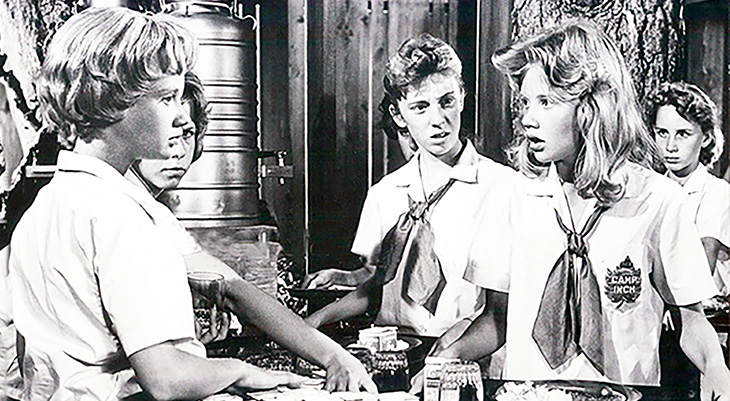 (Hayley Mills 1961 The Parent Trap Photo)
It was a lot of pressure for a young actress, and a grown-up Hayley Mills later confessed in an interview with People magazine in 1997 that she had developed an eating disorder while filming The Moon-Spinners, that didn't go away until her first pregnancy. 
Hayley Mills starred in non-Disney movies during this time as well, including:
Whistle Down the Wind (1961), which was written by her mother Mary Hayley Bell and starred Bernard Lee (M in the James Bond films), and Alan Bates.
The Chalk Garden (1964), a mystery-drama co-starring her father John Mills and Deborah Kerr.
The Truth About Spring (1964), a comedy once again co-starring the father-daughter combo of John Mills and Hayley Mills. James MacArthur (Hawaii Five-O) was a romantic interest for Mills in The Truth About Spring.
After her Walt Disney contract ended, Hayley Mills played Mary Clancy in the comedy The Trouble with Angels (1966). The Trouble With Angels starred Rosalind Russell, Hayley Mills, Binnie Barnes, Mary Wickes, Kent Smith, and Gypsy Rose Lee, among others. Below, Sony Pictures Home Entertainment's trailer for The Trouble With Angels features Hayley Mills, and Mary Wickes as Sister Clarissa.
Hayley Mills returned to Britain after filming The Trouble With Angels – she was growing up and wanted to take on more adult roles. She co-worked with her father John Mills in two more movies before the 1960's ended:
Sky West and Crooked / Gypsy Girl (1966), which co-starred Ian McShane. Her father John Mills produced and directed Gypsy Girl. 
The Family Way (1966) co-starred Hayley, her father John Mills, and Hywel Bennett. The Family Way included a film score by Beatle Paul McCartney, and the movie was critically well received.
During filming of The Family Way, 19-year-old Hayley Mills met the film's director, married 52-year-old Roy Boulting. According to an interview with People magazine 1975, they began a relationship after filming of The Family Way ended, and before Boulting's divorce from his third wife was finalized. The couple lived together for five years before marrying in 1971. Their son Crispian Mills – Hayley's 1st child, Boulting's 8th – was born in January 1973; today Crispian is a professional musician. Hayley Mills and Roy Boulting separated in 1975.
Hayley Mill's popularity at the movie theater waned after 1966, although she continued to act in mostly British movies until taking a break in 1975. None of her later films achieved the critical or commercial success of her early efforts as a child and teenager. Mills had made her stage debut in a production of Peter Pan in London's West End in 1966, and could be seen frequently on stage in England throughout the 1970's, 1980's, and 1990's.
During a 1975 West End production of A Touch of Spring, Mills met British actor (Alan) Leigh Lawson, and they began a relationship.  Lawson was divorced from his first wife Mandy in 1976, and Mills gave birth to their son Jason Lawson that year. Mills and Boulting were divorced in 1977, but although Hayley Mills and Leigh Lawson continued their relationship until around 1984, they never married.
During her absence from the movie screens between 1975-1988, Hayley Mills appeared on television in occasional guest-starring roles (3 episodes of The Love Boat between 1979-1985), and in some made-for-television movies such as Disney's The Parent Trap II (1986).
In 1987, Mills starred in 13 episodes of the Disney Channel TV series Good Morning, Miss Bliss, before the show was cancelled.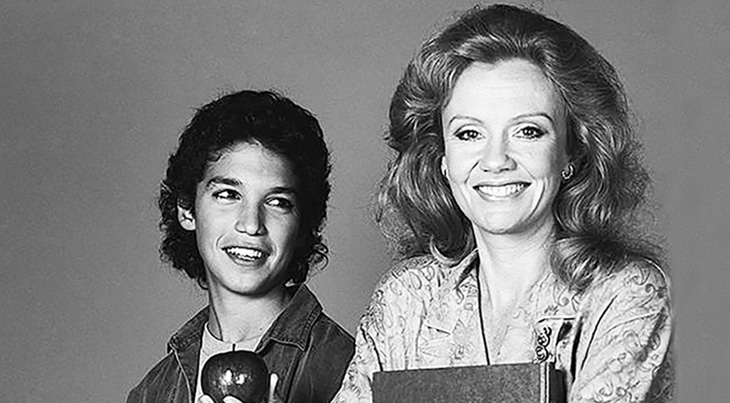 (Hayley Mills 1987 Good Morning, Miss Bliss Photo: The Disney Channel)
Hayley's sister Juliet Mills married 18-years-younger actor Maxwell Caulfield in 1980 (they are still married today). Caulfield's brother Marcus Maclaine and Hayley Mills had a romantic relationship for around 12 years, from 1985 to 1997. During their relationship, Marcus Maclaine helped Hayley Mills edit her book My God (1988), in which celebrities explore their beliefs via letters. Maclaine was also briefly in a band with Mill's son Crispian, Objects of Desire. Hayley Mills and Marcus Maclain broke up in 1997.
Mills returned to the movies in 1988 after a 12 year break to appear in Appointment With Death (1988). Her co-stars in Appointment With Death included Peter Ustinov, Lauren Bacall, Carrie Fisher, John Gielgud, Piper Laurie, Jenny Seagrove, David Soul, and Nicholas Guest, most if not all of whom are featured in the DVD movie trailer below.
Appointment With Death was not commercially successful, and none of the subsequent movies Mills has appeared in since then have broken that mold. She toured Australia with a production of The King and I in 1991, and starred in another production of the The King and I again in 1997.
Now in her 50+ years, in 1997 Hayley Mills began a new romance with Indian-American actor-writer Firdous Bamji, 20 years younger than her. Mills and Bamji are still together, almost 20 years later. Below, Hayley Mills and Firdous Bamji in 2006.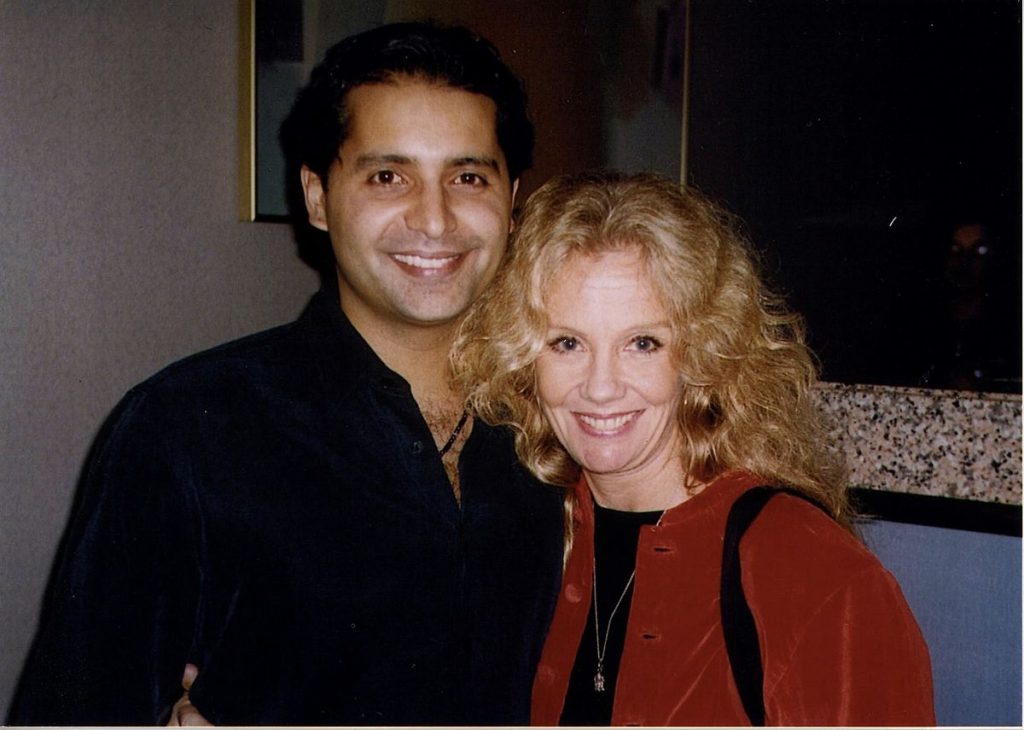 (2006 Hayley Mills & Firdous Bamji Photo: Virgil1966)
In the years since then, Hayley Mills has continued to focus her acting efforts on the stage, with a few forays into television. She co-starred for 6 years on the British TV series Wild at Heart (2007-2012).
In 2008 Mills underwent surgery for breast cancer and despite not being able to complete chemotherapy, has been in remission since 2012. 
As a senior citizen, Hayley Mills is still acting on television (Midsomer Murders, 2014), in the movies – Foster (2011) alongside stars Toni Collette and Ioan Gruffud – and on stage.
In 2015, Hayley Mills, her sister Juliet Mills and her brother-in-law Maxwell Caulfield, toured Australia in production of Legends!, about two older, feuding movie stars. Below, sisters Hayley Mills and Juliet Mills provided insights from their careers to Australian radio station 4KQ Brisbane in 2015. 
Hayley Mills is now a grandmother 3 times over.
*Images are public domain or Creative Commons licensed & sourced via Wikimedia Commons, Vimeo, or Flickr, unless otherwise noted*