Fun Things For Seniors on Family Days
Or in the United States, Washington's Birthday / President's Day. Both the Canadian Family Day Holiday & Washington's Birthday fall on the third Monday in February. Depending on where you live or plan to vacation on that day, you could be enjoying either warm sun and sand, or snow.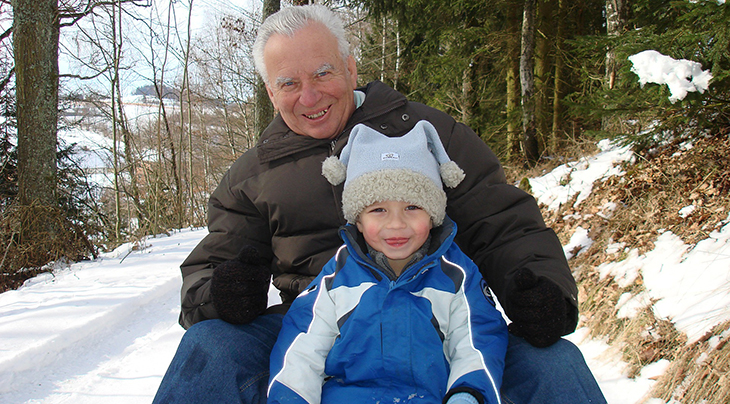 (Senior & Grandchild Sledding in Snow: Alexandra Koch, Pixabay)
Celebrating Family Day / Heritage Day in British Columbia, Alberta, Saskatchewan or Ontario – or Louis Riel Day in Manitoba, Nova Scotia Heritage Day, or Islander Day in Prince Edward Island? This provincial holiday was first celebrated in Alberta in 1990, and the other Canadian provinces began to follow suit when Saskatchewan introduced the holiday in 2005. 
America began honoring George Washington's Birthday every February 22nd beginning in 1879. It was changed to President's Day and the third Monday in February in 1970, in order to give folks a long weekend.  
7 Family-Friendly Fun Things to Do on Family Day / President's Day
Don't let the cold and snow in northern climates hold you back from enjoying the winter holiday with your loved ones. These ideas are suitable for youngsters, teenagers, young adults, older adults, and seniors:
1. Bundle up, put on some non-skid boots and go for a walk outdoors. Bring along your human or canine children/grandchildren, and a camera. Snow or no snow, there's sure to be some photogenic moments to capture. Your local conservation area or park may have trails that are maintained in winter months & make for an interesting change of pace. 
2. Invite the family over for an afternoon of cookie baking & a pot-luck meal. While the cookies bake, watch a movie together. A film from one of these "best of" lists might suit everyone, depending on their ages & preferences:
3. Play classic board games or card games that all ages can enjoy. Old favorites like Monopoly, Clue, and Pictionary, or newer family-friendly games like Ticket to Ride or Sushi Go
4. Wind down by cosying up on the couch in front of the fire (or fireplace channel on TV), and either take turns reading a book out loud together, or tell a story (sharing/comparing childhood memories). Older adults and seniors can pull out old photo albums and play, "Guess who this is?" with the grandkids.
5. Speaking of telling stories and sharing memories, what better time to work on a family history / family tree project, than on national, state, or provincial holidays such as President's Day and Family Day? It's a good opportunity to connect with distant relations, bringing them closer together via a phone call, video chat, or in-person visit. Start a personal / family journal, or share a story from one that's been passed down.
6. If you can't be with all of your family in person, set up a family video call (Zoom or Google Meet are free), and enjoy some remote face time together. Have a theme / contest, like who can wear the craziest hat, shirt, or sweater. 
7 Indoor or outdoor mini-putt is a great way to have fun with the family, as is bowling. Bowling & mini-golf satisfy competitive urges, and can be enjoyed by almost all ages without risk of injury..
Still looking for something active to do as a family? Check out:
Fun Low Impact Hobbies & Sports
Socially Distanced Sports This Winter
Best Age-Friendly Sports for Older Adults
3 Outdoor Activities as Retirement Hobbies
Note: This article was first published in 2015 as 4 Fun Things For Seniors on Family Day. It has been updated with new & additional content.