Walking Soccer / Football Has Arrived
First established in England and becoming a widely recognized sport played across the globe, walking football (in the UK) or walking soccer (North America), allows older and less-able men and women to take part in the game they already know and love, by minimizing their risk of injury.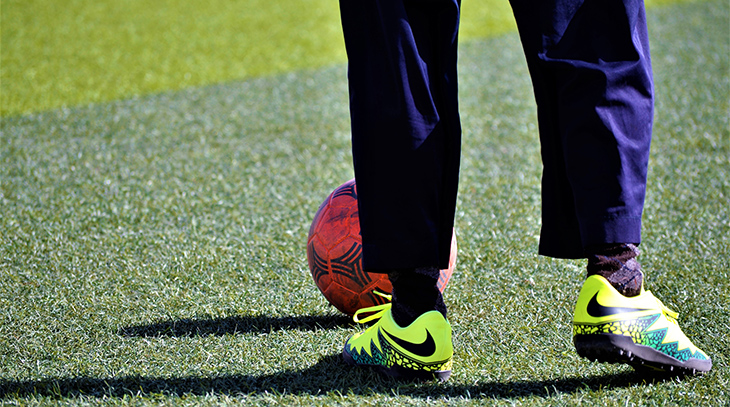 (Walking Soccer Photo: Haidan via Unsplash)
Walking Soccer Origins
It is often reported that walking football began in England in 2011 when Chesterfield Community Trust devised and played a match with their team the Chesterfield Senior Spireites.
More recently, however, it has been claimed that the first match was much earlier. During the interwar period in England (between WWI and WWII) in 1932, a charity game was played between two railway towns, Crewe and Derby – both teams having a combined age of over 700!
After the global bank Barclays featured the sport in their TV advert in 2014, there was an enormous spike in popularity, with men and women starting their own walking football teams, designing their own kits and playing in professional tournaments through the Football Association.
What is Walking Soccer (Football) Then?
Like its name suggests, walking soccer in North America or walking football in the UK and elsewhere, is a variant of traditional soccer or football, which requires participants to walk (a lot harder than it sounds) at all times. What originally constituted 'walking' however, was a contentious issue, along with other unestablished rules of the game.
As a grassroots sport, rules were ad-hoc and varying, to say the least. To help the game spread far and wide, the Football Association stepped in to create some official guidance and rules. By unifying rules, teams could now play against one another, transforming a weekly hobby or form of exercise into competitive tournaments, for those who still had room in their trophy cabinets.
For the most part, the rules don't deviate from the original soccer / football game, they've just been tweaked to protect the health and stamina of older participants for maximum enjoyment. Better, a charitable enterprise based in the UK, run sessions on their training pitches. They have created the table below, which shows at a glance the key difference between soccer/football and walking soccer/football. The most notable differences are the unlimited substitutions, sin bins, and blue cards.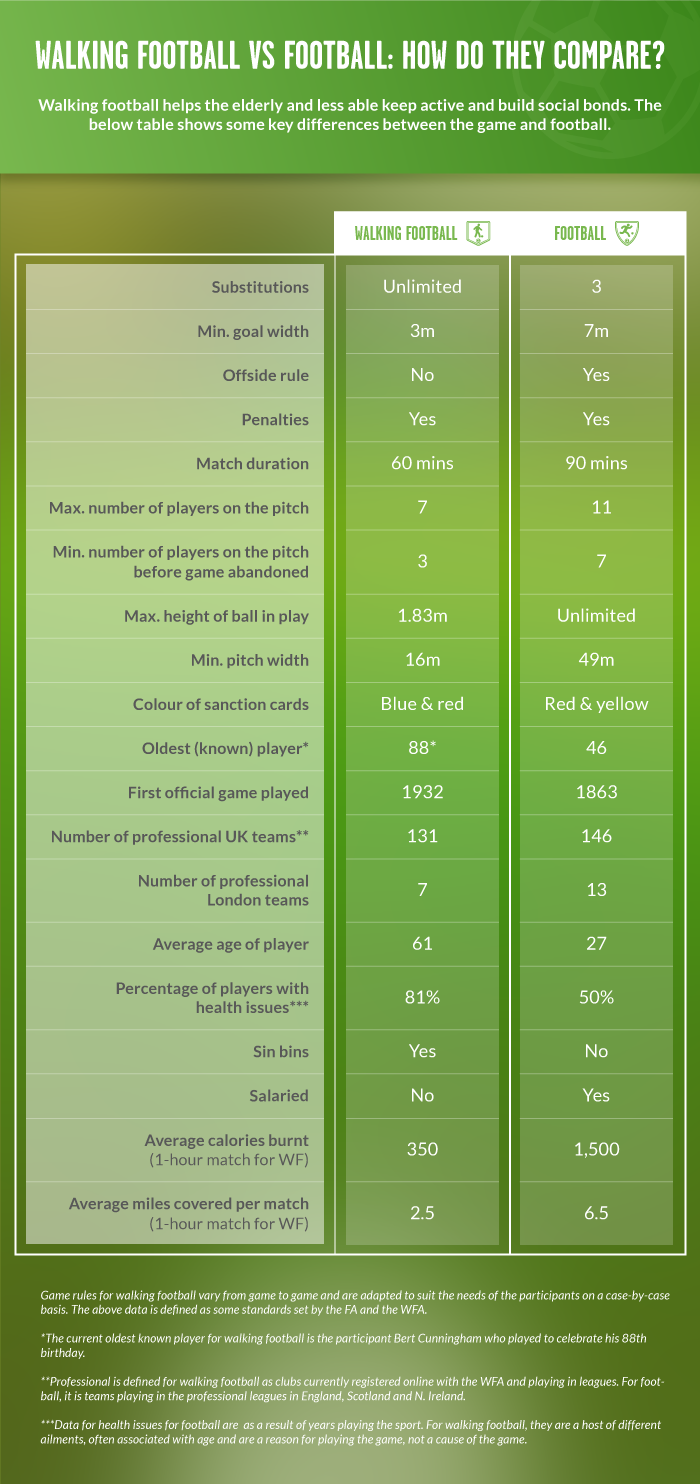 (Walking Soccer / Football vs Soccer / Football Infographic: © 2019 Better)
Benefits of Walking Soccer / Walking Football for Older Adults
Last year TIME reported that loneliness in the US is on the rise. More than a third of adults over the age of 45 reported isolation according to research from the AARP foundation. 
People that reported good mental and physical health were perhaps unsurprisingly less lonely than those with poor mental and physical health. Recently TIME came out with another article stating that one in three seniors are lonely, and that they felt a lack of companionship and often felt isolated.
Walking soccer or walking football – both casual sessions and competitive tournaments – are not only a great way to help improve the health and fitness of older adults and the elderly, but these team sports also help offset social isolation and forge friendship bonds and camaraderie between those who are most at risk of loneliness.
As we get older, we struggle with the natural and sadly irreversible effects of aging. From loss of balance and stamina, to loss of confidence and self-esteem, walking football tackles our emotional and mental health, as well as our physical health and social skills. It's truly an age-friendly sports for older adults.
Rod Noble, Community Sports Manager at Better, has seen the positive effects of the sport firsthand in his walking football sessions in the UK, saying:
"The primary aim when setting up walking football was to help people stay active, I didn't anticipate just how quickly it would have snowballed into such a tight-knit community. This is the real thing we care about, helping elderly people find others close-by in similar situations so that they can forge strong bonds.
Walking football has brought people together, but it's the people themselves that have created such valuable friendships. When someone doesn't snow up for a training session, we have everyone asking about them and if they're okay. They've even got their own WhatsApp group and go on holidays with one another!"
How Can You Get Involved?
The UK's walking football, known as walking soccer in Canada and the US, is still an untapped sport, with the opportunity to unite and excite people across North America. If you're interested in setting up a local team, all you need to do is consult the rule book, find some enthusiastic friends, book a soccer field, and have some fun! Whatever the result, everyone comes out a winner. 
Goals can provide you with more information for teams and testimonials in the US and Canada.
Additional Resources:
Fighting the Social Isolation of Seniors
8 Ways to Cheer Someone From Afar
Boosting Your Happiness and Self-Esteem
**This article is for general informational purposes only and the opinions expressed are not endorsed by 50+ World, nor does 50+ World receive any remuneration for providing this information.  Consult your doctor before beginning any new physical activity or sport.**