Celebrating Seniors - George Hamilton is 77, Part Three
George Hamilton, Part Three: George & Alana to Stewarts & Hamiltons (1995-2016)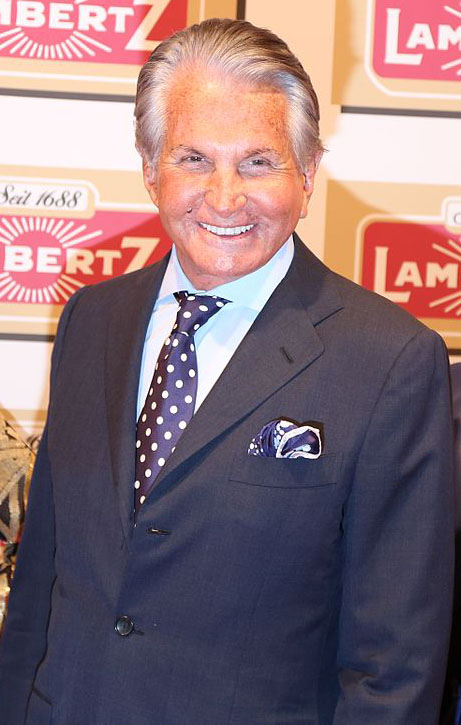 George Hamilton in 2017. (Photo: 9EkieraM1 | Wikimedia Commons CC 3.0)
Some of 55+ George Hamilton's television and film appearance during his 55+ years during the 1990's included:
Co-hosting the morning talk show George & Alana (1995-1996) with ex-wife Alana Stewart; celebrity guests included Barbara Eden, Ann-Margret, and Lynda Carter.
The Rodney Dangerfield comedy Meet Wally Sparks (1997) cast included Burt Reynolds, Hamilton's co-star from over 35 years earlier in Angel Baby (1961);  David Ogden Stiers, Tony Danza, Cindy Williams, Debi Mazar, Lesley-Anne Down, and Tim Allen. George Hamilton and ex-wife Alana Stewart appeared in Meet Wally Sparks as themselves.
Rough Riders (1997), a two-part historical drama starring Tom Berenger, Sam Elliott, Gary Busey, Brian Keith, Ileana Douglas, William Katt, and Titus Welliver. George Hamilton played wealthy newspaperman & industrialist William Randolph Hearst in Rough Riders. 
8 Heads in a Duffel Bag (1997) crime comedy starring Joe Pesci and Dyan Cannon.
In the TV series Jenny (1997-1998) starring Jenny McCarthy, George Hamilton played her long-lost father Guy Hathaway.
George Hamilton hosted both the Miss USA Pageant and the Miss Universe Pageant in 1997. (Hamilton revealed in 2009 that he's dated at least four Miss World's).
At the end of the 1990's, George Hamilton launched a brand of cigars and a chain of cigar lounges in hotels. He also hosted his own television series, The Best of Wine & Food (1999-2000), something he is passionate about. Hamilton had been dating 30-years-younger girlfriend and model Kimberley Blackford since they met in 1995, and she gave birth to his son George Thomas Hamilton in December 1999.
The Blackford-Hamilton romance had already ended earlier that year when Kimberley Blackford discovered Hamilton was dating novelist Danielle Steele.
George Hamilton had co-starred with Lisa Rinna in the romantic TV drama Vanished (1995), based on the 1993 book of the same name by Danielle Steele.
In 2002, George Hamilton could be seen in four releases, including Hamilton's first movie with actor Treat Williams – Woody Allen's romantic comedy Hollywood Ending (2002); and two children's movies with actress Emma Samms: The Little Unicorn (2002), and Pets (2002).
New senior citizen George Hamilton was Santa Claus in the TV movie A Very Cool Christmas (2004) with Donna Mills; and appeared as "The King of Beverly Hills" in the docu-comedy The L.A. Riot Spectacular (2005), working with co-stars Charles S. Dutton, Emilio Estevez, and Charles Durning. That same year, he was a contestant on the game show Hollywood Squares (2004) hosted by Tom Bergeron.
At the age of 66, George Hamilton competed in Dancing With the Stars (2006) in the show's second season, and gained new fans from younger and older generations alike. According to Hamilton, despite a history of torn rotator cuffs in his shoulders from long days of fencing lessons and bullwhip practice for movies, a bum right knee acquired during his run on Broadway in the musical Chicago, and 4 broken ribs from a jump aboard a yacht, he accepted when his agent told him Rachel Hunter had been on the show in the first season. Hamilton knew Hunter because she had been married to Rod Stewart, whom his ex-wife Alana had married in 1979 (and divorced in 1984). He was also familiar with Dancing With the Stars host Tom Bergeron from his game show appearances.
On Dancing With the Stars George Hamilton was paired with Edyta Sliwinska, and recalled the anticipation and preparation leading up to his first on-air performance: "My chiropractor arrives to do a quick neck adjustment. I don all the accoutrements necessary to shore up my knee (leg brace, orthotics, support hose). For a moment I feel like a geriatic gladiator preparing to enter the arena." George and Edyta were eliminated, but not until after six weeks, ending in 5th place.
Hamilton's autobiography Don't Mind If I Do (2008) was written with William Stadiem.
Hamilton produced and co-starred in the TV movie The Last Resort (2011). Nostalgic baby boomer fans could also see the septuagenarian senior on television in the reality show I'm a Celebrity, Get Me Out of Here! NOW! (2009) and episodes of Hot in Cleveland (2013) and 2 Broke Girls (2016).
He's been in both big-screen and TV movies such as the Christmas flick Holiday Road Trip (2013), where he plays the father of star Patrick Muldoon (Days of Our Lives); other baby boomer favorite actors Shelley Long (Cheers) and Mindy Cohn (The Facts of Life) round out the cast.
More recently, George Hamilton served as executive producer on the documentary Being Evel (2015), and starred in the comedy-drama Silver Skies (2015), about a group of retired seniors whose lives are disrupted when their apartment complex is sold. The cast of Silver Skies included fellow senior citizens Mariette Hartley, Barbara Bain, Howard Hesseman, Alex Rocco, and Valerie Perrine.
Below, George Hamilton talked about his earlier career and Silver Skies.
In real life, George Hamilton has no thoughts of retirement. Hamilton and ex-wife Alana Stewart were in two reality shows in 2015 – Celebrity Wife Swap (2015) and Stewarts & Hamiltons (2015) featuring Rod Stewart; Hamilton's sons Ashley Hamilton, and George Hamilton Jr. also appeared on Stewarts & Hamiltons. 
Despite never wanting to be an actor, over his 64-year career George Hamilton has acquired over 100 film/tv credits and another 120+ credits appearing as himself. This year the septuagenarian single senior can be seen in the drama The Congressman (2016) starring Treat Williams in their second movie together; as a Mexican colonel/hitman in Melvin Smarty with William Sadler, and on television in Celebrity Family Feud and the TV movie Swiped (2016). He has said future projects he's working on include producing a documentary about his friend Sean Flynn (Errol Flynn's son), a friend and photojournalist who disappeared in Cambodia in 1970 during the Vietnam War; a one-man stage show/tour; and a comedy TV series with son Ashley Hamilton. 
George Hamilton: Thoughts on Healthy Aging
In 2014, Hamilton shared his "secrets" for healthy long life and longevity with Life Extension magazine. 
daily meditation to reap spiritual & physical benefits.
taking vitamins and supplements.
cleansing and detoxing 4 times a year.
getting 7-8 hours of sleep.
limited alcohol intake.
regular half hour walks and stretching to prevent injuries, maintain balance, and keep ligaments, cartilage, and tendons from deteriorating.
healthy eating habits – cutting out as much sugar as possible, eating lots of organic produce (vegetables, greens, berries/fruits) and fish.
keeping mentally active – doing daily crossword puzzles, mixing up routine daily habits.
nurturing your sense of humour – something his friends and ex-lovers have all paid tribute to.
George Hamilton still looks fit and healthy in 2016 in his late 70's, and has said he wears the same size clothes today as a septuagenarian senior citizen, as he did when he was a teenager in high school. This healthy aging advocate says "It has nothing to do with luck. I'm concerned with how I look and feel. I'm busier than ever." He's also given credit to stem-cell therapy injections for being able to hold off the tides of time.
George Hamilton on Senior Sexuality and Dating:
Hamilton (and his exes) have all said that he remains on good terms with his former romantic partners. Below, quotes from the ever-witty and often sly George Hamilton about romance, dating, and senior citizen sexuality:
"Basically, I'm a shy human being. Very introverted. I love the company of women, I always have done, but now, any woman I lie down with, she's going to… well, she's going to creak a bit. And so am I. On the whole, I'm happier to creak by myself. I'm also a loner; I don't have many close friends. A million acquaintances, but few close friends." – 2009
In 2015 George Hamilton told Daily Express he was single again, after being engaged at one point to German dermatologist Barbara Sturm. "I was in a seven-year relationship with a German doctor. We broke up because she wanted children and I didn't. I have two sons, aged 14 and 40." 
"I've no desire to ever marry again, though I would like to find a woman to share my path. I like young and beautiful women but…I have to find someone mature…I had dinner recently with a woman approaching 70 in amazing shape, and I thought, 'Maybe this is a possibility? Somebody else has taught her everything, and all I have to do is mount her'."
"It's hard dating a woman who looks like a bag of hammers. Very few people really hold on to their looks."
On using Viagra, which he claims to never have used. "There's something about lower testosterone: you develop great taste. I remember the great director John Huston, in a wheelchair with oxygen, telling me, 'You know, I'm impotent.' I said I was sorry but he said, 'Don't be – it's like getting off a wild horse.'"
In May 2016 George Hamilton told People about feeling 20 years younger after his recent major heart surgery to replace a valve in his heart, which required a two-day hospital stay. "I'm back to exercising and doing all the things I want to do…I've got another 30 or 40 years left. So I'm thinking 100 is going to be the new 50." He said he wants to live to 120 and that so far, "It's been an extraordinary life."
Happy 77th Birthday, George Hamilton!
More George Hamilton:
George Hamilton, Part One: Where the Boys Are to The Survivors (1939-1969)
George Hamilton, Part Two: Alana and Evel Knievel to The Godfather: Part III (1970-1994)