Best New and Classic "Irish" Movies
Favorite movies with an Irish element that will grab you! Set and filmed in Ireland, they tell a story of Ireland and the Irish experience of from centuries ago to modern times.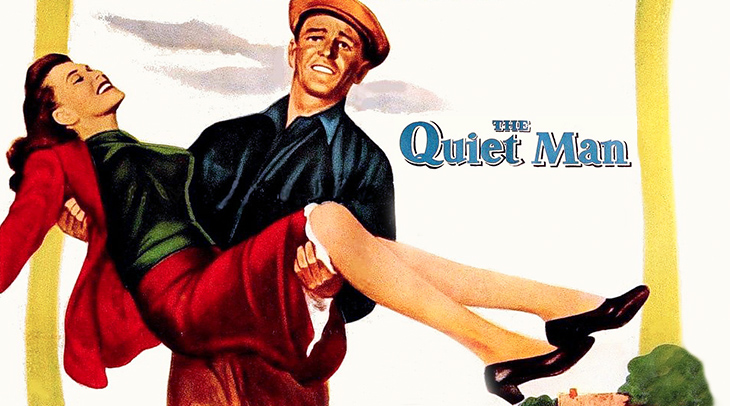 (The Quiet Man 1952 Movie Poster/Modified)
Everyone has their own preferences when it comes to movies, but although I tend to favor musicals and romantic comedies myself, I've also included some thrillers, dramas, and of course top-rated Academy Award-winning films in this list.  
Top Ten "Irish" Films
The Quiet Man (1952), a romantic comedy-drama starring that Irish lass Maureen O'Hara, John Wayne, Ward Bond, Barry Fitzgerald, Mildred Natwick, Arthur Shields, and Victor McLaglen. John Ford won the Academy Award for Best Director, and Winton C. Hoch & Archie Stout won for Best Cinematography, for The Quiet Man. The Quiet Man was also nominated for another five Oscars – Best Picture (losing to The Greatest Show on Earth), Art Direction, Sound, Adapted Screenplay, and Best Supporting Actor (Victor McLaglen).
Ford and the cast outdid themselves in capturing his vision of quaint Irish life and the beauty of the Irish countryside. Much of this glorious technicolor movie was filmed in County Mayo and County Galway, Ireland. When we visited Ireland several years ago we saw the statue of John Wayne and Maureen O'Hara in the village of Cong in County Mayo. I would have to say that The Quiet Man is the ultimate classic "Irish" movie in my opinion, and thoroughly enjoyable to watch.
The Commitments (1991), a funny modern rock musical with some great versions of rock classics as an Irish band comes together to sing soul music, and hits some rough patches. The soundtrack album was a big hit, with fantastic covers of Mustang Sally, Al Green's Take Me to the River, Chain of Fools, and many more classic tunes. Filmed in Dublin and several other locations around Ireland (too many to mention), The Commitments was nominated for an Academy Award for Best Film Editing. I've watched it a few times and now that I'm remembering it, must watch again!  
This trailer for The Commitments features Colm Meaney and The Commitments singers.
The Crying Game (1992), a thriller directed by Neil Jordan, starring Stephen Rea, Miranda Richardson, and Forest Whitaker. This IRA tale with a twist was nominated for 6 Academy Awards including Best Picture, Director, Actor (Stephen Rea), Film Editing, and Supporting Actor (Jaye Davidson). The Crying Game won the Oscar for Best Original Screenplay (Neil Jordan). Filming locations for the movie were spread across England, Ireland, and Northern Ireland. The ending was (is?) a well-kept secret and took me by surprise.
Miramax's trailer for The Crying Game features Stephen Rea, Forest Whitaker, and Jaye Davidson.
Far and Away (1992), a historical adventure-romance starring Tom Cruise and his future wife, Nicole Kidman. Director Ron Howard filmed parts of Far and Away in Ireland (Dublin, the Dingle Peninsula, and County Wicklow), as well as Montana and California's Catalina Island. Thomas Gibson, Robert Prosky, Barbara Babcock, Cyril Cusack, and Colm Meaney have supporting roles. A frequent occurrence in a Ron Howard film is finding his brother Clint Howard and his father Rance Howard among the cast, and Far and Away is no exception. A movie that made me want to go to Ireland, and one that I've watched many times. 
Tom Cruise, Nicole Kidman, Robert Prosky, Barbara Babcock, Colm Meaney, and Thomas Gibson are featured in this movie trailer for Far and Away. 
In the Name of the Father (1993) starring Daniel Day-Lewis as Gerry Conlon and Emma Thompson as his lawyer Gareth Peirce. Set in Belfast, this drama about the Guildford pub bombings won 7 Academy Awards, including one each for stars Daniel Day-Lewis, Emma Thompson, and Pete Postlethwaite (as his father Giuseppe Conlon), as well as Best Director (Jim Sheridan) and Best Picture. Also in the cast are Tom Wilkinson and Saffron Burrows. A soundtrack with songs by U2/Bono, The Kinks, and Sinéad O'Connor. Filming for In the Name of the Father took place in London, Liverpool, and Dublin. Riveting. 
This trailer for In the Name of the Father features Daniel Day-Lewis, Pete Postlethwaite, and Emma Thompson.
Ryan's Daughter (1970), a WWI-era romance set in Ireland starring Sarah Miles, Robert Mitchum, Trevor Howard, and John Mills. Film locations for director David Lean's epic romance included Dingle Peninsula's Inch Strand, possibly one of the most beautiful beaches in Europe. Academy Awards for Ryan's Daughter went to John Mills as Best Supporting Actor, and Best Cinematography to Freddie Young; Sarah Miles was also nominated for Best Actress. I've never seen it but these actors are a good reason to make the time to watch it.
Michael Collins (1996) with Liam Neeson as the famous Irish Civil War revolutionary of the same name. Aidan Quinn, Stephen Rea, Alan Rickman, Julia Roberts, Brendan Gleeson, Charles Dance, Jonathan Rhys Myers are also in the cast.The film score features songs by Sinéad O'Connor and others. Michael Collins was nominated for Academy Awards for Best Cinematography and Best Original Dramatic Score. Filming for Michael Collins was done in the Irish counties of Dublin, Cork, and Wicklow, and at New York's Dobbs Ferry. 
This trailer for Michael Collins features Liam Neeson, Julia Roberts, Stephen Rea, Aidan Quinn, and Alan Rickman.
Sing Street (2016) is director John Carney's comedy-drama about an 80's Dublin boy who starts a band in an attempt to win the girl he likes. The cast of young (and older) Irish actors does justice to the story and if you like 80's music and can empathize with the angst of a first crush, you're sure to like this film. Sing Street filmed in and around Dublin. Although this film wasn't nominated for any Oscars, it was very enjoyable and I'd recommend it as a family-friendly movie.
Leap Year (2010) staring Amy Adams and Matthew Goode in a rom-com that has a woman traveling to Ireland to propose to her boyfriend on Leap Day. Filmed in many locations across Ireland including Dublin. Leap Year is a light-hearted romantic comedy that doesn't try to be anything else, and I enjoyed watching it because of the charismatic leading actors. Plus, 2020 also happens to be Leap Year, making this a must-watch before 2021.
Brooklyn (2015), a historical romantic drama about an Irish immigrant (Saoirse Ronan) who comes to Brooklyn and meets an Italian plumber. Nominated for three Academy Awards – Best Actress (Saoirse Ronan), Screenplay (Nick Hornby), and Picture. Filmed at various locations in Ireland, America, and Canada,  I found this film quite watchable but a bit too slow to make it my #1 pick.  
Honorable Mention
There are a host of other "Irish" movies, many of which either won numerous awards, have big name stars, and/or were set and filmed in Ireland.
Barry Lyndon (1974), a period drama about an Irish lad beginning in the 1750s, following his adventures and loves as he goes across Ireland and Europe. Directed by Stanley Kubrick and starring Ryan O'Neal, Marisa Berenson, Patrick Magee, and Hardy Kruger. Kubrick filmed Barry Lyndon on location in Ireland, England, and Germany. Barry Lyndon was nominated for 7 Academy Awards including 3 for Stanley Kubrick (Best Picture, Director, and Adapted Screenplay), and won four Oscars – Best Original Score, Cinematography, Costume Design, and Production Design. I've seen snippets of this film, but never the whole movie.
Once (2007), a romantic musical directed by John Carney, a low budget film with a cast of relative unknown actors. The two lead actors (Markéta Irglová and Glen Hansard) are professional songwriters and musicians who perform as the duo Swell Season, and they wrote and sang the original songs in the film. Well received by critics, the soundtrack for Once was nominated for two Grammy Awards, and won the Academy Award for Best Original Song "Falling Slowly". I haven't seen this film but will have to make a point of it. Below, Glen Hansard and Markéta Irglová's official video for Falling Slowly.
My Left Foot (1989), a biographical drama about the life of Irish writer and artist Christy Brown (played by Daniel Day-Lewis), who had cerebral palsy and could only control his left foot.  Daniel Day-Lewis won the Academy Award for best actor for his performance in My Left Foot & Brenda Fricker won Best Supporting Actress for playing Christy's mother, Bridget Fegan Brown. My Left Foot was nominated for three other Oscars – Best Picture, Best Director, and Best Adapted Screenplay. Filming for My Left Foot was done in Dublin and County Wicklow, Ireland. I haven't seen it but Daniel Day-Lewis is fantastic in anything he does, and a reason to watch just for him. 
Excalibur (1981), a period drama about the legend of the Knights of the Round Table. Starring Nigel Terry as King Arthur, Helen Mirren as Morgana, Nicholas Clay as Lancelot, and Cherie Lunghi as Guenevere. More notable today among the cast of Excalibur are actors who played supporting roles – Liam Neeson as Gawain, Patrick Stewart as Leondegrance, Ciarán Hinds as Lot, and Gabriel Byrne as Uther Pendragon. Irish director John Boorman filmed Excalibur on location in Ireland. Excalibur was nominated for an Academy Award for Best Cinematography. I remember watching this movie in theatres when it came out and finding it to be an exceptionally long film at 2 hours and 20 minutes. 
Laws of Attraction (2004), a rom-com for the more mature crowd. Irish actor Pierce Brosnan and Julianne Moore are opposing divorce lawyers who travel to Ireland and stay in a castle that the respective spouses they represent, are battling over. Michael Sheen and Parkery Posey play the divorcing couple. Frances Fisher, Nora Dunn, and Sarah Gilbert are also in the cast. Laws of Attraction is quite watchable for rom-com lovers. If this type of movie appeals to you, you may also like Best Romance Films With Older Actors.
Dementia 13 (1963), a dark thriller (some would call it horror) directed by Francis Ford Coppola, who was also credited as a writer. A Roger Corman film, apparently Coppola and Corman clashed and Coppola wasn't happy with the final cut of Dementia 13. Starring Luana Anders as grasping wife Louise Haloran, who doesn't want to be cut out of her husband's family will if it's discovered he's dead. William Campbell plays her brother-in-law Richard Haloran, Bart Patton his younger brother Billy, and Mary Mitchel is Richard's fiancee Kane. Patrick Magee plays curious Dr. Caleb. Filmed in Ireland, Howth Castle in County Dublin stood in for Castle Haloran. Creepy but not too scary for me to watch, possibly because it's dated. Bart Patton and Mary Mitchel had gone to UCLA with Francis Ford Coppola, and were married in real life when filming Dementia 13; neither of them had very successful careers in front of the cameras, but found other work behind the scenes. Dementia 13 is in the public domain and you can watch it online.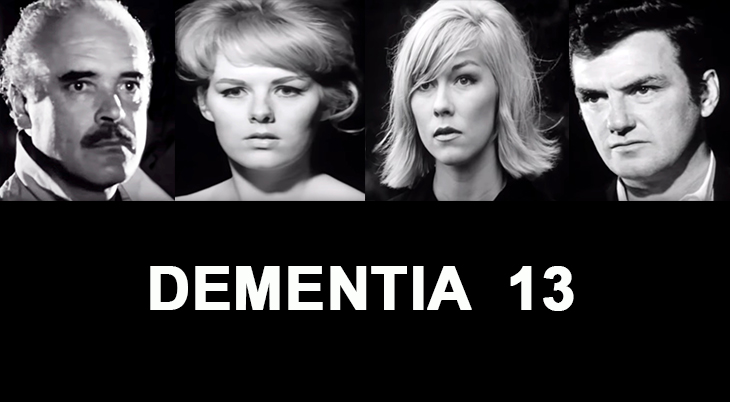 (Patrick Magee, Mary Mitchell, Luana Anders & William Campbell 1963 Dementia: © 2020 Anita Hamilton)
Angela's Ashes (1999), based on Frank McCourt's 1996 memoir about his life in Ireland, stars Emily Watson and Robert Carlyle. Set in Limerick, with many scenes filmed in Cork. Nominated for an Academy Award for Best Original score. 
Tristan & Isolde (2006), an epic romantic drama set in the Dark Ages of Britain and Ireland, with James Franco as Tristan, and Sophia Myles as Isolde. Rufus Sewell and Henry Cavill are also in the cast. Tristan & Isolde was filmed in Ireland and the Czech Republic.
Ulysses (1967), based on Irish novelist James Joyce's 1922 saga of two Irishmen in 1904 Dublin, which was hailed or criticized depending on opinion at the time. Ulysses was filmed in Dublin, Ireland and stars Milo O'Shea and Maurice Roeves.
The Playboys (1992) starring Albert Finney, Aidan Quinn, Robin Wright, and Milo O'Shea, about an unwed mother and a troupe of traveling actors who visit her small Irish village (Redhills, in County Cavan, Ireland was the filming location). 
King Arthur (2004) starring Kiera Knightley and Clive Owen, was filmed entirely in Ireland. Mads Mikkelsen, Hugh Dancy, and Stellan Skarsgård are also in the cast of King Arthur.
Intermission (2003), a black crime comedy film set and filmed in Dublin, Ireland directed by Mark O'Rowe. Starring a several of popular Irish actors, including Colin Farrell, Cillian Murphy, and Colm Meaney.
Movies Set In Ireland (But Not Filmed There)
Finian's Rainbow (1968), a musical starring Fred Astaire, Petula Clark, Don Francks, Keenan Wynn, Tommy Steele, Barbara Hancock, and Dolph Sweet. Finian (Fred Astaire) heads for Rainbow Valley with a hidden pot of gold in his bag, and his daughter Sharon (Petula Clark). Directed by Francis Ford Coppola, the score and sound of Finian's Rainbow were nominated for Academy Awards, but lost to Oliver! Finian's Rainbow was nominated for several Golden Globes, but lost to competitors – Best Picture – Musical or Comedy went to Oliver!, Fred Astaire lost to Ron Moody in Oliver!, Petula Clark lost to Barbara Streisand in Funny Girl, and Barbara Hancock lost to Ruth Gordon in Rosemary's Baby. Not a speck of Finian's Rainbow was filmed in Ireland, and the bits I've seen of it appear to be a bit dated; plus Fred Astaire's singing leaves me cold. On the plus side, handsome Canadian singer-actor Don Francks and singer Petula Clark are in the film, and it was nominated for a lot of awards.
The Luck of the Irish (1948) Tyrone Power (whose namesake great grandfather was a stage actor in Ireland in the 1800s) plays New York reporter Stephen Fitzgerald, who meets a leprechaun (Cecil Kellaway) and love interest Nora (Anne Baxter) while traveling in Ireland. He returns to New York to find Nora and the leprechaun are there as well. With Lee J. Cobb, and Jayne Meadows. This charming and mildly funny black-and-white film is not in the public domain (yet), but you might be able to watch it somewhere online or buy a copy. Note: There are three other movies with the same title – from 1920, 1936, and a 2001 – I guess if there's a catchy phrase a movie is sure to follow.
Waking Ned Divine (1998), a comedy starring Ian Bannen, Fionnula Flanagan. Set in the fictional Irish village of Tulaigh Mhór, but filmed on the Isle of Man (between England and Ireland). 
Darby O'Gill and the Little People (1959), a Walt Disney flick starring Sean Connery, Albert Sharpe and Janet Munro. Set in Ireland but filmed in Disney studios, the movie is not one of the more popular Disney flicks.
If you're searching for something to do on St. Patrick's Day besides watch movies, check out St. Patrick's Day for Boomers, Zoomers & Seniors for ideas about food, games, and Irish TV shows to binge watch, and more.
*This article is for general informational purposes only, and reflects the opinion of the author*