Boomer TV Trivia: The Snoop Sisters
Q1. What television star appeared as a regular on The Snoop Sisters in 1974, before becoming a popular game show host?
Q2. What was the inspiration for The Snoop Sisters monthly movies on NBC (1973-1974)?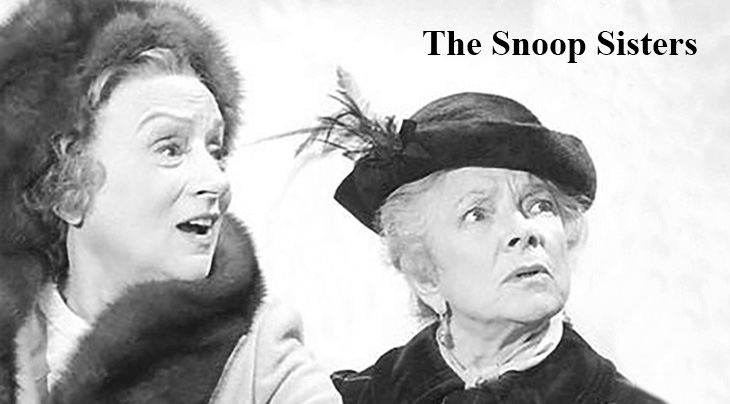 (Mildred Natwick & Helen Hayes 1974 The Snoop Sisters)
The Snoop Sisters monthly NBC television movie series starring Helen Hayes (Ernesta Snoop) and Mildred Natwick (Gwendolyn Snoop Nicholson) as elderly sisters that solve mysteries, ran from December 1973-March 1974. 
Actress Helen Hayes was a septuagenarian senior citizen and Mildred Natwick was in her senior years as well (both already veterans of stage and screen), when The Snoop Sisters aired, and both were nominated for an Emmy Award for their work on the series.
The first The Snoop Sisters movie starring Helen Hayes and Mildred Natwick aired in December 1972 on NBC. This movie was later retitled to The Female Instinct and served as the NBC pilot for the series. The regular rotation of The Snoop Sisters movies in the NBC monthly movie series didn't begin until a year later, on December 1973; and the last movie in the series aired in March 1974. All told, NBC only made 5 of The Snoop Sisters movies.
Character actor Lou Antonio was a semi-regular on the series as Barney.  Among the many familiar faces that appear as guest-stars in episodes of The Snoop Sisters are Jill Clayburgh, Sam Jaffe, Bernie Casey, Vincent Price, Alice Cooper, Ed Flanders, Joan Blondell, Tammy Grimes, Walter Pidgeon, Kurt Kasznar, David Huddleston, Bo Svenson, Edward Platt (best known for Get Smart), Steve Allen, William Devane, Greg Morris (Mission: Impossible), Kent Smith, Geraldine Page, Maurice Evans (Bewitched), George Maharis (Route 66), Roddy McDowall, and Craig Stevens.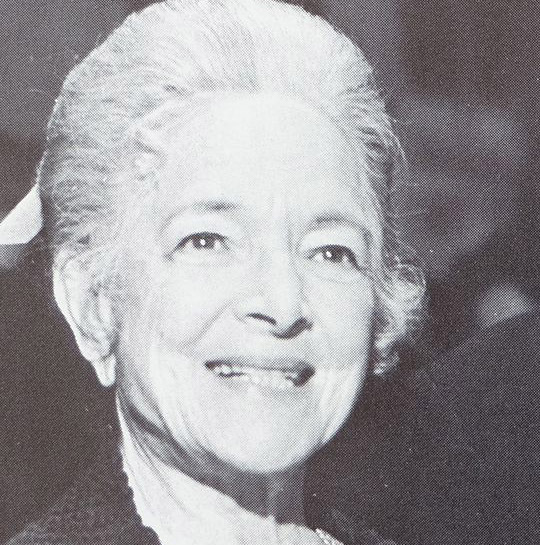 (Helen Hayes 1972 Photo: University of Michigan Yearbook)
Tony, Emmy & Academy Award-winning actress Helen Hayes – star of stage, television and movies – had retired from the stage in 1971 because of asthma by the time she co-starred in The Snoop Sisters. Playing a likeable and "snoopy" older woman solving mysteries was child's play for this 85-year-old octogenarian senior citizen.
Helen Hayes had already enjoyed a 70-year acting career, beginning on stage when she was just 5 years old, followed by her first credited movie role in the silent movie The Weavers of Life (1917) as a teenager. 
She was the leading lady in a production of Lonely Lady (1923), which also included Thais Magrane.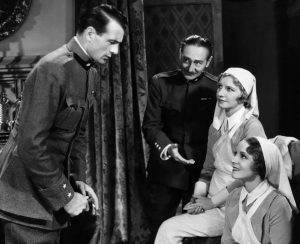 From left, Gary Cooper, Adolphe Menjou, Mary Philips, and Helen Hayes in the movie A Farewell to Arms (1932).  
When The Snoop Sisters ended, Helen Hayes continued to act in movies (her last movie Candleshoe, was in 1977) and on television.
She ended her acting career starring as Miss Marple in the made-for-television movie Murder with Mirrors (1985).
Helen Hayes was married to writer Charles MacArthur (The Front Page) from 1928 until his death in 1956. The couple had 2 children, daughter Mary who died at age 19 from polio, and their adopted son, actor James MacArthur (Danno on Hawaii Five-O).
Helen Hayes died in 1993 at age 92, a nonagenarian senior citizen who lived a very long, very full  and productive life.
Tony and Academy Award-nominated actress Mildred Natwick's life and career was almost as impressive as Helen Hayes'.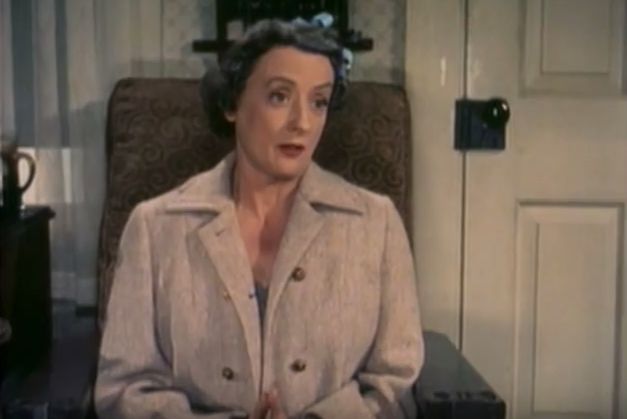 (Mildred Natwick in The Trouble With Harry 1955 Trailer)
By the time Mildred Natwick died from cancer in 1994 at age 89, she was an octogenarian senior citizen with a lengthy acting career, starting on stage in 1932 with Carry Nation and ending with Bedroom Farce (1979).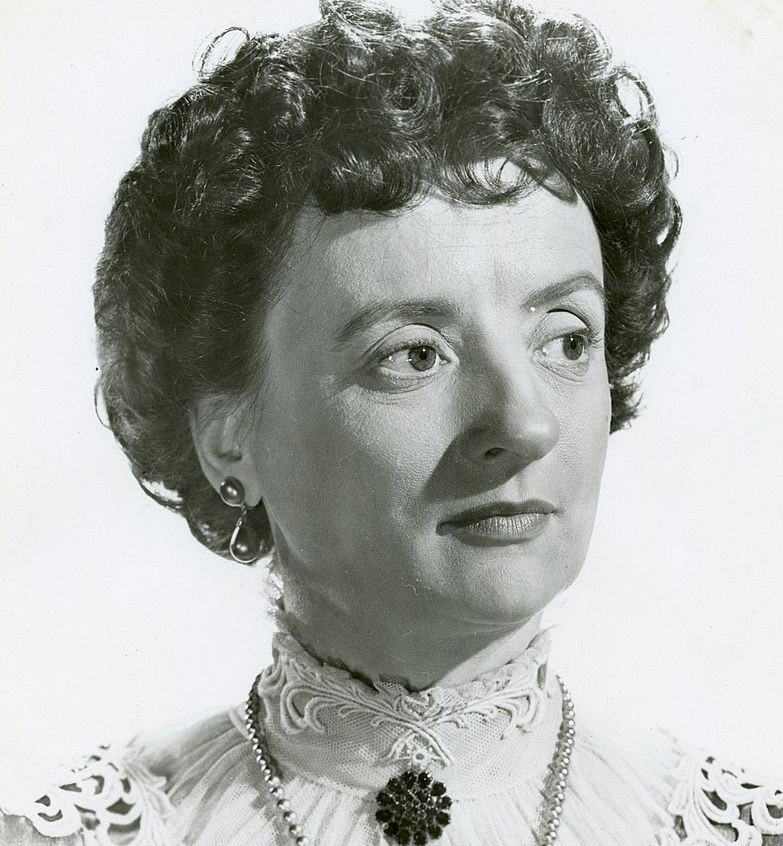 (Mildred Natwick 1947 Photo: 20th Century Fox)
Mildred Natwick got a later start in the movies, with her first credited role on film coming in The Long Voyage Home (1940). She never married and had no children, but she acted steadily in the movies, on stage and television until her final movie role in the movie Dangerous Liaisons (1988) at age 83.
Among her many film credits were roles in a couple of John Wayne movies – She Wore a Yellow Ribbon (1949), and The Quiet Man (1952), co-starring Maureen O'Hara – and other popular movies such as The Enchanted Cottage (1945) starring Robert Young and Dorothy McGuire; The Trouble with Harry (1955) featuring John Forsythe, Shirley MacLaine, and Edmund Gwenn; Tammy and the Bachelor (1957) starring Debbie Reynolds and Leslie Nielsen, Barefoot in the Park (1967) with Jane Fonda and Robert Redford, and Daisy Miller (1974) starring Cybill Shepard, Cloris Leachman, and Barry Brown.
Mildred Natwick died from cancer in 1994, an octogenarian senior citizen with an Emmy Award for Outstanding Lead Actress in a Miniseries or Movie on her mantle, for her work in The Snoop Sisters.
Both Helen Hayes and Mildred Natwick were long-time residents of New York and off-screen friends. They were both supporters of the Riverside Shakespeare Company in New York City and were the first members of this company's Board of Advisors when it was formed in 1981.
A1. Bert Convy played Lt. Steve Ostrowski during the 1974 season of The Snoop Sisters. Bert Convy was only 57 yeas old when he died in 1991 of a brain tumour.
A2. Prior to the 1972 The Snoop Sisters NBC movie, both Mildred Natwick and Helen Hayes had appeared in a 1971 ABC TV movie Do Not Fold, Spindle, or Mutilate about two elderly amateur sleuths. Although the character names were different and it was on a different network, this movie may have inspired the subsequent The Snoop Sisters movies on NBC.
*Images are public domain or Creative Commons licensed & sourced via Wikimedia Commons, Vimeo, or Flickr, unless otherwise noted*