Historical Fiction Author Herman Wouk
Pulitzer Prize-winning American author Herman Wouk's best-selling novels The Caine Mutiny, Marjorie Morningstar, and The Winds of War, drew on his own cultural background, upbringing in New York City, and WWII service in the U.S. Navy.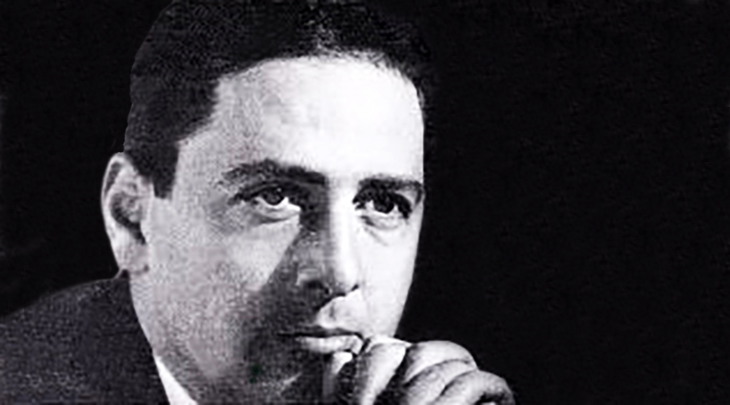 (Herman Wouk 1952)
The son of Jewish Russian immigrants, author Herman Wouk was born on May 27, 1915 in New York City. He graduated with a BA from Columbia University in 1934 and worked for a five years writing jokes for radio's Fred Allen, before enlisting in the US Navy after the Japanese attack on Pearl Harbor.
Herman Wouk began writing his first novel Aurora Dawn (1947) during off-duty hours of his Navy service as an officer aboard destroyer minesweepers.
In late 1945 he married Betty Sarah Brown (after she converted to Judaism so they could marry), and the following year he left the Navy. Wouk and his wife Betty had 3 boys. Abraham, their oldest son (born in 1946), died as a child in a 1951 accidental swimming pool drowning while they were on vacation. A devastated Wouk returned to practicing Orthodox Judaism, and later wrote the non-fiction testament to his Jewish faith, This is My God: The Jewish Way of Life (1959).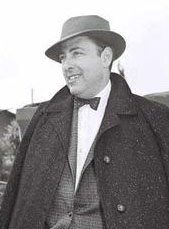 (Herman Wouk 1955 Photo: Théodore Brauner / www.gpo.gov.il)
Post-World War II, Herman Wouk became a full-time writer. Wouk's Navy service in World War Two influenced many of his literary works.
While researching weather data for his future best-selling novel The Caine Mutiny (1951) about life on board a ship during the war, Wouk came up with a new story idea. This became a collaboration with screenwriter Richard Murphy on the screenplay for Slattery's Hurricane (1949), starring Richard Widmark, Linda Darnell, Gary Merrill, and Veronica Lake.
It wasn't until 1956 that Wouk turned his Slattery's Hurricane story into a novel.
Other early story ideas from Herman Wouk that inspired films were Her First Romance (1951) starring Margaret O'Brien, and Confidentially Connie (1953), with Van Johnson, Janet Leigh, and Louis Calhern.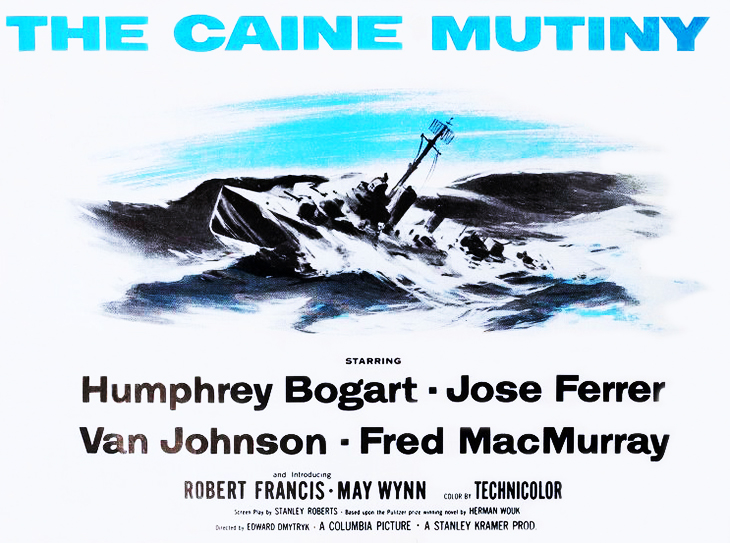 (The Caine Mutiny 1954 Movie Ad)
The Caine Mutiny won the Pulitzer Prize for Fiction in 1952, was adapted as a Broadway play, and made into a 1954 movie starring Humphrey Bogart, Van Johnson, Fred MacMurray, Robert Francis, José Ferrer, Arthur Franz, Lee Marvin, Warner Anderson, and Claude Akins.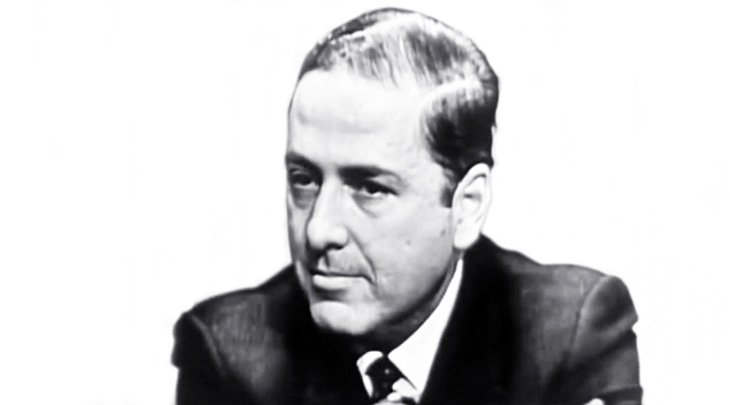 (Herman Wouk 1955 What's My Line?)
(Actresses Trying Out for Marjorie Morningstar 1957 Photo: Film Bulletin)
Herman Wouk's next best-selling novel Marjorie Morningstar has the titular heroine moving to the same Central Park area where Wouk lived from the age of 16.
As with Slattery's Hurricane and The Caine Mutiny, Marjorie Morningstar was turned into a feature film. An extensive search for the right actress to play Marjorie resulted in 18-year-old Natalie Wood taking the lead as a college student who wants to be an actress.
Gene Kelly is her leading man with ambitions to be a playwright.
Marjorie Morningstar's star-studded cast includes Claire Trevor, Everett Sloane, Martin Milner, Carolyn Jones, Martin Balsam, Edd Byrnes, Jesse White, Paul Picerni, Ed Wynn, and Ruta Lee.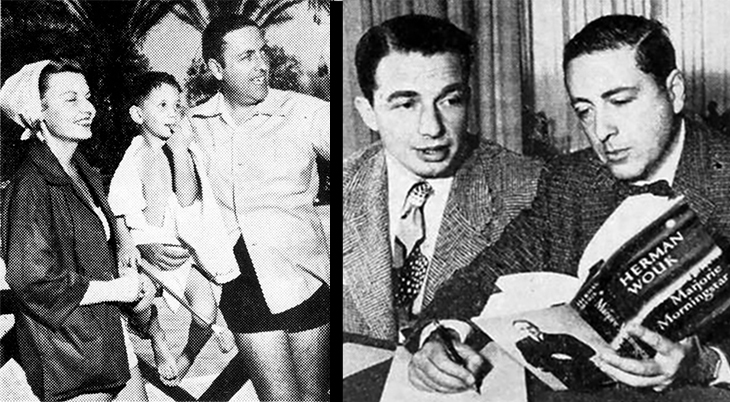 (Herman Wouk 1956: With wife Betty & Son | With Producer Milton Sperling)
Youngblood Hawke (1962) was Herman Wouk's fifth novel, and was serialized in McCall's Magazine that year. Once again Wouk drew on his own background to craft the story of a former Navy man who writes a popular novel. Wouk enjoyed both a best-selling novel and film adaptation of Youngblood Hawke (1964), starring James Franciscus, Suzanne Pleshette, Genevieve Page, Eva Gabor, Mary Astor, and Lee Bowman, among others.
Wouk spent 13 years researching his 1970's two-part WWII/Holocaust fiction family saga masterpieces, The Winds of War (1971) and War and Remembrance (1978). Although popular, neither book was quite as highly critically acclaimed, nor as commercially successful, as The Caine Mutiny or Marjorie Morningstar. That said, both were made into 1980s TV mini-series starring Robert Mitchum, Polly Bergen, David Dukes, Ralph Bellamy, and Topol. The Winds of War (1983) co-stars Ali MacGraw, Jan-Michael Vincent, Lisa Eilbacher, and John Houseman, while War and Remembrance (1988-1989) features Jane Seymour, Hart Bochner, Victoria Tennant and William Schallert. Wouk also worked on the screenplay for War and Remembrance.
More novels followed, and Herman Wouk had works published in each decade from the 1990s on. 
After 66 years together, Herman's wife Betty Wouk died in 2011 at the age of 90.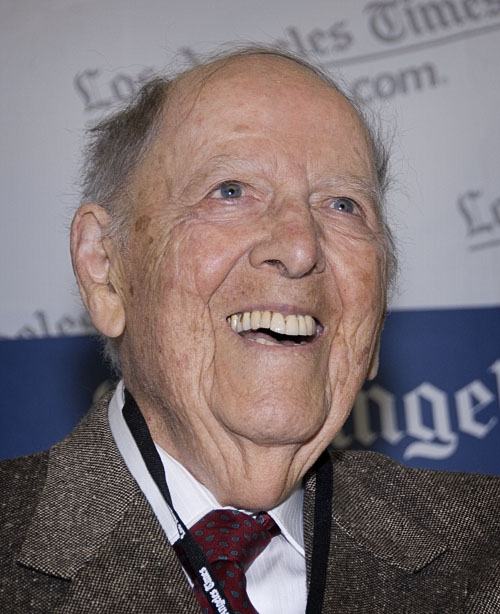 (Herman Wouk 2010 Photo: Mark Coggins / Herman Wouk)
In a 2012 interview with Brooke Barnes of the New York Times, Herman Wouk discussed his use of the computer to write his novels, the internet to keep in touch with family and friends, and keeping on top of technology despite his advanced age, and summed up by saying,
"I may be old, but I'm still aware of things…I will admit that I can't really do text messaging yet."
A very active senior in his 90s, Wouk worked with a personal trainer and yoga instructors. At the time of the 2012 interview, he was in the midst of writing yet another novel which would be his last, The Lawgiver (2012).
Herman Wouk's final book was his non-fiction memoir Sailor and Fiddler: Reflections of a 100-Year Old Author (2015). He was 103 years old when he died in 2019. He was survived by his two younger sons Nathaniel and Joseph, and three grandchildren.
Note: This article was first published in 2015 as Celebrating Seniors – Author Herman Wouk Turns 100! It has been updated with new & additional content.
*Images are assumed to be in the public domain or Creative Commons licensed & sourced via Wikimedia Commons, Vimeo, or Flickr, unless otherwise noted*