TV Trivia: What's My Line?
Q1: Over it's 25 year run, there were 3 hosts on What's My Line? Who hosted for the longest period of time –  Larry Blyden, John (Charles) Daly, or Wally Bruner?
Q2: Which regular What's My Line? game show panelist was the only one to appear on the show from 1950 to 1975?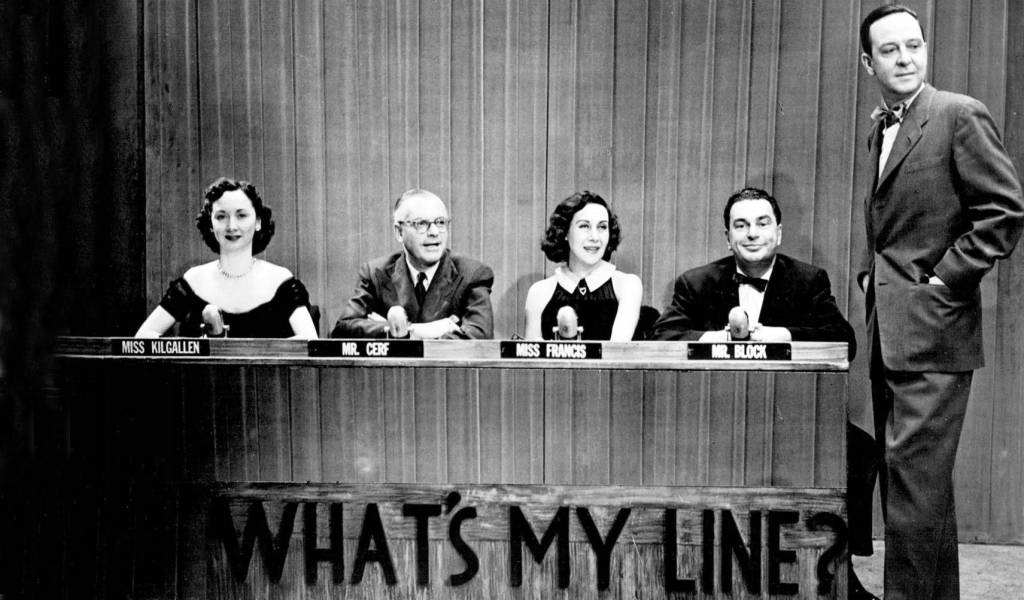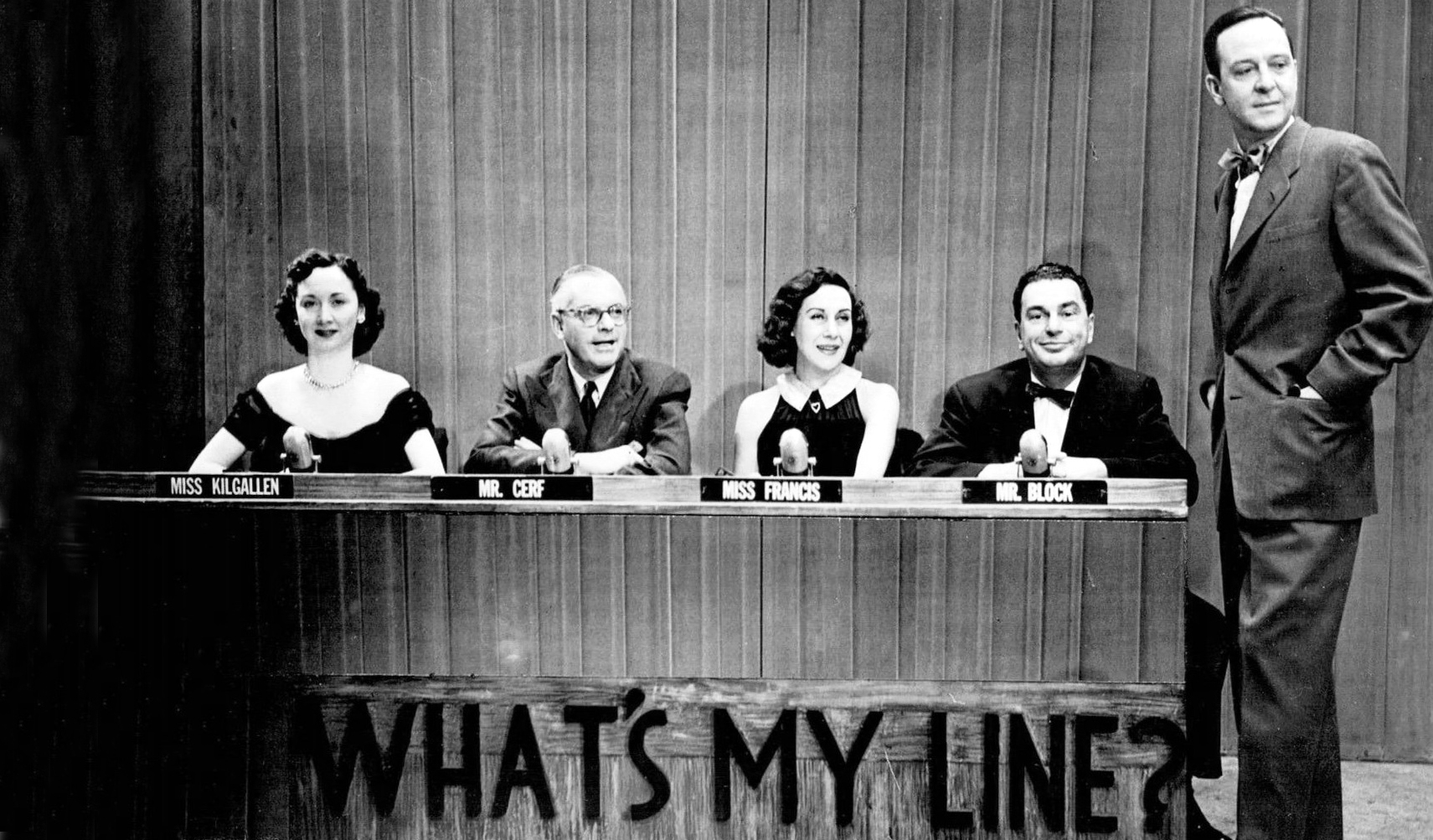 (What's My Line 1952 Dorothy Kilgallen, Bennett Cerf, Arlene Francis, Hal Block, & John Charles Daly Photo: CBS)
Frequent What's My Line? panelists were Dorothy Kilgallen, Fred Allen, Benett Cerf, Arlene Francis, and Martin Gabel. 
65 years ago today on Feb 2 1950, the popular panel game show What's My Line? debuted on CBS. During it's 25 year run, it won Emmy's for Best Quiz Show 3 times. In the early years, panelists and contestants often wore evening wear – black suits or tuxes and ties for the men, evening gowns and sometimes even gloves, for the ladies. 
Often a celebrity would be a fourth panelist at the table with the What's My Line? regulars. Some of the people who inhabited this chair on more than one occasion were Joan Crawford; Buddy Hackett, Steve Lawrence, Jayne Meadows (Alice on The Honeymooners), Carol Channing, Tom Poston, Peter Ustinov, Woody Allen, David Niven, Jack Lemmon, Richard Boone, Anthony Perkins, Jerry Lewis, Margaret Truman, Lucille Ball, Debbie Reynolds, Douglas Fairbanks Jr., and others.
On this star-studded episode of What's My Line? from 1965, frequent panelist Buddy Hackett, along with evening-wear clad regulars Dorothy Kilgallen, Arlene Francis, and Bennett Cerf, try to guess the identity of several mystery guests – Danny Kaye, Yves St. Laurent, and Bette Davis. Note the vintage Ford Fairlane Convertible, GT Model commercial!
Typically a What's My Line? episode consisted of 2-3 guests who had unusual occupations, and a segment with a celebrity "Mystery Guest". To make it extra hard for the panel, very occasionally the mystery guest was more than one person, or an animal (Francis the Talking Mule).
Just a few of the hundreds of distinguished celebrity Mystery Guests who appeared on What's My Line? over the years include these familiar names and faces:
Stars from theatre, television, and movies – Doris Day; Tab Hunter; Robert Young; Dina Merrill; Bob Newhart; Mamie Van Doren; Carol Channing; Nanette Fabray; Warren Beatty; Jimmy Durante; Joan Collins; Gina Lollobrigida; Jim Backus; Olivia de Havilland; Edward Mulhare; Zsa Zsa Gabor; Lauren Bacall; 
Musicians, singers & songwriters – Bobby Darin; Chubby Checker; Mel Torme; Harry Belafonte; Barbra Streisand; Victor Borge; Paul Anka; Sammy Davis Jr.; Eddie Fisher
Sports figures – Joe Garagiola; Muhammad Ali; Vince Lombardi; Arnold Palmer; Minnesota Fats; Floyd Patterson; Frank Gifford
Writers – James Michener; Helen Gurley Brown; Walter Winchell; Gore Vidal; Herman Wouk; Hedda Hopper; Jacqueline Susann
Celebrity couples, family members, partners, or groups –  Paul Newman (separately, and with his wife Joanne Woodward); Fred MacMurray (My Three Sons) & his wife June Haver; Henry Fonda & son Peter Fonda; Jerry Leiber and Mike Stoller; Don Murray & his wife Hope Lange (The Ghost and Mrs. Muir); Betty White & Allen Ludden; Bill Todman & Mark Goodson; The Andrews Sisters; The Smothers Brothers; 
Fashion Models & Designers – Jean Shrimpton; Elsa Schiaparelli; Marc Bohan; Emilio Pucci;
Comedians, Variety, Talk or Game Show hosts – Carol Burnett; Jack Benny; Merv Griffin; Dick Cavett; Art Linkletter; Milton Berle; Steve Allen; Johnny Carson; Bob Hope; Ed Sullivan
Versions of What's My Line? have appeared in many different countries around the world, and a live stage version in Los Angeles that debuted in 2006 is still running.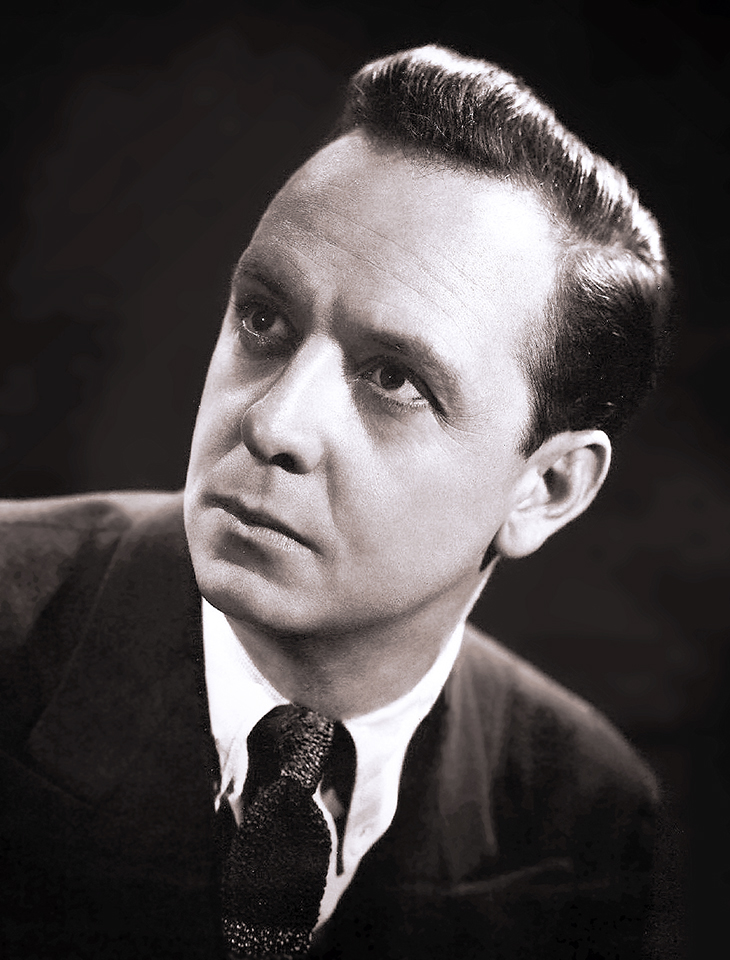 (John Daly 1950 What's My Line? Photo: CBS Television) 
A1. John Daly hosted What's My Line for the entire time it ran as a weekly prime-time show, from 1950-1967. When What's My Line was cancelled and brought back as a daily show in syndication, Larry Blyden hosted from 1968-72, followed by Wally Bruner 1972-1975.
A2: Actress and radio personality (from the 1930's – 1950's) Arlene Francis also hosted other television shows during the 1950's, while appearing as a panelist on What's My Line?.
Newsweek touted her as the "First Lady of Television". Her 2nd husband Martin Gabel appeared as a guest panelist on the show 112 times. 
Below, a special episode of What's My Line:
Dorothy Kilgallen, Tony Randall, Arlene Francis, and Bennett Cerf are the panelists. The mystery guest turns out to be their spouses – Richard Kollmar (husband of Dorothy Kilgallen), Florence Randall, Martin Gabel, and Phyllis Cerf!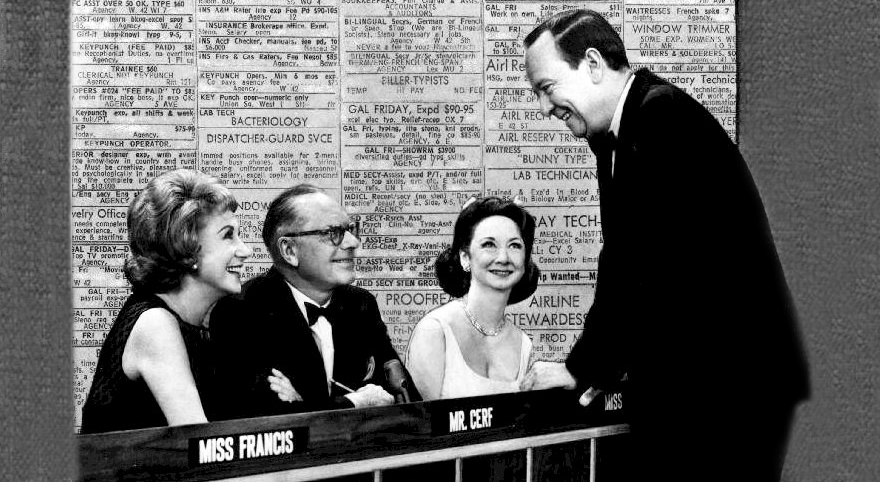 (What's My Line 1965 Arlene Frances, Bennett Cerf, Dorothy Kilgallen & Host John Daly Photo: CBS TV)
Note: This article was first published in 2015. It has been updated with new & additional content.
*Images are public domain or Creative Commons licensed & sourced via Wikimedia Commons, Vimeo, YouTube, or Flickr, unless otherwise noted*