TV Trivia: What's My Line?
Q1: Over it's 25 year run, there were 3 hosts on What's My Line? Who hosted for the longest period of time -  Larry Blyden, John (Charles) Daly, or Wally Bruner?
Q2: Which regular What's My Line? game show panelist was the only one to appear on the show from 1950 to 1975?
Frequent What's My Line panelists were Dorothy Kilgallen, Fred Allen, Benett Cerf, Arlene Francis, and Martin Gabel.
65 years ago today on Feb 2 1950, the popular panel game show What's My Line? debuted on CBS. During it's 25 year run, it won Emmy's for Best Quiz Show 3 times. In the early years, panelists and contestants often wore evening wear - black suits or tuxes and ties for the men, evening gowns and sometimes even gloves, for the ladies. 
Versions of What's My Line have appeared in many different countries around the world, and a live stage version in Los Angeles that debuted in 2006 is still running.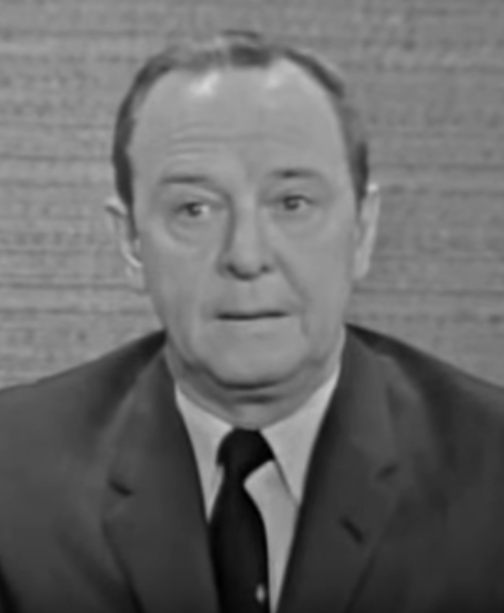 (John Daly 1965 What's My Line Screenshot)
A1. John Daly hosted What's My Line for the entire time it ran as a weekly prime-time show, from 1950-1967. When What's My Line was cancelled and brought back as a daily show in syndication, Larry Blyden hosted from 1968-72, followed by Wally Bruner 1972-1975.
A2: Actress and radio personality  (from the 1930's - 1950's) Arlene Francis also hosted other television shows during the 1950's, while appearing as a panelist on What's My Line?; Newsweek touted her as the "First Lady of Television". Her 2nd husband Martin Gabel appeared as a guest panelist on the show 112 times. Below, a special episode of What's My Line:
Dorothy Kilgallen, Tony Randall, Arlene Francis, and Bennett Cerf are the panelists. The mystery guest turns out to be their spouses - Richerd Kollmar (husband of Dorothy Kilgallen), Florence Randall, Martin Gabel, and Phyllis Cerf!