Happy Father's Day - Oh! My PaPa, Eddie Fisher
Seniors and baby boomers may remember this ode to fathers, sung by Eddie Fisher Oh! My PaPa (1954). Happy Father's Day to all fathers, grandfathers, and honorary fathers and grandfathers.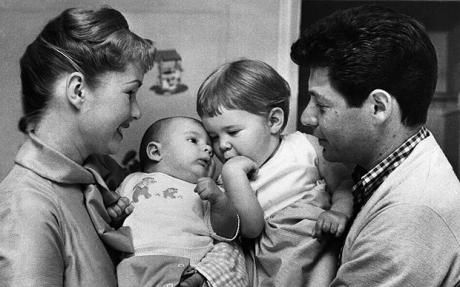 Based on a German song O Mein Papa (1939) by Paul Burkhard, when Eddie Fisher recorded and released his English version of Oh! My PaPa in 1954, it became a #1 Billboard hit. 
Right, married couple Debbie Reynolds & Eddie Fisher with their son Todd Fisher and daughter Carrie Fisher in 1958. (Photo: Pinterest).
Fisher would go on to divorce Debbie Reynolds in 1959 so he could marry Elizabeth Taylor; after they divorced in 1964, he was married to actress/singer Connie Stevens from 1967-1969, with whom he had two more children – Joely Fisher and Tricia Leigh Fisher; then to Terry Richard from 1975-1976.
Eddie Fisher was married to his fifth wife Betty Lin from 1993 until his death in 2001 from complications from hip surgery after breaking his hip. Eddie Fisher was an octogenarian senior citizen, aged 82 at the time of his death.