Celebrating Seniors - Happy 75th Birthday, Peter Fonda
Easy Rider (1969) producer, co-writer and star Peter Fonda turns 75 today, February 23. He will remain forever cool!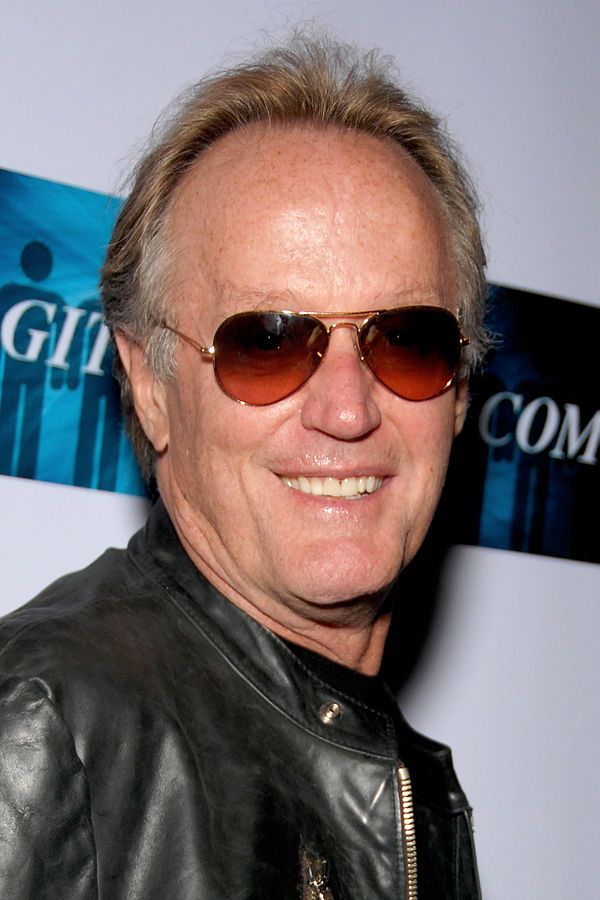 (Photo: Glenn Francis of www.PacificProDigital.com | Wikimedia CC BY-SA 3.0)
He was born February 23, 1940 in New York City to his father and legendary actor Henry Fonda, and Henry's second wife, Canadian-born Frances Ford Seymour (a descendant of Henry VIII and Jane Seymour). 
Peter Fonda and his older sister, actress Jane Fonda, lost their mother at an early age. His parents had an unhappy marriage for years, and in 1949 Henry Fonda asked Frances Seymour for a divorce so he could remarry. Frances had herself committed to a sanitarium and committed suicide there in 1950. At the time Henry Fonda told his son Peter that she had died of a heart attack.
Peter Fonda didn't find out until 10 years later what had really happened. Below, Peter Fonda with his older sister Jane Fonda, and their father Henry Fonda.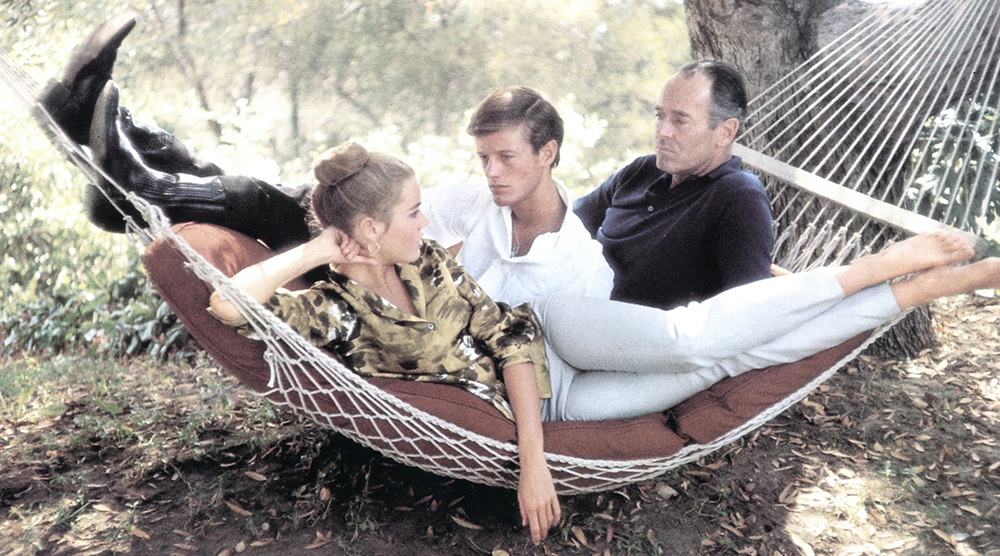 (Jane, Peter, and Henry Fonda c. Early 1960s Photo: kate gabrielle | Flickr Some rights reserved)
In his 1998 autobiography Don't Tell Dad, Peter Fonda exposed his and sister Jane's arms-length relationship with their father Henry Fonda, who according to them, saved his emotional access for the movie screen.
Peter Fonda began acting on Broadway and made his movie acting debut at age 23, in Tammy and the Doctor (opposite Sandra Dee) in 1963. Their co-stars in Tammy and the Doctor included Macdonald Carey, Margaret Lindsay, Beulah Bondi, Reginald Owen, Alice Pearce, Adam West, and Joan Marshall. The movie trailer for Tammy and the Doctor, below, features Sandra Dee, Peter Fonda, Macdonald Carey, Reginald Owen, Margaret Lindsay, and Beulah Bondi.
During the 1960's, movie roles did not pour in for Peter Fonda....he was  anti-establishment (like activist big sister Jane) and was on the fringes of the L. A. music scene, experimenting with LSD and hanging out bands such as the Byrds and the Beatles. The Beatles song She Said, She Said was inspired by Peter's LSD-fueled rant at a 1965 party where John Lennon was present, about "knowing what it was like to be dead" - a reference to his 11th birthday when he accidentally shot himself in the stomach.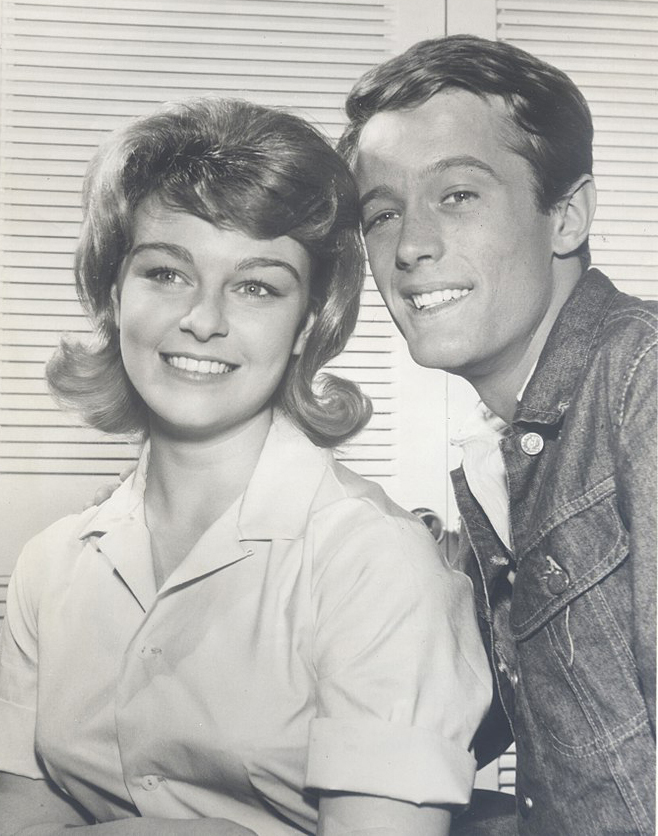 (Peter Fonda & Patty McCormack 1962 The New Breed Photo: ABC Television | Wikimedia Commons / Public Domain)
Peter Fonda's early career in film included guest- starring roles on popular television series such as Naked City, Wagon Train, The Defenders, The Alfred Hitchcock Hour, and 12 O'Clock High. Right, Peter Fonda guest-starring with Patty McCormack on the "Thousands and Thousands of Miles" episode of New Breed in 1962. 
Below, Peter Fonda as Lt. Andy Lathrop, 12 O'Clock High star Robert Lansing as Brigadier General Frank Savage, and Jill Haworth as Fonda's love interest Mary Lean, are featured in a clip from the series episode "The Sound of Distant Thunder" in 1964.
In the movie Young Lovers (1964), Peter Fonda co-starred with Deborah Walley as college students; Joseph Campanella was their college art professor.
Peter Fonda's acting career took off after the international success of the independently made motorcycle movie Easy Rider, which was directed by fellow co-star and co-writer Dennis Hopper, and also starred Jack Nicholson. Below, an older Peter Fonda in 2009 riding the "Captain America" motorcycle from Easy Rider.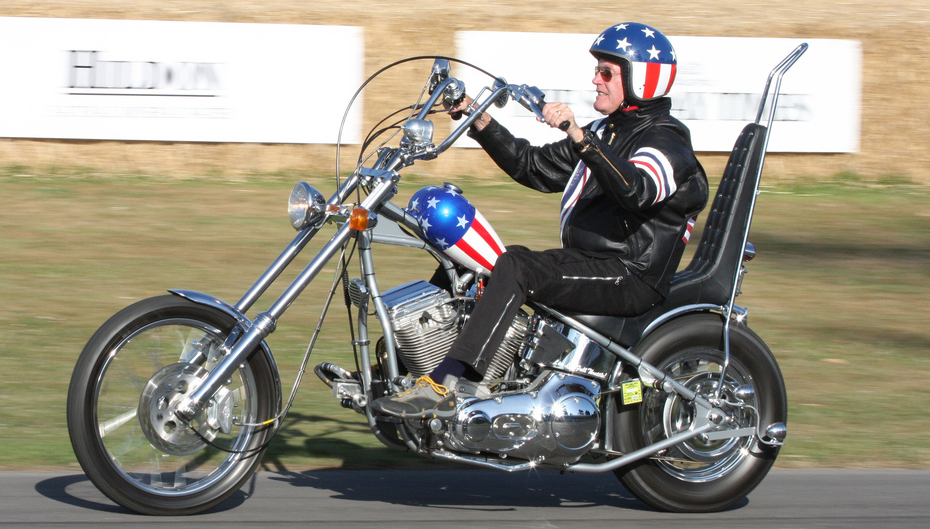 (Peter Fonda on Captain America 2009 Photo: Brian Snelson | Flickr Some rights reserved)
Easy Rider grossed $40 million in 1969, and Fonda, Hopper and a third co-writer, Terry Southern, were nominated for an Academy Award for Best Original Screenplay. Dennis Hopper and Peter Fonda were estranged afterwards until Hopper's death, due to a dispute between them over writing credits for Easy Rider. Below, a movie clip from Easy Rider features Peter Fonda as Wyatt, Toni Basil as Mary, Dennis Hopper as Billy, and Karen Black as Karen.
Peter Fonda has lived on a ranch in Montana since 1975, after divorcing his first wife Susan Brewer (mother of his children, actress daughter Bridget Fonda, and son Justin Fonda) in 1974. He and 2nd wife Portia Rebecca Crockett lived there together from 1975 until they separated in 2008 (they divorced in 2011), and Fonda still lives there with third wife Margaret 'Parky' DeVogelaere, whom he married in 2011.
Peter Fonda was nominated again for an Academy Award for Best Actor, in 1997's Ulee's Gold (he lost to former Easy Rider co-star Jack Nicholson). Below, Peter Fonda is featured in the movie trailer for Ulee's Gold.
Peter Fonda's most recent movie The Runner (he plays actor Nicholas Cage's father) is scheduled to be released in 2015. Now a senior citizen, Peter Fonda has appeared in over 75 movies and is still riding motorcycles and acting today at age 75. Below, a younger Peter Fonda, with co-star Jill Haworth on 12 O'Clock High.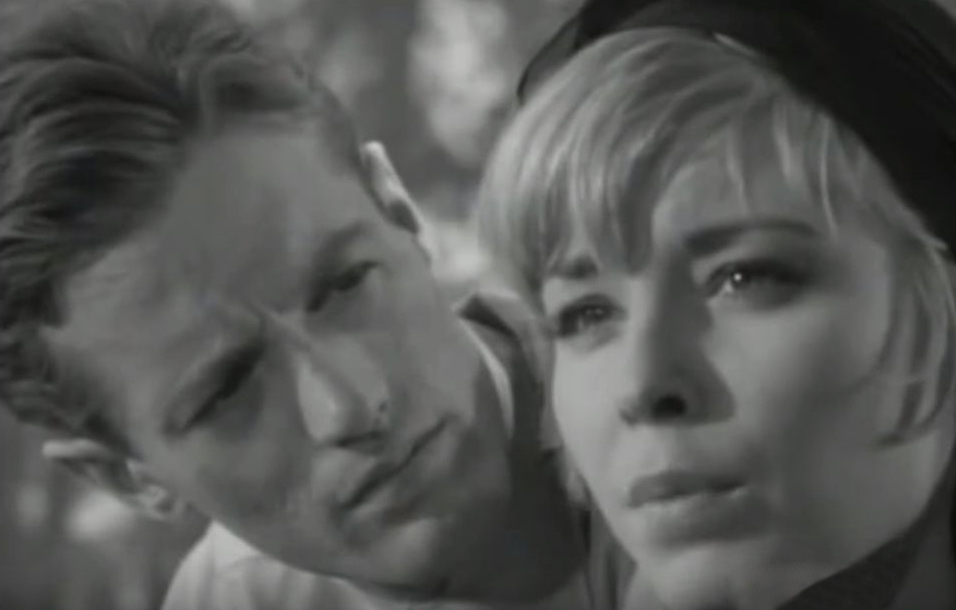 (Peter Fonda & Jill Haworth "The Sound of Distant Thunder" 1965 12 O'Clock High Screenshot)
Happy 75th Birthday, Peter Fonda!