Forever Cool - RIP Easy Rider Peter Fonda
He will remain forever cool in the hearts of fans. Easy Rider(1969) producer, co-writer and star Peter Fonda has died today August 16, 2019 at the age of 79.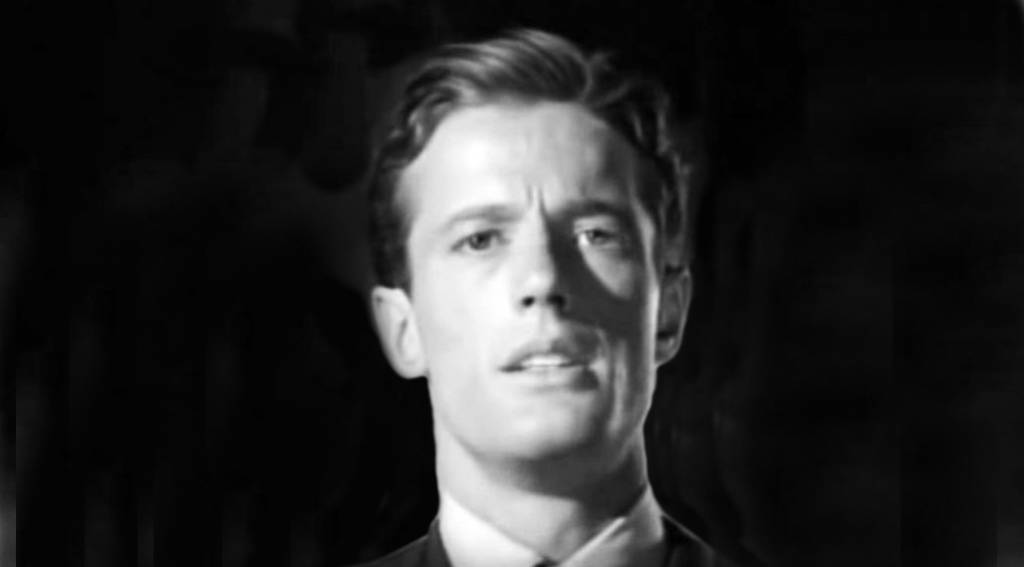 (Peter Fonda 1965 12 O'Clock High)
He leaves behind his third wife, Margaret Devogelaere, daughter Bridget Fonda and son Justin (from his first marriage to Susan Brewer). Cause of death was lung cancer complications (respiratory failure).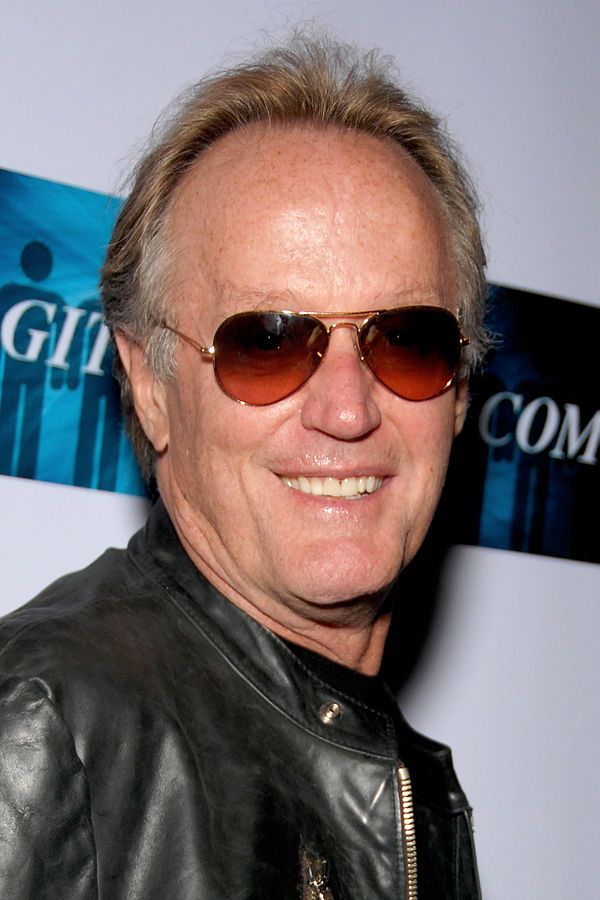 (Photo: Glenn Francis of www.PacificProDigital.com)
He was born February 23, 1940 in New York City to his father and legendary actor Henry Fonda, and Henry's second wife, Canadian-born Frances Ford Seymour (a descendant of Henry VIII and Jane Seymour). 
Peter Fonda and his older sister, actress Jane Fonda, lost their mother at an early age. His parents had an unhappy marriage for years, and in 1949 Henry Fonda asked Frances Seymour for a divorce so he could remarry. Frances had herself committed to a sanitarium and committed suicide there in 1950. At the time Henry Fonda told his son Peter that she had died of a heart attack.
Peter Fonda didn't find out until 10 years later what had really happened. Below, Peter Fonda with his older sister Jane Fonda, and their father Henry Fonda.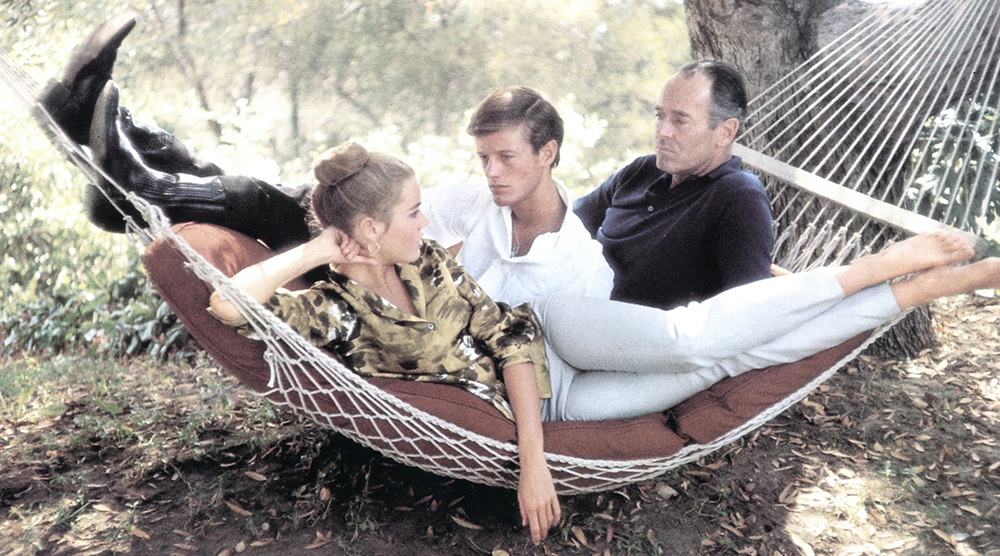 (Jane, Peter, and Henry Fonda c. Early 1960s Photo: kate gabrielle)
In his 1998 autobiography Don't Tell Dad, Peter Fonda exposed his and sister Jane's arms-length relationship with their father Henry Fonda, who according to them, saved his emotional access for the movie screen.
Peter Fonda began acting on Broadway and made his movie acting debut at age 23, in Tammy and the Doctor (opposite Sandra Dee) in 1963. Their co-stars in Tammy and the Doctor included Macdonald Carey, Margaret Lindsay, Beulah Bondi, Reginald Owen, Alice Pearce, Adam West, and Joan Marshall. The movie trailer for Tammy and the Doctor, below, features Sandra Dee, Peter Fonda, Macdonald Carey, Reginald Owen, Margaret Lindsay, and Beulah Bondi.
During the 1960's, movie roles did not pour in for Peter Fonda….he was  anti-establishment (like activist big sister Jane) and was on the fringes of the L. A. music scene, experimenting with LSD and hanging out bands such as the Byrds and the Beatles. The Beatles song She Said, She Said was inspired by Peter's LSD-fueled rant at a 1965 party where John Lennon was present, about "knowing what it was like to be dead" – a reference to his 11th birthday when he accidentally shot himself in the stomach.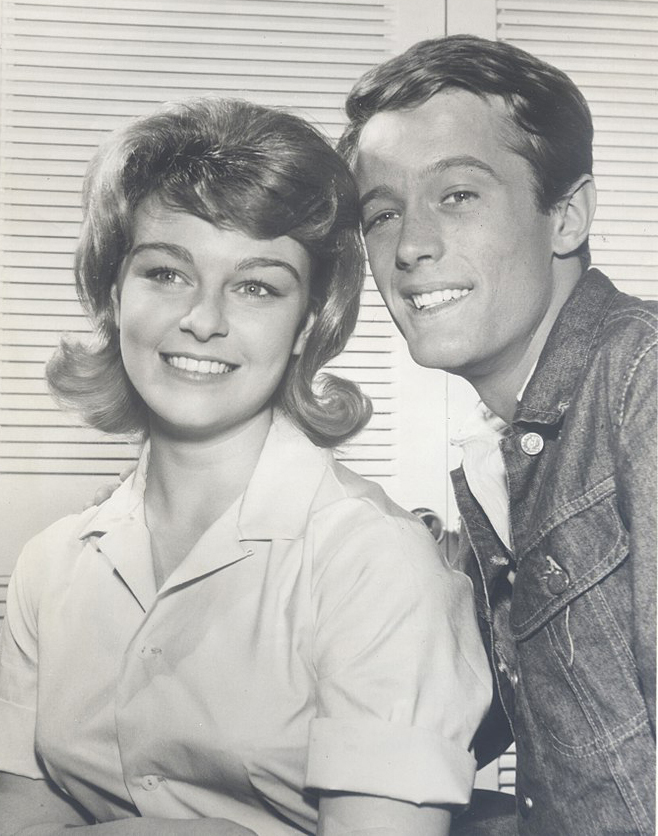 (Peter Fonda & Patty McCormack 1962 The New Breed Photo: ABC Television)
Peter Fonda's early career in film included guest- starring roles on popular television series such as Naked City, Wagon Train, The Defenders, The Alfred Hitchcock Hour, and 12 O'Clock High. Right, Peter Fonda guest-starring with Patty McCormack on the "Thousands and Thousands of Miles" episode of New Breed in 1962. 
Below, Peter Fonda as Lt. Andy Lathrop, 12 O'Clock High star Robert Lansing as Brigadier General Frank Savage, and Jill Haworth as Fonda's love interest Mary Lean, are featured in a clip from the series episode "The Sound of Distant Thunder" in 1964.
He appeared with George Hamilton, Albert Finney, George Peppard, Elke Sommer, Michael Callan, and Eli Wallach in the World War II drama The Victors (1963). The following year, the movie Young Lovers (1964) had Peter Fonda co-starring with Deborah Walley as college students; Joseph Campanella was their college art professor.
In 1966, father and son Henry and Peter Fonda were the mystery guests on popular TV game show What's My Line?, in this episode of the series.
Spirits of the Dead (1968) has 3 directors (Federico Fellini, Louis Malle, Roger Vadim) each adapting an Edgar Allan Poe short story. In the segment directed by Roger Vadim, Vadim's wife  then-wife Jane Fonda and her brother Peter Fonda co-star. French actress and sex symbol Brigitte Bardot and Terence Stamp star in other segments.
Before there was Easy Rider, there was The Wild Angels (1966). In this film about a California motorcycle gang, Fonda stars with Nancy Sinatra, Bruce Dern, Diane Ladd (at the time, married to Dern in real life), Michael J. Pollard, and Buck Taylor.
Peter Fonda's acting career took off after the international success of the independently made motorcycle movie Easy Rider (1969), which was directed by fellow co-star and co-writer Dennis Hopper, and also starred Jack Nicholson. Below, an older Peter Fonda in 2009 riding the "Captain America" motorcycle from Easy Rider.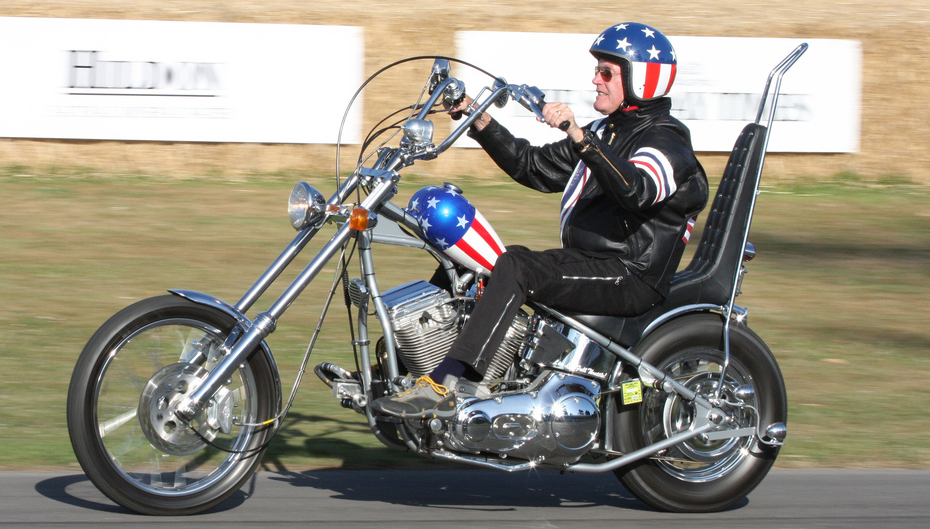 (Peter Fonda on Captain America Motorcycle 2009 Photo: Brian Snelson)
Easy Rider grossed $40 million in 1969, and Fonda, Hopper and a third co-writer, Terry Southern, were nominated for an Academy Award for Best Original Screenplay. Dennis Hopper and Peter Fonda were estranged afterwards until Hopper's death, due to a dispute between them over writing credits for Easy Rider.
Supporting cast members in Easy Rider include Robert Walker Jr., Karen Black, Michael Pataki, Phil Spector, and Luke Askew.
Below, a movie clip from Easy Rider features Peter Fonda as Wyatt, Toni Basil as Mary, Dennis Hopper as Billy, and Karen Black as Karen.
Peter Fonda has lived on a ranch in Montana since 1975, after divorcing his first wife Susan Brewer (mother of his children, actress daughter Bridget Fonda, and son Justin Fonda) in 1974. He and 2nd wife Portia Rebecca Crockett lived there together from 1975 until they separated in 2008 (they divorced in 2011), and Fonda still lives there with third wife Margaret 'Parky' DeVogelaere, whom he married in 2011.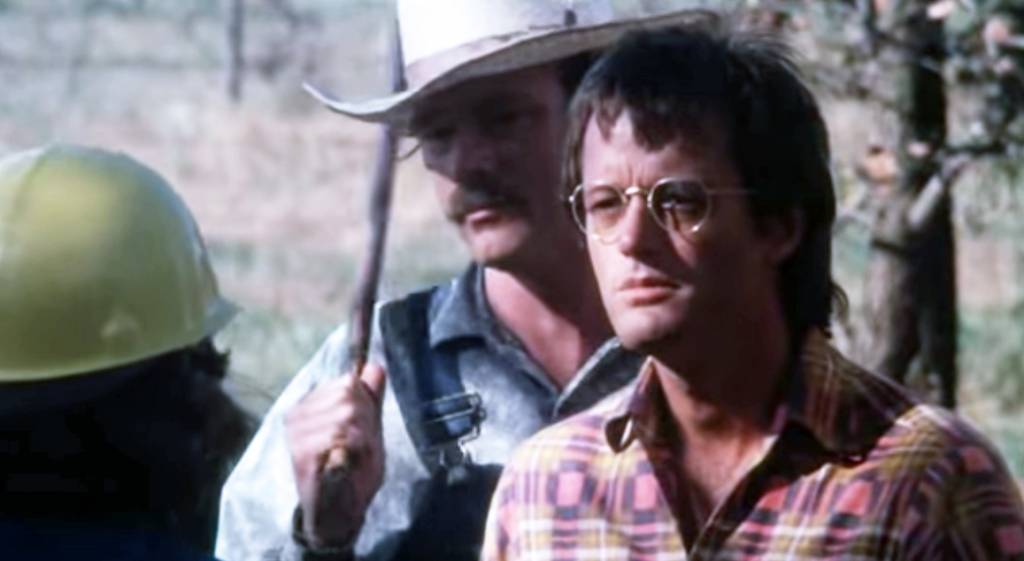 (Peter Fonda & Noble Willingham 1976 Fighting Mad)
Peter Fonda starred in the action film Fighting Mad (1976), playing a farmer's son who returns home to fight corrupt land developers. Written and directed by Jonathan Demme and produced by Roger Corman, the film has Fonda back on a motorcyle. Child actor Gino Franco plays his son, Scott Glenn is his on-screen brother, and John Doucette is their father. Philip Carey is a rich bad guy and Noble Willingham plays Senator Hingle. 
He starred In The Hostage Tower (1980), a spy thriller with Billy Dee Williams, Douglas Fairbanks Jr.,  Keir Dullea, and Swedish actresses Maud Adams and Britt Ekland.
The following year, Peter Fonda was among the star-studded cast of Burt Reynold's action-comedy movie Cannonball Run (1981). Roger Moore, Farrah Fawcett, Dom DeLuise, Sammy Davis Jr., Dean Martin, Jackie Chan, Jamie Farr, and Terry Bradshaw are also in Cannonball Run.
He co-starred in the crime drama Deadfall (1993) with Michael Biehn, Nicholas Cage, Talia Shire, James Coburn, Charlie Sheen, Michael Constantine, Micky Dolenz, and J. Kenneth Campbell.
Peter Fonda was nominated again for an Academy Award for Best Actor, in 1997's Ulee's Gold (he lost to former Easy Rider co-star Jack Nicholson). Below, Peter Fonda is featured in the movie trailer for Ulee's Gold.
Wildwood Enterprises (Robert Redford's film production company) and PBS produced the made-for-TV movie A Thief of Time (2004), based on the Tony Hillerman mystery series featuring Native American tribal policemen Joe Leaphorn (Wes Studi) and Jim Chee (Adam Beach), while Peter Fonda is rancher Harrison Houk. Other supporting cast members in A Thief of Time are Gary Farmer, Beth Grant, and Graham Greene.
Peter Fonda's movie The Runner (2015) has him playing actor Nicholas Cage's father, with Connie Nielsen and Sarah Paulson in the cast. He co-starred with Christopher Plummer, Christopher Lloyd, Bobby Cannavale, and Vera Farmiga, in Boundaries (2017).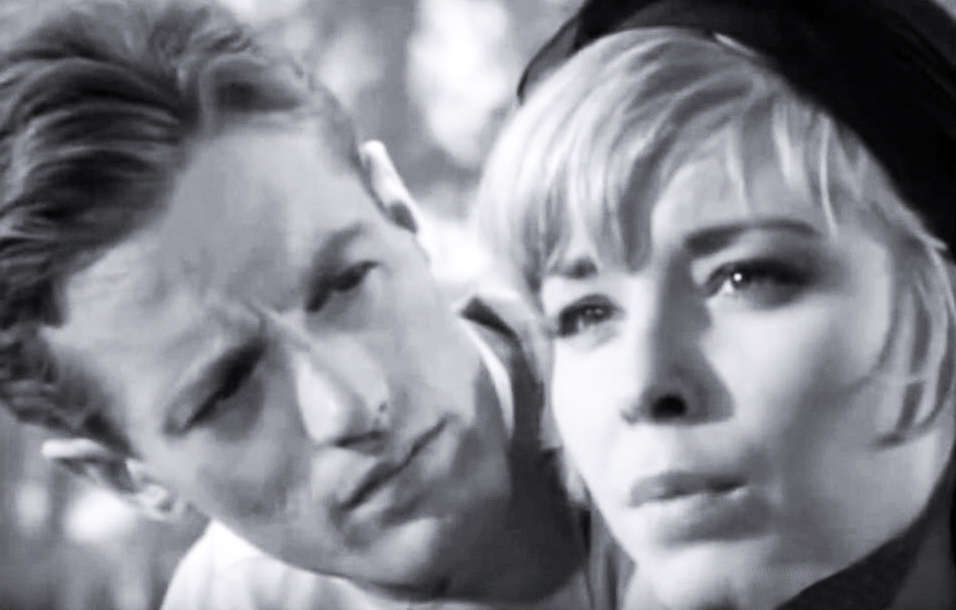 (Peter Fonda & Jill Haworth "The Sound of Distant Thunder" 1965 12 O'Clock High)
Peter Fonda appeared in over 75 movies and was still riding motorcycles and acting until shortly before his death. 
Farewell, Peter Fonda – you'll be missed.
Note: This article was first published in 2015 with the title Celebrating Seniors – Happy 75th Birthday, Peter Fonda. It has been updated with new & additional content.
*Images are public domain or Creative Commons licensed & sourced via Wikimedia Commons, Vimeo, YouTube, or Flickr, unless otherwise noted*