This is Tom Jones - Then and Now
Some vintage and newer classic Tom Jones songs – Delilah, It's Not Unusual, Green Green Grass of Home, I'll Never Fall in Love Again, Raise Your Hand (Janis Joplin duet), and Tower of Song – from Welsh baritone singer Sir Tom Jones, OBE.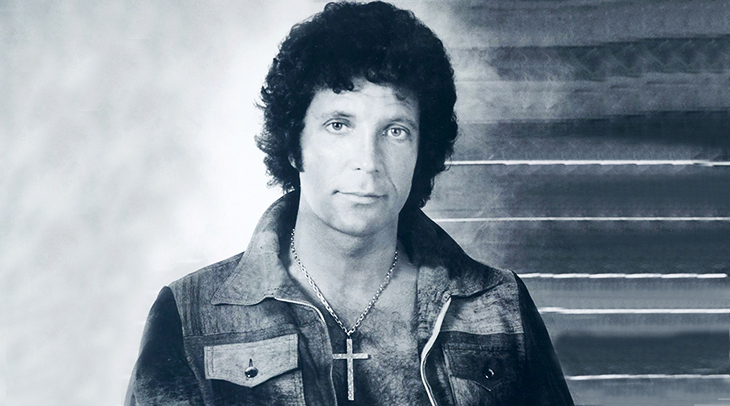 (Tom Jones 1978 Photo)
Tom Jones' wife Linda Woodward (nee Melinda Rose Trenchard) passed away in 2017 after 59 years of marriage. Although Tom was notorious for his many affairs over the years, the couple had remained together since their 1957 marriage. Their son Mark Jones was born the same year they married (1957) and has been Tom's manager for 30+ years.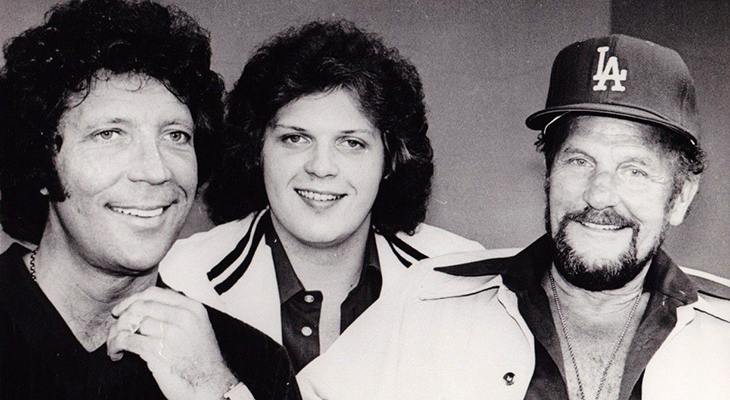 (Tom Jones, son Mark Woodward & father Tom Woodward 1977: UPI Photo)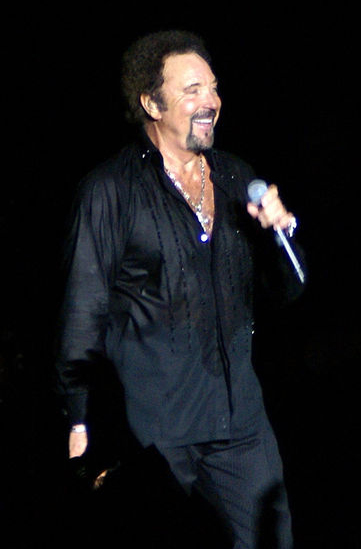 (Tom Jones performing at Hampton Court Palace in 2007 Photo: Georgio)
Tom Jones was born Thomas Woodward Jr. on June 7, 1940 in Wales (United Kingdom) and is known as "the voice" to his fans today. 
It was his manager Gordon Mills who suggested the name change to Tom Jones, inspired by the box office success of the (then) recent movie Tom Jones (1963) starring Albert Finney and Susannah York. 
One of Tom Jones' first recording successes was the hit single It's Not Unusual (1965), written by Les Reed and his manager Gordon Mills. It's Not Unusual made it to #1 in the UK and #10 on the US charts, and resulted in Tom Jones winning his first Grammy Award.
Based on the popularity of It's Not Unusual, manager Gordon Mills arranged for Tom Jones to record theme songs for several movies, including:
Thunderball (1965), a James Bond film starring Sean Connery and Claudine Auger. The theme song Thunderball, written by John Barry and Don Black, was recorded by Tom Jones and resulted in a #25 US chart hit single. (Photo: Johan Oomen)
What's New Pussycat? (1965), a romantic comedy starring Ryan O'Neal and Barbra Streisand. The theme song What's New Pussycat? was written by Burt Bacharach and Hal David, and Tom Jones recording of What's New Pussycat was a #3 hit single in the U.S. 
Promise Her Anything (1966), a romantic comedy starring Warren Beatty, Leslie Caron, and Bob Cummings. 
Green Grass of Home (1965) was written by Claude "Curly" Putman Jr. and had already been recorded by country music singer Porter Wagoner, when Tom Jones released his now-classic version in 1966. Green, Green Grass of Home went to #1 in several countries, and made it to #11 in the US.
Below, 45 years later a senior citizen Tom Jones duets on Green, Green Grass of Home with contestant Mike from The Voice UK 2013, courtesy of the BBC: 
The Tom Jones hit single Delilah (1968), written by Barry Mason and Les Reed, was a #1 hit single around the world.
From 1969-1971 Tom Jones hosted the musical variety TV show This is Tom Jones., which was a hit series in the U.K., Canada, and the United States.
Among the many top-flight actors and musical guest-stars such as Janis Joplin that appeared on This is Tom Jones and performed a duet with him, were:
Singer-actors Nancy Sinatra, Davy Jones, Barbara Eden, Liza Minnelli, Cher, Shirley Jones, Paul Anka, Bobby Darin, Connie Stevens, Diahann Carroll, Claudine Longet, Glen Campbell, Raquel Welch, Jane Powell, Sammy Davis Jr, Anne Bancroft, Steve Lawrence and Eydie Gorme, José Ferrer, Perry Como, Debbie Reynolds, The Supremes, Jack Jones, Florence Henderson, Jerry Reed, and Phyllis Diller. 
Musical performers Herman's Hermits, Lulu,  The Dave Clark Five, Barry Gibb (The BeeGees), Dusty Springfield, , Sérgio Mendes, Stevie Wonder, Ella Fitzgerald, Jerry Lee Lewis, The Hollies, Juliet Prowse, Johnny Cash and June Carter,  Judy Collins, Kenny Rogers, Smokey Robinson and The Miracles, Bobbie Gentry, Ray Charles, Burt Bacharach, Shirley Bassey, John Denver, Petula Clark, and friend Engelbert Humperdinck.
His later series Tom Jones (1980-1981), was not quite as successful; by then, his recording successes had faltered. Although he managed to crack the singles charts in every decade since the 1960's, Tom Jones has never quite achieved the heady success of his early years. 
Tom Jones performed on the Bob Hope Chrysler Special in November 1970. Bob Hope had guest-starred twice on his This is Tom Jones series earlier in 1970.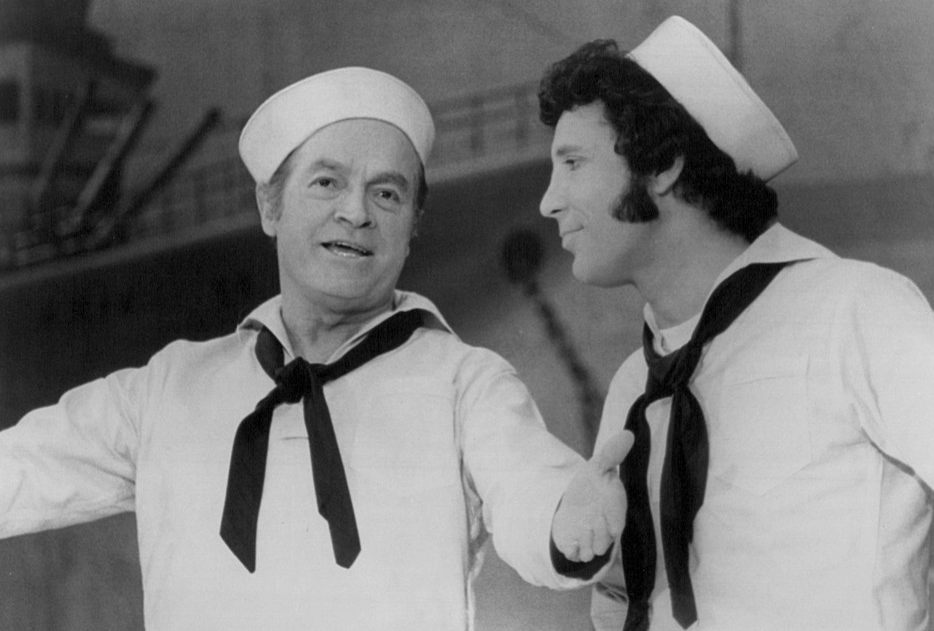 (Bob Hope and Tom Jones 1970 Photo: NBC Television eBay)
Tom Jones was the star of the TV musical movie The Special London Bridge Special (1972), featuring Kirk Douglas, with Jennifer O'Neill, The Carpenters (Karen and Richard Carpenter), Lorne Greene (Bonanza), Elliott Gould, and Engelbert Humperdinck.
He performed frequently in the United States throughout the 1960s and 1970s – from Fort Lauderdale, Florida, to Las Vegas, Nevada, and points north and south. Below, Tom Jones (second from left) with his band members in Fort Lauderdale, Florida circa 1972.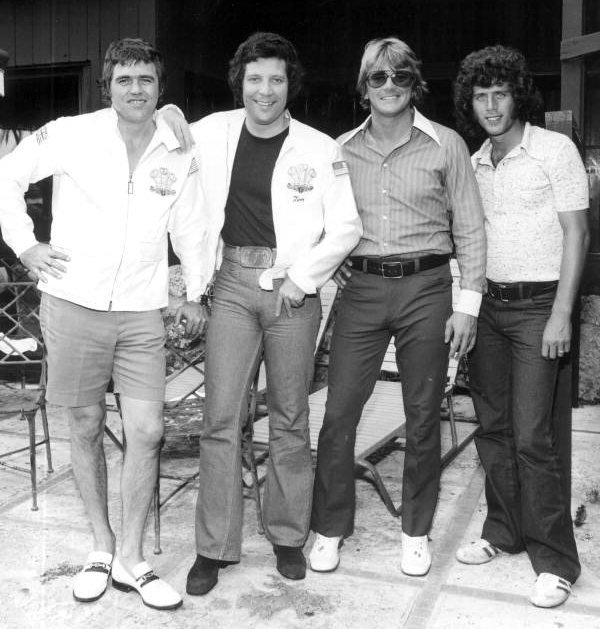 (Tom Jones 1972 Photo: Florida Memory)
Tom Jones was knighted in 2006 by Queen Elizabeth II for his contribution to music; he had previously been awarded an Order of the British Empire (OBE) in 1999.
The 2012 Tom Jones cover of Leonard Cohen's Tower of Song (1988) reflected where Jones was at that time in his life, and of his need to sing. Tom Jones performs Tower of Song in the official VEVO music video for the single, below.
In a 2012 interview with Spencer Bright for mailonline, Tom Jones reflected on his life and aging:
"I know eventually I am going to run out of time. I am not particularly thrilled about that. My mother used to say, 'Old age sucks'. But what's the alternative? The alternative is death, and I don't want to be dead. My grandmother used to say: "I'll live as long as I can, and I'll die when I can't help it."'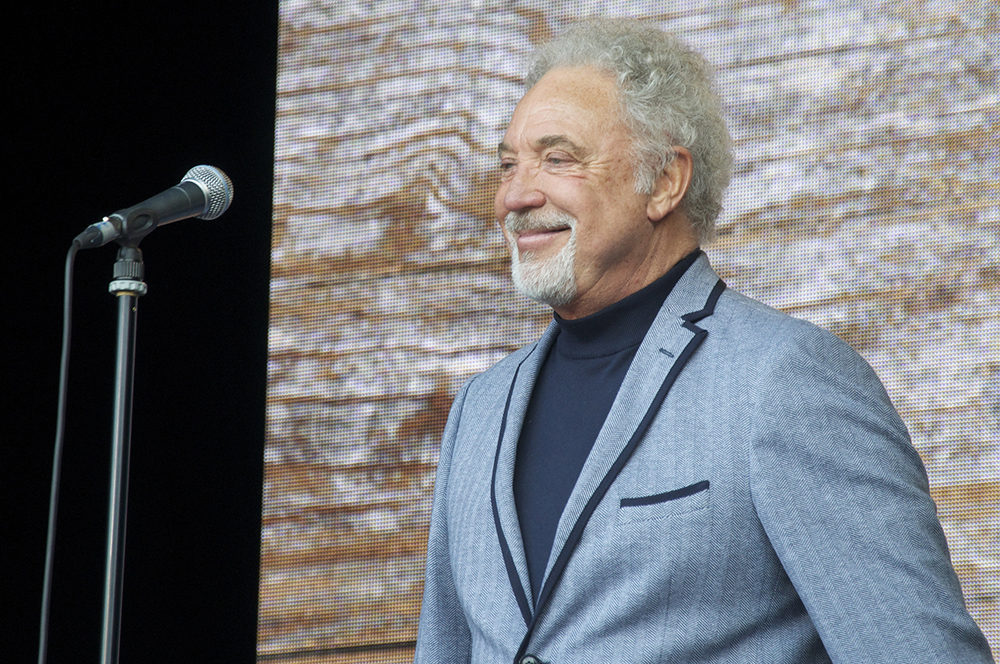 (Tom Jones 2013 Photo: Nick Webb) 
Tom Jones has no plans to retire from music or singing. Although he and fellow Wales native wife Linda had periodically debated moving back to the UK from the US, Jones didn't sell their Los Angeles home until after Linda's death in 2016.  He's now back living in Britain and performing on stages & TV. Tom Jones fans can watch him live during his 2018 European concert tour.
Note: This article was originally published in June 2015 under the title Celebrating Seniors – Singer Tom Jones is 75. It has been updated with new & additional content.
*Images are public domain or Creative Commons licensed & sourced via Wikimedia Commons, Vimeo, or Flickr, unless otherwise noted*